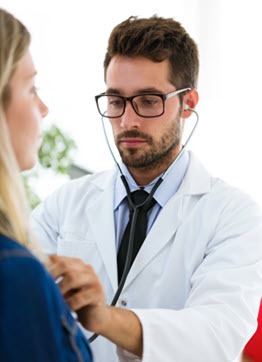 If you are looking for information about Internists and the Medical specialty of Internal medicine, then you've come to the right place! As a highly rated School of Medicine, we are eminently qualified to provide the most accurate information.
We created this article for the public, as well as for future Medical students looking for insights into the Medical specialty of Internal medicine.
We have students in Internal med Clinical clerkships, Sub-internship rotations, and in residency programs. Additionally, we have a plethora of alumni that are licensed, board certified, and practicing in the US and Canada.
Please check out the profiles of three UMHS alumni that are in residency training and find out why they decided to practice Medicine in this field.
Quick Navigation Links:
What is Internal medicine?
Internal medicine is a broad Medical specialty that focuses on the diagnosis, prevention, and treatment of diseases, disease processes and health issues affecting the internal organs of adult patients. The Physicians that specialize in Internal medicine are commonly called Internists and are trained in Allopathic Medicine (MD degree) or Osteopathy (DO degree). They see patients in hospitals, clinics, and outpatient offices. Traditionally, Internal medicine doctors do not provide health care services to children. Internal medicine Doctors that primarily care for patients in hospitals can also be called Hospitalists.
What is the medical path to become an Internal medicine doctor?
The path to becoming an Internal medicine physician is difficult, time-consuming, and costly. It takes a minimum of 11 years after high school to become fully licensed and boarded in Internal medicine. This includes 4 years of undergraduate college, 4 years of Medical school and a 3 year residency. Many individuals also choose to further pursue advanced training by completing a Fellowship or Fellowships that are up to 5 years in length.
What are the six stages of Medical education in the United States?
Overall, there are six educational stages in the field of Medicine that are required to become a Doctor. To read more, click on these links below:
Step 1: Pre-medical
All students interested in a career in Medicine must complete all pre-requisite courses required for admission into medical school. The majority of these are science classes such as biology and chemistry. Other highly encouraged activities include volunteering, leadership, and research. A very important part of successfully matriculating into a School of Medicine is to score highly on the Medical College Admission Test, commonly called the MCAT.

In addition to completing pre-requisite coursework, undergraduate students that want to become health care providers and practice Medicine must consider the available paths to become fully licensed Physicians in the United States. There are three educational paths that prospective med students can follow. These include:

Schools of Allopathic medicine that award the Doctor of Medicine (MD) degree. This is the most common clinical training program completed by 74% of students.

Osteopathic medicine schools in the United States (only available in USA) award the Doctor of Osteopathic Medicine (DO) degree. Currently 26% of Med students are enrolled in Osteopathy training programs.


Completing school as an international medical graduate (IMG) is another route that students can consider. Approximately 25% of active physicians in the United States are International medical graduates. Schools of Medicine that are not inside the US must be certified by the Educational Commission for Foreign Medical Graduates (ECFMG)
Step 2: Medical school
Once accepted into medical school, the first two years are spent in the classroom taking basic medical courses. Towards the end of the second year, students take their first National board test. For M.D. students, this is the United States Medical Licensing Examination commonly known as USMLE Step 1. A similar examination is given to Osteopathy students called the COMLEX-USA Level 1

The last two years of medical school are spent in the hospital rotating through several different medical specialties. During the third year of med school, clinical training begins where experience is gained by being able to practice health care procedures at Teaching hospitals associated with the School of Medicine. These are known as Clinical clerkship and are mandatory rotations.

In the fourth year, clinical rotations continue where students learn more about the foundations of Medicine at various locations in various specialties chosen by the student. These are called Sub-internships or audition rotations. During this time, students evaluate residency programs to see if they would like to complete residency there. Meanwhile, residency programs evaluate the medical student to evaluate if they would be a good fit as a resident in the future. It is also during fourth year that most med students take the second part of the National board examination, the USMLE Step 2 or the COMLEX-USA Level 2.


Getting into a residency is the culmination of Med school and the desired outcome for every Medical student. The process of getting matched into a residency program, commonly known as "The Match" was created in the early 1950's and is administered by a non profit US based company and is appropriately named the National Resident Matching Program, NRMP. The goal of this organization is to place Med students into teaching hospitals with Residency programs inside the United States.
Step 3: Graduate medical education
Internship or Intern year:
After graduating from Med school, the first year of training is determined by the specialty that the physician chooses. Some Medical specialties require an entire year of extra training before residency, called a flexible internship or transitional year. This time is spent learning general clinical and medicine and is designated as an Internship. For Internal medicine training, the first year is spent gaining experience and improving knowledge of clinical procedures entirely within the Internal medicine realm. This first year training is called an "Intern year" instead of an Internship.
Residency: The core of Graduate medical education (GME)
After Medical school is complete, the graduated physician must complete residency training. Residency lasts three years for Internal medicine physicians. During residency, physician Doctors gain more experience in the clinic practice of their specific specialty. It is usually during the first year of Residency that the final national Board examination is taken- the USMLE Step 3 or the COMLEX-USA Level 3.
Fellowship: The final

part of Graduate medical education (optional)
Fellowships are additional intensive training programs that some Doctors choose to do after Residency has been completed. Fellowship training is reserved only for top candidates. These specialists spend years learning about a highly specific area of medicine. Internal medicine is a gateway into many different subspecialties. Check them out here:: Subspecialties for Internists.
Step 4: Board certification
Board certification is not required for licensing but it is required for employment at almost every Hospital and health facility in the United States and Canada. There are two governing bodies. The American Osteopathic Board of Internal Medicine for D.O.s and the American Board of Internal Medicine for M.D.s
Step 5: Licensure
Once Residents have completed their residency programs, and passed their final Board examination, USMLE Step 3 for M.D.s and COMLEX-USA Level 3 for Osteopathy trained Physicians, they are eligible to practice Medicine in the State they are residing in. State licensing requirements may vary from one State to another.
Step 6: Continuing medical education
While continuing education (CME) is not part of the path to Medicine, it is very important as it is a requirement to stay licensed and to continue to be able to practice medicine. The number of CME hours needed may vary from State to State, so it is important to check the requirements through the Department of Professional Regulation. All States in the US mandate continuing medical education for doctors to keep their licenses. In the US, the governing bodies that regulate CME are the American Osteopathic Association (AOA) and the Accreditation Council for Continuing Medical Education (ACCME)
Discover if a career in Internal Medicine is right for you.
Learn why 89% of doctors would choose the same specialty again.
What do Internal Medicine Specialists do?
Internal Medicine physicians treat a wide variety of illnesses ranging from infections to diabetes. Internists can work in a hospital setting and/or in an outpatient clinical setting. In both settings, Internal Medicine physicians perform a variety of clinical care services including:
Conduct physical exams
Perform patient histories
Order and interpret laboratory tests and imaging
Provide guidance for the care, prevention and treatment of medical disorders
Diagnose health care problems including medical diseases and illnesses
Prescribe and refill prescription medications
Perform physical exam maneuvers to diagnose musculoskeletal disorders
What medical conditions does an Internal Medicine doctor treat?
An Internal medicine doctor sees adult patients with many kinds of acute and chronic health conditions. Some of the most common health care problems treated are:
Allergies
Anxiety
Arthritis
Asthma
Benign prostatic hyperplasia (BPH)
Chronic bronchitis
Congestive heart failure
Coronary artery disease
Depression
Emphysema
Erectile dysfunction
Gastroesophageal reflux (GERD)
High blood pressure
High cholesterol
Infectious diarrhea
Joint and bone disorders and injuries
Pharyngitis
Sinusitis
Skin disorders
Stomach Ulcers
Urinary tract conditions such as kidney stones, infections and urinary incontinence
An internist may also consult with other Doctors in other specialties of Medicine and provide health care consultations.
What is the difference between Family practice and Internal medicine?
The main difference between Family practice (also known as Family medicine) and Internal medicine physicians is that Family medicine doctors treat both adults and children while Internal medicine doctors mainly treat adults. Another slight difference is that Family medicine physicians primarily work in an outpatient clinical setting while Internal Medicine physicians work in both a hospital setting as well as an outpatient clinical setting. Both types of doctors complete the same requirements prior to residency including:
Undergraduate pre-medical courses
The MCAT
Medical School
The USMLE or COMLEX exams
However, once medical school is complete, their paths differ. Internal Medicine Physicians go on to complete an Internal Medicine residency while Family Medicine Physicians complete a residency in Family Medicine. After residency is complete, each specialty has different Fellowship options available for further subspecialization.
Is Internal medicine Primary care?
Internal medicine and Family medicine both are considered Primary care physicians, thus choosing between them may be challenging. They can both diagnose and treat numerous ailments, and they can help to prevent disease and detect health issues early on when they are still treatable. Choosing either style of physician has advantages.

The word FAMILY is sometimes misunderstood by patients who believe they must have children to see this sort of Primary care practitioner. They can provide medical care to patients of any age and provide some of the same services as OB-GYNs (Obstetrician Gynecologist) would provide for women.
What are the Internal medicine Subspecialties?
Internists have many paths that they can choose to pursue after completing Residency. Some may choose to practice General internal medicine while others choose to specialize in one of the many different subspecialties. Additional training after Internal medicine residency in a subspecialty is termed a Fellowship.
There are two regulatory boards that oversee subspecialties of Internal medicine. They are the American Board of Internal Medicine that oversees Allopathic Medicine (MD degree) graduates and the American Osteopathic Board of Internal Medicine which oversees Osteopathic medicine in the United States ( DO degree). There are some differences difference in the the "recognized" subspecialties between the two organizations, but some common ones are listed below. We have also included the estimated number of active Medical specialty practitioners: (data from AAMC)
Cardiovascular Disease - 22,521
Hematology and Oncology - 16,274
Gastroenterology - 15,469
Nephrology - 11,407
Infectious Disease - 9,687
Rheumatology - 6,265
Geriatric Medicine - 5,974
Sleep Medicine - 7,500
Pulmonary Disease - 5,106
Sports Medicine - 2,897
For more information about the specific recognized subspecialties from each organization, please visit the ACOI and the ABIM websites.
Top Frequently Asked Questions about Internal medicine from our Medical School Admissions office
As a school of Medicine, we are often asked a number of questions about medical subspecialties. There is a great deal of confusion about the differences between practice types and similar terms. Here are the top FAQs and quick navigation links directly to the answers!
What's the difference between an Intern and an Internist?
An Internist is a licensed MD or DO Physician that is a trained in the Medical specialty of Internal medicine. They have completed Medical school and at least a three year Residency program.
An Intern, the title given to a first year resident, is also an Allopathic (MD) or Osteopathy (DO) trained Physician but has not yet completed a Residency program. Thus, they are not yet allowed to practice unsupervised.
Hospitalist vs Internist - what's the difference?
Internal medicine specialists that primarily provide health care in hospitals are called Hospitalists. Because they primarily work in inpatient medicine they serve as a central leader of the medical team. Hospitalist physicians manage and take care of many health conditions such as congestive heart failure, chronic obstructive pulmonary disease exacerbations, diabetes, and pneumonia. However, they also consult other medical services such as cardiology, infectious disease, pulmonary and renal medicine when the patient's health requires more directed care. Some patients may require multiple medical services to help with their care and oversee their health. It is the job of the hospitalists to request consults with other medical branches when necessary and coordinate resources and patient care with other specialist doctors. In addition to inpatient care, many internal medicine physicians are establishing outpatient clinics to treat their patients.
What is Internal medicine residency?
Internal medicine residency is an intense three-year training program that occurs after Medical school. It is during this time that Internal medicine residents get the foundational and specialized training that prepares them for Licensure and Board certification from the American College of Physicians ACP for MD's or American Osteopathic Board of Internal Medicine for DO's. In addition, Residency also prepares Physicians for further specialized training in one of the many Internal medicine subspecialties discussed above.
What does ACP and FACP mean after a doctors name?
The American College of Physicians ACP is a national membership organization for MD's that began in the early 1900's and has become the largest group in the world. It represents Internists, Hospitalists, and subspecialists in Internal medicine with educational resources and other benefits to promote the Doctors in the profession. When you see ACP, it signifies membership in this organization. FACP seen after many Doctors names signifies membership at the highest level of training in the field. FACP means Fellow of The American College of Physicians. There is a similar elite membership organization for Osteopathic Physicians called The American Osteopathic Board of Internal Medicine (AOBIM).
Is becoming an Internal medicine physician worth it?
The future job outlook for internal medicine physicians is very optimistic. In fact, it is estimated that by 2025 there will be a 20-27 percent shortfall of Internal medicine physicians, about 35,000 to 44,000 physicians. This increasing demand is partially due to the increasing aging population above the age of 65 which seek care of Internal medicine physicians at twice the rate of individuals under the age of 65. Additionally, many Internal medicine trained physicians elect to complete a fellowship in one of the Internal medicine subspecialties.
What is the difference between an Internal medicine Doctor and an Internist?
There is No Difference between an Internist and an Internal medicine Doctor. They are two terms referring to the same Medical specialist.
What is General Internal Medicine?
General Internal medicine is another term for the area of medicine in which Physicians who have completed an Internal medicine residency program, but have chosen not to pursue training in one of the subspecialties practice in. This term is used more often in England and British commonwealth territories.
How has the Covid pandemic affected the practice of Internal med physicians?
Since the beginning of 2020, COVID-19 has had a huge impact on jobs nationwide. Physicians and other healthcare related jobs are no exception. Overall, medical practices in the U.S. report a fifty-five percent decrease in revenue and a sixty percent decrease in average patient volume since the beginning of the COVID-19 crisis. Due to this drastic decrease in revenue, medical practices and hospitals have furloughed and laid off employees including 43,000 healthcare workers in March 2020 alone. Nine percent of independent medical practices state they have at least temporarily closed their practices. As social distancing guidelines remain in effect, remote patient engagement has soared and increased by an astounding two hundred twenty five percent.
Internal medicine physicians primarily take care of hospitalized patients. Due to COVID-19, there are some interesting effects on hospitalized patient numbers. First, non-COVID-19 related admissions were drastically reduced down almost 70% of predicted in April 2020 according to a study. However, by July 2020 non-COVID-19 related admissions were back up to 95% of predicted. The most drastic statistic details that non-COVID-19 admissions of individuals aged 65 and up was halved in March and April 2020 although it rose to roughly 80% by August. The decline in non-COVID-19 patients helps to balance the immense number of COVID-19 related admissions.
How to pursue a career as an Internist
For those reading this article that may be interested in pursuing a career in Medicine, it all begins with applying to a top-notch School of Medicine like the University of Medicine and Health Sciences! Our Doctor of Medicine (MD) program has starting dates three time a year, in September, January and May.
Profiles and interviews with UMHS alumni that have chosen Internal medicine as a career
Do you want to know more about becoming an Internal medicine Doctor? We have a large number of Internal med residents and alumni that have taken the time to share why they chose Internal med as a career and how UMHS prepared them for a highly successful future in Medicine. Click on the links below the profile pictures to read their interviews!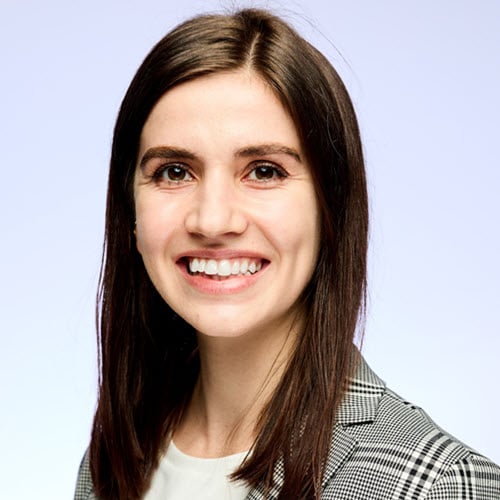 Posted by
Callie Torres
Callie Torres is a Captain in the United States Air Force and a chief resident at Wash U/Barnes Jewish Hospital in St Louis. She is a freelance writer with many published medical articles as well as multiple peer-reviewed medical publications