Here are a few things to keep in mind when planning your trip:
Campus visits are by appointment only.
You should schedule your visit through the Office of Admissions before making the rest of your travel arrangements.
You will be responsible for all travel, food, and lodging costs. (However, we do offer a financial incentive for admitted students who have visited the St. Kitts campus before enrolling at the University.)
Appointments cannot be scheduled during semester breaks or during the first or last two weeks of a semester.
Schedule your visit
To set your appointment, or to request more details about the financial incentive program, contact the Office of Admissions at admissions@umhs-sk.net or call us 866-686-0380
Virtual Tour
Explore our beautiful St. Kitts campus from the comfort of your home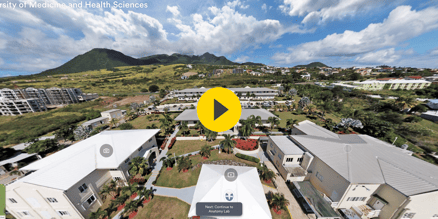 We have partnered with a team to develop a fully immersive, 360 walk-through of our campus. Move from classroom to classroom, watch lectures come to life, and get as close to the UMHS student experience as you can, without traveling to St. Kitts.