World-class medical education at one of the top Caribbean medical schools - UMHS School of Medicine
UMHS Medical School Highlights
Low attrition rate – unprecedented 96% student retention
96% first-time USMLE Step 2 CK pass rate with an average score of 231*
Affordable tuition and fees - Our students save up to $169,454 over other U.S. and Caribbean medical schools
Small class and lab sizes
World-class medical teaching facilities
Outstanding and highly credentialed faculty that care about your education and each student becoming a physician
Exceptional residency placement
20+ hospital affiliations in US and Canada
The Ross family values of honesty and integrity
Founder legacy of more than 40 years of success in medical education
*March 2019-2020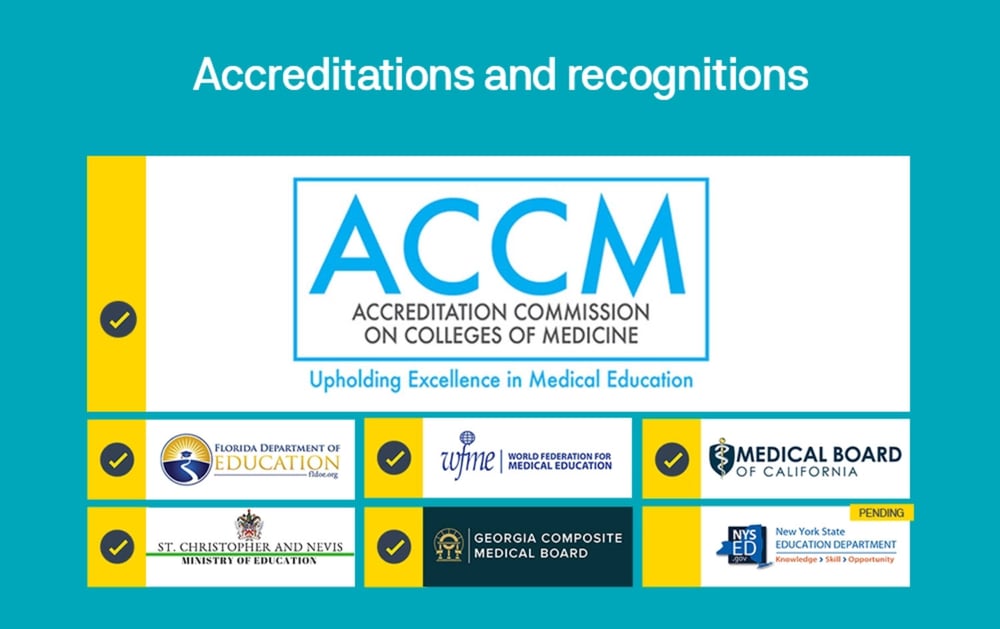 Why do students choose the University of Medicine and Health Sciences over other Caribbean medical schools?
Industry-leading retention rates:
Many Caribbean medical schools boast impressive statistics to attract potential applicants to their school, however, these statistics may be misleading.
One statistic some medical schools try to overshadow is their attrition rates- the percentage of the student body that start but don't complete medical school. While some Caribbean medical schools may promote their enormous graduating classes, they hide the fact that a large portion of their student body fails to complete medical school, with attrition rates averaging as high as 40%! This should be a red flag and added to a list of things to consider when looking at other med schools in the Caribbean. 96% of the students that enter our MD program graduate from our medical school in the Caribbean. We are committed to your success and our primary goal is to help you excel in med school, match into a residency program and have outstanding careers. Read more in our medical schools in Caribbean faqs section of this article.
Highly trained admission staff:
Our Schools admissions staff are trained to recognize the unique potential in applicants.
Admissions is one of the most important and seldom discussed aspects for all of the Caribbean medical schools. In 1978 our founder, Dr. Robert Ross, created one of the first Caribbean medical schools with an outstanding reputation. Based on more than 40 years of experience in medical education, we now know that GPA and MCAT data are not pure predictors of success in medical school - our schools 96% student retention rate remains as a testament to this fact. As such, we take a very holistic approach to admissions, looking at a broad range of many different indicators of a student's potential to handle the rigors of medical school.
Some of our best med school Applicants and students come from non-traditional backgrounds or are candidates that are simply overlooked by other American medical school's dated modes of analysis.
Instructors that care about your success:
We offer a truly personalized approach to medical education at our Caribbean med school. Our faculty share a love of teaching and are fully committed to each student's success in school and in their career as an MD.
We have an exceptionally low student-to-faculty ratio of 8:1 This ratio is one of the lowest for any of the highly accredited Caribbean medical schools. Teachers have ample opportunity to get to know their students and vice-versa. Students and graduates remark that it was the availability of the doting faculty and the wealth of information they always had time to share, that contributed so much to their success as a physician. Opportunities are also available for research.
Commitment to quality:
We are committed to educating uniquely skilled and diverse medical professionals eager to meet the need for MD physicians in various settings throughout the United States and the world. With a focus on quality patient care in clinical medicine, we utilize the latest in advanced technological instruction and personalized education and training. Our aim is to produce genuinely passionate doctors who are highly prepared for practice in a changing medical landscape. If you are looking for one of the Best Caribbean Medical Schools, learn more about becoming a doctor through our top Caribbean medical school program by speaking with an admissions representative, current students, or alumni. We are sure you will put our Caribbean med school on the top of your list of medical schools in the Caribbean to consider attending!
Ross family ownership and integrity:
As the only Caribbean medical school that is family/privately owned, UMHS was founded by Dr. Robert Ross (1917-2011). He was known worldwide with an impeccable reputation for developing academic institutions and dedication to excellence. This dedication to excellence and feeling "morally responsible for the success of our students" continues with his family members that own and operate the institution today. Read our Mission Statement.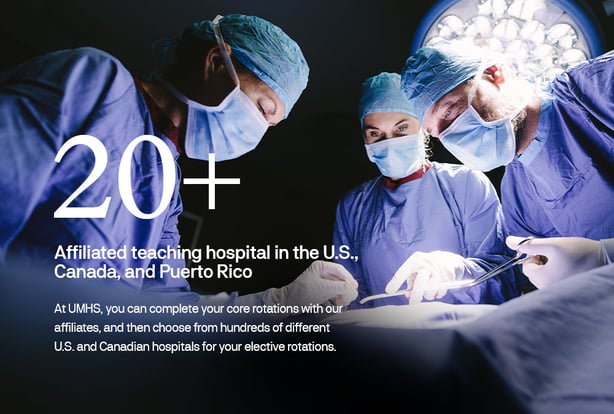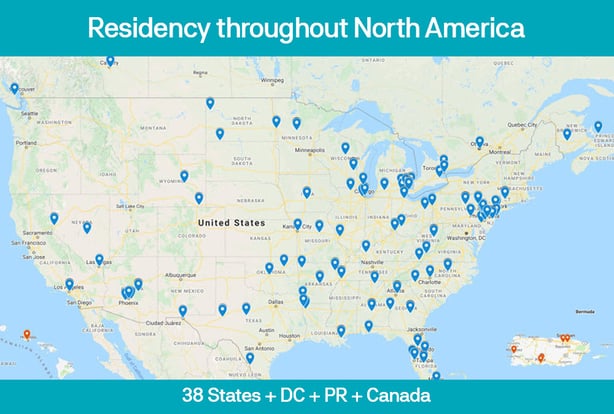 Take the first step to becoming a Medical Doctor
Med schools tuition and fees cost comparison - How can other accredited Caribbean medical schools be so much more expensive?
The University of Medicine and Health Sciences continues to be the leader in providing high-quality education at a fair and affordable price. As the only family/privately owned Medical School in the Caribbean, we do not answer to stockholders or large corporate investors like other offshore medical schools.
"We believe our moral obligation is to leave graduates with as little debt as possible while generating enough revenue to maintain the institution's financial health for future growth and withstand operational setbacks. The revenue generated from our current tuition and fees more than exceeds our operating expenses, allowing us to invest further in the campus, in educational technology, and grow the University at a healthy pace."
We often get asked why the other Caribbean Medical schools are so much more expensive than UMHS and the vast majority of US Allopathic and Osteopathic medical schools? Obviously, we can't answer for other Medical schools in the Caribbean, but it seems obvious that these Caribbean med school programs could meet their operating expenses and still collect a healthy profit with tuition and fees at a much lower rate than what they are charging now.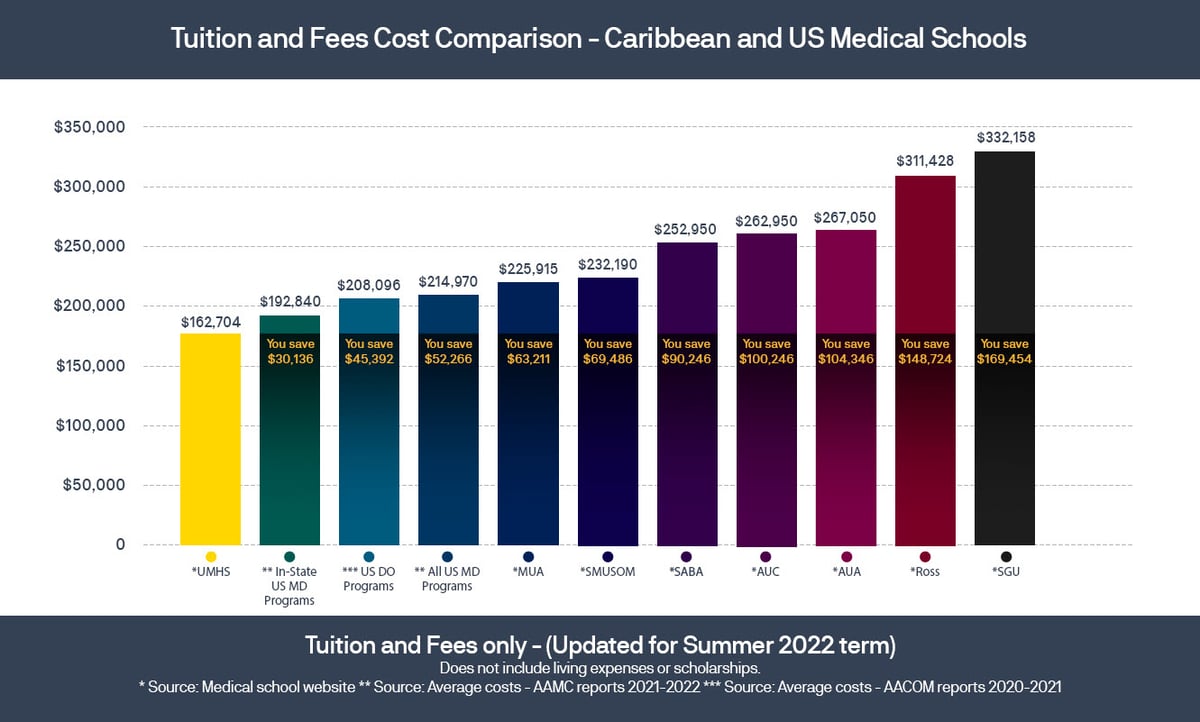 Frequently asked questions about the Doctor of Medicine program at UMHS Medical School in the Caribbean
Here are some of the most commonly asked questions about becoming a doctor at the University of Medicine and Health Sciences.
Is UMHS one of the accredited Caribbean medical schools that allows licensing in the US and Canada?
One question we get asked often is about our medical school accreditations. The University Of Medicine and Health Sciences School of Medicine takes pride in being one of the top-tier accredited Caribbean medical schools with very high accreditation standards. Our students are qualified and eligible to sit for the United States and Canadian medical licensing exams and can apply for residency throughout the US and Canada. Our Caribbean medical school has ACCM accreditation, NCFMEA recognition, and various US state approvals. Our schools name can be found on the list of Caribbean medical schools approved institutions on the World Federation for Medical Education - WFME/FAIMER World Directory of Medical Schools.
Fully licensed doctors who are graduates of our Caribbean medical college are able to practice in all 50 United States.
How does your Caribbean medical school assist students in the residency match process?
Obtaining a residency from Caribbean medical schools is one of the single most important steps in your path of becoming a practicing Physician after graduation. To ensure our Caribbean med schools students apply strategically and have the highest chance of matching into the residency of their dreams, the University puts enormous effort into assisting our students in the residency match process.
The Academic and Student Affairs department is chiefly responsible for helping students match into residencies. They work with students on an individual basis on everything from residency interview coaching to residency application strategies.
Click this link to read about our schools of medicine in the Caribbean residency program.
How does UMHS medical school assist students in preparing for the USMLE Step Exams?
As one of the best Caribbean medical schools, The University of Medicine and Health Sciences has contracted with Kaplan, a renowned test preparation service, to assist our student's success in studying and passing the USMLE Step 1 and Step 2 board examinations. This service is included in the tuition and fees for our students. Kaplan customary fees for these live services named "In Center with Live - 12 Month" are $9,999 for step 1 preparation and $7,499 for "In Center with Live - 9 Month" Step 2 CK preparation.
This is another reason why premed students consider UMHS as one of the top Caribbean medical schools.
What are the average USMLE pass rates at your school of medicine?
Students must pass two portions of the United States Medical Licensing Exam (USMLE) for graduation. The USMLE Step 1 is taken after completing the preclinical basic sciences years of medical school. The USMLE Step 2 CK (clinical knowledge) is taken after completing core clinical rotations. Both exams are rigorous and require extensive medical knowledge. UMHS as one of the medical schools Caribbean bound students look to as a leader in usmle pass rates, and proudly reports an outstanding first-time USMLE Step 2 CK pass rate of 96% with an average score of 231*
Read more about the USMLE and pass rates for Caribbean medical schools here
*March 2019-2020
What is the MCAT requirement policy for admission into the Medical school?
*Because of the COVID 19 pandemic, there is an option that our institutions MCAT policies may change, so please check back frequently.* Currently, our school's policy requires all United States citizens and other permanent residents to submit their MCAT scores as part of their application into our Caribbean medical school. There is no minimum MCAT score requirement for applying to our medical school.
While the MCAT is not required for non-U.S. citizens, it is still highly recommended for all applicants to Caribbean schools from every country.
More information about the MCAT can be found on the AAMC website and in the admissions section of our Caribbean medical schools website
What medical residencies do UMHS medical students match into?
Our medical school graduates annually match into some of the most competitive residency programs across the US and Canada. Some of the residencies and specialties our medical students attained include: Emergency Medicine, Family Medicine, Internal Medicine, General Surgery, Neurology, Obstetrics and Gynecology, Anesthesiology, Ophthalmology, Pathology, Pediatrics, Psychiatry, and Radiology. These represent options at some of medicine's finest residency programs at hospitals and institutions in the US and Canada. Students who complete the basic sciences courses at our Caribbean medical schools location in Saint Kitts and clinical clerkships have matched into residencies in 38 states including California, the District of Columbia (DC), Canada, and Puerto Rico. Primary care which includes internal medicine, family medicine, and pediatrics are the most popular residency placements programs.
Read more about our Caribbean medical schools residency program match results here - UMHS medical school match results
What does your Medical school admissions committee look for in an applicant?
Our Caribbean medical schools admissions committee is concerned with whether the applicant has the ability and drive to succeed in the incredible rigors of Medical School. This is determined holistically without a computer formula by looking at GPA and MCAT, but also through more qualitative factors such as life experience, extracurricular activities, and leadership potential. Greater weight is given to the trajectory of academic performance, rather than just cumulative GPA or stats from a USMLE score on its own, (which we find as a poor estimator of future success). An advanced degree program, such as a msc - master of science or phd degree or even mba programs show desirable dedication. A strong personal statement essay can be extremely helpful and one of the pivotal factors for admission into Caribbean medical schools.
Applicants must first complete the required premed prerequisite courses and the MCAT. They should fill out an online application, order official transcripts from all schools they've attended, and submit at least two letters of recommendation (LOR).
Prospective medical school applicants will be invited for an Interview if Medical School admissions determine that they meet the minimum criteria for success. Once the interview is completed, the college admissions committee will determine a final decision, and medical school applicants will be notified of an official decision within two weeks.
Read more about applications and our admissions philosophy here: Our medical universities admissions philosophy
Is a premed degree required for acceptance into UMHS?
Similar to other US and Caribbean medical schools and international medical schools, a premed or health-related baccalaureate
BS degree is not required for admission into our Medical school in the Caribbean. Instead, our admissions policies requires completion of high school, or a GRE certificate, along with three years of college education, including at least 90 credit hours at an accredited undergraduate university or liberal arts school. Certain pre med pre-requisite courses are also required for application. These include:
one year of general or inorganic chemistry
one year of organic chemistry
one year of general biology
one semester of physics
one year of English
1-semester of college calculus or statistics
Additional upper-level science courses such as introduction to biochemistry and zoology are recommended but not required.
Read more about our school of medicine admissions requirements, caam-hp approval and amcas. Please feel free to login and to apply to begin the Medical sciences program here: https://www.umhs-sk.org/apply
In addition, click to find our best medical scholarship opportunities.
What is it like living on St. Kitts?
As a student, you can enjoy all life has to offer while living and learning on one of the most beautiful islands in the Caribbean. St. Kitts is located in the West Indies surrounded by the Caribbean Sea and the Atlantic Ocean. Although our diverse and collegial student body is bound primarily by the shared desire of practicing medicine, you'll find ample opportunities for making lasting connections with other people outside the classroom and away from home. Participate in one of our dynamic student organizations, attend one of our Caribbean medical schools extracurricular events, or partake in some of the endless sports and recreation opportunities available on and around the school's campus. We strongly believe in the utility of diversity in healthcare, women in medicine, and LGBTQ equality.
St. Kitts has the best of both worlds, with the luxury of living in the Caribbean plus all of the modern amenities expected from a Caribbean Medical School, including grocery stores, banks, restaurants, coffee shops, and more. You should be able to find out more to help guide you on our social media profiles:
You can also read more about living in the Caribbean here - medicine and medical school life in the Caribbean
Navigate back Home toward the top of this Caribbean medicals schools page with these navigation links
Caribbean medical schools rankings - Which top Medical Schools in the Caribbean offer the most affordable tuition and fees?
The University of Medicine and Health Sciences is family/privately owned. Being a family-owned university gives us a huge advantage over other Caribbean medical schools as we make decisions based on what is best for our students without answering to stockholders or large corporate investors. This also gives us the option to provide an affordable Medical education that can save our students thousands - as much as $169,454 of student debt over other top Caribbean medical schools you may find online. Here is information about other Caribbean island medical schools, the owners of the institutions and general information about their programs including those called the Big 4 Caribbean medical schools including one of the medical schools in Grenada.
| | | | | |
| --- | --- | --- | --- | --- |
| Medical University Ranking | Short Name(s) | Owner(s) | Basic Sciences Location | Tuition and Fees |
| 1. University of Medicine and Health Sciences | UMHS, UMHS St Kitts | Family/Privately owned | Basseterre, Saint Kitts | $162,704 |
| 2. Medical University of the Americas | MUA | R3 Education, Inc, (a holding company) | Saint Kitts and Nevis | $225,915 |
| 3. American University of Antigua | AUA | Manipal Education & Medical Group in India | Antigua and Barbuda | $267,050 |
| 4. Saba University School of Medicine | Saba | R3 Education, Inc, (a holding company) | Saba, NL ( Caribbean Netherlands) | $252,950 |
| 5. The American University of the Caribbean School of Medicine | AUC | Adtalem Global Education Inc (NYSE: ATGE) | Sint Maarten | $262,950 |
| 6. Ross University School of Medicine | Ross, RUSM | Adtalem Global Education Inc (NYSE: ATGE) | Barbados | $311,428 |
| 7. St. George's University | St George's, SGU | Altas Partners, Baring Private Equity Asia and private investors | Grenada, West Indies (and additional facility in the UK) | $332,158 |
Do Caribbean Medical Schools like UMHS Confer a M.D. or D.O. degree?
All Caribbean medical schools that are credentialed to allow graduates to practice in the United States and Canada upon graduation confer the Doctor of Medicine, MD degree.
There are not any Caribbean Medical schools that confer a Doctor of Osteopathy, DO degree, as D.O. programs do not allow accrediting outside the USA.
There are several Medical Schools in the Caribbean that confer a MBBS degree, but graduates of these programs do not qualify to practice in the US without additional training.
Do US and Canadian Hospitals hire graduates of Medical Schools in the Caribbean?
Yes. Hospitals in the United States as well as hospitals in Canada DO hire graduates from accredited Caribbean medical schools such as UMHS.
Medical school graduates are hired based on their skills, competencies, and qualifications. U.S. The hiring process most often doesn't take into account whether you attended top-notch medical schools. A medical graduate's qualifications are all that matters to them.
Approximately 25 percent of U.S. physicians are international medical graduates, which includes graduates of Caribbean medical schools.
Read more about UMHS being one of the top accredited Caribbean medical schools here: UMHS as one of the top rated Caribbean Medical Schools with high accreditations
Find out more about our Caribbean Medical school MD program
Medical school reviews – Some online Google reviews from our Caribbean school friends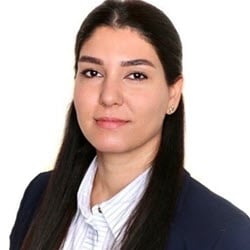 I owe my career and journey of medicine to UMHS. The faculty, president and staff have been incredibly caring and helpful to me to complete my medical school/rotations and be able to match. During a very tough time when I could not pay my tuition on my last semester, they allowed me to graduate and....

I had the pleasure of attending UMHS as a student. Upon arriving to campus it was immediately apparent that the school prides itself on investing in its campus and its students. I was most impressed with their state of the art anatomy lab. Something I didn't appreciate until until I started was the....

UMHS truly offers a personalized medical education from the start. The administrative staff are extremely helpful. I had one of their phone numbers from the day that I got on to the island and was able to text her whenever I needed anything (which I still do). I am currently doing my core rotations....

I finished the basic sciences program in St.Kitts and now I'm in Portland, ME getting ready for STEP 1. I can honestly say that I am so glad that I chose to go to UMHS! It has given me all the tools and resources I needed to become a successful student and one day, a successful physician The professors....

I am currently finishing my third semester on the beautiful island of St.Kitts and will be entering my final island semester in September 2019. My search to attend a medical school was extensive. I applied to nearly every medical school in the States and…..

Coming in as a non-trad student, I was eager to go to school and experience the "power of place." I was constantly surrounded by the Caribbean beauty of St. Kitts & was able to enjoy exploring and adventuring the majority of the island. Most of that was due to….

Since day 1 UMHS has taught me that medicine is intense but at the same time I have been given all the resources (excellent professors, class material, orientation) to succeed in medical school. I currently feel that I'm on my way to achieve my short (USMLE Step 1) and ....

Studying medicine at UMHS has been one of the best decisions I have ever made! St. Kitts campus is beautiful, starting with the fact that we have such an amazing view to the ocean, perfect for relaxing time between study breaks. The library is awesome....
Do you have any questions or would you like to speak with an admissions counselor?
Click to call for more information about Caribbean Medical Schools today!
Caribbean medical schools website links