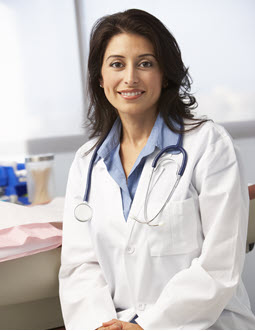 If you are interested in accurate and updated information about the Medical specialty of Family Medicine and want to learn how to become a Family medicine doctor, then keep reading! This article was written for prospective med students interested in learning more about the path to become a Family medicine physician. To jump ahead and read the steps to becoming a Family medicine physician, click this link. In this article we will also discuss 11 of the most common questions our admissions specialists have received regarding a career in Family medicine.

We believe it is critical that everyone who reads this medical specialty article understands the commitment and years of study required to complete Medical school, finish a residency, gain licensure, and work as a Family medicine doctor in the US or Canada.
Also, please check out these alumni interviews with three Family med specialists.
Quick Navigation Links to 12 FAQ's about Family medicine as a specialty and Family Doctors
What education and training is needed to become a family medicine doctor?
The process to become a Family medicine doctor requires extensive schooling and training. Assuming a high school diploma or GED has been earned, there are six educational steps to become a family physician.
Step 1: Enroll in an undergraduate program and complete all medical school prerequisites.
According to medical school admission advisors, applicants should strive for a letter grade of B or higher in all their courses in order to remain competitive for admission to medical school. While the majority of matriculants into Med school earn a bachelor's degree, such as a Bachelor of Science (BS) or a Bachelor of Arts (BA), most Medical schools do not require a degree to be accepted. It is important to note that although certain medical schools have slightly varying preparatory requirements, most of them require completion of the following courses:
Mathematics
Biology
English composition
Inorganic chemistry with lab
Organic chemistry with lab
Several classes are also highly suggested but not always required:
Biochemistry (subject matter is tested on the MCAT)
Physiology (subject matter is tested on the MCAT)
During college, medical school applicants will also need to complete several extracurricular activities. This includes research, medical care shadowing, leadership roles, volunteering, and joining national medical organizations.
Step 2: Prepare for, take, and submit scores from the Medical College Admission Test (MCAT).
To be strongly considered for medical school, you must have a good MCAT, (Medical College Admission Test) score. To screen candidates, most medical schools use computer-based algorithms. These algorithm's automatically reject applicants when student's scores fall below a certain threshold. The MCAT is a 7 1/2 hour computer-based exam that assesses four different areas of knowledge.
Chemical and Physical Foundations of Biological Systems Section
Biological and Biochemical Foundations of Living Systems Section
Psychological, Social, and Biological Foundations of Behavior Section
Scientific Inquiry and Reasoning Skills
For more information about what is tested on during the MCAT check out this page:
Step 3: Apply to, matriculate into, and attend an Allopathic or Osteopathic Medical School.
The first portion of medical school is two years in length and consists of courses and laboratories that teach the basics of medicine. This commonly includes courses in Biochemistry, Physiology, Anatomy, Pathology and Pharmacology. This is a grueling time spent learning a large amount of information and preparing for the first national board examination. During the middle of year two, all students begin preparing for what is thought to be the most challenging board examination in a student's medical career. For those in an Allopathic (M.D.) program this is the USMLE Step 1 (United States Medical Licensing Examination) and for Osteopathy (D.O.) students it is the COMLEX-USA Level 1. This exam tests the principles of medicine including Biochemistry, Physiology, Anatomy, Pharmacology, and Pathology.
---
Discover if a career in Family Medicine is right for you.
Learn why 70% of doctors would choose the same specialty again.
---
Clinical medicine is primarily taught in the third and fourth years of medical school. It is during these time periods that students receive hands-on experience in patient care at teaching hospitals while learning clinical skills. The third-year is spent in required rotations, commonly known as Clinical clerkships. The following clerkships are required by most medical schools, however, they may vary slightly from program to program:
Family medicine
Pediatrics
Internal medicine
Surgery
Psychiatry
Obstetrics and Gynecology (OB-GYN)
Neurology


Medical students take exams at the end of each rotation, termed shelf exams.
During students' fourth year, they are allowed to choose clinical rotations in a particular field of medicine they may be interested in. These are known as audition rotations, or Sub-internships. Students who are unclear about the branch of medicine they want to practice in will participate in audition rotations in a variety of specialties at various residency programs across the country. During this time, while students are evaluating residencies, residency program administrators are evaluating medical students to see if they would be suitable as residents in the future.
Step 4: Complete Intern year and Family medicine Residency.
Family medicine residency lasts three years. Graduated medical students enrolled in Family medicine residency programs cannot practice without supervision. The first year of Family med residency is called an Intern year. This is also the time when the COMLEX Step 3 or USMLE Step 3 national board exam is completed. Residency programs are paid positions, with pay varying by state and institution.
Family medicine residency programs train residents to diagnose, treat and prevent a wide range of illnesses in people of all ages. Residents must learn a broad scope of practice. To do so, they are exposed to a wide variety of medical disciplines including:
Psychiatry
Pediatrics
Geriatrics
Internal medicine
Obstetrics and Gynecology
Surgery
Step 5: Specialty Board Certification.
Towards the end or shortly after residency, physicians take their specialty board examination. This is at least a day length exam that covers the knowledge that residents obtained while in residency. This is the final step to complete before doctors become completely autonomous and no longer require supervision. Doctors take months to study for these strenuous exams.
Step 6: Complete a Fellowship in a subspecialty (optional).
After residency, physicians have the option to further sub-specialize in an area of interest. This training lasts at least a year. Some but not all fellowships require taking another board examination. Read more about Family med fellowships in this section.
What are the fellowship subspecialties a Family med physician can pursue?
Family physicians have the option of completing a fellowship after residency. A fellowship allows family medicine physicians to further subspecialize in a specific facet of family medicine. Fellowships last at least one year. Family medicine fellowships include:
Sports Medicine - 1 to 2 years in length with 1 year being the most common
Geriatric Medicine - 1 to 3 years in length depending on focus
Adolescent Medicine -2 to 3 years in length with 2 years being the most common
Hospice Medicine - 1 year in length
Pain Medicine - 1 year in length
Sleep Medicine - 1 year in length
What is a Family medicine doctor?
A family medicine doctor is a primary care physician that has completed a MD or DO degree program, followed by a 3-year family medicine residency. These physicians primarily work in an outpatient family clinic setting. They differ from other primary care physicians (Pediatricians and Internal Med specialists) in the following ways:
Family medicine doctors treat patients of all ages including infants, children, adolescents, adults, and geriatrics patients.
Family physicians treat men and women's health problems.
Pediatricians only see infants and children and stops seeing patients at age 18.
Internal med physicians only treat adult patients and do not see infants or children.
A family practice doctor may be thought of as a combination of a pediatrician and an internist/hospitalist due to the fact that they treat both adults and children. Many times, a strong personal relationship develops between multiple generations of families and a Family med practitioner as "you may grow up with them."

Family physicians treat a wide variety of diseases from common medical disorders like diabetes to medical injuries such as an ankle sprain. They also conduct physical exams, order and interpret medical laboratory tests, diagnose diseases, and prescribe and adjust medical prescriptions. Read more about their scope of practice in the next section.
What does a family medicine doctor do?
Family medicine physicians treat a wide variety of medical conditions that affect patients of all ages, backgrounds, and stages of life. They receive training in internal medicine, obstetrics and gynecology, pediatrics, psychiatry, geriatrics and more. Family medicine is highly adaptable, and clinicians often adjust their family practice to the needs of the community they serve. Usually, family medicine physicians serve as the first line of medical treatment for most patients and spend the majority of their working time in outpatient clinics. In practice, family medicine physicians treat patients with multiple morbidities, perform procedures in office, order and interpret laboratory results, and refer patients to other medical specialists. Some of the most common medical conditions that family medicine doctors treat include:
Hypertension
Diabetes
Upper respiratory infection
Anxiety/depression
Hypercholesterolemia/hyperlipidemia
Urinary tract infection - UTI
Can family med doctors do surgery?
No, family medicine physicians do not perform surgery. In order to operate, physicians must be trained in residency to perform surgery. Physicians that do surgery include general surgeons, orthopedic surgeons, obstetrics and gynecologists, ophthalmologists, and ear nose and throat (ENT) doctors.
What is the length of family medicine residency?
The length of family medicine residencies is three years. Residency takes place after doctors have completed medical school. Physicians must match into a residency program in order to complete their training. More information about residency may be found above.
How many years does it take to become a family medicine doctor?
It takes at least 10 years to become a family medicine doctor. This includes at least three years of undergraduate college courses, four years of medical school, and three years of family medicine residency. However, many physicians may exceed 10 years by finishing their bachelor's degree, obtaining a master's degree, obtaining a PhD, taking a year off in medical school, or by completing a fellowship after residency.
Is becoming a family medical physician worth it?
The job outlook for family medicine is excellent with several sources predicting an increasing need for family medicine doctors. According to the Bureau of Labor Statistics, the demand for family medicine physicians is expected to grow by over 10 percent.by 2028. The American Academy of Family Physicians also expects the job market to increase and advises that each family medicine residency would need to increase from an average of 21.7 residents to 24 residents in order to keep up with the demand of family medicine physicians. Becoming a Hospitalist is often a popular career choice for Family med Doctors
What is an average Family Medicine Doctor salary?
There are several different sources that report salaries for family doctors. These include salaries published by the American Association of Medical Colleges (AAMC) and an annual survey conducted by Medscape. According to the Medscape Physician Compensation Report in 2020, family doctors earned $234,000 plus an average of $24,000 in the form of an incentive bonus.
According to AAMC Careers in Medicine (who reports salaries in academic medicine), family doctors in academic medicine that work as an assistant professor earn on average $226,000. Full professors of family medicine in academia make an average of $239,000.
What is an average debt for a Family Medicine Doctor?
According to Educationdata.org, the average amount of debt accumulated from attending medical school is around $216,000. When considering the cost of student loans taken out prior to medical school, the average debt reaches $241,600. Although all physicians eventually have good income, this is still a very large about of debt to accumulate. Anyone considering medicine, or family medicine, as a possible career path should be aware of the high costs, and long amount of time required to finish training.
What college major should I have to get into Medical school and practice Family medicine?
A specific major is not required to apply for and begin medical school. Instead, all medical schools have a list of required courses for application. Most of these courses are Biology and Chemistry. However, other topics such as physics, writing, math, and psychology may also be required. As the majority of required classes are Biology and Chemistry, many applicants have majors in one of these two fields. However, applicants with any type of degree may apply to medical school, as long as they have completed the required prerequisite courses.
How to pursue a career as a Family medicine physician?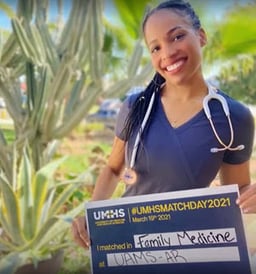 We trust that everyone that has taken the time to read this article has a better understanding of Family medicine doctors, their training, and the time and money it takes to become one. If you want to become a Family doctor, you should apply to one of the great medical programs like the University of Medicine and Health Sciences. We want to help you achieve your dream of becoming a Family medicine Doctor, just like Dr. Swearingen pictured on the right. She matched into a great Family med residency in Arkansas in 2021. Learn more about why student choose UMHS Medical school.
Profiles and interviews with UMHS alumni that chose Family medicine as a career.
If you are considering a rewarding career in family medicine, please read some of our graduate alumni interviews. Each has a unique narrative about how they picked Family Medicine as a career and UMHS as their choice of medical universities to get their MD degrees. In-depth interviews from each of these Family physicians are linked to below the Doctor's photos!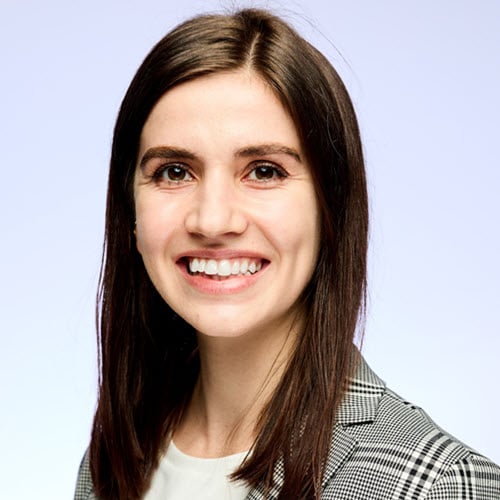 Posted by
Callie Torres
Callie Torres is a Captain in the United States Air Force and a resident at Wash U/Barnes Jewish Hospital in St Louis. She is a freelance writer with many published medical articles as well as multiple peer-reviewed medical publications