UMHS Class of 2017 graduate Dr. Rohan Manocha starts his residency in Family Medicine at University of Toronto – Downtown this summer and he is pleased to be returning to the Toronto area. Dr. Manocha grew up in nearby Richmond Hill and studied Kinesiology at Western University in London, Ontario. An avid Toronto sports fan, Dr. Manocha realized he had a passion for medicine while taking anatomy and physiology courses as an undergrad and volunteering his time at the local hospital in his hometown of Richmond Hill.
Dr. Manocha enjoys time with his family, something he likely had little time for during his journey through medical school at UMHS. The UMHS Endeavour recently spoke to Dr. Manocha about why he chose UMHS and how it specifically helped him land a prestigious residency back in his Canadian homeland. He also shared advice on how to get high scores on the USMLE exams and make the most of the residency Match process.
UMHS Endeavour: Tell us a little about yourself and where you are originally from.
Dr. Rohan Manocha: I grew up 30 minutes north of the city of Toronto in the town of Richmond Hill and received my undergraduate degree in Kinesiology from Western University in London, Ontario. When I am not at the hospital or studying, I am a passionate Toronto sports fan and enjoy spending time with family and living an active lifestyle. I realized I was interested in pursuing a career in medicine during my undergraduate degree where I was exposed to anatomy and physiology, and while volunteering at my local hospital in my hometown of Richmond hill. One of my favorite memories of living in St. Kitts was heading to the beach to play in a beach volleyball league every Friday evening after a long week of classes.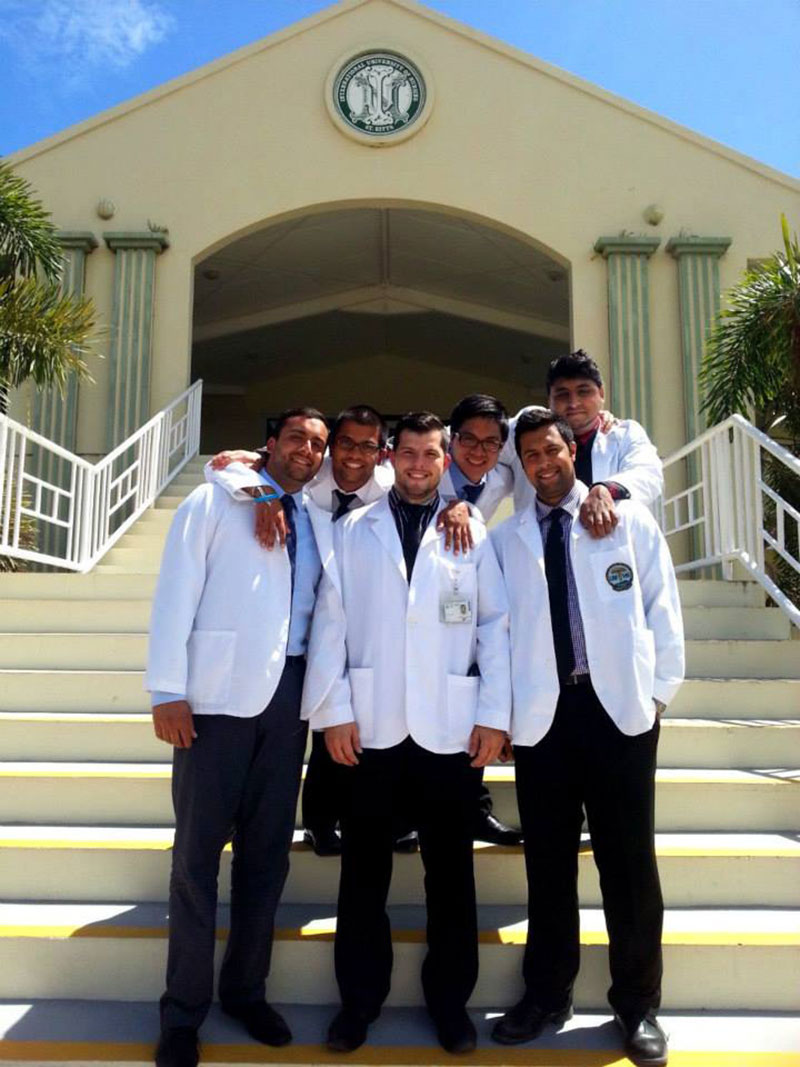 DR. MANOCHA AT UMHS: Last semester in St. Kitts with friends. Photo: Courtesy of Dr. Rohan Manocha
Why did you decide to go to UMHS?
UMHS provided an avenue for me to fulfill my career goal of becoming a practicing physician in Canada. I was drawn to the smaller class sizes, favorable island living conditions in St. Kitts, new facilities, and the promising hospital affiliations, including the opportunity to complete a third-year core rotation in Canada.
Where will you be doing your residency?
I will be completing my residency at the University of Toronto – Downtown through the department of Family and Community Medicine.
What was the greatest thing about learning you matched?
After countless hours of studying, exams, and early mornings, the greatest thing about learning that I matched was the sense of accomplishment that came with seeing your name next to your new program on match day. It meant a lot to me to be able to share my success with my family, who have supported me through all my endeavors and whom I especially leaned on during the stressful times of medical school. Completing a residency training program is the next step in the long journey to becoming a practicing family medicine physician, and I am absolutely thrilled to be able to complete my training at a Canadian university program.
Is there anything in particular that interests you about your specialty?
I was drawn to Family Medicine for the variety and continuity of care that it provides. In most health care systems around the world, and especially in Canada, family physicians provide the first line of contact with the health care system, and I am really looking forward to making an impact in the lives of others as a physician. I am also very interested in the academics of medicine and hope to obtain a Family Medicine faculty position at a university program in the future.
---
Discover if a career in Family Medicine is right for you.
Learn why 70% of doctors would choose the same specialty again.
---
Do you have any specific advice for Canadians studying medicine abroad?
I can't emphasize enough the importance of scoring as high as possible on the USMLE exams, especially for Canadian students studying abroad. Take the time to seek out third- and fourth-year rotations at hospitals with residency programs and start making a list early in your fourth year of programs that sponsor the appropriate training visas. This will make the residency application time much less stressful. For Canadians wishing to complete residency training in Canada, I found all the various deadlines for applying to complete elective rotations in Canada, and applying for the qualifying exams to be the most challenging to keep up with. I would recommend creating a schedule right before you start your third year to ensure you meet all the deadlines. Don't forget to take into consideration any time off you may need to study for the USMLE and Canadian exams. Lastly, I believe that it is essential to complete at least one clinical rotation in Canada to gain both valuable clinical experience in the healthcare system, and to obtain a letter of recommendation to improve your residency application.
What advice do you have for current UMHS students, and medical students in general, about the Match process?
Start researching programs and formulating your personal statement early. Secondly, don't wait till the last minute to ask for letters of recommendation and stay in touch with preceptors, especially if it has been a few months since you were in that specific rotation. Do not underestimate the value that a strong letter of recommendation can have on the outcome of your application. Lastly, try to relax and be yourself during your interviews. I found along the interview trail that many interviewers valued honest and candid answers highly when scoring candidates.
Are there any advantages for students at Caribbean medical schools regarding the Match process?
Many residency programs understand that Caribbean medical students have diverse backgrounds and life experiences in addition to immense dedication and work ethic to be able to succeed as international medical graduates. Use these experiences to highlight the fact that you will be a hardworking and dedicated resident in their program. The key is to achieve a high score on the USMLE, using the great Kaplan review program at UMHS in the 5th Semester. Poor performance on the USMLE can negatively affect your residency opportunities. There are many ways, however, to equalize the playing field, including through letters of recommendation, clinical grades, and arguably one of the most important aspects, networking. One of the great advantages for students studying at Caribbean medical schools is the ability to rotate at many different teaching hospitals across the US and Canada. This can be a great tool to outline to program directors and faculty that you are adaptable and have succeeded not just in one hospital but many.
Was there anything specific about your medical education at UMHS and clinical rotations that prepared you well for matching?
The process of matching into residency really starts on your first day of medical school with the attitude and work ethic you bring to the table. For someone who had just packed up two suitcases and moved to a different country to start medical school, I felt comfortable and welcomed when I arrived at UMHS and I would say the transition to starting medical school was as seamless as it could be. There are many outstanding professors at UMHS and the curriculum is truly geared towards providing students with the necessary tools to succeed with regards to the USMLE exams. I found the 5th semester in Portland, Maine to be a very beneficial part of my medical education as it provides students with important time to begin formal USMLE Step 1 preparations, as well as bridge the gap between the classroom and the wards of the hospital.
Do you have any specific goals for your residency?
My goal is to really approach residency like I did with clinical rotations. I hope to step out of my comfort zone and absorb as much information as I can from my preceptors. I hope to complete a fellowship after my family medicine residency in either sports medicine or emergency medicine and diversify the scope of my future practice.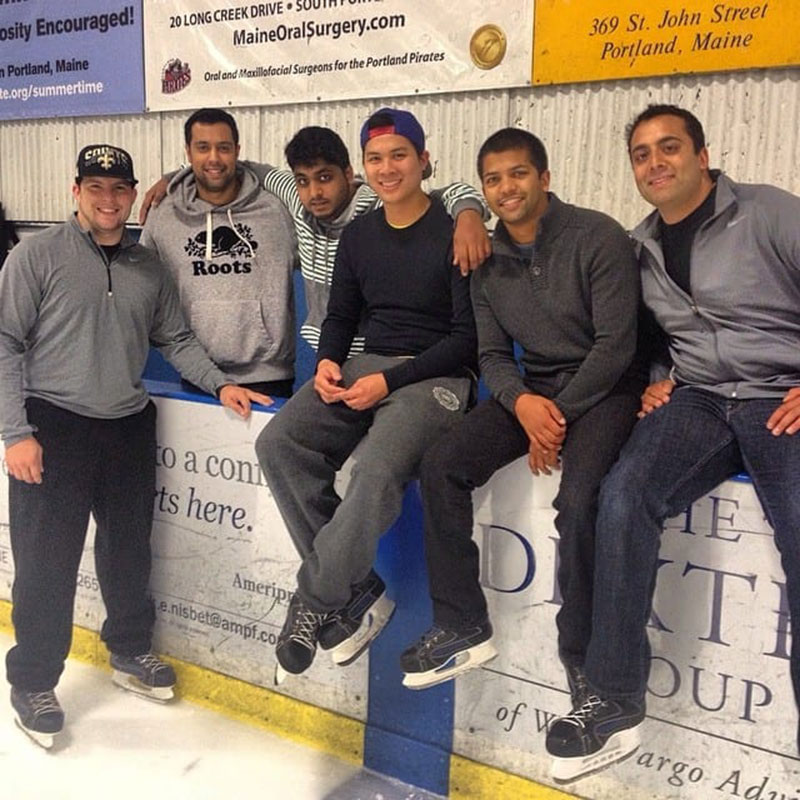 DR. MANOCHA IN MAINE: Enjoying the city of Portland, Maine with friends. Photo: Courtesy of Dr. Rohan Manocha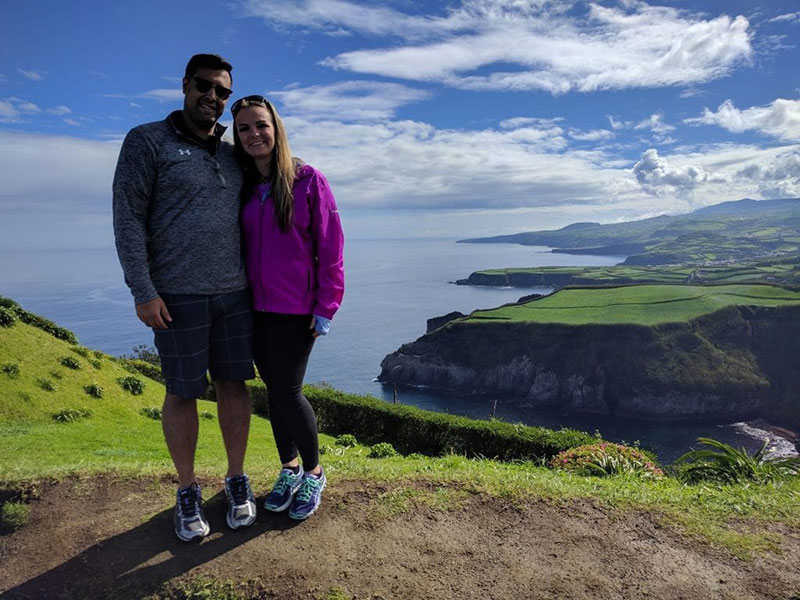 DR. ROHAN MANOCHA: With friend. Photo: Courtesy of Dr. Rohan Manocha
Read about other successful medical school Alumni on the UMHS website and Endeavour Blog.

(Top photo) UMHS CLASS OF 2017 GRADUATE DR. ROHAN MANOCHA: Dr. Manocha starts his residency in Family Medicine at University of Toronto – Downtown this summer. Photo: Courtesy of Dr. Rohan Manocha
---

About UMHS:
Built in the tradition of the best US universities, the University of Medicine and Health Sciencesfocuses on individual student attention, maintaining small class sizes and recruiting high-quality faculty. We call this unique approach, "personalized medical education," and it's what has led to our unprecedented 96% student retention rate, and outstanding residency placements across the US and Canada. UMHS is challenging everything you thought you knew about Caribbean medical schools.

Posted by
Scott Harrah
Scott is Director of Digital Content & Alumni Communications Liaison at UMHS and editor of the UMHS Endeavour blog. When he's not writing about UMHS students, faculty, events, public health, alumni and UMHS research, he writes and edits Broadway theater reviews for a website he publishes in New York City, StageZine.com.