UMHS 2023 residency Match Dr. Nihal Satyadev just started a neurology residency at Mayo Clinic Florida. Dr. Satyadev has been interested in neurology ever since his grandmother was diagnosed with Alzheimer's, and while he was a UMHS student, he founded Care Generation, a 501(c)4 nonprofit to help combat the disease through pursuing the creation of an "AmeriCorps for caregiving". Born in Edison, NJ, Dr. Satyadev moved to Tustin, CA with his family when he was five years old and grew up in Southern California. He completed his undergraduate degree at the University of Redlands in Redlands, CA.
The UMHS Endeavour spoke to this outstanding young doctor about his medical education at UMHS, his interest in finding new treatments to combat Alzheimer's, his residency and more.
UMHS Endeavour: Congrats on matching, Nihal. Please tell us how it feels to finally have matched?
Dr. Nihal Satyadev: Amazing! It's been a very challenging few years in medical school, but knowing that I now have a secured career in my specialty of interest, I feel relieved.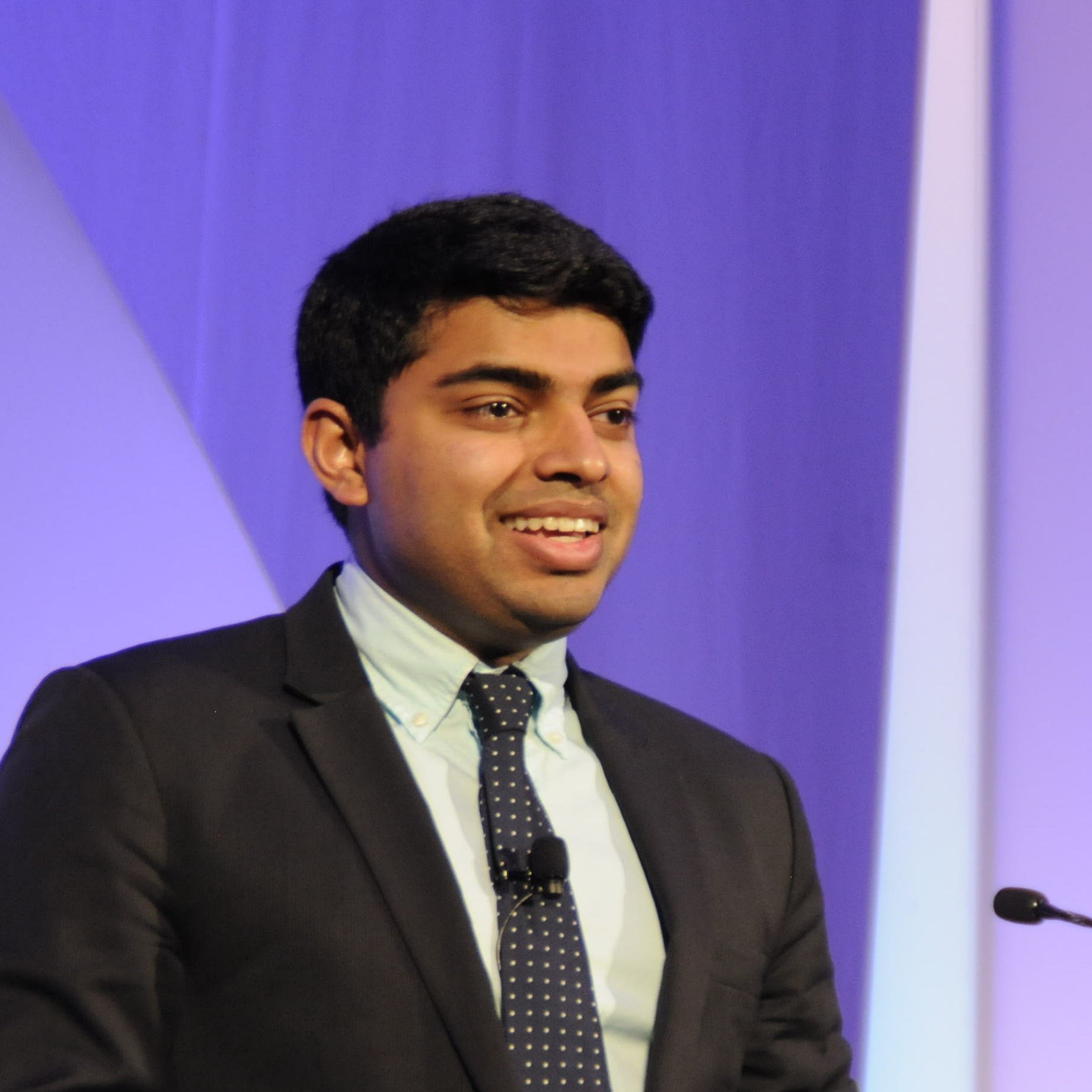 Dr. Nihal Satyadev speaking at Mayo Clinic, Minnesota as keynote speaker. Photo: Courtesy of Dr. Satyadev.
Tell us about your residency in neurology at Mayo Clinic Florida. What made you want to go into neurology?
Since my grandmother was diagnosed with Alzheimer's, I've been working through various ventures (i.e., research labs, nonprofit startup, advocacy) to address different facets of neurodegeneration and its effects. In order to truly address Alzheimer's disease, however, I felt patient care would offer me the opportunity to identify clinical features that would be important factors towards better understanding the disease. Working to mitigate Alzheimer's disease was the reason I joined medicine, and neurology was a natural fit.
What do you hope to accomplish during your residency?
During residency, I primarily hope to develop the needed skills to be an excellent clinician and diagnostician. I want to make sure I am able to be competent enough to treat my future patients with the most appropriate medical care while also ensuring that I am able to understand their needs that may require listening between the lines.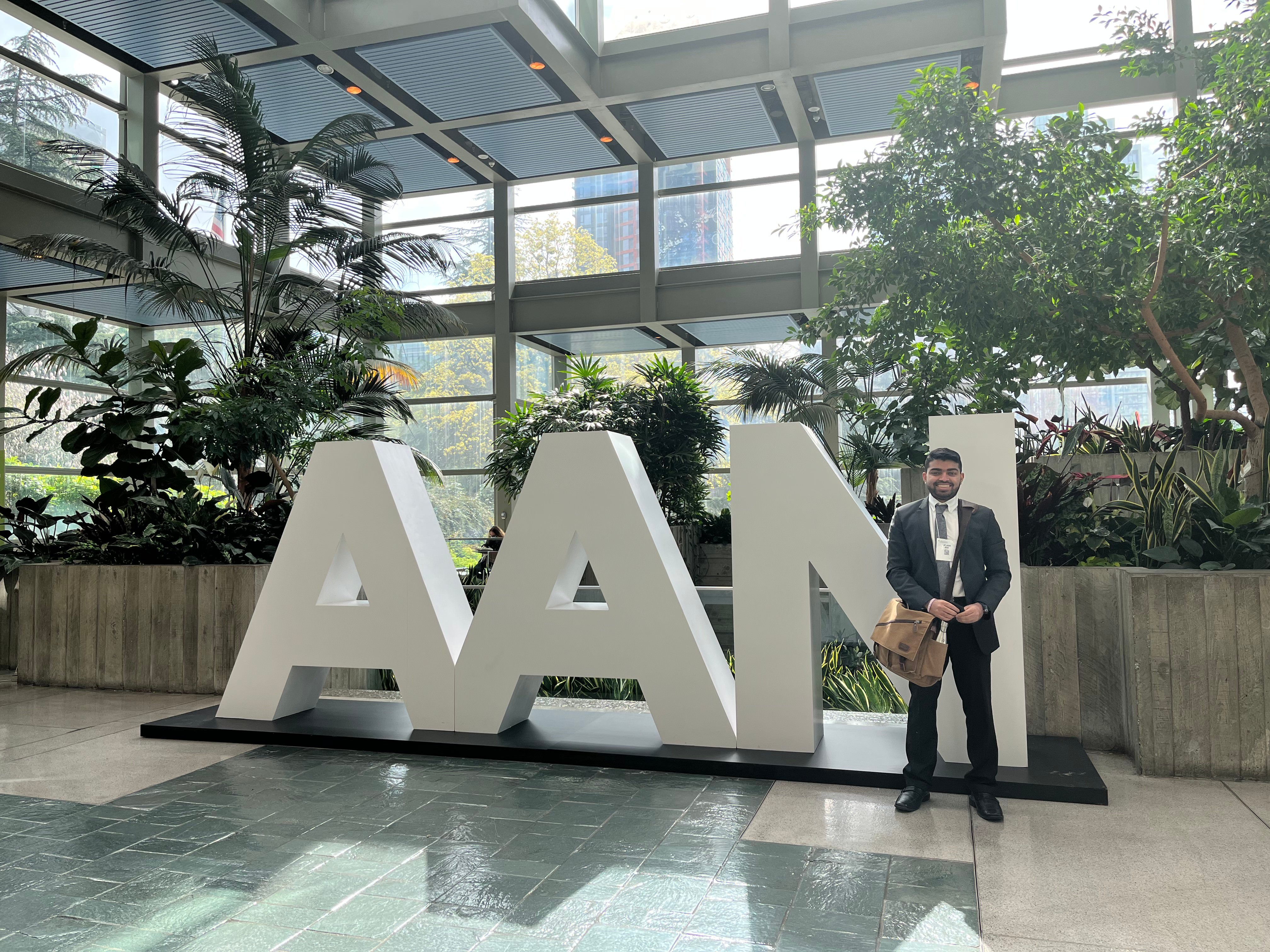 Dr. Nihal Satyadev at the American Association of Neurology conference in 2022. Photo: Courtesy of Dr. Satyadev.
What made you decide on attending UMHS in St. Kitts over other med schools?
UMHS was recommended to me by an advisor for its excellent basic science training and clinical training facilities. I can concur that those are areas in which UMHS excels.
Can you tell us one or two things you liked the most about studying at UMHS? Any professors in St. Kitts or Maine or in clinical rotations or officials in the NY office you'd like to mention?
For me, the most exceptional part of UMHS was during basic sciences. The faculty are not only exceptional at teaching the material, but there is a family-like feel that is created when you are on the island. I felt comfortable reaching out to any of my professors not only for professional questions, but also in case I needed any assistance as I was thousands of miles away from home.
You did a lot of outstanding research work at UMHS, both on campus and on your own. Why is research during medical school so important?
For me, the importance of research is because it is a fundamental skill that would improve the clinical acumen of every physician. Research helps us better frame questions and tell apart poor data from significant findings. Research is not about being in a lab; it's about developing a mindset of rigorously evaluating clinical findings and using data appropriately to improve outcomes for your patients
Did you find the Academic Affairs Department and people like Patrick McCormick helpful when it came time to apply for the residency Match?
Patrick is one of the rare people that has a unique blend of in-depth experience, excellent communication skills, and real compassion. Working with him has been one of the most helpful opportunities during my clinical years as he was able to help me identify which programs I may be a better fit for, how to prepare for interviews, and how to send follow-up emails. UMHS students are lucky to have him.
Did you always want to be a doctor?
No, I actually did my undergraduate degree in computer science because I wasn't fully convinced about the field of medicine. However, after a few experiences during my late undergraduate years that involved direct patient interaction, I realized the beauty of medicine lies in the physician-patient relationship.
Can you please share some information about the amazing work you did by starting Care Corps for the elderly for which you were one of the winners of the National Academy of Medicine's Healthy Longevity Catalyst Awards?
A Care Corps would involve a model similar to AmeriCorps or Teach for America where high school and college graduates would have the opportunity to spend one to two years providing care for older adults in return for a stipend and a grant for their next educational step. The idea of developing a Care Corps has been something myself and the team at my nonprofit have been passionate about for several years. We introduced a bill to create the first such Care Corps twice in California, with the latter effort reaching the Governor's desk and being backed by four major city mayors, 30+ statewide organizations, and 500+ individual Californians. The idea has been identified as a top 10 Alzheimer's disease priority for the state. Our team also has created a 60+ page handbook on how to operate such a program. We still have much work to do to actually implement the Care Corps.
Is there anything specific about your medical education or nonprofit work that helped you Match in neurology?
Regardless of the extracurricular efforts, the most important aspects of the Match is (are) still your STEP score(s). Beyond that, I do believe my research and nonprofit efforts were positively looked upon.
Why do you think it's important for Gen Z to learn about diseases that affect the aging population and what are some tips you have for young people to get more involved?
I think there are two important reasons. Firstly, these diseases place a significant burden on America's healthcare system and economy. If more is not done to mitigate these diseases, we will start to have an accelerated challenge for young Americans to secure healthcare access and quality-paying jobs. Secondly, there is a lot that can be done to prevent the onset of these disease. Diet, exercise, sleep, and quality social interaction, if done well consistently, and especially if implemented over the decades, has been shown to be highly neuroprotective.
I know health care equity is something important to you, and to many young doctors. What are some ways we can improve health care equity for people of all races, creeds, abilities, ages, genders, sexual orientations, etc.?
I think the first step to addressing this is to recognize how healthcare inequities develop and why they exist. In order for physicians to learn this, we need discussion of such inequities baked into our medical education. Unfortunately, this is not currently the case. Beyond some basic Google searches which will lead students to information about these inequities, I recommend "Medical Apartheid" as an entry read into recognizing the magnitude of the disparities that are faced.
Please feel free to talk about any other nonprofits or volunteer work you've done or been involved with.
I'm happy to share that the culmination of our last eight years scaling The Youth Movement Against Alzheimer's into the nation's largest student-based Alzheimer's disease nonprofit has been through a merger with Seth and Lauren Rogen's Alzheimer's disease nonprofit. Our work has a new home with a stronger plan for scale and sustainability.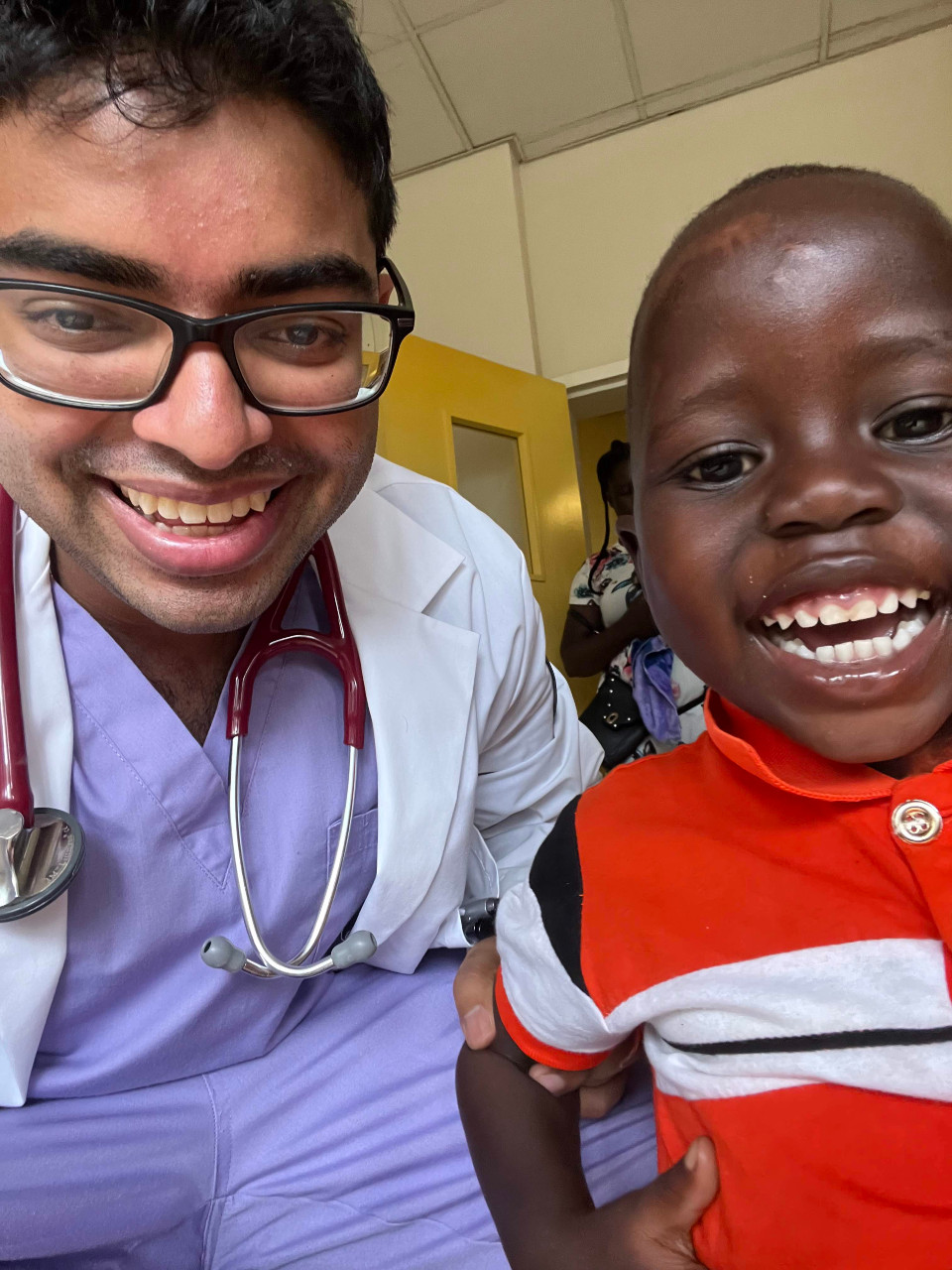 Dr. Nihal Satyadev working with the neurosurgery team in Mulago National Referral Hospital in Kampala, Uganda. Photo courtesy of Dr. Satyadev.
For all the prospective and current students out there, can you explain what neurology is?
Neurology is the clinical practice that involves non-surgical treatment of diseases that affect the brain, spinal cord, peripheral nerves, and neuromuscular junction. Neurology is extremely diverse as this umbrella includes extremely different pathologies from ALS to multiple sclerosis to dementia to amyloidosis to migraines. In fact, neurology offers the greatest number of different fellowship opportunities, 54, after residency is completed (more than internal medicine).
What interests you the most about neurology?
The most exciting thing about joining neurology at the stage it's currently at is that new treatments are being developed every year. I'm excited to be a part of the field as it sheds its stereotype of being a "diagnose and adios" specialty.
Is there anything else you'd like to share about UMHS or your upcoming residency for our current & prospective students and alumni that we have not covered?
I'd recommend students who are at any stage of the medical training to seek multiple mentors to help them identify how to address weaknesses in their application and opportunities that they otherwise may not have thought about. I attribute a large portion of my success to identifying and listening to mentors.
Dr. Nihal Satyadev can be reached via email at Satyadev.nihal@mayo.edu
(Top photo): Dr. Nihal Satyadev, UMHS graduate & 2023 Residency Match & current neurology resident at Mayo Clinic Florida. Photo: Courtesy of Dr. Satyadev.

Posted by
Scott Harrah
Scott is Director of Digital Content & Alumni Communications Liaison at UMHS and editor of the UMHS Endeavour blog. When he's not writing about UMHS students, faculty, events, public health, alumni and UMHS research, he writes and edits Broadway theater reviews for a website he publishes in New York City, StageZine.com.