UMHS grads Dr. Alejandro Pineda (2014) and Dr. Juan Camilo Pineda (2017) are both brothers and hospitalists. Both will talk about their specialty on the UMHS livestream Primary Care Spotlight: What is a Hospitalist? on Wednesday, November 9th at 7pm Eastern on the UMHS YouTube, Facebook, LinkedIn and Twitter platforms.
The UMHS Endeavour spoke to both doctors about their UMHS medical education, what it's like being a hospitalist on a daily basis, the types of patients one encounters, the unique work-life balance it offers, compensation, and more.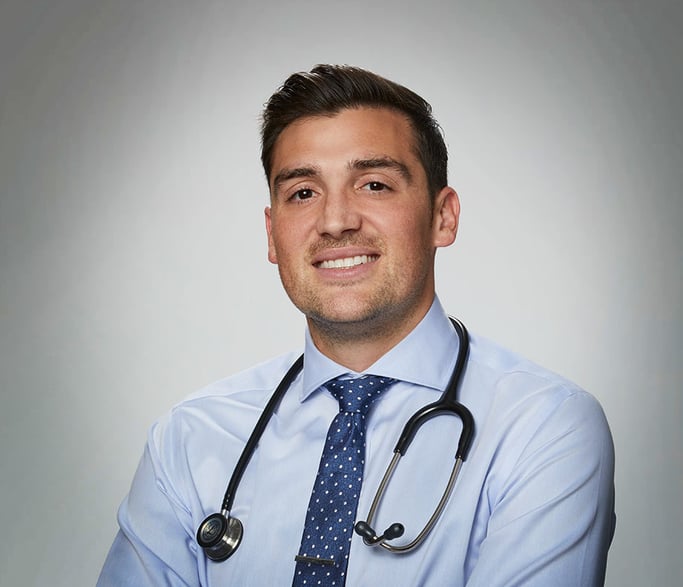 UMHS 2014 graduate Dr. Alejandro Pineda. Photo courtesy of Dr. Pineda.
Dr. Alejandro Pineda
UMHS: Dr. Pineda, tell us a little bit about what you've been up to since graduating from UMHS.
Dr. Alejandro Pineda: I graduated in 2014, actually in the winter of 2014. I matched in residency in internal medicine at the University of Missouri, Columbia, which is kind of right in the middle of the state. I graduated from residency there in 2018. In search of some warmer weather from Missouri, where I grew up, my wife and I decided to move out to Phoenix, Arizona, where I happened to come across a medical group as a hospitalist.
Since then, I essentially progressed as a hospitalist for about a year, and progressed enough to kind of bring forth new ideas to my medical group. And I was promoted to lead hospitalist to help run a brand-new hospitalist program at a hospital in Tempe, Arizona. I did that for about a year, and progressed well enough to actually take over the lead hospitalist duties for my entire medical group of about 30 or so hospitalists and providers. I'm at a hospital in Mesa, Arizona, called Mountain Vista Medical Center, where I am lead hospitalist for my medical group, and also Vice President Chief of Staff for Mountain Vista Medical Center and head of peer review for the hospital.
UMHS: Wow.
Dr. Alejandro Pineda: I'm currently a core faculty for our internal medicine residency program that we have here, and just kind of living the dream, to be honest.
UMHS: Did you always want to be a doctor whenever you were growing up?
Dr. Alejandro Pineda: No, not always. My father was a physician, my grandfather was a physician. My brother, actually, who also went to UMHS, applied to be a physician and is doing very well, as well. I wanted to be an artist, of all things. I wanted to be a medical illustrator, was my dream growing up. But because of that passion for medical illustration, my dad kind of coerced me into thinking about medicine as I progressed throughout high school and college. I just knew it was the right field for me.
UMHS: Great. You mentioned that your brother went to UMHS. What made you choose UMHS over other medical schools?
Dr. Alejandro Pineda: To be honest, I have to give all props to my brother, who's Dr. Juan Camillo Pineda. He had done a lot of research on Caribbean medical schools, and ones that had the resources and support to essentially get us to where we wanted to go, and our final goals. UMHS was one that he had applied to, gotten into. He had actually done a year in St Kitts when I was just finishing, thinking about applying. It was really nice that I had the perfect interview where I had my big brother who essentially said, "Hey, this is a great opportunity. Do not miss out on this opportunity." That's how I got involved.
Email Dr. Alejandro Pineda at alejandropinedamd@gmail.com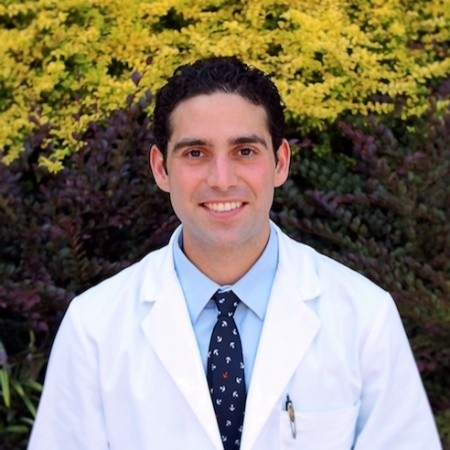 UMHS 2017 grad (above, center) Dr. Juan Camilo Pineda. Photo courtesy of Dr. Pineda.
Dr. Juan Camilo Pineda
UMHS: Tell us a little bit about your hospital population and what your environment is like.
Dr. Juan Camilo Pineda: I work for Emory University in Atlanta. I work for one of the many hospitals that they have, and I work for a hospital that used to be a private hospital but they recently were bought out, so they are kind of transitioning more into the Emory structure. But my daily life is in the sense of I get there at 7:00 in the morning, and I don't have to get there at 7:00, but I like to get there early so I can get to know my patients. I review my patients, and every day there's a different number of patients just because we can never predict how many patients can admit overnight, but for example I can admit ... or I'll probably carry, at the most, maybe 16 patients a day. And so, I will look over my 16 patients, and then I will have a meeting with all the physical therapists, the charge nurses, the social workers, the case managers, and all those types of people that arrive at 9:00, to kind of discuss each patient, because some patients are not necessarily a medical condition you're trying to solve. Sometimes you're trying to get them to a rehab center, or trying to get them to a nursing home because, although you fixed their issue, they are not going to be well enough to go to their home to be able to be taken care of by themselves for a while. That's where you speak with your other cohorts, to kind of figure out those issues.
Then after I have that meeting, I go ahead and round on all of my patients, make any changes I need to make, do the mundane notes that a physician has to do, but they are important because that's how you keep track of everything that's happening and document everything. And then, I just check in on my patients throughout the day, and the nurses throughout the day, and make sure that everything is going accordingly.

UMHS: Can you talk about the demographics of the patient populations you serve?
Dr. Juan Camilo PIneda: Yes. So, in regards to the demographics, I think I'm definitely fortunate in the fact that Atlanta is a hot pot of a multitude of cultures, so I have seen [and treated] everyone from extremely wealthy people to extremely not well-off people. I've seen people from all across the world. I've had to use translators from all varieties of different languages. I use Spanish myself with patients that only speak Spanish. So, it is a wonderful location, in my opinion, if you want to have a large variety of demographics, a large variety of disorders. You see a little bit of everything.
UMHS: What would you say to current med students, perspective med students, who are kind of exploring different options after graduation, would you encourage people to become a hospitalist? What are some of the pros and cons, from a practitioner's standpoint?
Dr. Juan Camilo Pineda: I would say that, pros, number one, you become a very well-rounded physician, in multiple aspects. Number two, I would say the fact that the lifestyle, in reality, is unbeatable. There's very few positions and jobs out there that you can work half of the year and be ... in the end, we both work really hard all our life and deserve to be compensated appropriately, and I know in medical school, that has become a little bit of a topic where we shouldn't talk about compensation or anything like that. But the bottom line is you work really hard and you deserve a good compensation, and you deserve a good compensation because you want to be able to provide for your family. Whenever I had medical students with me in residency, I would talk to them about it, because I think it's not fair that just because we are in a healthcare field, that doesn't mean we cannot talk about compensation at all. That's why we work so hard, because we deserve a little bit of compensation after all those year [of studying].
UMHS: Right.
Dr. Juan Camilo Pineda: I think it's an amazing feeling to have that you can work technically half the year and be compensated well, and be able to finally spend time with the family and friends that you deserve to be spending time with after all of the many years that you've dedicated to the books, and the computer screens, and the tests, and the quizzes, and the times that you missed out on them. So, that's a very wonderful feeling to have.
Email Dr. Juan Camilo Pineda at jcpinedamd@gmail.com

Posted by
Scott Harrah
Scott is Director of Digital Content & Alumni Communications Liaison at UMHS and editor of the UMHS Endeavour blog. When he's not writing about UMHS students, faculty, events, public health, alumni and UMHS research, he writes and edits Broadway theater reviews for a website he publishes in New York City, StageZine.com.