Regular readers of the UMHS Endeavour are probably already familiar with Class of 2018 graduate Dr. Jasmine Rivas. Throughout her medical education at UMHS, Dr. Rivas was a frequent contributor to the blog, writing about everything from on-campus student events and LGBT health issues to what to expect during the 5th semester in Portland, Maine, inspiring encounters with the medically underserved homeless population in her native South Florida, maintaining a proper work-life balance during med school and clinical rotations, and countless other topics. She also wrote about her journey through med school in a popular personal blog.
We have always been thrilled to work with Dr. Rivas because she has such upbeat positive energy and inspirational, incisive thoughts on medical education, health care and human rights. We are proud that she matched at East Carolina University in North Carolina and started a Family Medicine residency there this summer.
The UMHS Endeavour spoke to Dr. Rivas shortly after she returned from a trip to French Polynesia for some well-deserved time off. We discussed why she chose UMHS, her insights into life in St. Kitts and the state-of-art UMHS campus, what interests her about Family Medicine, and more.
Born and raised in Miami, Florida by a Cuban mother and a Mexican father, Dr. Rivas is committed to multiculturalism and helping humanity. Although writing is one of her favorite hobbies, she always knew medicine was her true calling.
"Becoming a doctor was the only thing I ever imagined myself doing, " she said.
She studied biology and chemistry as an undergraduate. When it was time to apply to medical schools, she decided to indulge in her love of exploring other cultures by applying to UMHS in St. Kitts. The tropical setting and Caribbean lifestyle were not the only factors in her decision to study medicine abroad.
"The founder of UMHS, the late Dr. Robert Ross, and current president Warren Ross, both had extensive experience and success in leading medical students to successful careers in medicine," she said. "UMHS offers very competitive tuition and an excellent education. Also, St. Kitts is a beautiful island and who wouldn't want to spend 16 to 20 months with ocean views from campus and home?"
From Blogging in Med School to Residency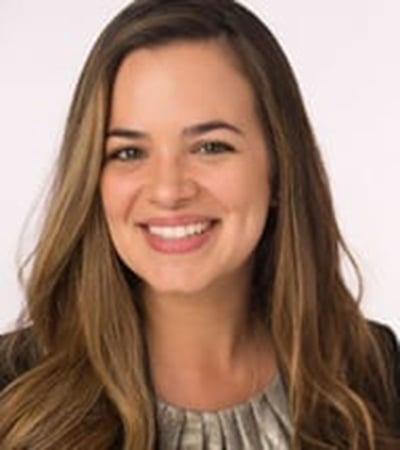 She was not sure what to expect upon arrival to UMHS, but Dr. Rivas immediately adjusted to the surroundings.
"Moving to an island I had never visited before made me more adaptable," she said. "Also, forming lasting relationships with people from across the globe and learning about various cultures has broadened my perspective. I believe this will always give me a competitive edge."
(Photo, inset right) Dr. Jasmine Rivas. Photo: Courtesy of Dr. Rivas
Getting to experience a new culture while studying medicine had countless rewards. As Dr. Rivas eloquently wrote in one of her many blog posts, "There are many aspects of my experience in St. Kitts that I will forever hold dear to my heart and use as tools to keep me grounded and focused. I always knew the importance of embracing cultures outside of one's own and time [in St. Kitts] provided the opportunity for this on a daily basis. Whether it was getting to know the grocers and taxi drivers by name and learning about their history, or realizing that goats on the main road and monkeys hanging out by the beach were the norm."
She said UMHS "also provided an opportunity to learn about other people right on campus. Our student body, faculty, and staff represents a multitude of races, ethnicities, and religions."
Dr. Rivas said she enjoyed writing for both the UMHS blog and her personal blog about med school life. She immediately made friends with other students and, when not busy studying, found time to chronicle events held by the various student organizations for the UMHS Endeavour, and also write about her thoughts on her daily adventures in St. Kitts, Maine and during clinical rotations at hospitals across the USA.
"On a personal level, it allowed me time to reflect on my experiences, both in St. Kitts and during clinical rotations," she said regarding writing about med school. "Professionally, it opened doors to contribute a monthly column for a local medical newspaper in Augusta, Georgia, as well as other web-based journals."
Besides the foundations of Basic Sciences, Dr. Rivas said the faculty helped her strengthen qualities that are crucial for becoming a great physician.
"The ones that come to mind are adaptability, open-mindedness, tenacity, perseverance and most importantly, empathy," she said.
Although St. Kitts is a beautiful setting for med school, students come to UMHS to study medicine. Dr. Rivas' advice for utilizing one's time?
"Balance is key. Have fun, make the most of your time on the island, but also focus and don't lose sight of what you're there to accomplish. If you find yourself struggling, ask for help. "
Preparing for the Match
From Basic Sciences to clinical rotations, UMHS prepared Dr. Rivas to become a doctor—something she was born to do. She has two simple words of encouragement for students preparing for the residency Match: "stay eager."
As she explained, preparation for the residency Match is a process. First, it is important to do well on USMLE Step 1, and the 5th semester in Portland, Maine gives students all the help they need to do succeed on the exam.
She heeded advice from one of her UMHS professors, Dr. Anoop Jalan, urging her to score as high as possible on the USMLE Step 1. She joked that she could always hear Dr. Jalan's voice in the back of her head while studying for Step 1 and reading USMLE-oriented study materials.
"It always kept me up an extra hour or two reviewing questions," she said.
The UMHS Academic Affairs department guides students through the Match process and offers help in a number of ways.
Patience is key while waiting to hear back from residency programs to which one has applied. Sometimes, being proactive makes a big difference.
"If you haven't heard back from specific programs you are interested in, contact them and show interest," she said. "Every interview is a chance to become a licensed physician, so take them seriously; no texting, dress sharp, be on time and come prepared. Most importantly, stay positive and confident."
Matching in Family Medicine
Dr. Rivas' persistence paid off and she was delighted to learn she matched in Family Medicine at the Family Medicine Center at East Carolina University in Greenville, North Carolina.
"It was my first choice and I couldn't be more excited," she said. "It's ranked highly for my chosen specialty, Family Medicine, and offers a lot of support for its residents."
Family Medicine encompasses health care for patients of all ages (from newborns to seniors) and all genders, offering a range of acute, chronic and preventive medical services. Many do not realize just how broad the specialty is.
"The versatility it offers is what really hooked me," Dr. Rivas said. "At Family Medicine conferences and during my interview trail, I met Family Physicians doing everything from full- time Sports Medicine, to Integrative Medicine, hospitalist medicine and even Palliative Medicine. I also love that Family Medicine allows for the formation of lasting relationships with families across generations."
Dr. Rivas' goals for residency are simple. "Being an asset to my team and keeping a balanced lifestyle," she said.
Dr. Rivas often answered students' questions about medical school on her blog while studying to become an M.D. Now, as she enters residency, she's still happy to answer any specific questions via email at jrivas@umhs-sk.net or, if you are already a UMHS student, contact her on the Facebook UMHS Clinical page.


(Top photo) DR. JASMINE RIVAS: UMHS Class of 2018 graduate recently started a Family Medicine residency at East Carolina University in North Carolina. Photo: Island Photography
---

About UMHS:
Built in the tradition of the best U.S. universities, the University of Medicine and Health Sciences focuses on individualized student attention, small class sizes and recruiting high-quality faculty. For these reasons, UMHS is quickly becoming the school of choice among Caribbean medical schools.
Posted by
Scott Harrah
Scott is Director of Digital Content at UMHS and editor of the UMHS Endeavour blog. When he's not writing about UMHS students, faculty, events, public health, alumni and UMHS research, he writes and edits Broadway theater reviews for a website he publishes in New York City, StageZine.com.