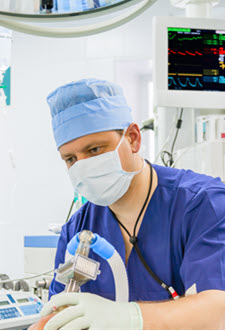 If you are wanting to learn what an Anesthesiologist is and how to become one, then you are in the right place! As a Medical school, we know the ins and outs about all of the medical specialties, including Anesthesiology. We have medical students in Anesthesiology clinical rotations, alumni in residencies training to become Anesthesiologists, and alumni that are licensed practicing Anesthesiologists in the US! First, let's get right to the point and answer the main question:

What is an Anesthesiologist?

An Anesthesiologist is a board certified and licensed physician that is a specialist in anesthesia and anesthesia delivery. He or she leads a team of highly trained professionals that deliver anesthesia and provide care for patients before surgery, during surgery, and after surgery to ensure the highest levels of patient safety. In addition, Anesthesiologists are experts in pain management and may specialize in critical care medicine.
Quick navigation links:
What does an Anesthesiologist do during surgery and for patient care?
An anesthesiologist is a specialized physician whose primary area of expertise is in taking care of anesthesia of patients undergoing surgery, obstetric procedures, or diagnostic procedures, while monitoring the patient's vital signs and cardiopulmonary perfusion. Anesthesiologists primarily work in the hospital operating room, although they may also work in clinics, outpatient surgery centers, private physician offices or academic institutions.
An anesthesiologist duties include:
examining and interpreting peri-operative laboratory results
keeping patient's vitals stable during invasive procedures
ensuring that the patient's pain, memory, and muscle tone are all controlled appropriately
ensuring proper patient care after surgery
They may also provide pain relief for ongoing medical conditions such as:
cancer

chronic back pain

migraine headaches

fibromyalgia
How to become an Anesthesiologist
The path to becoming an Anesthesiologist is very long and requires many years of training. The first step is to complete pre-requisite college courses that are required for Medical school. This usually includes physics, biology, chemistry, math, and writing courses. After completing these courses, pre-medical students must prepare for the Medical College Admission Test (MCAT). The MCAT is a long, grueling exam, but getting a good score is imperative for acceptance to Med School. During this time many pre-medical students will also volunteer, shadow medical professionals, conduct research, hold leadership positions, and work in healthcare related fields.

Once students are accepted into Medical School, they begin learning with two years of didactic lecture based classes. The last two years of medical school are spent in the hospital learning hands-on medicine. After graduating medical school, physicians are licensed but cannot practice without supervision until they complete a residency program and are board certified.
---
Discover if a career in Anesthesiology is right for you.
Learn why 89% of doctors would choose the same specialty again.
---

Anesthesia residency lasts four year in total. The first year, commonly referred to as an intern year, is spent rotating in different sections of the hospital. The last three years are spent focusing on Anesthesiology. After residency is complete, the graduated Anesthesiologist resident must take the Anesthesiology board exam. Once the exam is passed, physicians are fully trained and board certified anesthesiologists ready to practice on their own. In addition, they can choose to apply for a fellowship for further more specialized training (see below).
How long is residency for Anesthesiology clinicians?
Residency for an Anesthesiologist lasts a total of four years. The first year is commonly referred to as an intern year. This year is spent working in different departments of the hospital. This includes Emergency Medicine, Surgery, Critical Care, and Internal Medicine. After intern year is complete the final three years of residency are focused only on Anesthesiology.
After completion of residency, Anesthesiologists have the ability to complete a fellowship. Fellowships are optional additional training programs that allows a Physician, or in this case Anesthesiologist, to gain more training in a certain area of their practice. Examples of fellowships that an Anesthesiologist can complete include:
What types of anesthesia do Anesthesiologists provide?
There are four broad categories of anesthesia that Anesthesiologists may provide during a procedure or surgery. These include:
General anesthesia:

General anesthesia

is the type of anesthesia that is used for a large surgery. Under general anesthesia, the recipient loses consciousness. This requires the patient to be intubated and the anesthesiologist on the case must monitor the patient's vitals throughout the medical surgery.

Monitored sedation:

Monitored sedation anesthesia is used for less invasive procedures and surgery, but still requires monitoring by an Anesthesiologist. Examples of situations when monitored sedation is used includes colonoscopies and esophagogastroduodenoscopies (EGDs).

Regional anesthesia:

With regional anesthesia, the patient is awake but numb in a large area of the body. This is done to reduce patient pain during a surgery or a minor procedure. Examples where regional anesthesia is used include childbirth and minor procedures. These are commonly done by an Anesthesiologist.

Local anesthesia:

Local anesthesia is the smallest amount of anesthesia used to reduce patient pain. With local anesthesia the patient is awake and a small shot of pain medication is injected. Many physicians use local anesthesia to reduce patient pain including family medicine physicians, emergency medicine doctors, internal medicine physicians etc.
How does a physician Anesthesiologist help in treating chronic pain symptoms?
One of the fellowship areas that an Anesthesiologist may specialize in is Pain Medicine. Pain Medicine physicians may have their background in several different specialties such as physical medicine and rehabilitation, neurology and psychiatry. However, they all have completed a Pain Medicine fellowship.
Anesthesiologists that specialize in pain management are experts in treating chronic pain. Pain relief can be done with a variety of methods, not just through the use of medication. Usually, physicians will take care to ensure that a patient's pain is reduced without undergoing a surgical procedure, as surgery is often the last resort in taking care of chronic pain. Some methods of treating chronic pain that an Anesthesiologist may use include:
Physical Therapy- specific medical exercises that focus on strengthening or stretching muscles to ease pain. This is commonly one of the first line treatments for chronic pain
Lifestyle Changes- adaptations to every day life that may help to ease chronic pain or reduce chronic pain
Surgical Intervention- commonly used as a last line result as it is invasive, may be associated with risks, and could potentially worsen pain
Is an Anesthesiologist a good job?
The job outlook for Anesthesiologists has continually been positive. Over the next decade, the profession is expected to grow by 10 to 20 percent in the United States. This is almost double to triple the average occupation job growth. As the population continues to expand, the need for Anesthesiologists will increase as well. Because of the very high pay made in this profession, it is an extremely competitive residency to match into as there are consistently a higher number of applications than residency spots available.
How much does an Anesthesiologist make?
There are several sources that state how much an Anesthesiologist makes per year. According to the Medscape Physician Compensation Report (an annual survey sent to physicians), as of 2020, Anesthesiologists make $398,000 annually plus an average of $57,000 as incentive bonus. Another source, AAMC Careers in Medicine, cites the salary of Anesthesiologists that work in academic medicine (associated with a large, research hospital). According to AAMC Careers in Medicine, an assistant professor of Anesthesiology makes $376,000 annually, while an associate/full professor makes $414,000 annually.
What are the education and certification differences between Anesthesiologists, Anesthetists and Anesthesiology Assistants?
There are several different job positions in the field of Anesthesiology, this includes Anesthesiologists, Certified Registered Nurse Anesthetists (aka CRNA, or nurse anesthetist) and Anesthesiology Assistant. These roles may be confusing, as they all sound similar. However, the education requirement to fill this role as well as the complexity of anesthesia they oversee varies from position to position. Here is a brief overview of the different roles:
Anesthesiologist- As discussed in this article, Anesthesiologists have the highest and most in-depth training in Anesthesia. They have completed medical school and a 4 year residency in the field. They are able to oversee anesthesia in the most complex cases. They often may work with CRNA and AA and/or oversee their work.
Certified Registered Nurse Anesthetists- A CRNA is a nurse who has completed a Bachelors of Science in Nursing followed by an internship (also termed a Masters) in Anesthesia. By 2025, all CRNAs will require a doctorate in anesthesia to practice. CRNAs plan anesthesia doses, administer anesthesia to patients, monitor vital signs during procedures, and oversee patient recovery from surgery. CRNAs are able to work on their own to administer anesthesia and do not require constant supervision from a physician Anesthesiologist or other Medical doctor.
Anesthesiologist Assistants (AA)- An Anesthesiologist Assistant has received a bachelors education followed by a two year training program in anesthesia. These individuals must be supervised by and are the legal responsibility of the anesthesiologist. Their job duties include performing a pre-operative health exam, confirming patient history, assisting in determining the mode of anesthesia, and rounding on patients post-operatively. It is important to note that AA are only licensed to work in 14 states currently including Alabama, Colorado, Florida, Georgia, Indiana, Kentucky, Missouri, New Mexico, North Carolina, Ohio, Oklahoma, South Carolina, Vermont, and Wisconsin.


Although all three of these medical specialists work in the field of Anesthesiology, their job duties and educational training widely vary. If considering a career in Anesthesiology it is important to think about the time spent in training, cost of training, job duties, and level of case complexity. All three careers can be very rewarding, but vary in their day to day practice.
How to pursue a medical career in Anesthesiology?
Now that you are aware of the path and requirements needed to become an Anesthesiologist, you may wonder how to get started. It all begins with getting your M.D. degree! To learn more about the world class medical education from the University of Medicine and Health Sciences click here.
Profiles and interviews with UMHS alumni that chose Anesthesiology as a career.
Would you like to learn more about Anesthesiology? Check out these recent interviews with UMHS graduates who took the time to tell why they chose to become Anesthesiologists and how UMHS helped them prepare for a meaningful career in medicine.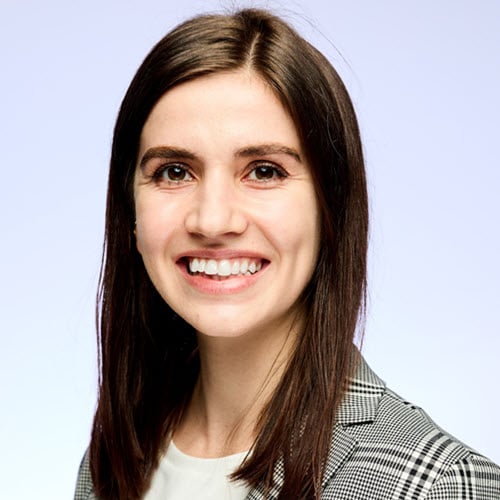 Posted by
Callie Torres
Callie Torres is a Captain in the United States Air Force and a resident at Wash U/Barnes Jewish Hospital in St Louis. She is a freelance writer with many published medical articles as well as multiple peer-reviewed medical publications