Class of 2019 UMHS graduate Dr. Shane O'Toole always wanted to be a doctor but was initially rejected from medical schools and even considered become a Physician's Assistant, but he persevered and applied to UMHS in St. Kitts. The outstanding medical education helped him land an anesthesiology residency at McLaren Health Care in Michigan.
The UMHS Endeavour spoke to Dr. O'Toole about his journey through medical school. We spoke to him about why he chose UMHS as opposed to other Caribbean medical schools. In addition, Dr. O'Toole discussed his favorite professors at UMHS, what it's like studying at a Caribbean medical school, advice on the National Resident Match Program, his upcoming residency, plans for research, and more.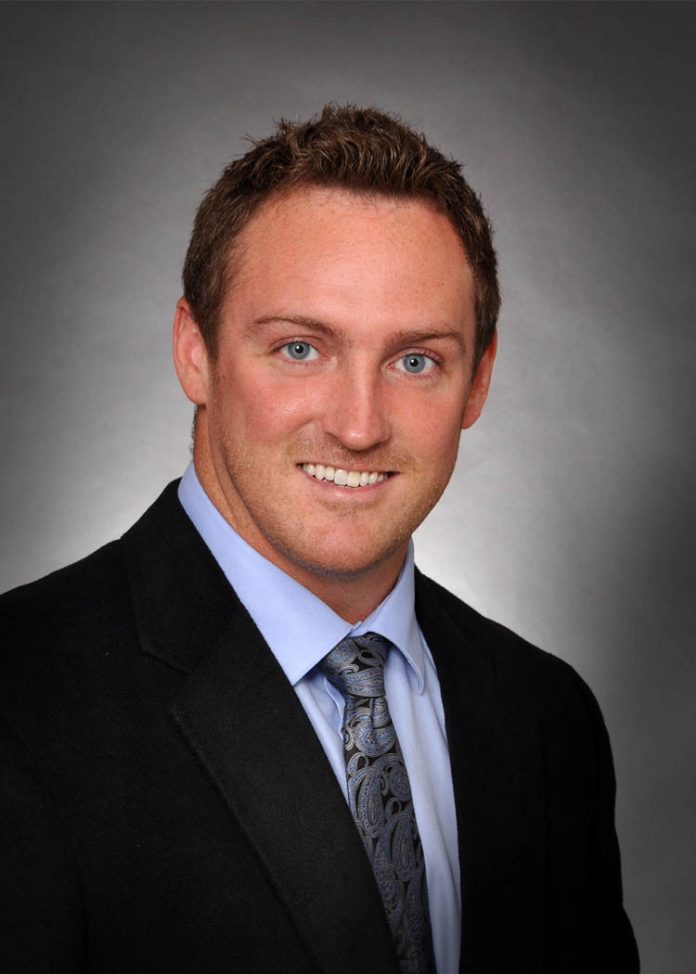 SHANE O'TOOLE, M.D.: Class of 2019 graduate talks about how UMHS helped him become a doctor & land an anesthesiology residency at McLaren Health Center in Michigan. Photo: Courtesy of Dr. O'Toole
Why did he choose UMHS over other Caribbean medical schools?
Dr. O'Toole is originally from Clarkston, Michigan and always knew he wanted to become a doctor. He graduated from University of Michigan - Flint with a degree in molecular biology and biotechnology with a minor in chemistry. After having his applications denied at medical schools upon his first attempt, he looked at such alternative careers as becoming a physician's assistant.
Fortunately, he was able to get into medical school and start his journey to become an M.D. when he heard about UMHS in St. Kitts and got accepted. He chose UMHS for many reasons, but the individual attention, faculty recruited primarily from the USA and Canada, high-tech facilities and more made the decision to attend UMHS a no-brainer.
"One thing I liked was the small class sizes at UMHS," Dr. O'Toole said. "I have always preferred to get to know my professors and feel comfortable walking into their office for help whenever I needed it. With the excellent student-to-professor ratio at UMHS that was possible. It seemed as though every professor had an open-door policy and was willing to help whenever possible. Professors at UMHS were also there for the students and for teaching; they were not too busy doing other things like research for the school and would always move things aside to make time for students.
The state-of-the-art campus facilities and first-rate anatomy lab, and such options as the Extended Basic Sciences (EBS) were also a big plus.
"Another thing that caught my eye was the labs, from the anatomy lab with a 6-1 student-to-cadaver ratio which allowed everyone to get the experience of dissection, to the simulation lab where we could practice on the mannequins and learn our clinical skills," he said. "I believe having this hands-on experience benefited my learning greatly. When looking at the school, I also liked the accelerated class set up. I ended up choosing EBS instead of the MED [Basic Science] program, but I feel like having the options between ARP, EBS and MED is beneficial for different students."
The high UMSLE Step 1 pass rate at UMHS was also important when he applied to UMHS.
"The final thing I would like to mention is the high USMLE Pass rate on the first attempt [94%, with an average Step 1 score of 226] with a low attrition rate, which I believe is another example of how beneficial the student-to-professor ratio is," he said.
---
Discover if a career in Anesthesiology is right for you.
Learn why 89% of doctors would choose the same specialty again.
---
How good is the faculty at UMHS?
Dr. O'Toole has high praise indeed for three UMHS faculty members in St. Kitts specifically.
Thomas J. Last, PhD, Associate Dean of Basic Sciences and Professor of Cell Biology, made a lasting impression on Dr. O'Toole.
"Dr. Last had an incredible teaching style," Dr. O'Toole said. "Everything he taught stuck with me through medical school and while sitting for my steps. He made sure to put emphasis on the slides that were 'very Important' and those topics always seemed to come back in questions and other subjects."
Michael D. Doherty, Ph.D., M.Sc., Professor of Neuroscience is another favorite.
"Dr. Doherty was a great teacher and an even better person," he said. 'He was very witty with his presentations and was able to keep my full attention every lecture. I believe leaving the island and heading to Maine, Neuro was one of my strongest topics. He was always willing to help and made time to do events, such as standardized patient simulations for clubs. He even took time on weekends to hold extra classes, such as Art Therapy, which I enjoyed."
Finally, he has kudos for Prakash Mungli, M.D., M.B.B.S., Dean of Student Affairs, Chairman of Molecular Sciences and Course Director and Professor of Biochemistry
"Dr. Mungli had a way of teaching that was incredible," he said. "I think he may have a photographic memory. He could put a slide on the projector and name every enzyme without even looking at the page; it was extremely inspiring. He would make sure to put more emphasis on the parts that were more relevant for tests and disease processes. He also made awards for receiving certain scores in the class that were very nice resume boosters when sending out residency applications."
What's it like studying medicine at a Caribbean medical school?
Studying medicine abroad at a Caribbean medical school was not intimidating for Dr. O'Toole. The tropical climate and laid-back island vibe actually helped him focus on studying.
"Coming from Michigan my whole life and leaving in January when it was negative temperatures at home and landing where the weather was hot and sunny every day was a great experience," he said. "I believe being able to interact with the locals on the island, participate in some of the health fairs and rotate through the hospitals on the island really opened my eyes to how things differ from place to place when it comes to medicine or available resources. I believe that experience made me more well-rounded."
What can students expect from UMHS clinicals?
The clinical program at UMHS is outstanding. Dr. O'Toole was especially pleased with the overall clinical experience.
"I was able to do rotations at many different hospitals which helped in my selection process," he said. "I was able to see how different hospital environments work, even in different states. It was nice being able to pick up bits and pieces from each hospital to incorporate into my own patient interaction style."
He found the 5th semester in Portland, Maine vital to his preparation for clinical rotations and patient interaction.
"I know it is important to be able to effectively communicate with patients in order to obtain the relevant information from the interview in order to help treat them," he said. "UMHS had many opportunities, such as standardized patient interviews, Introduction to Clinical Medicine 1 and 2, along with the entire Maine semester that really allowed me to interact with patients for the first time and learn how to communicate properly and how to ask questions effectively in order to get the information I need to create a differential diagnosis and plan.
Dr. O'Toole said he believes many facets of his medical education at UMHS helped him match successfully.
"One thing I believe UMHS helped me with a lot was granting awards and scholarships," he said. "I was able to list many achievements on my resume and it really strengthened my resume as an applicant. During clinical rotations, I was also asked to complete NIH Stroke Scale Certification during my internal medicine rotation. I believe having these to strengthen my application gave me more of an edge. There are also many individuals through the school who assisted with the application and match process. This helped me better understand timelines and steps that needed to me completed prior to applying."
Upcoming anesthesiology residency at McLaren Health Care in Michigan
Dr. O'Toole is thrilled to start his anesthesiology residency at McLaren Health Care in Michigan.
"This hospital is very close to where I grew up in Michigan and I was extremely excited to have the opportunity to go back where I came from," he said. "I did a rotation in anesthesiology at McLaren Health Care during my clinical rotations and it was my favorite rotation. It is a smaller program, accepting only three into the program this year, which I really like. I prefer smaller programs and getting more one-on-one teaching with the seniors and attending physicians. Though it is a smaller program the patient load is not slow. There are also certain rotations at other local hospitals that I am very interested in. I believe this gives me more opportunity to perform procedures and perfect my skills by having the lower resident load, but also allows me to get my name out at other local hospitals in case I decide to pursue a fellowship in the future."
He has been interested in anesthesiology since even before medical school when he was working at a surgical center and was first introduced to the field of anesthesia.
"I was an endoscopy technician and any time there was an emergency, the anesthesiologist was called on the overhead," he said. "I found it incredible how they would walk in and be able to assess and treat the situation quickly and efficiently. That is what sparked my interest. I then shadowed the anesthesiologist at a pain clinic he was running and I knew it was what I wanted to do. Everything about it interested me, from the basics of pharmacology to the emergencies."
Dr. O'Toole is fascinated by how anesthesiology allows one to oversee everything the body is doing throughout a surgical procedure.
"A patient may come in for a simple procedure, but the anesthesiologist is the one watching the EKG to monitor the heart, watching the vent to make sure the patient is being properly ventilated, watching the fluid intake and output through the IV and making sure everything else is functioning smoothly throughout the procedure. It is really a specialty where you need to account for every organ system and think of the patient as a whole."
How do you make the National Resident Match Program work for you?
He has solid advice for current or incoming students about attending UMHS and also the Match process.
"On the island, if you get the opportunity, do things that make you review previous material," he said. "While on St. Kitts, I was a TA as many semesters as I was able to be. This allowed me to review material from previous semesters and when studying for Step 1 it came back much faster. I would also do more questions throughout my studying for tests to make sure I understood the information being presented."
For the National Residency Match process, Dr. O'Toole advises first thinking about areas in which you might be interested.
"For the Match process, I thought about the area I wanted to match in and schedule rotations at the hospitals around that area," he said. "I was able to get familiar with the hospitals and also show my face. Even if step scores aren't the best, I believe if a program director sees you at the hospital putting in the hours, it lets them know that you are a hard worker who is willing to sacrifice your time and do whatever it takes. I believe this is the reason I was interviewed and thought of favorably at certain hospitals."
Dr. O'Toole has many things he wants to accomplish during residency, including becoming as knowledgeable as possible about anesthesiology and start doing research.
"I want to start research projects as I was not able to throughout medical school, and to get published," he said. "I want to make sure to take time and teach medical students as much as possible through their rotation, this is one thing I really appreciated about the Anesthesia residents I rotated with at McLaren Health Care."
Dr. O'Toole believes determination was key to finally reaching his goal of becoming a doctor.
"I am a firm believer that if I can do something, anyone can do it," he said. "Coming from a family with no one in the medical field, I knew it would be a challenge to complete medical school and obtain a residency. I believe if someone is willing to sacrifice the time and really put in the effort required, this goal is obtainable to everyone."
(Top photo) Dr. Shane O'Toole speaks at the 2019 UMHS Eighth Annual Commencement Ceremony in New York City on June 7, 2019 at Alice Tully Hall in Lincoln Center. Photo: Island Photography
---
About UMHS:
Built in the tradition of the best US universities, the University of Medicine and Health Sciences focuses on individual student attention, maintaining small class sizes and recruiting high-quality faculty. We call this unique approach, "personalized medical education," and it's what has led to our unprecedented 96% student retention rate, and outstanding residency placements across the US and Canada.

Posted by
Scott Harrah
Scott is Director of Digital Content & Alumni Communications Liaison at UMHS and editor of the UMHS Endeavour blog. When he's not writing about UMHS students, faculty, events, public health, alumni and UMHS research, he writes and edits Broadway theater reviews for a website he publishes in New York City, StageZine.com.