UMHS 2018 graduate Dr. Mikayla Troughton starts a residency in Anesthesiology this summer at the University of Arkansas College of Medicine. She has come a long way from the days of wanting to be a veterinarian while growing up in Enniskillen, Ontario, Canada (an hour northeast of Toronto), volunteering for five years at a local veterinary hospital.
"After seeing enough animals euthanized for various reasons, I realized that my emotions got the best of me, yet I still wanted to be in health care," she said. "Medicine seemed to be a great alternative as we put more emphasis into the prevention of disease, treatment and curative therapies."
Dr. Troughton spoke to the UMHS Endeavour about her journey through medical school at UMHS. We discussed everything from what made her choose UMHS over other medical schools to her favorite professors to how UMHS prepared her for the Match, why she finds Anesthesiology so fascinating, and more.
Dr. Troughton completed her Bachelors of Science in biology at Queen's University in Kingston, Ontario. When looking to apply to medical schools, she admits the decision to attend UMHS was a no-brainer.
'A More Personalized Experience'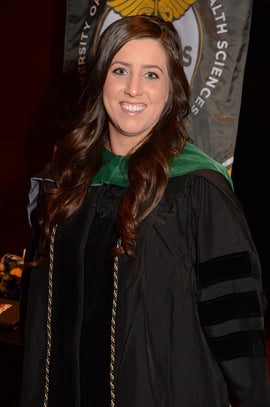 "After having looked into many medical schools abroad, UMHS stood out to me because they truly care about you as an individual and as a student, not to mention the great facilities and brand new anatomy lab on the island," she said. "When I was accepted, [UMHS VP of Enrollment Management] Michelle Peres personally called me to tell me the wonderful news. I wanted a more personalized experience during medical school and I liked the fact that UMHS offered small class sizes along with TA sessions, peer mentors and office hours catering to all learning styles. Everyone at UMHS was very supportive and the caring environment enabled you to reach your full potential."
(Photo, inset right) Dr. Mikayla Troughton. Photo: Courtesy of Dr. Troughton
The talented faculty, recruited primarily from the U.S. and Canada, was one of the first things that impressed her.
"The first inspiring professor I had on the island was Dr. Prakash Mungli who teaches biochemistry," she said. "He is an amazing teacher and his notes were extensive, allowing you to really understand the background knowledge needed for success in his class. He goes above and beyond for the students, and has recently started a video channel demonstrating important biochemistry concepts.
She also was inspired by two other professors, Dr. Michael Doherty (a fellow Canadian) who teaches neuroscience at UMHS, and pathology professor Dr. Anoop Jalan.
Dr. Troughton discussed the myriad ways that UMHS prepared her for landing a residency.
"Having attended UMHS, I believe I am more adaptable and resourceful which will make for an easier transition into residency," she said. "Additionally, with adaptability comes comfort and confidence in decision-making. I personally feel that I'm willing to take risks that I would have never taken four years ago."
---
Discover if a career in Anesthesiology is right for you.
Learn why 89% of doctors would choose the same specialty again.
---
'How UMHS Helped Me Become a Doctor'
UMHS helped Dr. Troughton develop many principles and skills that helped her achieve her dream of becoming a doctor.
"The dedication and perseverance of Caribbean medical students shines through and I have thoroughly developed my strong work ethic by attending UMHS," she said. "Physicians require excellent communication and collaboration skills. These characteristics were reinforced from our first anatomy class right up until our clinical- skills sessions in Maine where we worked in groups regularly. Having participated in UMHS programs such as the mentor-mentee program and becoming a teaching assistant also enabled me to become a better mentor for others."
Dr. Troughton found that the high-tech UMHS campus in St. Kitts and the many hospitals available in the clinical rotation program in sites across the USA gave her the extra edge she needed to prepare for a career in medicine.
"Living on St. Kitts and completing clinical rotations throughout the United States (I've now lived in eight different states!) enabled me to develop resiliency as well as network extensively," she said. "The fact that I've rotated through 13 different hospitals just as a medical student alone gave me lots to talk about during my interview season. Moving to different locations forces you to adapt quickly and you easily learn new patient care systems. This gives you an advantage over many U.S. medical grads, some of whom may only have completed one or two 'away' rotations."
The experience and contacts she gained through UMHS clinical rotations helped her tremendously in securing a residency in Anesthesiology at the University of Arkansas College of Medicine.
"It's funny because throughout my interviews I would call a couple of my close friends directly after each one to essentially let them pick up on cues regarding my feelings toward the program," she said. "When I found out I was going to Arkansas, my friends collectively agreed that my enthusiasm after that particular interview was a level above the rest. The entire interview experience at Arkansas was amazing and everyone was so friendly, fun—we had our pre-interview dinner at Lost 40 Brewery—and energetic. I feel so lucky to be part of such an awesome family already. As for my residency itself, Anesthesiology is a four-year program which includes an intern year. I will be completing all four years in Little Rock."
Why Anesthesiology is So Rewarding
Dr. Troughton gives many reasons why she is interested in Anesthesiology.
"Anesthesiology encompasses several aspects of medicine that I enjoy the most, including the interaction of physiology and pharmacology, critical care, fast-paced and constantly changing environments, lots of procedures and a constant rush of adrenaline," she said. "As anesthesiologists, we quickly establish rapport with patients and provide reassurance for their biggest fears before surgery. We're usually the last person the patient sees before their procedure and the first person they wake up to afterwards. Additionally, there are so many avenues to pursue for fellowship training, which are all drastically different. Anesthesiologists are first and foremost experts on both acute and chronic pain, and a fellowship in Pain Management would allow you to practice outside of the operating room if you so desire."
Taking Advantage of What UMHS Offers
Although living in sunny St. Kitts is one of the benefits of attending UMHS, Dr. Troughton advises students to take full advantage of the comprehensive medical education offered at the school.
"Start early and study throughout your time on the island," she said. "The island is fun, but make the most of your island resources (professors, peers, notes and UWorld) because it makes studying for Step 1 less overwhelming during your semester in Maine."
Once a student arrives in Maine for the 5th semester at UMHS, Dr. Troughton has lots of advice.
"Step 1 scores are really important, so give it your all," she said. "Go into your clinical rotations with your head held high, but be willing to take criticism and use every opportunity to learn and remember why you're there. Eventually you will feel like you actually know something, I promise it gets better."
What else? "Do well on your shelf exams because it gives you a good foundation for studying for step 2 CK," she said. "Try to schedule electives that will help you get into your chosen field and don't be afraid to step outside your comfort zone to get rotations at many hospitals (and even non-affiliate sites) because you never know who you might meet. Speaking of meeting people: network, network, network!"
Preparing for the Match
While preparing to apply for the residency Match, Dr. Troughton suggests learning about hospitals where Caribbean grads have matched in the past, as well as attending conferences in the area of medicine in which you are interested.
"For anyone interested in Anesthesia, I went to the Anesthesiology annual meeting, hosted by ASA [American Society of Anesthesiologists] during my third and fourth years," Dr. Troughton said. "Research programs on FRIEDA Online [the AMA Residency and Fellowship Database] as soon as you start your clinicals and apply broadly."
She also stresses the need to never get too nervous about residency interviews.
"Be yourself during your interviews; most of the time there was a couple of set questions and then it turned into a more casual conversation. Lastly, don't compare yourself to others; you will legitimately go crazy if you do this."
What are some of Dr. Troughton's personal goals for her residency?
"I hope to enjoy residency as much as possible and learn as much as I can to become a competent perioperative physician," she said. "Additionally, I would welcome the opportunity to become a chief resident and hopefully I'll pursue a fellowship in either cardiothoracic anesthesia or critical care."
Her advice for those looking to choose a similar path in medicine?
"Enjoy medical school and work hard because as soon as you blink, it's all over and all those sleepless nights paid off!"


(Top photo) Dr. Troughton at UMHS graduation in New York City. Photo: Island Photography
---
About UMHS:
Built in the tradition of the best US universities, the University of Medicine and Health Sciences focuses on individual student attention, maintaining small class sizes and recruiting high-quality faculty. We call this unique approach, "personalized medical education," and it's what has led to our unprecedented 96% student retention rate, and outstanding residency placements across the US and Canada. UMHS is challenging everything you thought you knew about Caribbean medical schools.

Posted by
Scott Harrah
Scott is Director of Digital Content & Alumni Communications Liaison at UMHS and editor of the UMHS Endeavour blog. When he's not writing about UMHS students, faculty, events, public health, alumni and UMHS research, he writes and edits Broadway theater reviews for a website he publishes in New York City, StageZine.com.