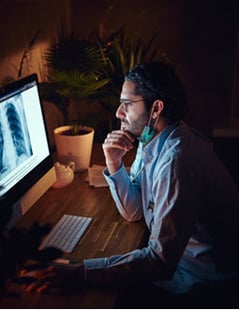 If you are searching for information about Radiologists and the Medical specialty of Radiology, then you've come to the right place. As an ACCM accredited School of Medicine, we created this informational article as an introduction into the field of Radiology. It provides a step by step guide for future Medical students searching for answers on how to become a Radiologist.
We think it is very important that readers understand the level of commitment necessary to complete a Diagnostic Radiology residency, get licensed, and be able to work as a Radiologist in the US or Canada.


Quick Navigation Links to 7 FAQ's about Radiology and Radiologists
Radiologist education - how to become a Radiologist?
The level of education required to become a Radiologist is very high and takes over a decade to complete. Assuming that high school (or GED) has been completed here are the steps to becoming a Radiology specialist:
Step 1: Enroll in college and complete the pre-requisite courses needed for admission into Medical school.
Common pre-requisite courses that most medical schools require include: anatomy with a lab, biology, general chemistry with a lab, organic chemistry with a lab, physics with a lab, math, and writing courses. Medical college admissions specialists generally recommend to receive at least a B or higher as a course grade in order to be a competitive applicant to most medical schools. Also commonly completed prior to admission to Medical school is volunteering, shadowing of physicians, leadership, and research.
Step 2: Prepare for and take the Medical College Admissions Test (MCAT).
Prepare for and take the Medical College Admissions Test (MCAT). Achieving a high MCAT is essential to be considered a competitive medical school applicant. The MCAT is an 8 hour, computer based examination that tests over four different areas: Chemical and Physical Foundations of Biological Systems, Critical Analysis and Reasoning Skills (CARS), Biological and Biochemical Foundations of Living Systems, Psychological, Social and Biological Foundations of Behavior.
---
Discover if a career in Radiology is right for you.
Learn why 93% of doctors would choose the same specialty again.
---

Step 3: Get accepted and attend an Allopathic or Osteopathic Medical school.
The first half of Medical school is spent in the classroom learning the foundations of medicine. The second half of medical school is spent in the hospital learning the hands-on aspects of clinical medicine. During this time medical students rotate through clerkships in:
Throughout medical school, students have to pass multiple board examinations, USMLE STEP for MD students, and COMLEX for DO students.
During the last year of Medical school, students apply and interview with different residencies in the field of their choosing. After interviews are completed, Medical students are matched into a residency training position via a computer algorithm system. Lastly, medical students graduate and get ready to start residency.
Step 4: Complete Internship and Residency.
Graduate Medical students are now officially licensed Physicians but cannot practice on their own. The first year after graduation is spent in an Internship, also known as a Transitional/Preliminary Year. During this time new doctors will work in hospitals, clinics or emergency rooms and will get general well rounded medical training. It is also during this time that the final USMLE or COMLEX test must be completed. Intern years and residency are paid positions that vary according to the State and institution attended.

The next four years is dedicated to learning specifically about Radiology. Residents will spend time with patients, create plans for treatment, learn to interpret Medical imaging, ultrasound and other radiologic tests. They are often required to be on call for nights and weekends.
Step 5: Board Certification.
Although becoming board certified in Radiology is not a requirement for professional licensure, it is a valuable credential that conveys expertise in the field. That being said, almost all employers require board certification as a condition of employment.
To become board certified in Diagnostic Radiology, two examinations must be passed. The first one, The Core Exam, can be taken after 36 months in residency. The second board examination, The Certification Exam, can only be taken after successful completion of The Core Exam and is offered twelve months after Diagnostic Radiology residency is complete. For more information about Board Certification in all specialties and subspecialties of Radiology, please visit The American Board of Radiology,
Step 6: Complete fellowship training (optional).
Radiologists have the option to pursue additional training in a subspecialty of Radiology. This is not necessary in order to find a job. Some Radiologists choose to not pursue a fellowship. Please read more about fellowship training and subspecialties in the next section,
What are the fellowship specialties Radiologists can pursue?
Upon successful completion of a residency program in Radiology, most Radiologists choose to pursue a fellowship in one of the subspecialties of Radiology. This allows Radiologists to receive more advanced training in specific specialized areas. Fellowships are completed by approximately ninety percent of Radiology residents and many complete more than one fellowship. Here is a list of common fellowships available:
Abdominal Radiology- One year
Breast Radiology- One year
Cardiothoracic Radiology- One year
Endovascular Surgical Neuroradiology- Two years
Musculoskeletal Radiology- One year
Neuroradiology- One to two years
Nuclear Radiology- One year
Pain Medicine- One year
Pediatric Radiology- One year
Vascular And Interventional Radiology- One year
Find out more about Radiology specialties here:
What is a Radiologist?
A Radiologist is an MD or DO physician that specializes in the use of Medical imaging equipment and imaging techniques to help diagnose and treat injury and disease. Common procedures and techniques involve the use of Magnetic resonance imaging (MRI), Computed tomography (CT), X-rays, Positron emission tomography (PET), Ultrasonography, Fusion imaging and Nuclear medicine.
What does a Radiologist do?
The work environment for a Radiologist may vary from job to job and based on if they have completed a fellowship (discussed above). Most Radiologists work in a hospital, however others may work in a clinical or academic setting. The duties of a Radiologist include but are not limited to:
consulting with other medical professionals
performing imaging procedures and interpreting the results
diagnosing injuries and ailments
referring patients to other appropriate health care practitioners


These Medical images they perform are extremely complex and require extensive knowledge of human anatomy, pathology, and the intricacies of different imaging modalities. The majority of these methods use some type of radiation. Thus, Radiologists receive extensive training in protecting individuals from and minimizing the adverse effects of radiation. Some Radiologists are trained in conducting imaging procedures which may require sampling of an area of the body or injection of contrast into a specific anatomic location.
How many years does it take to become a Radiologist?
After completing high school, on average it will take 13 years to become a Radiologist. This includes completing an undergraduate degree which usually takes four years, followed by four years of Medical school, then a one year internship, followed by four years of residency training in Diagnostic Radiology. Additionally, more than 90% of physicians that complete residency decide to pursue a Fellowship in a sub-specialty of radiology (discussed above). This adds a minimum of 1 year of additional training.
What major should I have to get into Medical school and practice Radiology?
Most Medical schools do not have a certain major required for application to their school. However as the pre-requisite courses are commonly primarily composed of Biology or Chemistry courses, many students choose to major in one of these two areas. With that being said, a Medical school applicant could choose to major in any field such as teaching, literature, biochemistry, embryology, or marketing. As long as the Medical school applicant has completed the required pre-requisite courses, they are still eligible to apply to Medical school.
Is becoming a Radiologist worth it?
In order to decide if a career as a Radiologist is worth the time and cost of education, there are many factors to consider. These include the length of training, cost of attending school, the type of work environment wanted, enjoyment of job duties etc. All these aspects are discussed in separate sections of the article, with the exception of job security.

According to the US Bureau of Labor Statistics, there are approximately 372,000 working Radiologists in the United States. It is predicted that there will be the need of an additional 14,000 practitioners by 2026. This correlates to a 10 to 14 percent increase in Radiology jobs and is above the national average indicating a stable future job security
What salary do Radiologists make?
Due to their extensive cost and length of training, Radiologists are well compensated. There are several sources that report physician salaries. The first is the Medscape Physician Compensation Report, an annual survey that is distributed directly to physicians. According to the Medscape Physician Compensation Report in 2020, Radiologists made an average of $427,000 USD plus a $77,000 incentive bonus.

Another source, AAMC Careers in Medicine reports the average salary of Radiologists in academic medicine (associated with a teaching hospital). Radiologists that are assistant professors in academic medicine make and average of $377,000 USD while Radiologists that are associate or full professors make and average of $420,000.
How much does it cost to become a Radiologist?
Most physicians, including Radiologists, incur a large amount of student loan debt during their schooling to become a MD or DO. According to Educationdata.org, the average Physician graduates with $215,900 dollars of debt (excluding other educational debt such as that from premedical education). If premedical education debt is included, the average medical school graduate has a total of $241,600 in student loan debt after obtaining their degree. Depending on the source, 76 to 89 percent of medical school graduates have educational student loan debt. To put the amount of debt in perspective, the average medical school graduate owes over six times as much as the average college graduate. This large amount of average student loan debt is important to take into consideration when deciding on Radiology as a potential career path. The length of training and cost of schooling are both very high, but trained Radiologists have an excellent salary and future job outlook.
What is the difference between Radiology and Radiography?
While Radiography and Radiology may sound like identical careers, they are not. Radiographers, also known as Radiologic technologists (or rad tech for short) go through a much different education path and they do not have a medical degree. Radiologic technologists help support Radiologists by actually performing the diagnostic imaging testing procedures ordered by supervising Radiologists.

The Radiation technologist is the person that performs the diagnostic medical testing ordered by the radiologist by skillfully using X-ray, Ultrasound or other Imaging equipment. Mobile Radiology equipment can be used in the ER, the operating room (OR) or even at bedside in the patient's room.

The education and training to complete and become a Registered Radiologic Technologist may vary from State to State, but usually includes completing at least a two year formal training program at a hospital or a two to four year program at a college or university. After the respective educational programs are finished, a certification exam must be passed. The certification examination for Rad Techs is through the American Registry of Radiologic Technologists (AART) and is known as the ARRT Radiography exam. A Radiologic technologist can choose to pursue additional training and become specialized in a Diagnostic imaging area such as:
Computed Tomography
Cardiac Intervention
Vascular Intervention
Magnetic Resonance
Mammography
Bone Densitometry
Sonography
What are the new innovations in the field of Radiology?
One of the biggest innovations that is changing the practice of Radiology is the use of artificial intelligence (AI). For example, one Radiologist is working on developing a triage mechanism using AI to detect brain hemorrhages and flag the case. The treatment of brain bleeds is time dependent and a program that allows for more rapid diagnosis is very beneficial.

Another example of an AI program is one that was developed to diagnose breast cancer. The breast cancer screening AI is able to spot details that are too subtle for the human eye to see. A study found that the algorithm was significantly more accurate at diagnosing cancer than practices typically used in the clinic. Although AI may be able to help speed up the diagnostic process or potentially make it more accurate, many ethical questions remain about its utilization.
How to pursue a career In Radiology
Now that you have learned more about the career of a Radiologist, you may be eager to get started on your career in medicine and plan your career in Radiology. Your next step is to get accepted into a high quality medical program, like the one offered at the University of Medicine and Health Sciences. Why wait? Get started on your MD degree at one of our three annual start dates in January, May and September.
Profile and interview with a UMHS alumni that chose Diagnostic Radiology as a career.
Dr. Nick Mills is currently in his Radiology residency at St. Joseph Mercy Oakland Hospital in Pontiac, MI. He graciously granted us an interview regarding his experiences in residency and shared his thoughts about why he chose UMHS for Medical school and how it helped him prepare for a career as a Radiologist. Check out his interview here: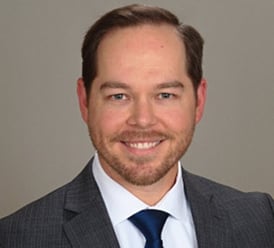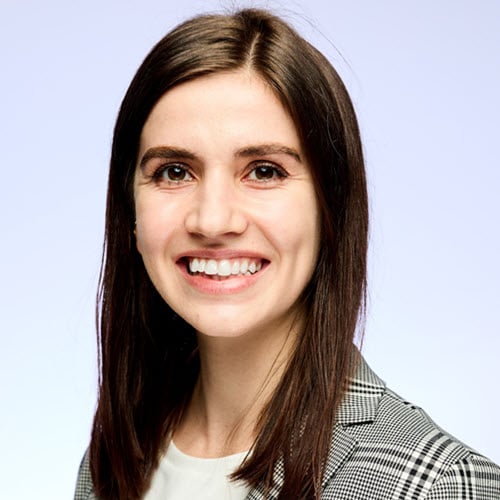 Posted by
Callie Torres
Callie Torres is a Captain in the United States Air Force and a chief resident at Wash U/Barnes Jewish Hospital in St Louis. She is a freelance writer with many published medical articles as well as multiple peer-reviewed medical publications