Dr. Nick Mills always had a great love of science but was not sure how he would make a career out of it. Originally from Middletown, a small town in Northern California near the wine country, "a very beautiful place to grow up," Dr. Mills loved the outdoors and often went hunting and fishing with his dad. After graduating with a degree in biological sciences, he took a job with the California Department of Fish and Wildlife on a conservation project, hoping to blend his love of the outdoors with his interest in science.

"It was a really fun job," he said. "I got to be out on the river every day, but all that time alone taught me that what I really wanted was to work with people and help people. I became a medical assistant and my first job was working for two really great doctors that ultimately inspired me to become a doctor. It was a really roundabout path."

He started medical school as a nontraditional student, nine years after graduating from college but has no regrets for starting med school later in life. "I'm glad I did it," he said.

The 2020 UMHS grad is about to start a Diagnostic Radiology residency at St. Joseph Mercy Oakland Hospital in Pontiac, MI. The UMHS Endeavour spoke to Dr. Mills about why he decided to attend UMHS, the advantages of Caribbean medical schools, his advice for prospective and current students about excelling in medical education and residency Match advice, and his experiences and thoughts on the COVID-19 pandemic.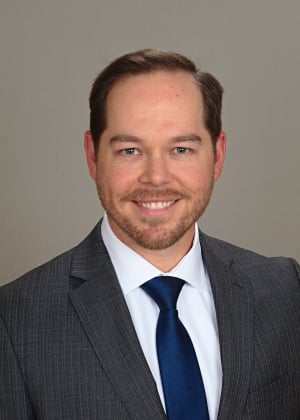 Dr. Nick Mills. Photo: Courtesy of Dr. Mills.
Heard About UMHS from College Friend

When Dr. Mills made the decision to attend med school, he knew little about Caribbean medical schools. So why did he apply to UMHS?

"It was ultimately because someone I knew went there and was able to tell me how good of a school it was," he said. "After putting in so much hard work preparing to apply for medical school, I didn't get any interviews with any of the California schools I applied to. I knew I could be a doctor and I didn't want that to stop me. Applying to an international school had been in the back of my mind because one of the doctors I worked for was from the Philippines and he was awesome. I looked into Caribbean schools but I didn't really know anything about them, and then I found out a guy I went to college with, Nick Kessener, had gone to a Caribbean school, UMHS. When I talked to him about it, he told it was a really great school and he had been able to do very well. That was the main factor."
---
Discover if a career in Radiology is right for you.
Learn why 93% of doctors would choose the same specialty again.
---

Dr. Mills especially appreciated the faculty in St. Kitts for basic sciences and the professors in Maine for the 5th semester.

"The professors are the thing I loved most about UMHS," he said. "They were each great in their own way. I could say something about each one, honestly. When I first started, I didn't know if I was going to make it because it had been so long since I was in school, and my first semester I just felt like I was trying to survive. When I started my second semester, it was Dr. Prakash Mungli who inspired me to not just 'make it' but to do the absolute best I could. From that point on that was my goal in medical school. Dr. Jagadeesh Nagappa is an amazing professor and his physiology class was probably my favorite one. I also enjoyed talking with him and asking him questions. Dr. Jane Harrington was the microbiology professor at the time and she had an awesome research elective that taught me so much about research. It was an incredibly valuable experience for me. Dr. Michael Doherty's neuroscience class was what first got me interested in radiology, and he put so much time and care into teaching us. Dr. Anoop Jalan's passion for teaching was incredibly motivating, and I will always remember his lectures. Dr. Patrice Thibodeau at the Maine campus is such a great person, doctor, and teacher. She was so helpful in the transition to the clinical semesters. The takeaway for those who are still there is that each professor has a really cool background and you should get to know them as much as possible and learn as much as you can from them while you can."

Graduates who enter med school as nontraditional students like Dr. Mills often already have the spark necessary to achieve goals. He explained how Caribbean medical schools offer another perk.

"I think one of the advantages of a Caribbean school is that it makes you be very self-motivated to succeed," he said. "Because it is sometimes harder to match into a residency when you come from a Caribbean school than it is from a U.S. school, it makes you work that much harder and I think that makes you a better doctor. One of the interviewers at a program I interviewed at told me he viewed it as a strength. Some of the specific advantages of UMHS are, again, the professors and the teaching you receive."

How to Succeed in Med School

Success in medical school and ultimately obtaining a residency is based on being dedicated to one's studies in basic sciences.

"I think to do well in the Match, you need to first work on doing your best at the job you currently have before worrying about what is coming in the future," Dr. Mills said. "For those still in the basic sciences portion of school, your job now is to spend your time learning the material as much as you can. It will take a lot of time, but get to the point where you know it intimately and can explain it very simply. Use more than just the PowerPoint slides; use the books in the library. Ask the professors questions if you don't understand it. This is the foundation you need to do as well as you can on Step 1. That is the best thing you could do for yourself right now for improving your odds in the Match."

Dr. Mills also has advice for students in the 5th semester and clinical rotations.

"For those in Maine–don't worry, you will have plenty of time to review for Step 1. Take your time learning to get good at histories and physicals. This will give you confidence when you start rotations and will help you make a good impression with the residents and attendings you will meet. For those in clinical rotations now, be a hard worker (it really makes you stand out), be a nice, normal person, ask questions, don't act like you know everything, be as helpful as you can, and get as involved as you can. Try to help on a research project. Good letters of recommendation are very important and one of the mistakes I made was waiting too long to ask for them. Try to get to know an attending well on each rotation and do a really good job so that when you can ask the for a letter of recommendation, they can actually write you a good one. And impress the residents by working hard because if it is a place you are planning on applying to, they can have a big say in the decision. Finally, applying for the Match is a lot of work, but it has to be done. It takes a lot of time, so if you're at that stage, start working on it early. But don't let it freak you out. It's definitely doable."
Diagnostic Residency in Michigan

In July, Dr. Mills starts his residency in Michigan, a long way from his native California, in a medically underserved community north of Detroit.

"It is a categorical Radiology residency at St. Joseph Mercy Oakland, a community hospital in Pontiac, Michigan. I will be doing a transitional year there for my first year and then completing my radiology residency after that. It's a really cool hospital in a very unique location. For those who don't know much about Michigan, Pontiac is a little north of Detroit. Pontiac has a poverty rate of about 32% (more than 2 ½ times the national rate). It is a very diverse population of patients that I hope to learn from and make a difference for."
He first became intrigued with radiology while studying anatomy in a UMHS class.

"Radiology is really cool and there is a lot more to it than you would think when you get to experience it," he said. "The first thing that interested me in radiology was being able to see so much detail in the anatomy of the human body. Seeing the CT and MRI images of the brain and spinal cord in Dr. Doherty's class first sparked that interest. It's like going to the anatomy lab every day, but with patients who are still living and you can still help. You also get to see how a lot of the diseases you study affect the body and see the physical changes they make. I think that's awesome. I could look at images all day, but there is also a lot more to radiology than that. Depending on the subspecialty you choose, you can have a lot of patient interaction, perform a lot of procedures, and work with a lot of other doctors."

Dr. Mills is primarily fascinated by one area of radiology now.

"I'm most interested in neuroradiology right now. The brain is such a complex and mysterious organ. I love it. You can also make a big difference in someone's life when interpreting images of the brain, such as when a patient comes in with a stroke. You get to be an important part of the large team involved in evaluating them and treating them."

He has many goals for his residency.

"First, I want to learn to be a really good radiologist. I also hope to do some outreach work using radiology. One organization I learned about last year is called Rad-Aid. You can join as either a student, resident, or attending. They let you work on projects around the world. I think it would be really cool."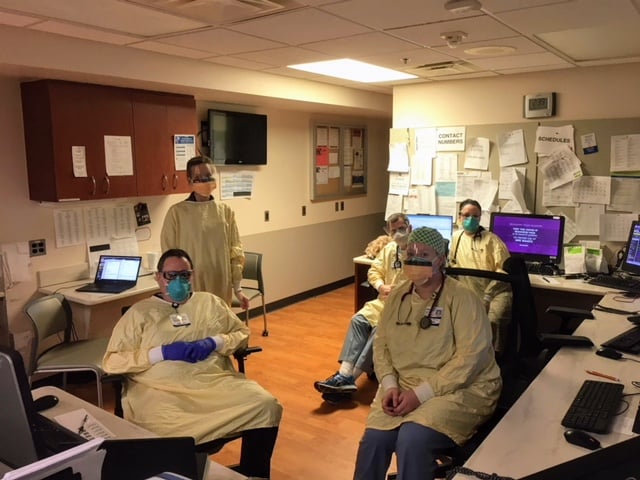 ER doctors & PAs dressed in their PPE at an ER in Wayne County, Michigan, during one of the busiest times of the COVID-19 pandemic in March 2020. Photo: Courtesy of Dr. Mills
Why Doctors Matter in the COVID-19 Pandemic

Dr. Mills said he believes doctors matter when it comes to COVID-19. Having properly trained doctors and the right PPE and equipment all make a difference regarding saving lives.

"It is absolutely crucial," he said. "There are so many people who are still alive because a doctor was there, risking their own health, to take care of them. I'm proud that I get to be starting my career this year and hopefully I can do my part to help."

Although Dr. Mills has not personally worked with COVID-19 patients directly just yet, he has seen other doctors firsthand treating people with the virus.

"I have been working in an emergency room near Detroit since last October, so I was able to witness all of the COVID-19 patients coming in since the beginning of the outbreak," he said. "People were very sick. I got to see the doctors try their best to take care of them. It's a brand- new disease. I'm sure there will still be some cases in the hospital in July when I start. Hopefully by then we can have some more insight on how to treat it."

There are many things med students need to know about COVID-19.

"It's a brand-new disease. It seems like it can do whatever it wants. Most of the patients we saw come into the emergency room had some level of viral pneumonia. But we also had patients with neurologic symptoms or kidney injury. Then we started finding out about the other seemingly random complications it caused. It will be interesting to learn more about it over the next few years and learn how it works. Be careful on your rotations, though. Take it seriously."

The pandemic has created further division in the country politically as millions have lost their jobs as states started locking down, and doctors and healthcare workers have had to grapple with a virus we are all still learning about.

"First, I think we all need to show extra grace to each other right now," Dr. Mills said. "There's been a lot of anger going around. It's understandable because it's a really stressful time. On one side you have all the healthcare providers trying to figure out how to treat this disease, not get infected themselves, and hoping they have enough equipment. Then you have people who are losing their livelihood because of the stay-at-home orders and they don't know what to do. I wouldn't know what to do if I was in that situation either. This is the first pandemic that we have been through and we are all trying to figure it out. As far as people thinking they don't need to worry about COVID-19, I hope they see how serious of a disease it really is and are careful."

Dr. Mills said the younger generation especially needs to be vigilant about the virus.

"Again, this virus seems to do whatever it wants. There were plenty of younger patients [I saw] that came into the ER with serious pneumonia. I started keeping a list of their ages at first because I thought they would be unique cases; a 37-year-old female with bilateral viral pneumonia; a 30-year-old male with bilateral pneumonia; a 28-year-old male with diffuse bilateral infiltrates; a 39-year-old male with bilateral infiltrates, but after so many came in, I stopped. A virus doesn't choose who to infect based on how old they are, so please take it seriously."
(Top photo): Dr. Nick Mills (center) with (left to right) his wife Carrie, daughter Dorothy & sons, Theodore and Tobias after finding out he matched at St. Joseph Mercy Oakland in Michigan. Photo: Courtesy of Dr. Nick Mills.

---

About UMHS:
Built in the tradition of the best U.S. universities, the University of Medicine and Health Sciences focuses on individual student attention, maintaining small class sizes and recruiting high-quality faculty. We call this unique approach, "personalized medical education," and it's what has led to our unprecedented 96% student retention rate, and outstanding residency placements across the USA and Canada. UMHS is challenging everything you thought you knew about Caribbean medical schools.



Posted by
Scott Harrah
Scott is Director of Digital Content & Alumni Communications Liaison at UMHS and editor of the UMHS Endeavour blog. When he's not writing about UMHS students, faculty, events, public health, alumni and UMHS research, he writes and edits Broadway theater reviews for a website he publishes in New York City, StageZine.com.