Class of 2018 graduate Dr. Jenna Ulrich did not start out wanting to become a doctor. In fact, she originally went to university for a policing degree (sometimes called Justice Administration), but after becoming ill in her early 20s, she developed a passion for health and wellness.
She soon switched majors and eventually completed a bachelor's degree in kinesiology at York University, she said, because she "realized medicine was my calling."
The UMHS Endeavour spoke to this young doctor about why she chose UMHS, how the students and professors she encountered gave her an invaluable support system for life, how UMHS helped her get an Internal Medicine residency at Bridgeport Hospital in Connecticut (with ties to Yale University in New Haven), and more.
Why UMHS?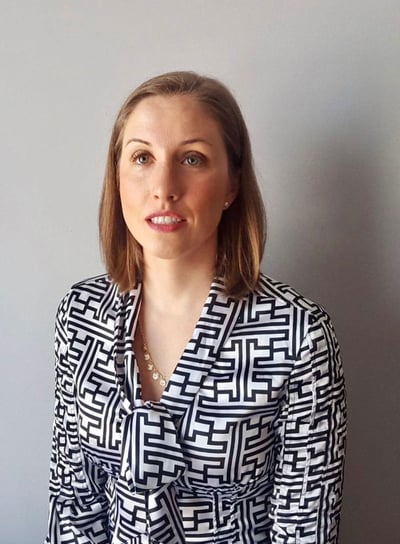 When she started looking at med schools, Dr. Ulrich knew she had many choices. UMHS in St. Kitts had exactly what she was looking for in medical education.
"I chose to apply and ultimately attend UMHS as the curriculum is modeled after the best U.S. medical schools and the fact that they offered an accelerated academic program," she said.
(Photo, inset right) Dr. Jenna Ulrich. Photo: Courtesy of Dr. Ulrich.
Dr. Ulrich said moving from her hometown of Severn, Ontario in Canada to UMHS in St. Kitts was not easy at first. Coming to a country known for year-round sunshine was quite different from what she was used to, but the multicultural environment at UMHS helped her adjust and enriched her learning experience. She simply had to learn to adapt.
" I am from Canada so adjusting to life in the Caribbean was challenging to say the least," she said. "Learning how to thrive in the hot, humid environment and interact with others that speak different languages was fun but at times thought-provoking. I feel being adaptable is an essential characteristic for physicians as it gives you the mindset that prepares you to handle whatever might happen that day and allows you to have flexibility to handle change."
She also made friends both in and out of the classroom, forming a crucial support system, something necessary for doctors of all ages.
"Today, physician burnout is all too real and more prevalent than once thought. Having a great social support to talk to or even just get out and have some fun has been shown to reduce physician burnout. The island provided the perfect environment to form lifelong friendships that will last through medical school and beyond."
---
Discover if a career in Internal Medicine is right for you.
Learn why 75% of doctors would choose a career in medicine again.
---
First-Class Faculty
Like many UMHS students, she also established open communication channels with many faculty members, and certain professors had a profound impact on her academically and personally.
She has high praise for Thomas J. Last, Ph.D. Dr. Last is Associate Dean of Basic Sciences, Dean of Student Affairs and Professor of Cell Biology at UMHS.
"Dr. Last is a distinguished teacher," she said. "The way he teaches is incredible and will allow material to stick in your head long after you leave the island. I just sat for Step 3 and things he taught during cell bio still stuck with me enough to enable me to answer more than a handful of questions."
Pathology professor Dr. Anoop Kumar Jalan is also someone she remembers well.
"It was amazing to me that he was so passionate about pathology and I swear he had a photographic memory, as he never missed a single detail."
Finally, Prakash Mungli M.D., M.B.B.S., UMHS Assistant Dean of Student Affairs, Chairman of Molecular Sciences Course, Director and Professor of Biochemistry, was not only an inspiration but a role model as well.
"I loved that Dr. Mungli made biochemistry a bit competitive by giving an award to the top students each semester," she said. "I also loved hearing his nutrition lectures and seeing that he obviously practices what he preaches. In his spare time, he would take us on vigorous hikes, my favorites bring the volcano crater hike."
Clinical Rotations: The Road to Residency
Dr. Ulrich said she believes the clinical education she received at UMHS was key to her success on the road to residency.
"UMHS provided me with the opportunity to learn from a variety of teaching hospitals across the U.S during my clinical years," she said. "This gave me the chance to care for an assortment of patient populations. I think this will be an advantage in my future as a physician as no matter where my career takes me. I have a great base of knowledge of medical diseases that affect patients from the East to the West Coast."
How can other students from Caribbean medical schools do well in clinical rotations and residency interviews?
"My advice for any medical student is to study hard, get good grades and USMLE scores as well as outstanding memorable letters of recommendation. It will make the difference between matching or not."
Landing a Prestigious Internal Medicine Residency
Dr. Ulrich matched into the Internal Medicine residency program at Bridgeport Hospital in Bridgeport, Connecticut.
"It was my number-one choice as it's an integral part of the Yale New Haven Health System with strong ties to Yale University and I feel this will provide me with incredible learning opportunities," she said. "The program also emphasizes daily didactics and research opportunities. The most important element for ranking Bridgeport Hospital was the residents I met with during my interview. They all had positive views of their experience and a lot of past residents went on to pursue incredible fellowships. I really felt this was an environment in which I would thrive."
Internal Medicine is fast becoming one of the most important medical specialties because it helps fill the void in the growing Primary Care physician shortage in the USA. For Dr. Ulrich, it's a great fit.
"I love Internal Medicine because of the diversity it offers," she said. "You can work in the hospital or an outpatient clinic. You get to work with all the major internal organ systems and it opens the door to a variety of fellowships."
One of the great aspects of Internal Medicine is being a gateway to more specialized areas of medicine. Dr. Ulrich is thrilled about what her career has in store.
"I would like to become the most well-rounded physician possible," she said. 'Following residency, I would love to match into a Nephrology or a Cardiology fellowship. I am hoping residency will provide me with the opportunity to choose which one."
Medical school is part of a long educational process that requires dedication and emotional and physical stamina. Dr. Ulrich has remained positive throughout the past four years and has words of encouragement for others pursuing the same dream.
"Since matching everyone has been asking if given the chance, would I do it all over again? And honestly, I absolutely would," she said. "Keep faith in yourself and surround yourself with people who are going to lift you up and never stop believing in what you can accomplish. UMHS is a great Caribbean medical school and I would not be where I am today without their knowledge and support."


(Top photo) Dr. Ulrich at UMHS graduation in New York City. Photo: Island Photography
---

About UMHS:
Built in the tradition of the best U.S. universities, the University of Medicine and Health Sciences focuses on individualized student attention, small class sizes and recruiting high-quality faculty. For these reasons, UMHS is quickly becoming the school of choice among Caribbean medical schools.

Posted by
Scott Harrah
Scott is Director of Digital Content & Alumni Communications Liaison at UMHS and editor of the UMHS Endeavour blog. When he's not writing about UMHS students, faculty, events, public health, alumni and UMHS research, he writes and edits Broadway theater reviews for a website he publishes in New York City, StageZine.com.