Dr. Jerome Couture, UMHS Class of 2019 graduate, originally wanted to become a veterinarian. After attending UMHS in St. Kitts, he matched in Internal Medicine at UPMC (University of Pittsburgh Medical Center) Mercy in Pennsylvania and starts his residency there this summer.
The UMHS Endeavour spoke to Dr. Jerome Couture—who hails from a small town in Quebec, Canada—about how he first discovered his love of medicine, why he chose UMHS, what it's like being a Canadian studying medicine abroad, tips on scoring well on USMLE Step 1, doing well in residency interviews, his goals for residency and more.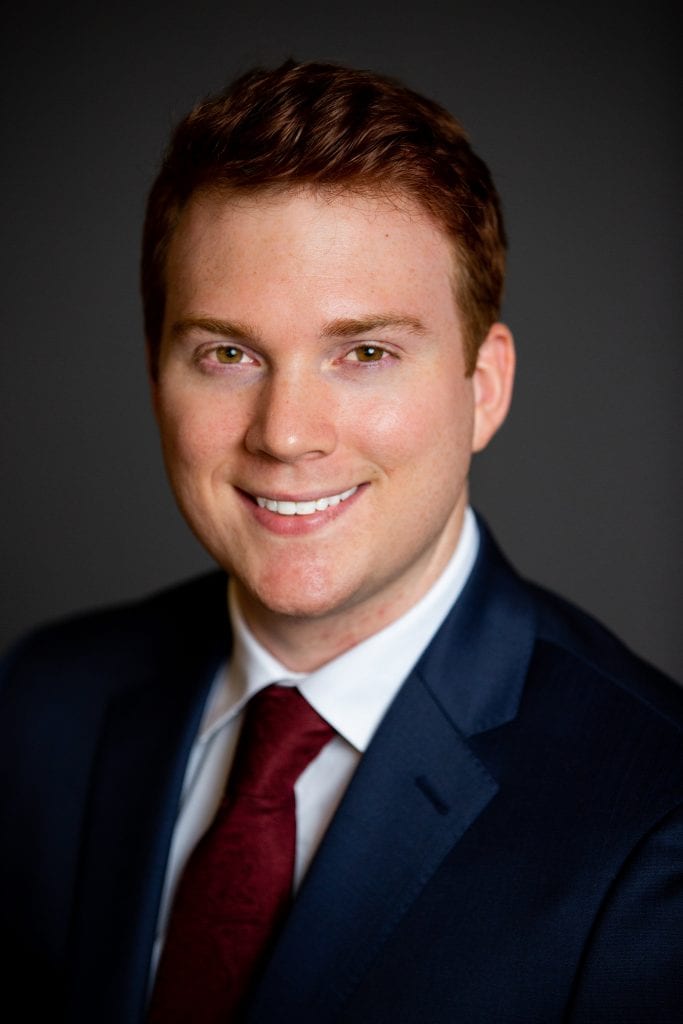 DR. JEROME COUTURE: The UMHS Class of 2019 grad starts an Internal Medicine residency at UPMC Mercy in Pittsburgh this summer. Photo: Courtesy of Dr. Couture.
Fostering Love for Medicine in Canada
Dr. Couture grew up in Stratford, Quebec, an agricultural town near the border of Maine and Vermont.
"Although small, it boasts acres of pristine land where I often rode on my four-wheeler in the summer, or went snowshoeing in the winter," he said.
Dr. Couture first wanted to become a veterinarian because, as he puts it, "I've always been surrounded by animals." Jeff Corwin and the late Steve Irwin, both animal conservationists, hosted his favorite TV shows while he was growing up and he had many experiences working on different farms as a child.
However, medicine soon became his true calling.
"My passion for medicine really began when I entered Cegep, a pre-university college in the province of Quebec," Dr. Couture said. "Learning about the health sciences made me realize how much I loved learning about health and the human body. I then built on that realization and attended the University of Ottawa, where I completed my Bachelor of Health Sciences."
Dr. Couture said anatomy was his easiest and most enjoyable course. "It was easy to memorize, and it made me realize how amazing the human body really was," he said.
Entering a Canadian medical school is a competitive task, so he decided to apply to Caribbean medical schools to "make sure that all my options were covered."
---
Discover if a career in Internal Medicine is right for you.
Learn why 75% of doctors would choose a career in medicine again.
---
Why UMHS?
Studying at UMHS in St. Kitts offered many advantages.
" Who gets to say they studied in a warm, tropical location? " he said. "With my experiences on the island, as well as the different states I had the opportunity to do my clerkships in, allowed me to view healthcare from different perspectives. I also had the opportunity to meet people from all over the United States, Canada, and other regions of the world, developing long-lasting relationships in the process."
Dr. Couture explains that he would have never met his wife—his "anchor in medical school"—had he not attended UMHS.
"Not only is she beautiful, charismatic, and enchanting, she is a medical student with a passion to live life to the fullest."
In addition to getting an outstanding medical education, UMHS also helped Dr. Couture strengthen other skills, most notably learning to have empathy for others.
"People will be entrusting you with their deepest secrets, things their closest confidantes might not even be aware of," he said. "To participate in a Caribbean medical school requires an open mind. Developing this allows one to also develop empathy with other students as we all struggle to adapt to a different environment.
As a Canadian studying medicine abroad, UMHS also gave him excellent preparation for exams necessary to obtain a residency.
"The tools that UMHS provided me allowed me to push my limits and score well on the Step exams," Dr. Couture said. "Entering residency is a competitive business, so doing well on those exams was a must for me. Moreover, having done rotations in different regions of the USA, I was able to further develop my 'people' skills, which I believe helped me do well on my interviews."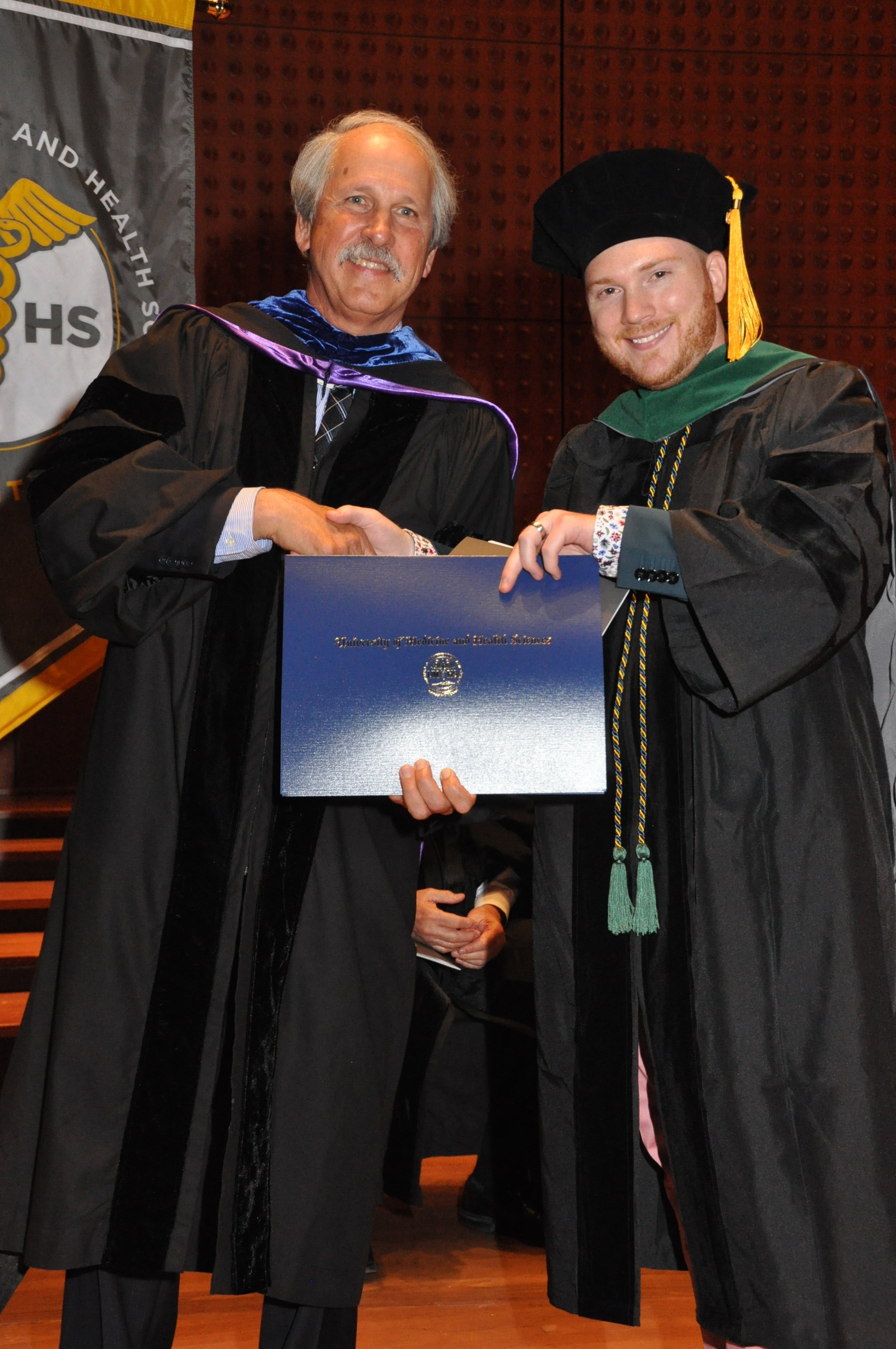 UMHS President Warren Ross (right) with Dr. Jerome Couture at UMHS Commencement on June 7, 2019 at Lincoln Center in New York City. Photo: Island Photography.
Internal Medicine Residency at UPMC Mercy in Pittsburgh
Dr. Jerome Couture said he is excited about his internal medicine residency at UPMC Mercy in Pittsburgh.
"From what I've heard and seen, living in Pittsburgh is an amazing opportunity," he said. "Not only is the city considered one of the safest in the U.S., it also offers a robust combination of great food, art, and technology. It is an expanding city that is great for young professionals."
His residency at UPMC Mercy offers many opportunities.
"The program itself offers a competitive education with alumni matching into various fellowships, branching into primary practice, or developing into excellent hospitalists," he said. "It also boasts a level 1 trauma center, which allows for a greater exposure and education. It will be a challenging but rewarding experience, one that I hope will shape me into the best physician I can become."
How UMHS clinical rotations helped
Dr. Couture admits that it was the electives he took during clinical rotations at UMHS that helped him choose internal medicine as a specialty.
"To be honest, I was never quite sure what I wanted to do at first," he said. "Surgery sounded great, until I realized the lifestyle was not for me. I also loved OB/GYN but again, the lifestyle of the physicians was not for me. Ultimately, it's only when I started my electives with subspecialists in the field of internal medicine did I realize how great their lifestyles were. Not only were they able to pursue knowledge through internal medicine, they had the flexibility to work regular hours; they worked both outpatient and inpatient; and they had the flexibility to perform certain surgical procedures. Having seen and experienced this, I knew internal medicine was for me.
The opportunity for continual growth is what interests him the most about Internal Medicine
"Internal medicine allows you the flexibility to develop into whatever physician you wish to be," he said. "Whether you want to work inpatient or outpatient, perform procedures, or have flexible hours, internal medicine offers these opportunities."
Advice for the Match process
Dr. Jerome Couture offers practical advice for current or incoming students about attending UMHS and making the most of the Match process.
"My best advice is study hard, but also learn to enjoy a little," he said. "The most important thing you could do for yourself is doing well on the Step exams. High step scores will essentially allow you to put your foot in the door. Although this isn't the only factor, it is an important one. Finally, when going to interviews, enjoy the process. You've been invited! All you need to do is show them who you are."
Dr. Jerome Couture has many objectives for his residency.
"Some of my goals include the following: do the best I can to help my patients; develop long-lasting relationships with my peers; learn how to become a leader; teach medical students and become a role model; and grow into a competent, independent physician. I'm sure more goals will pop-up as I start residency."
(Top photo) Dr. Jerome Couture at UMHS Commencement on June 7, 2019 at Lincoln Center, New York City. Photo: Island Photography.
---
About UMHS:
Built in the tradition of the best US universities, the University of Medicine and Health Sciences focuses on individual student attention, maintaining small class sizes and recruiting high-quality faculty. We call this unique approach, "personalized medical education," and it's what has led to our unprecedented 96% student retention rate, and outstanding residency placements across the US and Canada. UMHS is challenging everything you thought you knew about Caribbean medical schools.

Posted by
Scott Harrah
Scott is Director of Digital Content & Alumni Communications Liaison at UMHS and editor of the UMHS Endeavour blog. When he's not writing about UMHS students, faculty, events, public health, alumni and UMHS research, he writes and edits Broadway theater reviews for a website he publishes in New York City, StageZine.com.