Dr. Abraham Halik, a UMHS Class of 2020 graduate, was thrilled when he learned he matched in an Internal Medicine residency at MedStar Union Memorial Hospital in Baltimore, MD. Matching at such a prestigious hospital was the culmination of the life-long dream of becoming a doctor he has had since second grade when he was asked "what do you want to be when you grow up?"
The UMHS Endeavor spoke to Dr. Abraham Halik about his family, undergraduate training and why he chose to attend UMHS over other American and Caribbean medical schools, how UMHS professors helped him, his thoughts on the current COVID-19 pandemic and what med students must know, and more.
Dreamed of Being a Doctor Since 2nd Grade
Dr. Abraham Halik was born in Fort Lee, New Jersey but raised in San Antonio, Texas. His heritage, however, is Middle Eastern.
"My family is originally from Palestine but immigrated to Syria in the 1950s," he said. "I am a proud first generation American."
Dr. Halik has wanted to become a doctor since the second grade. It was his interest in science that first attracted him to medicine. He attended the University of Texas in San Antonio where he received a Bachelor of Science in Biology with a minor in microbiology and immunology.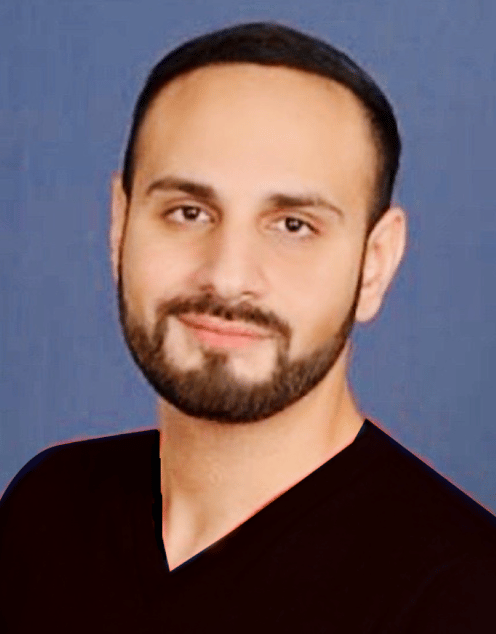 Dr. Abraham Halik. Photo: Courtesy of Dr. Halik
Why UMHS?
What made him choose UMHS as opposed to other med schools?
"I decided on going to UMHS because of the small class sizes, and I had a family friend who went there and had a good experience."
Dr. Halik had a number of professors who inspired him.
"Dr. Alfred Roy, Dr. Prakash Mungli, and Dr. Anoop Jalan and Dr. Yogitha Jalan were the most wonderful and inspiring professors I've had in my entire educational career. They are truly brilliant and love helping the students master difficult concepts."
UMHS gave Dr. Halik numerous advantages that he believes helped him achieve his goals and he was enriched with a sense of adaptability and the diversity offered on campus.
"Now that I have attended a medical school in the Caribbean, I feel more capable of adapting to change and being resilient," he said. "I liked UMHS because it allowed me to focus on my education without any distractions. I had an education comprised of diverse experiences, including cultural interactions among students, on St. Kitts. And also, through the different and various locations of my clinical rotations and patient populations"
Dr. Halik believes the outstanding basic sciences preparation was helpful in him obtaining a solid Step 1 score and that helped him match.
---
Discover if a career in Internal Medicine is right for you.
Learn why 75% of doctors would choose a career in medicine again.
---
Internal Medicine Residency at Union Memorial Hospital in Baltimore
Dr. Halik will be starting his Internal Medicine residency this summer at Union Memorial Hospital, part of the MedStar Health system.
"MedStar Health Internal Medicine combines the best aspects of academic medicine, research, and innovation with a complete spectrum of clinical services to advance patient care," he said. "As the largest healthcare provider in Maryland and the Washington, D.C., region, MedStar Health's 10 hospitals, MedStar Health Research Institute, and a comprehensive scope of health-related organizations are recognized regionally and nationally for excellence in medical care. MedStar Health has one of the largest graduate medical education programs in the country, training 1,100 medical residents annually, and is the medical education and clinical partner of Georgetown University and Johns Hopkins University. MedStar Health is a not-for-profit, regional healthcare system based in Maryland with more than 30,000 associates and 4,700 affiliated physicians supporting MedStar Health's patient-first philosophy that combines care, compassion, and clinical excellence."
Dr. Halik said he admired the Baltimore area after completing clinical rotations there.
"After rotating in Baltimore for the past year and a half, I really wanted to stay in the area because of all the academic and research opportunities".
He is interested in Internal Medicine for numerous reasons.
"I am a very detail-oriented person and internal medicine compliments my characteristics well," he said. "It combines the analytical exam of laboratory tests with a personalized, compassionate approach to medicine. This enables doctors to treat both common illnesses and complex medical conditions and practice as a true clinician. An internist also fits exactly what I viewed a doctor to be before I went to medical school. I kept an open mind during clinicals but I let my interests guide me. The more I learned, the more I realized that as an internist I will be dedicating my life to becoming a true clinician, and that is exactly what I wanted. I love solving the puzzle and working up the diagnosis."
In addition, he enjoys learning about the human anatomy in relation to illness and disease.
"I love taking a close look at how all the systems in the body work together as a whole, and it fascinates me how a problem in one organ can lead to complications in another. Also, the acute on chronic care is a big passion of mine."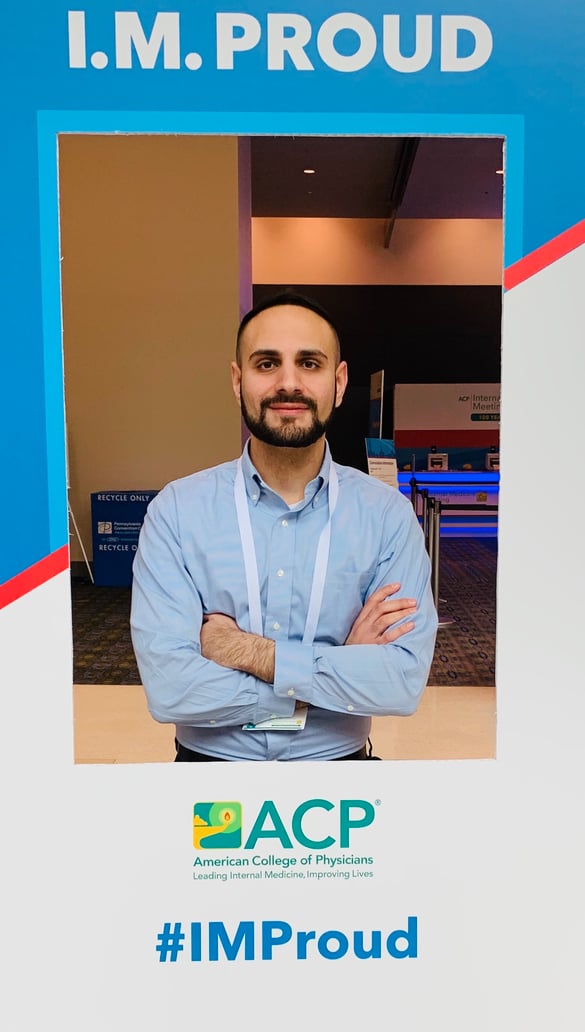 Dr. Abraham Halik at an American College of Physicians event. Photo: Courtesy of Dr. Halik.
Advice for the Match
Dr. Halik has many tips for current and incoming students about the Match process.
"The work truly begins now; it will shape the rest of your career. There will be obstacles, because nothing great comes easy. Don't compare yourself to others; you are your only competition. You have all the tools to make you successful so just work hard, don't procrastinate and take breaks when needed. Help each other succeed, talk about topics, discuss difficult concepts and teach one another. When you can teach something, you have truly mastered the subject. Don't slack off after you get off the island, keep that engine going. And even after you take Step 1, don't lose steam. It will sometimes feel like a never-ending battle but keep going because you're almost there. While applying for the Match, reach out to alumni for advice, don't be shy because most of us like to help. Research the programs before applying to them, and ask for your letters of recommendation early. Work hard from day one, push through all the obstacles and do good. At the end of the day you will all do well, but remember it's more important to do good."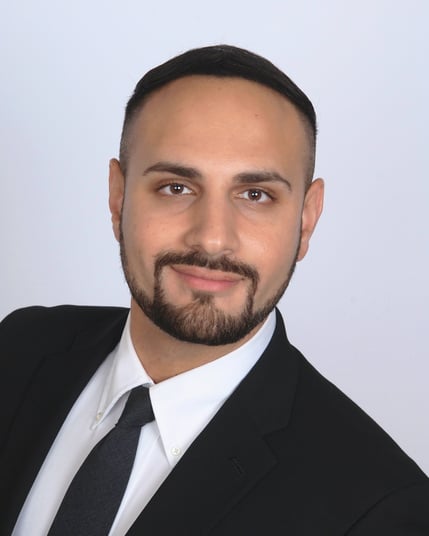 Dr. Abraham Halik. Photo: Courtesy of Dr. Halik
Goals for Residency
He has many residency goals.
"I am very interested in academic medicine, because I love learning and teaching, so I can see myself teaching at a residency program or possibly a fellowship. But I also have interests in critical care and cardiology so I am going to let residency shape my career as my interests develop further."
What Should Med Students Know About COVID-19?
Dr. Halik said now more than ever is a great time to be a doctor because "the world needs good people taking care of it."
What should med students know about COVID-19?
"The disease is called COVID-19 (coronavirus disease) and the cause is a virus named SARS-CoV-2 (severe acute respiratory syndrome coronavirus 2)," Dr. Halik said. "Symptoms can look similar to a lot of other medical problems, so always be on the lookout. It's primarily transmitted through droplets, and thought to be most contagious when an individual is symptomatic. But remember droplets versus airborne is a spectrum. At a certain particle size and dynamic, the virus can become airborne. SARS-CoV-2 seems to be transported on droplets larger than its size, so it can be easily aerosolized. Aerosolizing maneuvers include coughing, deep breathing, nebulization therapies, intubation, bagging, and any airway procedures; including bronchoscopy and tracheostomy. The aerosols are in highest quantity at time of these maneuvers and based on laboratory studies can remain airborne for up to three hours. A truly airborne virus such as measles travels easily in the air with passive respiration making its infectivity magnitudes higher than SARS-CoV-2."
Dr. Halik has strong words for younger people who think they don't need to worry about COVID-19.
"This isn't just about you. This is about all of us. Protect yourself so you can protect others. Based on what we know now, yes people at high-risk for severe illness from COVID-19 are 65 years or older. But everyone should be cautious. This virus can affect anyone. Especially people of all ages with underlying medical conditions, particularly if not well controlled, including chronic lung disease or moderate to severe asthma, serious heart conditions, immunocompromised (undergoing cancer treatment, smoking, bone marrow or organ transplantation, immune deficiencies, poorly controlled HIV or AIDS, and prolonged use of corticosteroids), severe obesity (BMI 40+ ), diabetics, chronic kidney or liver disease. "
Dr. Halik also said he believes states should be more careful about opening up businesses by making sure they conduct proper testing and contact tracing.
"I personally don't think states should open up unless they have enough testing and are very aggressive with contact tracing of people who test positive for SARS-CoV-2," he said. "Contact tracing is the process of finding and reaching out to the contacts of someone who tests positive for an infectious pathogen. Those contacts should then be quarantined or monitored, and if any of them are also positive, the process should be repeated with their contacts and so on until the chain of transmission stops."
(Top photo): UMHS Class of 2020 grad Dr. Abraham Halik starts an Internal Medicine residency at MedStar Union Memorial Hospital in Baltimore, MD. Photo: Courtesy of Dr. Halik
---
About UMHS:
Built in the tradition of the best U.S. universities, the University of Medicine and Health Sciences focuses on individual student attention, maintaining small class sizes and recruiting high-quality faculty. We call this unique approach, "personalized medical education," and it's what has led to our unprecedented 96% student retention rate, and outstanding residency placements across the USA and Canada. UMHS is challenging everything you thought you knew about Caribbean medical schools.

Posted by
Scott Harrah
Scott is Director of Digital Content & Alumni Communications Liaison at UMHS and editor of the UMHS Endeavour blog. When he's not writing about UMHS students, faculty, events, public health, alumni and UMHS research, he writes and edits Broadway theater reviews for a website he publishes in New York City, StageZine.com.