St. Kitts and Nevis is preparing for a busy winter season as cruise ship traffic increases and more nonstop flights from the U.S and Canada are added. The travel media have been buzzing about how the island nation, home to UMHS, is accommodating an unprecedented number of expected tourists.
750,000 Cruise Ship Passengers Predicted
The St. Kitts and Nevis Government predicts a "conservative figure" of more than 750,000 cruise passengers, a record for the twin-island federation, The Caribbean Journal reported on September 4, 2013.
"What's exciting about this coming season is that we have 183 ship days," Tourism Minister Ricky Skerritt said in a press release. "In other words, in a calendar year for the first time in our history we have passed about 130 in terms of ship days. We have gone up significantly by the number of ship days and that means that over the course of 365 days on average, every other day there will be a ship."
Mr. Skerritt said this means 103 days when there will be a ship in port in Basseterre, the Caribbean Journal explained.
"Last year we were at about just 600,000, so it's a massive increase this year," he said. "Two years ago we were able to bring the Allure of the Seas, which is called an Oasis-class ship, as a test case and that has proven to the world, the capacity of our pier."
A second pier is planned for Port Zante in Basseterre. Mr. Skerritt said the pier is "very close to starting its construction."
Number of Visitors Increases
Travel Weekly reported on September 21, 2013 that visitor numbers are growing. "Arrivals to St. Kitts registered 2% year-over-year growth compared with the same period in 2012," the article said
Mr. Skeritt said growth was "driven by a 5.2% jump in arrivals from North America, the primary source market."
The country's tourism minister said the rise in visitor arrivals is partially due to the addition of nonstop flights from the U.S. that began last winter .American Airlines added nonstop flights from Miami on Fridays and Sundays "to supplement its daily Miami flight and to Delta's upgrade of aircraft size on the Atlanta-St. Kitts route," the article said.
To meet growing demand, Travel Weekly said Delta's seasonal weekly nonstop from Atlanta "will kick in on November 2, seven weeks earlier than last year."
American offers a twice-weekly nonstop from New York's JFK, and US Airways offers weekly service from Charlotte, North Carolina.
Mr. Skerritt added that the growing popularity of St. Kitts as a port of call for cruise ships says a lot about the country.
"The fact that Royal Caribbean included St. Kitts as a port of call for this new ship is a testament to the quality of the destination's expanding infrastructure," Skerritt said. "St. Kitts can provide an authentic Caribbean experience that clearly appeals to cruise passengers."
Travel Weekly reported on plans for "the expected increase at the port, design planning and engineering are under way, in consultation with the St. Christopher Air and Sea Ports Authority and cruise operators, so that construction can be completed on a $31 million second mega-pier by November 2014."
Mr. Skerritt is quoted in the article as saying the existing facilities at Port Zante would benefit from the new construction.
Plans underway include improvements, "such as landscaping, signage, the addition of a VIP excursion area, a redo of the Amino Craft Market and the hiring of additional taxi drivers to handle traffic at the pier."
SKB International Airport Expansion Begins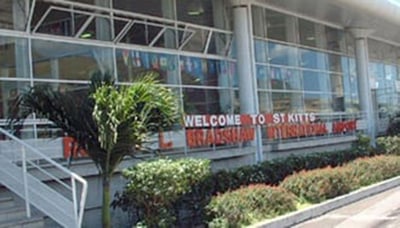 Christopher Bass, Chief Executive Officer of the St Christopher Air and Sea Ports Authority, told the Caribbean Journal that the airport is adding an additional 1,600 square feet of space and capacity for an additional 200 passengers and four immigrations .
(Photo, inset right) SKB EXPANDS: Expansion of Robert L. Bradshaw International Airport will handle 200 more tourists & 4 more immigration officers. Photo: St. Kitts Tourism
The expansion should be completed by early November as peak tourism season starts, Mr. Bass said.
The St. Kitts and Nevis Government is quoted in the article as saying the expansion "is part of a wider phased series of improvements to the country's international airport, according to the government."
In addition, plans are underway for the Fixed Base Operation, Mr. Bass told the Caribbean Journal.
"This private terminal will cater to commercial and private travelers who are prepared to pay extra for personalized fast-tracking and concierge type services," he said.
(Top photo) ST. KITTS BECOMING A STAR: As more than 750,000 cruise passengers are expected, Port Zante is expanding. Photo: Port Zante/Facebook
---
About UMHS:
Built in the tradition of the best US universities, the University of Medicine and Health Sciencesfocuses on individual student attention, maintaining small class sizes and recruiting high-quality faculty. We call this unique approach, "personalized medical education," and it's what has led to our unprecedented 96% student retention rate, and outstanding residency placements across the US and Canada.

Posted by
Scott Harrah
Scott is Director of Digital Content & Alumni Communications Liaison at UMHS and editor of the UMHS Endeavour blog. When he's not writing about UMHS students, faculty, events, public health, alumni and UMHS research, he writes and edits Broadway theater reviews for a website he publishes in New York City, StageZine.com.