By Jared Sharza
Sometimes you find yourself not wanting to take the 8 am bus to school on the weekends and instead want to change the pace and ambiance to enjoy a nice self-paced Caribbean day studying at your own leisure and comfort. Unfortunately, in med school, we're shrouded as students with a cloud of anxiety whenever we're away from studying for too long, so here is an article that highlights the best places to study in Frigate Bay, St. Kitts, all near the UMHS campus.
Special note: the exchange rate from $EC to $US is 2.7. For example, 27EC= 10US.
Marriott's Café Calypso
At the forefront of St. Kitts travel and tourism, and perhaps the most longstanding, is the Marriott St. Kitts Beach Club. It's the most massive structure in Frigate Bay, with one main building housing rooms, a casino, three restaurants and a café, surrounded by villas and pools all on the beach. There's also a pizza shack right outside of the main building closer to the beach that is part of the resort itself.
I've always seen students from both UMHS & Ross Vet. School studying at and around the café. Café Calypso brings a semi-modern vibe to the Caribbean. The café itself is open-air with fans that carry in the ocean breeze. Just this past year (2018) they remodeled the whole café which now holds comfortable seating and charging outlets for both conventional plugs and USB adapters right under the seats, making it a student's dream spot to study out here. The ambiance can vary but is typically described as chill with very low traffic of people walking around the seating area. The noise is relatively quiet perhaps due to the open-air space. Other than the audible music that they play (instrumental), the noise level is pretty negligible and in no way is it distracting. There are some cases on the weekend during peak tourist season when the hotel welcomes the new guests with a live steel pan band in the lobby which can be heard in the café but it's a very soothing sound as well, so there isn't much of a complaint.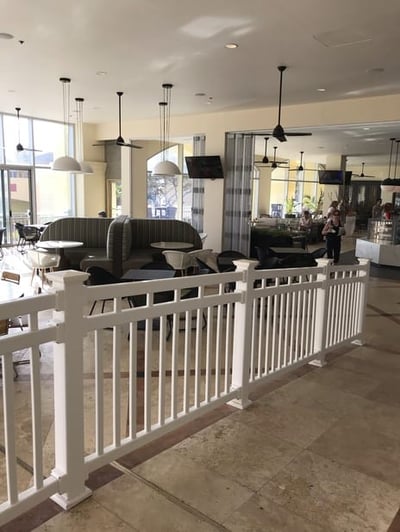 As per food/drink: your options are pretty open but since it's at the Marriott, it can be expensive. All the prices are in $US at the Marriott for anywhere you go. A plain coffee will run you $4, a latte will be $7. They serve a light breakfast menu at the café consisting of wraps, bagels, parfaits, fruits. Nearly adjacent to the café is a bar area connected to one of the kitchens that is a popular lunch area. They have a smoked gouda grilled cheese with tomato curry which is a real treat for $12. They also have a standard cheeseburger that I'd rate as one of the better burgers on the island ($20). Down at the pizza shack, a lot of students are fans of splitting a pizza with friends whenever they come to study here. A medium specialty pizza runs around $20 as well. Without a doubt, the Marriott is not a place where you will be dining on the regular. Right across the street is the Rams, which is always ideal to run over and grab a snack or drink and then come back to stretch your legs.
(Photo, inset right above) GREAT STUDY SPOT: Comfy seating a multiple charging outlets make Cafe Calypso popular with UMHS students. Photo: Jared Sharza
Student Ratings: (out of 10)
Productivity: 7/10
Distractibility: Mild
Ambiance: 9/10
Food/Drink (quality): 9/10
Food/Drink (price): $$$$$
*Recommendations: Go early (8 am) and get a good spot set-up. The tables are circular and not that spacious so you'll be placing your stuff all over the place. Get an iced coffee and get comfortable. I prefer to face away from the lobby. Take a break every now and then to walk around and explore the whole Marriott resort. The roof is accessible by stairs and has a beautiful view to catch the sunset with a 360-degree panorama.
Sweet & Savory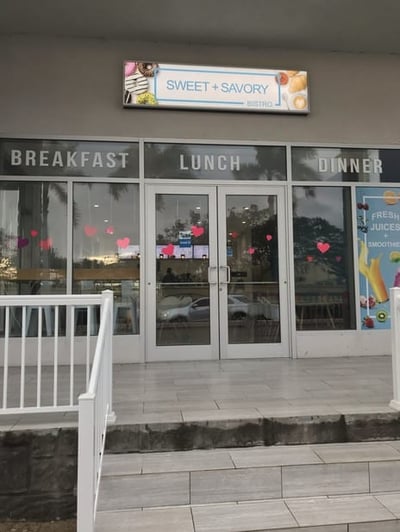 It doesn't just happen to be a clever name. If you've got a sweet tooth, this is more likely to be your guilty pleasure. Sweet & Savory was developed when the Royal Plaza strip was built in 2018 and was one of the first places to open up along with Rams. It's located right in front of the Royal. When I was a first semester student, I'd have to walk all the way down to the Rams about seven minutes away located at Sugar Bay. This was a game-changer because students who live at the Royal or even at the Marriott Residences can literally roll out of bed and be getting their groceries.
Sweet & Savory is a fusion between a bakery and a café but also makes dinners past 5 pm. Their breakfast menu is pretty delectable with different egg sandwiches, pancakes, smoothies and, of course, coffee. Their prices are fairly reasonable (in $EC) and students like to go there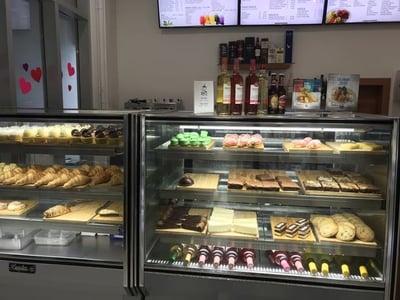 even if they're going to take the 8 am bus to school because they open earlier and are located right next to the bus stop. The inside is very light with bright light floors, walls, tables/chairs. They have a nice bench that stretches wall to wall with cushions and various brightly colored pillows against the backdrop of a deep blue wall. The music is more modern pop and has the feel of being in a cool/hip hang out place. They place all of their fresh-baked goods at the register which is always filled with different colored macrons, brownies the size of your face, cheesecake slices, Cinnabons, and my favorite, chocolate-chip cookies, amongst other treats.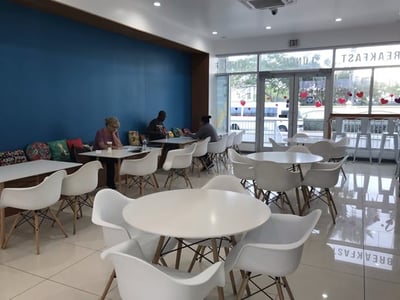 This is one of the more popular student locations in which to study. You can always count on walking by and seeing a student/group of students either from UMHS or Ross Vet. The tables are pretty spacious and similar to the Calypso Café at the Marriott; there are outlets underneath the bench. On the other side of the bench and tables are stools which aren't that comfortable compared to the bench and pillows. Since this is a smaller venue compared to the open-aired Calypso, the sounds are amplified and the music is played a little louder too. If you're sitting on the bench, then directly across from you is a window that faces a walkway through the Royal Plaza which is pretty moderate in terms of traffic. Overall, I'd say the distractions are a little more pronounced here.
(Photos, inset right above) SWEET & SAVORY: The great menu & atmosphere make this a hot study spot in St. Kitts. Photo: Jared Sharza
Student Ratings: (out of 10)
Productivity: 5/10
Distractibility: Moderate
Ambiance: 6/10
Food/Drink (quality): 8/10
Food/Drink (price): $$
*Recommendations: This is more of a place you'd do short-term studying at- say if you're trying to go to school on the weekend but you slept in past the 8am bus but want to get studying before hopping onto the 12pm to campus. Eggs Florentine (English muffin topped w/ sautéed spinach, tomato, poached egg and hollandaise sauce) = 21.70EC= $8US. With a berry smoothie and a chocolate-chip cookie, you'll be well on your way to having a productive study day. Sweet & Savory is also on the food delivery service 869-TO-GO.
Rituals (Frigate Bay)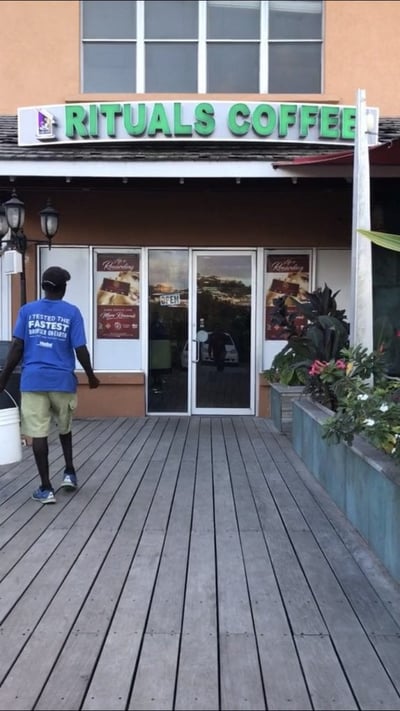 If you love Starbucks back home, this is about as close to it as you'll get on St. Kitts. Rituals is the chain coffee shop that can be reliably found around and even on campus. The Frigate Bay Rituals has the added benefit of an expanded menu for foods along with their expansive drink menu. The prices are super affordable across the whole menu and is pretty tasty as well. This is definitely the popular coffee shop in Frigate Bay for everyone.
Being the case, it tends to be very busy between 9am-12pm. The ambiance is contemporary with wooden tables and cushioned seats. There's a couple lounge chairs placed to the sides of the store with a cluster of tables around. There are three high-top tables that are preferred by the students because they're closest to the outlets right at the table. Along with the outlets at the high-top table, the table itself is pretty large making it a good place to sprawl out your material in a relatively organized and comfortable manner. The music being played is always American pop but not too loud. The aromas vary largely because the kitchen is right where they're making the coffees so you get a lot of mixed smells but it's never noxious. This is a great place to come more for a short-term study period.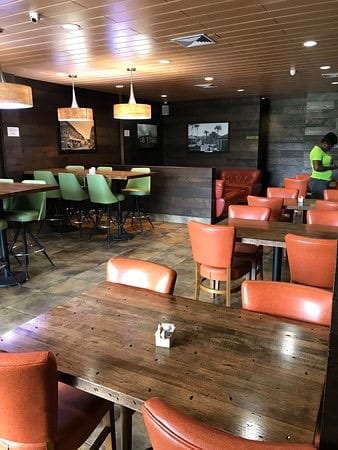 There are plenty of food options for everyone that always seems to please. The breakfast menu varies from French toast and breakfast wraps to a traditional English breakfast. All the prices are in $EC: A cream cheese bagel is 10EC, western omelet breakfast wrap is 18EC, French toast is 10EC, café latte is 9EC.
Student Ratings: (out of 10)
Productivity: 6/10
Distractibility: Moderate
Ambiance: 6/10
Food/Drink (quality): 7/10
Food/Drink (price): $
*Recommendations: chocolate-chip muffin, iced caramel latte, Western breakfast wrap, noise-cancelling headphones.
(Photos inset right above) RITUALS COFFEE: Similar to Starbucks & a great study spot in St. Kitts. Photo: Jared Sharza
The Mill Café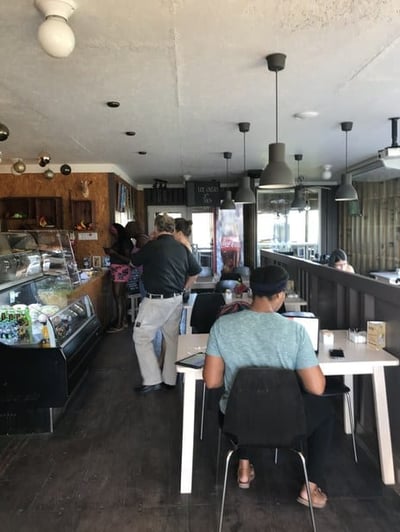 Located toward the end of the Frigate Bay strip at the base of Sir Timothy Hill and entrance to Oceans Edge, a few shipping containers have been converted into a quality café. The Mill is a quaint coffee house that is a student favorite to come and study in groups. It's a relatively small and tight space and the mainstream pop music that's played from Spotify can vary in loudness sometimes depending on how busy it becomes. The walls of the shipping crates are plastered with old Russian newspapers. Other than that, the décor has various pieces of drift-wood that are aesthetically strung to the walls. The Mill feels like a retro experience that has you confused with where you just stepped into.
What you first notice when you walk into The Mill is the enticing aroma of coffee. Unlike Rituals, the kitchen is in the back of the shop. The next thing you notice is the presentation of fresh-baked treats and breakfasts up for display. The breakfast selection is definitely a crowd- pleaser. With breakfast baguettes topped with a mixed scrambled egg, crepes, and various egg dishes, The Mill definitely brings a classier feel to your breakfast. Everything is freshly prepared which adds to the coffee aroma and leaves a nice scent.
The Mill can range in business. It can go from you being the only person in the café to being jam-packed and loud. The good thing is that most people typically get their food and go which leaves the students experiencing episodes of distractions. The majority of the seating is set for two people but has two large tables located near outlets that are perfect for group studying. There's a desk-like work station set up along the back wall with outlets right there which make it perfect for studying. The work station is attached to the wall so your distractions are pretty much all cut out by facing the wall. The Mill is a pretty flexible option with short/long-term studying if you can get comfortable. It typically quiets down in the afternoon from the busyness of the breakfast rush which ends at 11am.
(Photos, inset right) THE MILL CAFE: The majority of the seating is set for two people but has two large tables located near outlets that are perfect for group studying. Photo: Jared Sharza
Student Ratings: (out of 10)
Productivity: 8/10
Distractibility: Varies
Ambiance: 8/10
Food/Drink (quality): 9/10
Food/Drink (price): $$$
*Recommendations: The breakfast baguette is delicious and definitely fills you up for a long day of studying. Their coffees are robust and ensure a burst of energy. If you weather through the early crowds of people, this becomes a very quiet and productive setting conducive to studying.
The Study Room at the Royal Hotel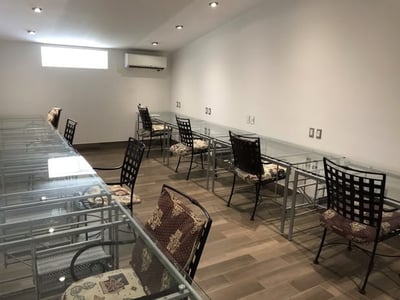 At the risk of unveiling what I'd personally consider to be the best-kept secret in terms of study locations in Frigate--the study room at the Royal Hotel is everything you need to bulldoze your way through all of your material. The small all white painted room is occupied by two rows with five workstations each, an air conditioner that is always blasting cold air (preferred), and a single small window that only lets in some extra light. The chairs are covered with relatively comfy cushions and back pillows. The remote control to the AC is always in the study room but students always prefer to have it cold and come prepared for it by bringing sweaters or blankets for comfort. Silence is the unspoken rule to be honored by every student who goes to study there. While it says that it's supposed to be closed by 9 pm, the study room remains a hub for pulling late-night study sessions. The only distractions are whatever you do to distract yourself from being productive.
(Photo, inset right above) THE ROYAL HOTEL: The 'study room' is ideal for studying, but bring a sweater or a small blanket because the AC can make the place rather chilly. Photo: Jared Sharza
Student Ratings: (out of 10)
Productivity: 10/10
Distractibility: 0
Ambiance: 0
Food/Drink (quality): 0
Food/Drink (price): 0
*Recommendations: bring a comfy sweater, jacket, or even a blanket. Avoid bringing foods into the study room that are excessively crunchy. Bring headphones or earphones if you intend on listening to anything. Honor the unspoken code. The Royal has two restaurants that are right outside of the study room which makes for taking a nice break with awesome views of the sunset. Splash is closest to the study room and makes arguably the best pizza on the island (Margherita pizza for $11US).
Jared Sharza is a student and Media Ambassador at UMHS in St. Kitts.


(Top photo) THE MARRIOTT IN ST. KITTS: Home to Café Calypso, one of the '5 Best Places to Study' in St, Kitts. Photo: Jared Sharza
---

About UMHS:
Built in the tradition of the best US universities, the University of Medicine and Health Sciences focuses on individual student attention, maintaining small class sizes and recruiting high-quality faculty. We call this unique approach, "personalized medical education," and it's what has led to our unprecedented 96% student retention rate, and outstanding residency placements across the US and Canada.

Posted by
Scott Harrah
Scott is Director of Digital Content at UMHS and editor of the UMHS Endeavour blog. When he's not writing about UMHS students, faculty, events, public health, alumni and UMHS research, he writes and edits Broadway theater reviews for a website he publishes in New York City, StageZine.com.