A group of UMHS students volunteered their time to administer the COVID-19 vaccine throughout Puerto Rico in May. The Puerto Rico Health Department Administrative Order 2021-492, signed back in March, mandated that medical and nursing students can work in vaccination campaigns under the supervision of health care professionals.
UMHS professor Dr. Prakash Mungli said all UMHS students were trained before starting vaccinations and were under constant supervision from professionals.
"Before vaccination, our students were trained by certified pharmacists how to give [an] intramuscular injection," Dr. Mungli said. "After proper training, our students were allowed to vaccinate people. While they vaccinated people, they were under constant supervision by certified nurses and family physicians. Apart from vaccination, our students also helped with paperwork and other voluntary work that was necessary during this vaccination program."
The UMHS Endeavour spoke to students about why they decided to volunteer, the best things about volunteering to give the COVID-19 vaccine in Puerto Rico, the challenges they encountered, the promise of herd immunity, and more.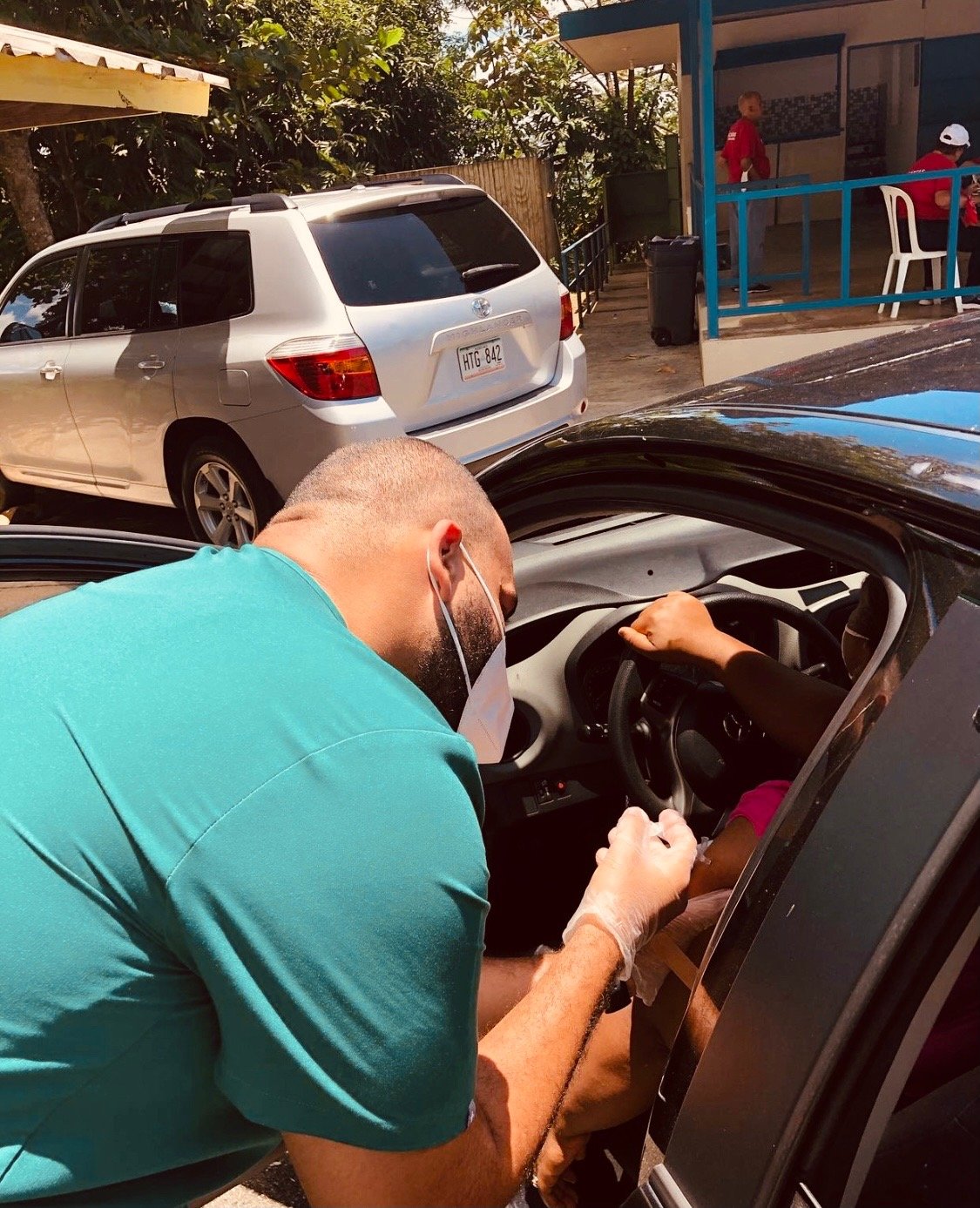 UMHS student Luis Enrique Morales-Jiménez vaccinates a patient. Photo: Lcda. Mabel Febres.
Luis Enrique Morales-Jiménez, MSc, EBS 3 student

First-year UMHS medical student Luis Enrique Morales-Jiménez wanted to volunteer because he said it offered an opportunity to grow in the medical field.

"Being a volunteer allowed me to have that connection with patients that, after all, all of us in this profession want to have and, above all, I wanted to be a volunteer because it is a blessing and pride for me to be able to serve in my country," he said.
Mr. Morales-Jiménez said volunteering has given him an opportunity to actually listen to patients for a few minutes.

"Many times they come so loaded with fear, so it is very satisfying to be able to listen to their thoughts and what they feel, and then have the opportunity to educate them; that way their fears are minimized or disappear."
He has worked in two different locations administering first and second doses. In total, the UMHS group has given approximately 1,200 doses. He has personally given people Pfizer, Moderna and Johnson and Johnson vaccines.

Mr. Morales-Jiménez said he has run into a few issues, such as vaccine hesitancy.

"I believe that the misinformation that exists in social media contributes to the fact that when patients go to be vaccinated, they arrive with many doubts, fears, anxiety, etc. We have had patients who arrive with high blood pressure due to the anxiety caused by getting the vaccine, as we have also had patients who feel dizzy. In those cases, we have to intervene to try to calm the patients down."
Despite the fact that many Puerto Ricans have been vaccinated, he said he cannot say whether or not Puerto Rico will reach herd immunity.

"There are still many people who do not believe in the vaccine and its effect, and number two, because Puerto Rico is a touristic hotspot, so if tourists who come to the island do not get vaccinated, there's a high probability they'll get infected and therefore spread the virus."


He said he has had many people ask about the process to acquire immunity against COVID-19.
"That's when we have to apply the knowledge we obtain in classes like Immunology and Histology in order to educate patients in a simple manner but in correct and successful way."

Mr. Morales-Jiménez has a message for everyone concerned about the vaccine.
"Trust the health professionals," he said. "Most of them—and I include myself in this group— are already vaccinated. If you are not sure, or have doubts about the vaccines and their possible effects, talk to your doctor or a health professional; they will be more than happy to help you answer all of the questions you may have. We want the best for our patients."

He wants to thank Dr. Mabel Febres from Farmacia Esperanza in San Juan "for the opportunity she gave us to serve the communities in this emergency."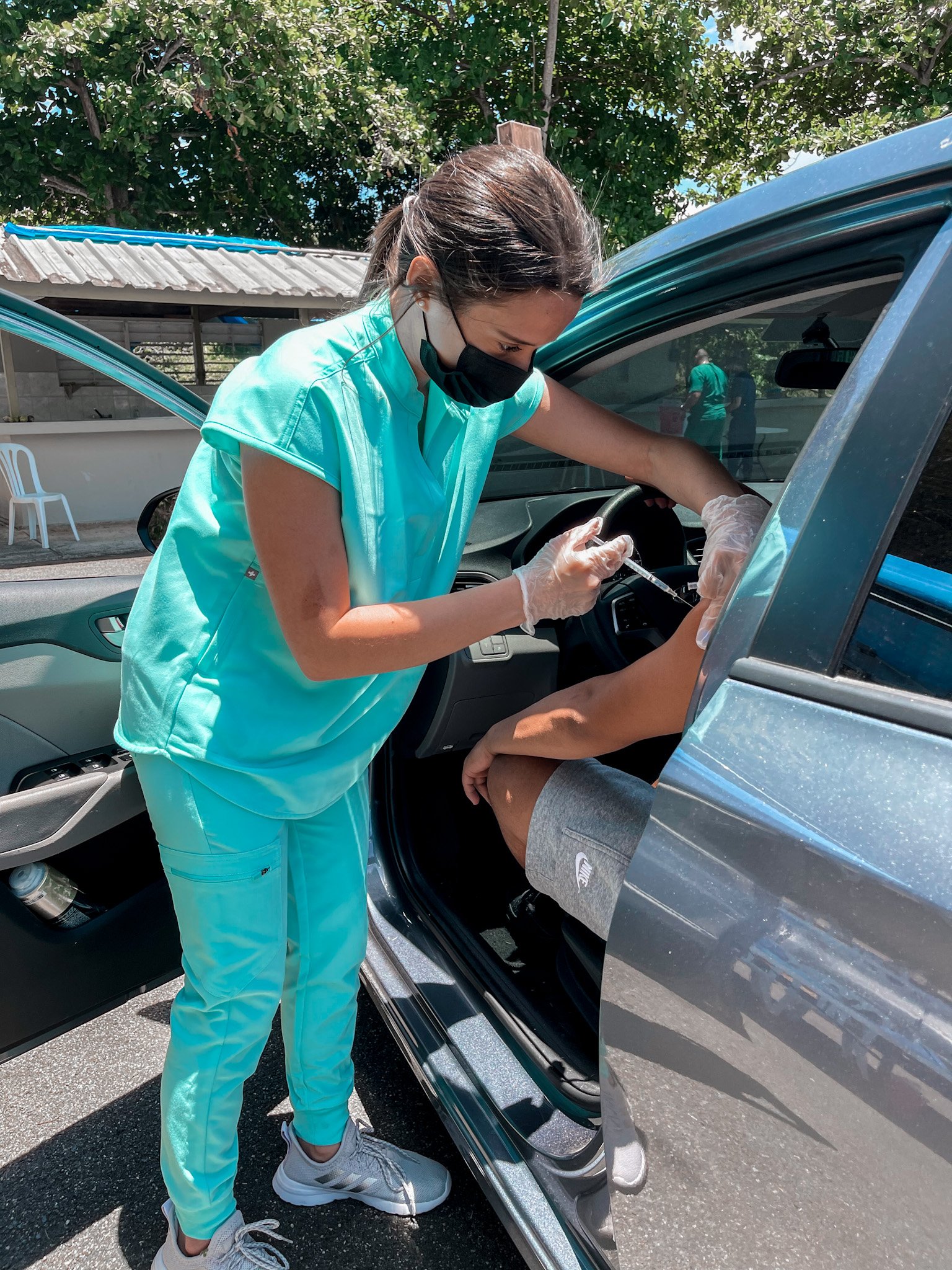 UMHS student Daiana M. Burgos Vázquez vaccinates a patient in Guaynabo, Puerto Rico. Photo: Lcda. Mabel Febres.
Daiana M. Burgos Vázquez
UMHS student Daiana M. Burgos Vázquez volunteered in Barrio Caimito in Guaynabo, PR and administered both the Pfizer and Moderna vaccines.
She vaccinated around 700 people and said she wanted to volunteer to give vaccines on the island to help people in the community.
"I am a faithful believer that when seeking to practice a profession such as medicine, our first focus should be on our community, and what better way to start my journey as a physician than helping my island during the emergency we are sadly going through," she said.
Ms. Burgos Vázquez said volunteering helped her learn a few things.
"After a long day administering vaccines, I understood that I am in this career because I love creating meaningful empathetic relationships with patients," she said. "It fills my soul to listen to them and to help in any way that I can while applying my knowledge. This experience reaffirmed to me that I am where I want to be and that every day, I will try to be the best quality physician that I can be."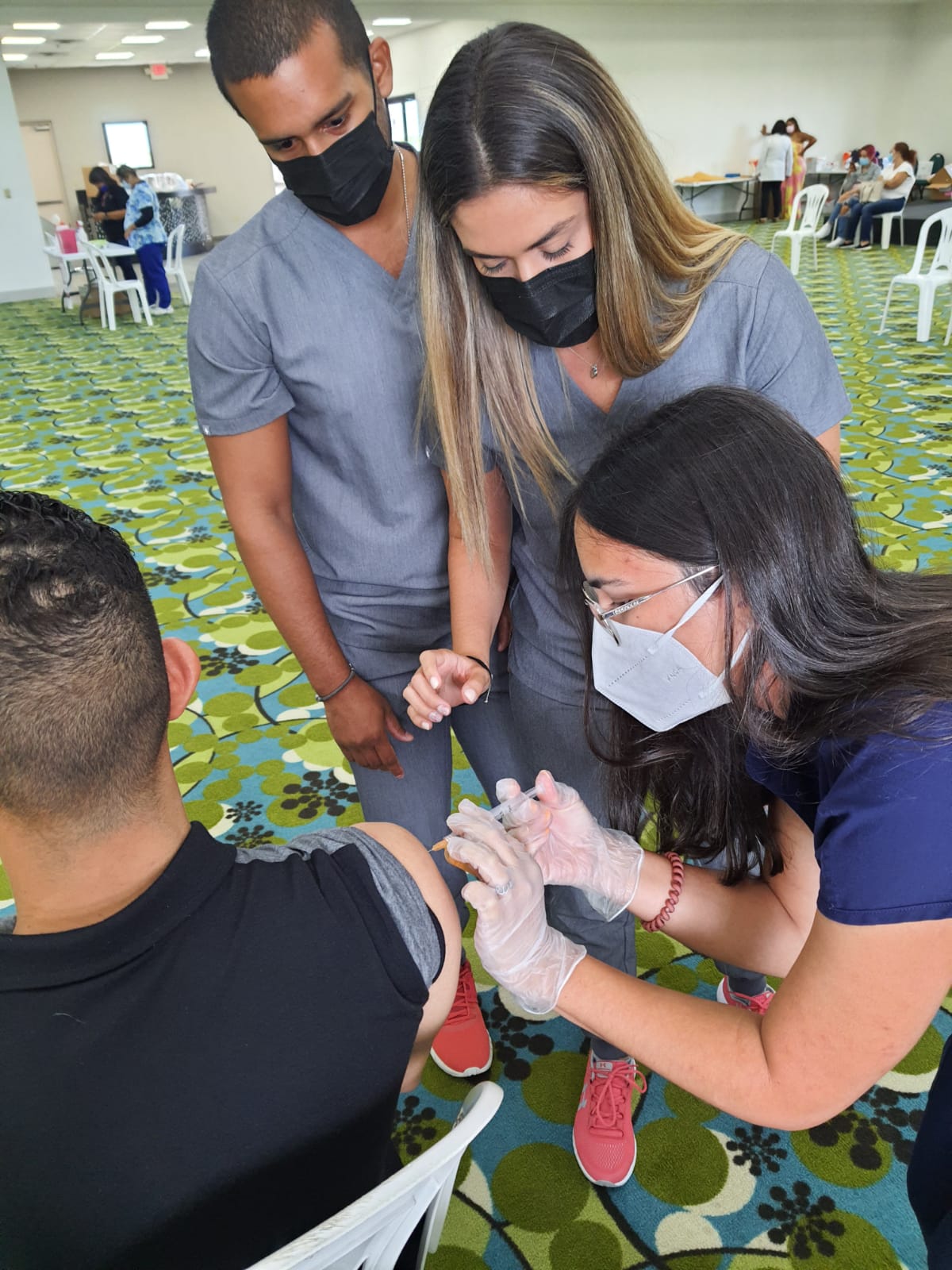 Kristi Ann M. Rivera Blas vaccinates a patient in Barceloneta, Puerto Rico while UMHS students observe her technique. Photo: Jerry Melecio Tulier.


Kristi Ann M. Rivera Blas, MSc, EBS 3 student
UMHS student Kristi Ann M. Rivera Blas participated in the vaccine drive held in Barceloneta, Puerto Rico with various other UMHS students.

"I became involved thanks to Karla Gonzalez, an epidemiologist," she said. "She gathered a few students interested in volunteering and we all met up on May 12. This was my first time volunteering in a vaccination drive, and the experience was wonderful. I had the opportunity to meet other medical students, nurses, and medical professionals, and work under their guidance, which was an excellent chance for growth.
"They showed me how everything was running at the center we were working at, as well as how to correctly administer a vaccine and correctly complete the official documentation. The opportunity to interact with people of many ages and backgrounds who were all interested in putting an end to the global pandemic was inspiring and eye-opening. Around 4,000 vaccines were successfully given out that day."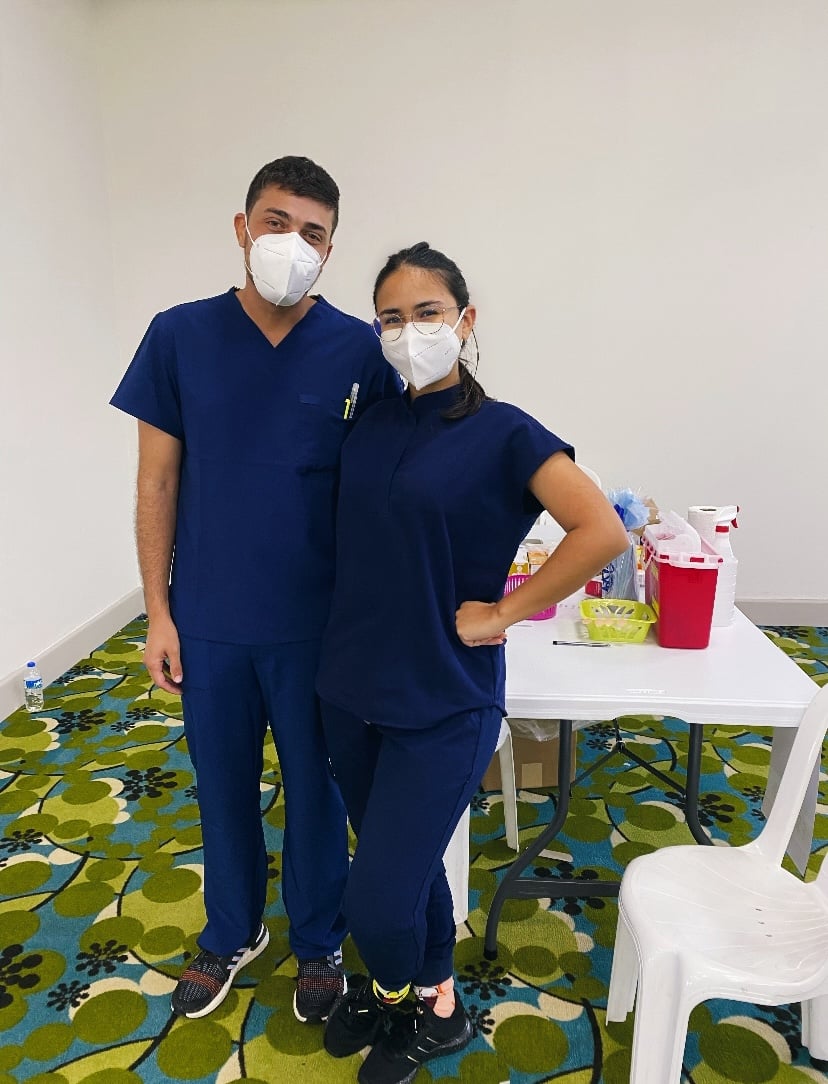 UMHS EBS 3 students Abner Ortiz & Kristi Ann M. Rivera Blas. Photo: Jerry Melecio Tulier.


Will COVID-19 be eradicated sometime soon in Puerto Rico?
"Vaccination in Puerto Rico is reaching the majority of the population, so hopefully herd immunity will be achieved soon," she said. "I am grateful to be a part of history in this regard, and am looking forward to continue providing hands in order to spread awareness, and to be a part of the wellness of our island."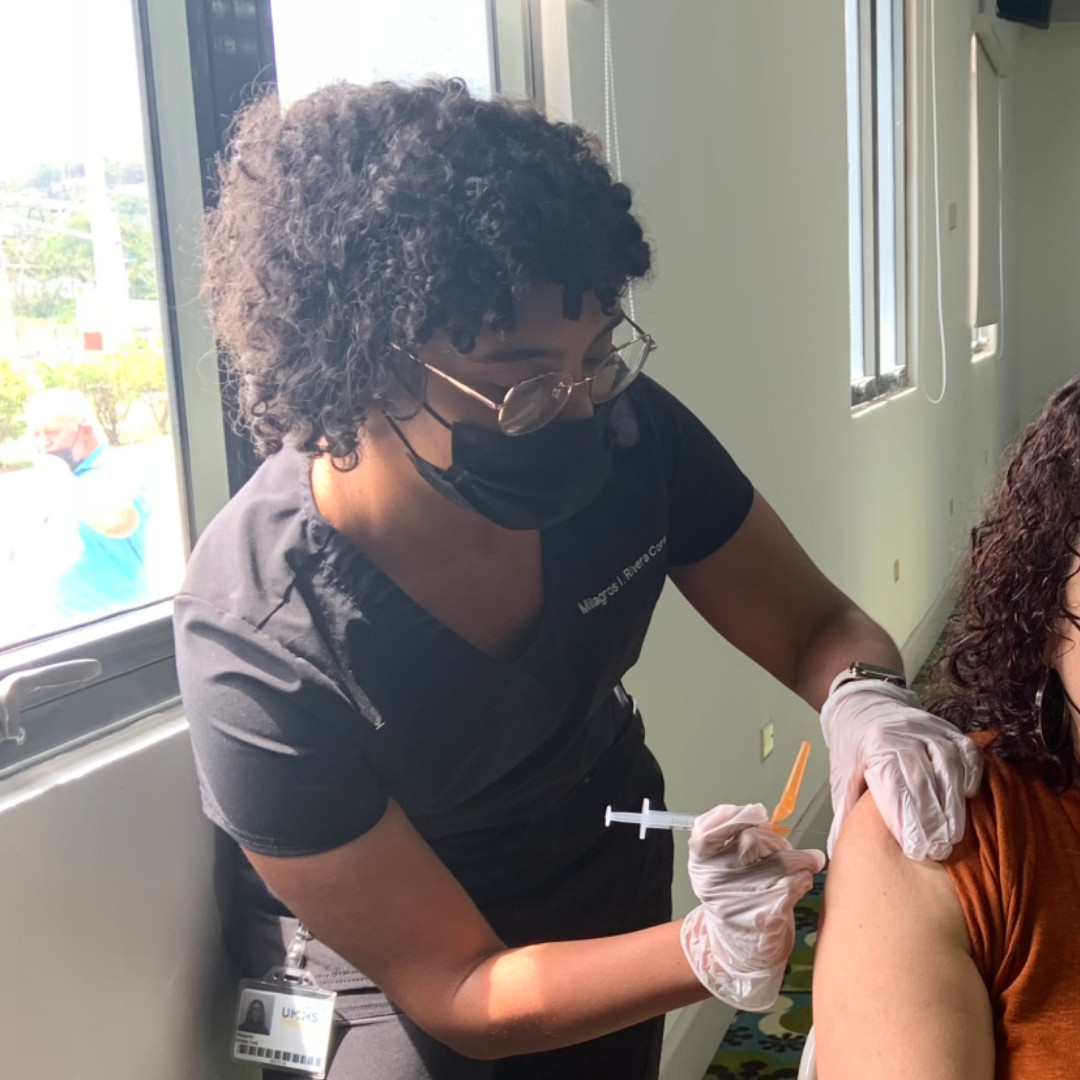 UMHS student Milagros I. Rivera Cora vaccinates a patient in Barceloneta, Puerto Rico. Photo courtesy of Ms. Rivera Cora.
Milagros I. Rivera Cora, Med 5 student

Milagros I. Rivera Cora, Med 5 student, has worked in one location, Centro de Convenciones y Teatro Ernesto Ramos Antonini in Barceloneta, Puerto Rico and has vaccinated approximately 50 people. She administered both first and second doses of the Moderna vaccine.
She found volunteering quite rewarding.
"One of the best things about volunteering to give the Covid vaccine in Puerto Rico is being part of one of the most special dates in that person's life," she said. "Having the opportunity to give more protection, calm and hope during these hard times, is priceless."
Ms. Rivera Cora said that while volunteering, she learned about why some people are vaccine hesitant.
"A challenging aspect about vaccinating people in Puerto Rico has been to hear about family members that don't trust the vaccine. I got to know that by asking every patient about their family, if they already have been vaccinated. I was surprised by the response of many people and tried to speak to them about ways to better inform their loved ones about the science behind it and the risk of not getting it. One thing I have noticed while volunteering is, family members going together to the vaccination centers, either to each of them get the vaccine or to offer support to someone who might be afraid of the side effects. I think that is a great idea."
She said she sees a lot of promise for the vaccine to help Puerto Rico keep the virus under control and minimize cases.
"I think Puerto Rico is improving in the number of COVID-19 cases, thanks to the vaccine and the social distancing. I truly believe my beautiful island will reach herd immunity because we are a very close to our loved ones so the social distancing has really hit us hard. So, in order to get back to normal, I trust in the wise decision of everyone getting vaccinated, or at least most of us."
Ms. Rivera Cora said she learned a lot about patient interaction while volunteering.
"I have not been asked a lot of questions while giving COVID-19 vaccines. However, I always make sure to ask the patient if they are aware of the side effects and if so, to tell me about them. Then, I make sure to correct any misinformation or add relevant points that they should also have in mind. I like when patients teach me and I am also able to increase their knowledge upon this topic. It makes them feel more comfortable because it turns into a conversation of both people, instead of a speech from me to them."
She has sound advice for anyone hesitant or nervous about getting the vaccine.
"I would advise anyone who is feeling afraid or reluctant of getting the COVID-19 vaccine to think about where are their feelings coming from," she said. "Do you have any doubts? Have you been misinformed? All of that is possible. After understanding your emotions in a better way, reach out to people who have already been vaccinated, to your primary care physician or even to google to get more information. Always make sure the person you are talking to or the website you are in is trustful. If we are open to listen, we are able to expand our knowledge, which will benefit us at the end of the day. And if we get vaccinated, we also benefit the community."
Overall, the COVID-19 vaccine offers hope for not only Puerto Rico but the entire world.
"I would like to add for all those Puerto Ricans out there, not only in Puerto Rico but all around the world, to never forget what makes us unique: our friendliness, joyfulness, our fiestas and even our ability to excel in all the fields of human endeavor. In order to keep the tradition, we need to get back as close to normal as possible. None of us would like to keep losing family members, jobs, opportunities or even mental and physical health. For that and more, I would say that getting vaccinated is our best hope to returning back to normal as soon as possible."
Ms. Rivera Cora recommends that students read an article from John Hopkins Medicine "which I find very useful to spread knowledge about the COVID-19 and why everyone should get it."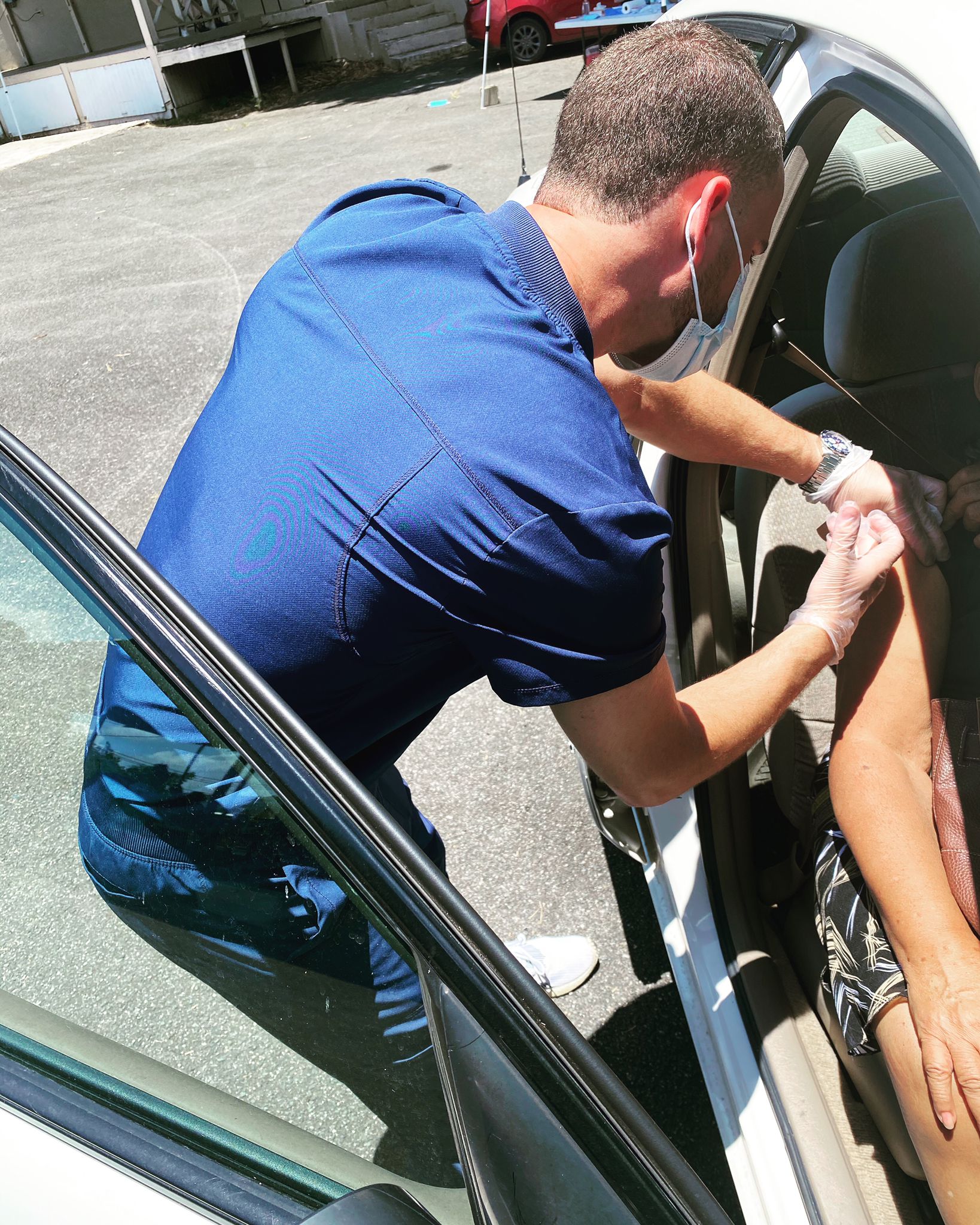 UMHS student Raúl J. Rodriguez vaccinating a patient in Puerto Rico. Photo: Lcda. Mabel Febres.
Raúl J.

Rodriguez, EBS 3
Raúl J. Rodriguez, EBS 3 student, first learned about volunteering to vaccinate people from his father.
"I got a call from my mom that one of her friends was short staffed and needed volunteers for a vaccinating event that her pharmacy was hosting in San Juan. I messaged my fellow Puerto Rican classmates if they were interested in joining me. It ended up being a great learning experience"
Mr. Rodriguez volunteered at the same drugstore in two different locations. He saw around 60 patients and administered the Pfizer, Moderna and Johnson and Johnson/Janssen vaccines. For him, it was a great learning experience and he is glad he participated.
He said he learned about many aspects of the vaccine volunteer program.
"As a volunteer I got to help in every station, from administrative paperwork to actually administering vaccines. If you ask me what was the best part, it was giving shots to those who were afraid of needles. They taught me how to be empathetic and I managed to show them that there was nothing to be afraid of as I gave them their vaccines using all the training I went through."
Mr. Rodriguez said that although the vaccination rate in Puerto Rico is high, certain obstacles may prevent the island from reaching total herd immunity.
"As of today, more than one million Puerto Ricans are fully vaccinated and around a million and a half have at least their first dose. I think that the government lifting restrictions is giving people the incentive to get vaccinated. But as to reaching herd immunity, I don't think so. We have a big influx of tourism and that may not help us reach the herd immunity."
Mr. Rodriguez said he did not receive many questions about the vaccines while administering them where he volunteered.
"Outside of the vaccination clinics, I tend to receive a lot of questions about the vaccine and its safety. I know many people that have a fear in this vaccine and I tend to clear up their doubts."
What does he say to people who are still hesitant?
"Trust science. We as medical students make a bunch of sacrifices to help people lead healthy and safe lives. Trust the doctors, and trust all the hard work the scientists have done."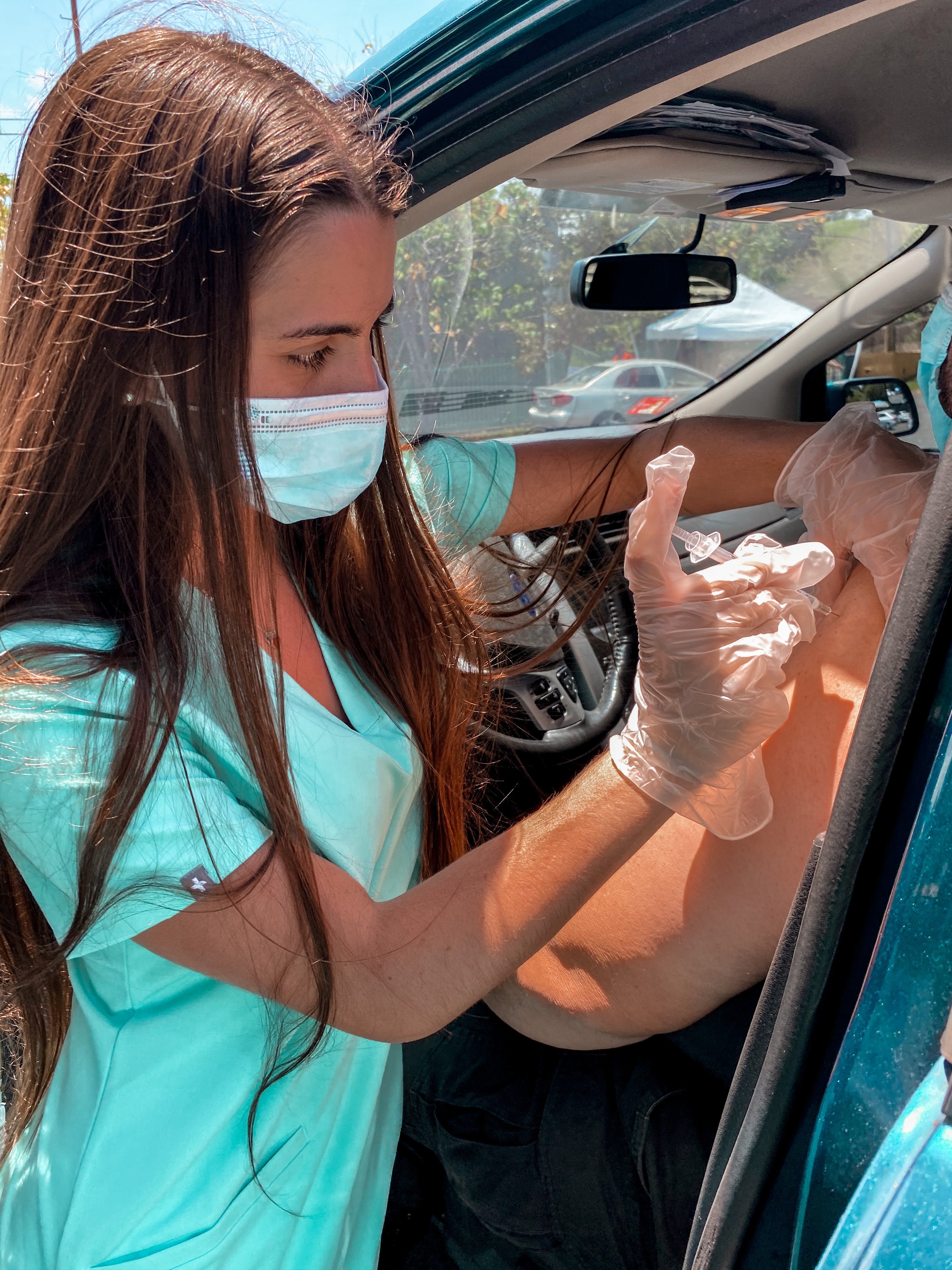 UMHS student Adriana P. González Frontera. Photo: Lcda. Mabel Febres.
Adriana P. González Frontera, EBS 3
Adriana P. González Frontera, EBS 3, worked with the same family pharmacy but in two different locations. She vaccinated approximately 100 people and administered both the Pfizer and Moderna vaccines.
She had many reasons for volunteering.
"One of my greatest desires in life is being able to help people by maintaining the only thing that guarantees not only a good life but a good lifestyle and therefore society: health. I strongly believe that exposing ourselves to things we love helps us discover the great potential we have. As a medical student, it makes me proud and fills me with happiness to know that I have the privilege of contributing to a better tomorrow. When I found out about this opportunity, I didn't even think about it twice. Having the opportunity to serve my country is something I have always dreamed of. Being able to vaccinate against the COVID-19 helped me to understand better the vaccination process and gave me the necessary resources to raise my voice and inform the people of why we should get vaccinated. As someone said, "You have a voice. So, use it. Speak up. Raise your hands. Shout your answers. Make yourself heard. Whatever it takes. Just find your voice and when you do fill the silence."
In addition to helping the people of Puerto Rico, Ms. González Frontera found other benefits to volunteering.
"The best part was being able to serve my country, learn from health professionals (not only about how we are supposed to administer the vaccine but also how to interact with the patient and fill the papers). In addition, the amount of extraordinary feedback and encouraging messages received has played a big role towards my motivation in this tough journey to become a medical professional."
She said she sees promise from the high vaccination rate on the island.
"On the days I had the opportunity to vaccinate, 200 to 400 people were vaccinated. If this rate of vaccination continues, I understand that we can reach herd immunity."
She answered many questions from patients, mostly about possible symptoms and side effects and the differences among the three vaccines.
Ms. González Frontera urges people to trust the vaccines and not be hesitant about getting the shots.
"I would like others to know that this vaccine has been tested and proven to be extremely beneficial towards our battle against COVID-19," she said. "It only takes a few minutes to administer, and in most cases, you don't even feel the pinch of the needle."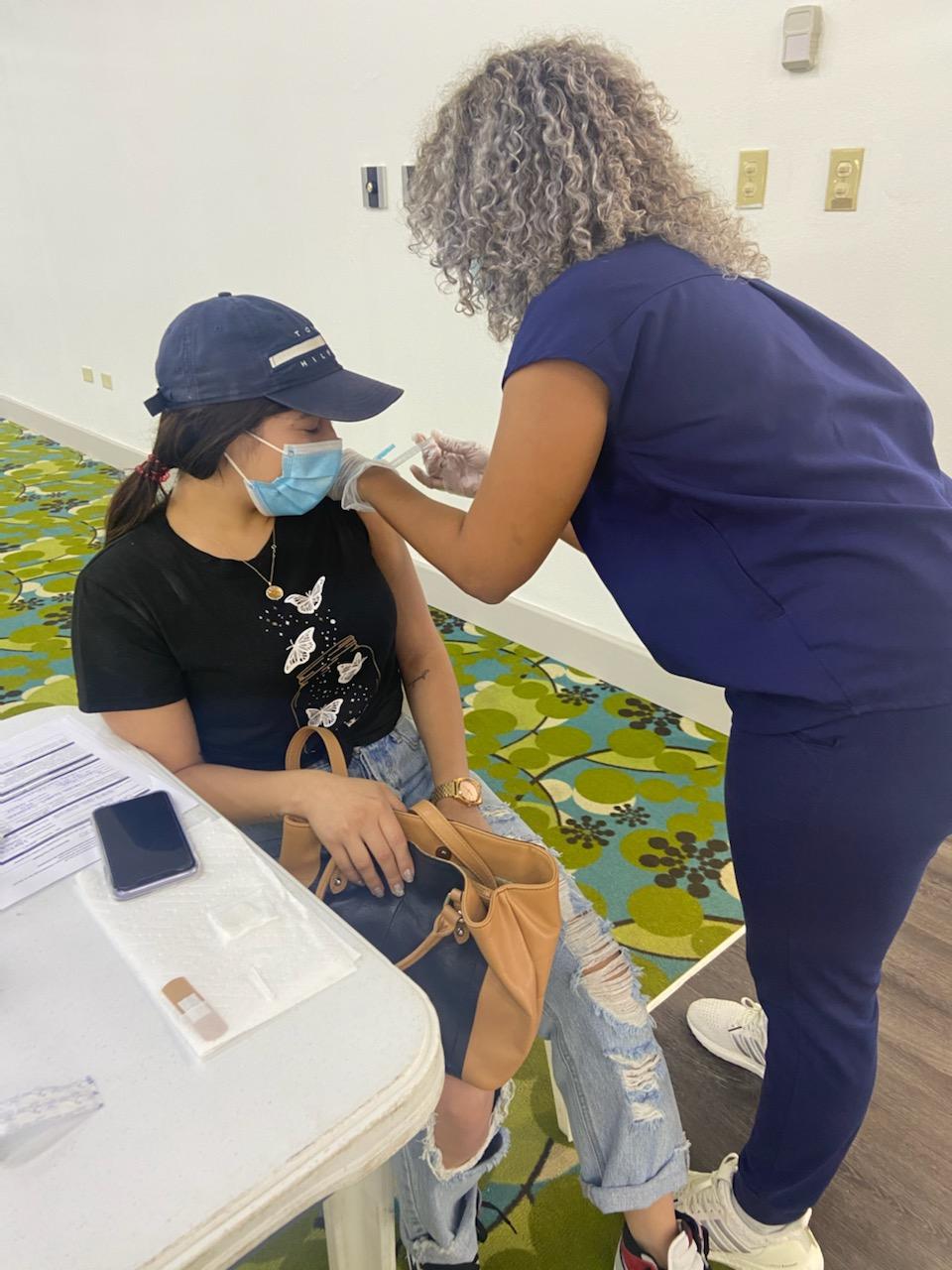 Karla González Rivera vaccinates a patient. Photo courtesy of Karla González Rivera.
Karla González Rivera
Karla González Rivera has a master's degree in Public Health and Epidemiology and works as an epidemiologist in the towns of Barceloneta and Manatí in the SMICRC (Sistema Municipal de Investigación de casos y rastreo de contactos) program from the Puerto Rico Department of Health.
Since Ms. González Rivera is in charge of organizing massive vaccinations and Covid testing activities, she invited UMHS students to participate in one of the massive vaccinations "to expose them to the field, so they could learn and interact with patients."
Partial list of other UMHS students who volunteered:

Vera Cristina Crespo
Andrea P. Quiles Mendez
Ana Montalvo Reina
Kiara M. Quiñones Crespo
Genesis De Jesus Ramirez
Abner G. Ortiz Perez
Coral M. Sanchez-Malave
Maria L. Gonzalez Lopez
Gilberto J. Rivera Ortiz
Adriana M. Colom Diaz
Dafne P. Cordero Hernandez
Amanda K. Feliciano
Kimberly Medina Morales
Edna Ramirez Serrano.
(Top photo): Group photo of vaccination clinic Centro Cultural in Caimito, Puerto Rico. From left to right: Raúl Rodríguez González, Mariana Fernández, Adriana P. González Frontera, Marianne Prada Ramírez, Daiana Burgos Vázquez & Luis E. Morales Jímenez. Nurses from left to right: Ms. Trinidad, Mrs. Traviesos & Mrs. Viggo. Photo: Lcda. Mabel Febres.


Posted by
Scott Harrah
Scott is Director of Digital Content & Alumni Communications Liaison at UMHS and editor of the UMHS Endeavour blog. When he's not writing about UMHS students, faculty, events, public health, alumni and UMHS research, he writes and edits Broadway theater reviews for a website he publishes in New York City, StageZine.com.