2022 was a big year for UMHS as our Caribbean medical school continued to grow, with students finally returning to the St. Kitts campus after the COVID-19 pandemic. Our students, faculty and alumni achieved many new things in St. Kitts, the USA and Canada. UMHS women, people of color and others from diverse backgrounds continued to break glass ceilings and cultural barriers in medicine.
The UMHS Endeavour takes a look back at 2022 and the outstanding achievements of students, alumni and faculty.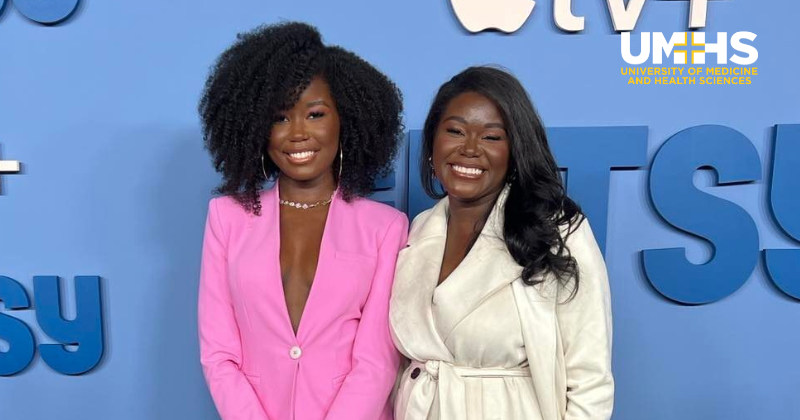 Dr. Jasmine Kudji & her mom, UMHS grad Dr. Cynthia Kudji Sylvester, at the NYC premiere of Apple TV's "Gutsy," hosted by Hillary & Chelsea Clinton. Photo courtesy of Dr. Kudji Sylvester.
Dr. Cynthia Kudji Sylvester appears on Apple TV series with Clintons
UMHS 2020 graduate Dr. Cynthia Kudji Sylvester and her daughter Dr. Jasmine Kudji are two gutsy women indeed. Back in spring 2020, at the beginning of the COVID-19 pandemic, Dr. Cynthia Kudji Sylvester matched into the family medicine residency program at LSU Health Systems in New Orleans. Her daughter Dr. Jasmine Kudji also matched into LSU Health Systems in general surgery. When we interviewed them for the UMHS Endeavour, the story of a mother-and-daughter doctor duo matching into the same hospital system went viral worldwide. They were on "NBC Nightly News," "The Today Show with Hoda Kotb and Jenna Bush," profiled in People magazine, and more.
Two years later, Dr. Cynthia Kudji Sylvester is still working in the Family Medicine Residency Program at LSU Health in New Orleans, but Dr. Jasmine Kudji is now a pediatrics resident at Tulane Ochsner and Tulane Lakeside in Louisiana at the Tulane University School of Medicine. The Kudjis were approached by the producers of "Gutsy," an Apple TV + series hosted by Hillary and Chelsea Clinton. "Gutsy" is an eight-episode series featuring such renowned women as comedians Wanda Sykes and Amy Schumer, famous mother and daughter actors Goldie Hawn and Kate Hudson, comedy writer Amber Ruffin, TV star Mariska Hargitay, activist Dr. Jane Goodall, and unsung heroes like Dr. Cynthia Kudji Sylvester and Dr. Jasmine Kudji—all women who, as Apple TV puts it, "make us laugh and inspire us to be [gutsier]." The UMHS Endeavour spoke to the Kudjis about "Gutsy" and also what they have been up to since starting their residencies.
Dr. Cynthia Kudji Sylvester and daughter Dr. Jasmine Kudji were initially approached on social media to be part of the series.
"That just came out of the blue," Dr. Jasmine Kudji said. "And at first, we didn't know what it was, because of course, it was very secretive. But once we talked to them, we realized what the show was, who the show was for, we were just like, 'Oh, wow. This is a once-in-a lifetime opportunity.' We just were so excited to be a part of it."
"Absolutely," Dr. Cynthia Kudji Sylvester said." I tell you one thing that was so interesting is when we actually did the shoot, they had the Secret Service there.
"We were like, 'This is wild. You are a real Secret Service person,'" Dr. Jasmine Kudji said.
The show is hosted by Hillary and Chelsea Clinton. How did it make Dr. Cynthia Kudji Sylvester feel for she and her daughter to be included in "Gutsy"?
"It was absolutely such an honor to be included amongst such great women. They have such a myriad of individuals who have done so many amazing things that we're truly just honored. Working with Hillary and Chelsea Clinton, one of the things that they wanted to do was put us in an arena that we had never done, and so they chose to work with bees. I was like ...[laughs]. But definitely a great experience. I think one of the things that being a gutsy woman, one of the greatest characteristics, is just having a lot of resilience."
What surprised Dr. Kudji Sylvester the most about working with the Clintons?
"They're just very nice people. You think that with everything that they've been through and that they might have an air, but to be honest, they're very easy to talk to. I remember at the end of it, my daughter was like, "Mom, you just had a conversation with Hillary Clinton." She was like, 'You can talk to anybody.'"
Dr. Kudji Sylvester entered UMHS as a nontraditional student, studying in St. Kitts while her daughter Jasmine attended medical school in Louisiana. What advice does she have for others considering attending UMHS as a nontraditional student?
"That, you know what? Your children are going to get sick and it's okay. Things are going to happen and it's okay. You're going to get through it. A lot of times just being a nontraditional student, you've got to utilize the resources that UMHS has available. One of them is your attendings. One of the things that kind of stands out about UMHS is that their attendings are so accessible. I remember meeting with an attending on a Sunday, on a Sunday morning because that was the only time in my schedule, but they met with me. So, you've got to utilize your attendings, you've got to utilize your dean. One of the things that struck me about UMHS is that how they were able to change the schedule to fit my needs if I needed it."
Click to read the full interview with the Kudjis about working with Hillary and Chelsea Clinton on "Gutsy" and more about the Kudji duo's inspiring careers in medicine.
Dr. Sudhir Ambati becomes new Dean of Student Affairs
Dr. Sudhir Ambati became the new Dean of Student Affairs in mid-2022, taking over the position from Dr. Prakash Mungli. In a UMHS Instagram post, Dr. Ambati said that while he is pleased with the new position, he has already been active with UMHS students for several years.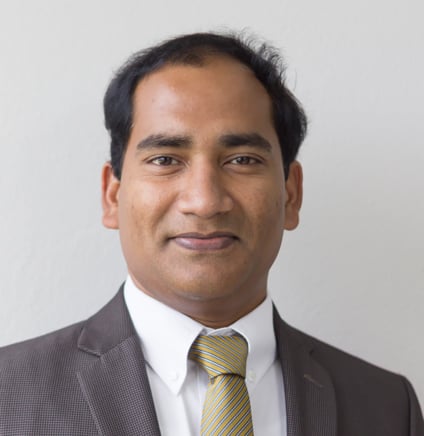 New UMHS Dean of Students Dr. Sudhir Ambati. Photo courtesy of Dr. Ambati.
"Apart from my teaching responsibilities at UMHS, I was also Chair of the Student Promotions & Appeals Committee. These duties gave me an opportunity to observe and interact with students closely. When I was promoted to Dean of Student Affairs, I felt very happy as my experience can help me contribute to the institution's growth."
What are his responsibilities?
"As a Dean of Student Affairs, I am in charge of student health concerns, housing and transportation. I also oversee the activities of the Student Government Association and all the student organizations. Apart from these, I also coordinate the student Advisor-Advisee Program and Student Mentoring Program."
Read more about Dr. Ambati on the UMHS Faculty and Administration section of our website and on the UMHS Instagram feed.
UMHS livestreams: From rural medicine to medical specialties & more

UMHS alumni, current students and faculty all appeared in several livestreams on a variety of topics ranging from rural medicine to practicing in Canada to women's cancer screening to exploring different medical specialties like hospitalists and LGBTQ+ medicine.
Rural Medicine
Rural medicine was the hot topic in "Rural Medicine: Making a Difference in Underserved Areas," a livestream featuring a panel of three UMHS alumni working in rural areas and a rural medicine expert. The UMHS graduates and Brock Slabach, the Chief Operating Officer of the National Rural Health Association, discussed why doctors are in great demand in rural communities and how graduates of Caribbean medical schools can fill the void while also earning good salaries and benefits. We spoke to Dr. Aaron Hoo, Dr. Mikayla Troughton, Dr. Venus Swearingen and Mr. Slabach about what it's like being a doctor in rural communities and why there is such a need for physicians in these underserved areas of North America.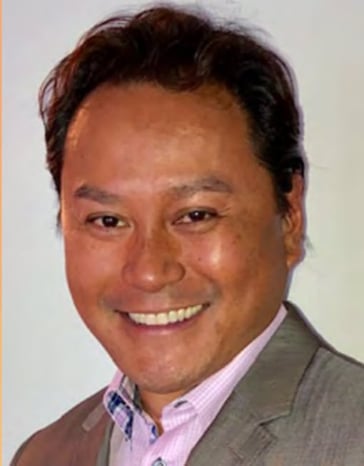 UMHS grad Dr. Aaron Hoo. Photo courtesy of Dr. Hoo.
Dr. Aaron Hoo (2016) was the first UMHS graduate to match directly into the match in the second iteration of CaRMs (Canadian Residency Matching System) Family Medicine residency.
He currently divides his time between his practice in Vancouver, British Colombia and rural Hodgson, Manitoba, Canada (a two-hour drive north of Winnipeg). Two weeks each month, Dr. Hoo flies to Winnipeg and drives up to Hodgson to work as a Staff Physician at the Percy E. Moore Hospital, a 16-bed facility.
"We service a population area of about 15,000," he said. "So, we're strained and stretched from a service provider perspective, and of course, with the current closures with a lot of the ERs and the Canadian hospitals and healthcare staff leaving the profession due to stress, etc., is just putting additional stress on the workforce currently. So, unfortunately, the environment that I'm in right now is pretty tough just in the sense of the workload and the complexity of the patients that we see. We service a lot of the First Nations [Indigenous] community and people with multiple comorbidities who end up not having a lot of follow-up or have been [unable] to follow up with their specialists. Since COVID, not coming into their appointments, and as a result of that, ending up with pretty decompensated healthcare issues in the [emergency room] and also in the clinics.
"As a general practitioner in a rural community, we end up having to manage pretty much anything and everything as the first line, if you would, of healthcare providers that see these patients. We get the weird and wonderful. I've seen methemoglobinemia here, which is so rare I couldn't believe it, from cocaine usage; very bizarre, from that, from people with very strange types of cancers, very strange genetic disorders, congenital birth defects, breech deliveries, because they haven't had prenatal care; the weird and wonderful. So, because of the lack of preventative care and lack of resources from allied healthcare, we end up having to manage a lot of these chronic diseases that end up decompensating from lack of regular care, and we end up having to sometimes function as internists in our small community hospital because the tertiary care hospital is just so overloaded right now."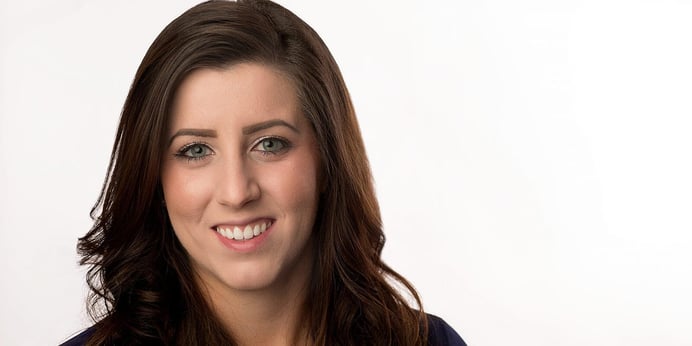 UMHS grad Dr. Mikayla Troughton. Photo courtesy of Dr. Troughton.
Dr. Mikayla Troughton (2018) recently completed an Anesthesiology residency at the University of Arkansas for Medical Sciences (UAMS). Although the hospital was located in Little Rock, the capital city of Arkansas, Dr. Troughton worked with a variety of patients from underserved areas of Arkansas and neighboring states like Tennessee. She is currently an Obstetric Anesthesiology Fellow at Northwestern University in Chicago. Next year, she will start a fellowship at the University of Minnesota, working with an underserved patient population similar to what she encountered in Arkansas.
Why work as a doctor in a rural setting?
"I think that the clinical experience is unparalleled," Dr. Troughton said. "I think you become a more competent physician by dealing with all of these things that you are the first point of contact for. One of my biggest goals when I went into my residency was I want to be able to take care of any patient when I leave this residency, and that is what I accomplished out of being at the University of Arkansas. There are truly very few patients that I would be scared to put to sleep right now [before surgery]. And it translates to the training, the clinical exposure, and the clinical training that we got as residents. Do I want to do a liver transplant on my own? Absolutely not. Would I love to have a cardiac anesthesiologist with me to do a liver transplant? Absolutely. But that's to say that I've done liver transplants, I've done cardiac bypass cases on very sick individuals, so those patients don't scare me anymore. So, that's the type of exposure that you get, and I just think it makes you a better physician. Speaking in terms of pay, you also have to look at where you're living. So, if the cost of living is much cheaper to be in a rural area and you are being paid more— which a lot of these places, the University of Arkansas—they pay relatively well. The benefits are phenomenal there."
Compensation varies from place to place, but Dr. Troughton said she finds many rural health areas offer great salaries and good benefits to attract doctors to areas where they are really needed.
"A lot of these places are actually paying well to get people to come there because they need providers. They need people to be there, so they are going to pay you more. They'll pay living expenses for you to go to some of these places. So, I think that that's important for people to realize as well. I'm living in Chicago right now and my pay is a lot less than what I'm going to be making next year when I move to Minneapolis and [work for] an underserved population again. So, that being said, I'm going to live in Minneapolis because I wanted to live in sort of a city. Minneapolis is a pretty big city, but the patient population, again, that they serve is similar to the Arkansas patient population. You have Mayo Clinic there as well, which is about an hour away in Rochester. The people with the cushy insurance in Minnesota go to Mayo; they don't go to the University of Minnesota. So, it's going to be a similar kind of situation over there, and I'm pretty excited to have that opportunity again."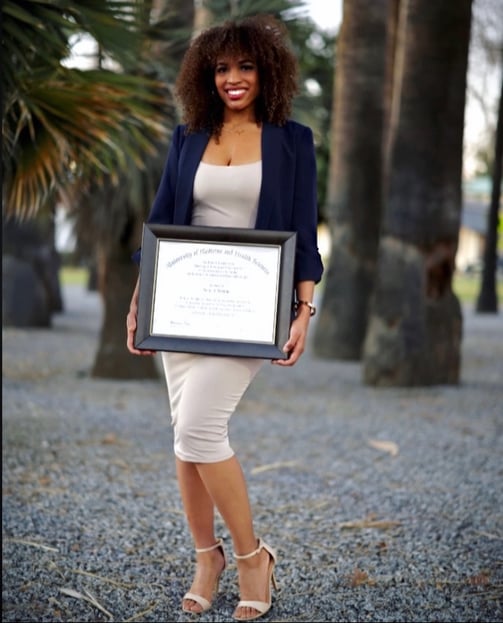 UMHS grad Dr. Venus Swearingen. Photo courtesy of Dr. Swearingen.
Last year, California native Dr. Venus Swearingen (2021) started a Family Medicine residency at UAMS in Arkansas. She works at the Washington Regional Medical Center in Fayetteville, Arkansas, and Northwest Medical Center in Springdale, Arkansas.
"I am excited to continue my medical training at UAMS," she said. "This program offers an unopposed Family Medicine residency training, allowing me the opportunity for increased exposure to intriguing cases and procedures. I am also excited to learn in a diverse and underserved population, exposing me to a broad spectrum of diseases and pathologies."
Dr. Swearingen decided to pursue a Family Medicine residency because this area of medicine encompasses many types of health care, particularly in rural areas.
"There are health disparities in rural areas. Roughly 1/5th of the American population live in rural areas, yet only 1/10th of doctors practice there. The majority of residents in rural areas have to travel hundreds of miles for medical care. This complicates medical care because there is less access to medical treatments and professionals, leading to more medical-related complications and deaths."
Click to read the full feature and also to download a special UMHS Guide to Medically Underserved Areas.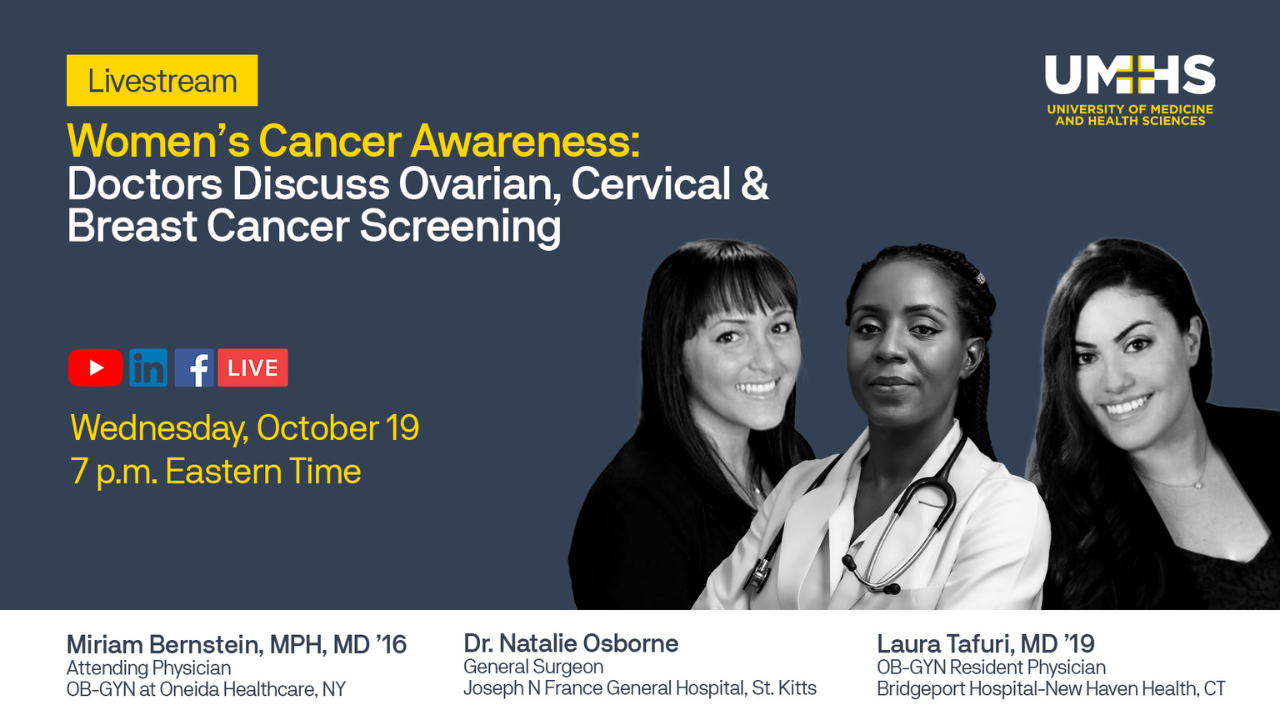 Women's Cancer Awareness
Two UMHS grads and a St. Kitts doctor were panelists on the UMHS livestream "Women's Cancer Awareness: Doctors Discuss Ovarian, Cervical, and Breast Cancer Screening" in October. The event featured two UMHS alumni focused on women's health: 2016 grad Dr. Miriam Bernstein, OB/GYN at Oneida Healthcare in New York, and 2016 grad Dr. Laura Tafuri, OB/GYN Resident at Bridgeport Hospital-New Haven Health, CT. Dr. Natalie Osborne, General Surgeon at Joseph N. France General Hospital in St. Kitts—who has worked extensively with UMHS students—was also a panelist. UMHS hosted the talk to raise awareness of critical screenings, identify common warning signs, and share ways to support people after a cancer diagnosis.

While research has led to innovative treatment options and improved survival rates, breast cancer is the second leading cause of cancer death in women. During the discussion, the doctors described common cancers affecting women, the importance of learning family history in identifying high-risk patients, and how to encourage patients to take charge of their health.

"We're seeing breast cancer earlier and earlier," said Dr. Laura Tafuri. "I ask about family history. Even when my mom was diagnosed, there were things I didn't know about our family history. We tell women to start mammograms at 40, but if there's a family history of cancer, get screened earlier."

The doctors also discussed common warning signs of breast, cervical, uterine and ovarian cancer that patients and their healthcare providers should never ignore.

"I tell my patients: know what your breasts feel like," said Dr. Miriam Bernstein. "Any changes that last longer than a week, call your doctor. Ovarian cancer has very nondescript symptoms. You lose weight but your belly gets bigger. Call your doctor if that happens. And if your doctor isn't listening to you, find a new one."

Watch the full livestream on the UMHS YouTube channel.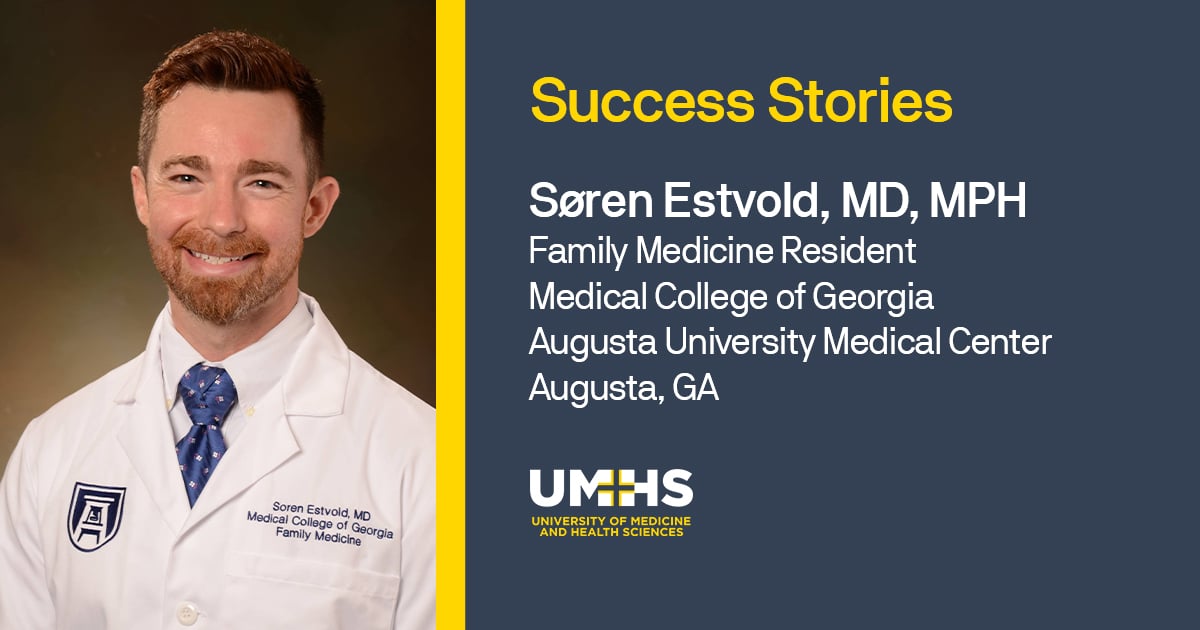 UMHS grad Dr. Søren Estvold hosted the "LGBTQ+ Medicine & Theory: Providing Compassionate Care" livestream in June in honor of Pride Month.
LGBTQ+ Medicine & Theory

UMHS grad Søren Estvold, MD, MPH hosted "LGBTQ+ Medicine & Theory: Providing Compassionate Care" last June. Dr. Søren Estvold, MD, MPH (Class of 2018) is in a family medicine residency at Augusta University Medical Center in Georgia. This was the second year in a row Dr. Estvold hosted a livestream event on LGBTQ+ Medicine for UMHS.
UMHS spoke to Dr. Estvold about his work treating LGBTQ+ patients during his residency and also volunteering at an LGBTQ+ clinic in Augusta, GA and more.
Dr. Estvold spoke about his work in Family Medicine.
"I'm a rising PGY three at Medical College of Georgia," he said. "You guys may know that from Augusta, Georgia, where a lot of us rotate through. I'm one of their family medicine residents. I graduated in 2018, but I didn't start residency right away. I actually worked in maternal fetal medicine for two years and did lots of volunteer work until I finally matched here at MCG. And then I've been living the family medicine life for the last two and a half years.
Dr. Estvold started out volunteering at the Equality Clinic in Augusta before finally matching at Augusta University Medical Center.
"It's a student-led clinic where we treat the LGBTQ+ community here in Augusta, Georgia. And we primarily do hormone replacement therapy for the transgender community. So that has been going on for about three years with me. I've been volunteering there. I actually am one of the physicians there that sees patients and helps them with their transition and helps start them on hormones or continues them on hormones."
Primary care doctors can learn to treat LGBTQ+ patients as part of a regular family medicine practice.
"As a primary care physician, of course I treat everybody. I primarily focus about half my patient population on the LGBTQ community, especially the transgender community. Now, how you do that is you do a lot of self-teaching. I had a great mentor at my program who taught me how to do transgender medicine, including hormone replacement therapy. But as a family medicine doc, it sets me up perfectly to follow these patients over an extended period of time. As we all know, a transition takes many years. So as a family medicine doctor, it really helps me to see them consistently through their transition. Now you don't have to just do family medicine. You can be an Internal Medicine doctor, which is very similar. You could probably get into it if you wanted to be an ER doc, but that's more acute care. But anyone who is more of a primary care physician who will be able to see these patients over a series of years. And that will help get you set up to do a fellowship in LGBTQ+ medicine, not just transgender medicine. And there's actually a couple of those fellowships throughout the US. Mostly they're the larger urban cities like California, New York, Chicago, I believe."
Click to read the interview with Dr. Estvold and click to watch the full livestream "LGBTQ+ Medicine & Theory: Providing Compassionate Care" on our YouTube channel.
What is a Hospitalist?
UMHS introduced a new "Primary Care Spotlight" livestream series by focusing on two UMHS graduates who are both brothers and work as hospitalists.
UMHS alumni Dr. Alejandro Pineda (2014) and Dr. Juan Camilo Pineda (2017) discussed their specialty on the UMHS livestream Primary Care Spotlight: What is a Hospitalist? in November.
We spoke to both doctors about their UMHS medical education, what it's like being a hospitalist on a daily basis, the types of patients one encounters, the unique work-life balance it offers, compensation, and more.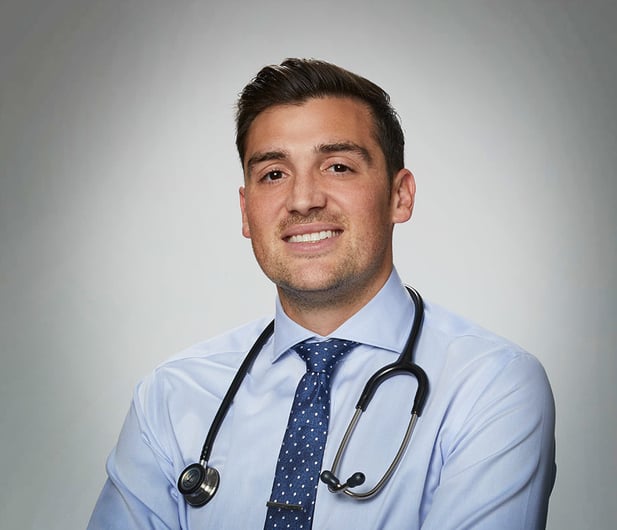 UMHS grad Dr. Alejandro Pineda. Photo courtesy of Dr. Pineda.
Dr. Alejandro Pineda spoke about his success after studying at UMHS.
"I graduated in 2014, actually in the winter of 2014. I matched in residency in internal medicine at the University of Missouri, Columbia, which is kind of right in the middle of the state. I graduated from residency there in 2018. In search of some warmer weather from Missouri, where I grew up, my wife and I decided to move out to Phoenix, Arizona, where I happened to come across a medical group as a hospitalist.
"Since then, I essentially progressed as a hospitalist for about a year, and progressed enough to kind of bring forth new ideas to my medical group. And I was promoted to lead hospitalist to help run a brand-new hospitalist program at a hospital in Tempe, Arizona. I did that for about a year, and progressed well enough to actually take over the lead hospitalist duties for my entire medical group of about 30 or so hospitalists and providers. I'm at a hospital in Mesa, Arizona, called Mountain Vista Medical Center, where I am lead hospitalist for my medical group, and also Vice President Chief of Staff for Mountain Vista Medical Center and head of peer review for the hospital."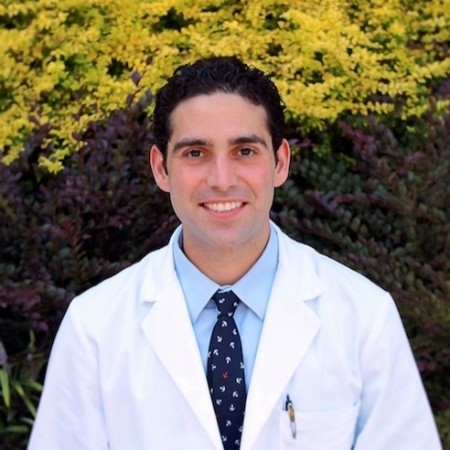 UMHS grad Dr. Juan Camilo Pineda. Photo courtesy of Dr. Pineda.
His brother, Dr. Juan Camilo Pineda, discussed the perks of being a hospitalist. He works as a hospitalist at Emory Decatur Hospital in Atlanta. He enjoys flexible hours and a competitive salary.
"I would say that, pros, number one, you become a very well-rounded physician, in multiple aspects. Number two, I would say the fact that the lifestyle, in reality, is unbeatable. There's very few positions and jobs out there that you can work half of the year and be ... in the end, we both work really hard all our life and deserve to be compensated appropriately, and I know in medical school, that has become a little bit of a topic where we shouldn't talk about compensation or anything like that. But the bottom line is you work really hard and you deserve a good compensation, and you deserve a good compensation because you want to be able to provide for your family. Whenever I had medical students with me in residency, I would talk to them about it, because I think it's not fair that just because we are in a healthcare field, that doesn't mean we cannot talk about compensation at all. That's why we work so hard, because we deserve a little bit of compensation after all those year [of studying]."
Read more about the Pineda brothers in the UMHS Endeavour and watch their livestream on the UMHS YouTube Channel.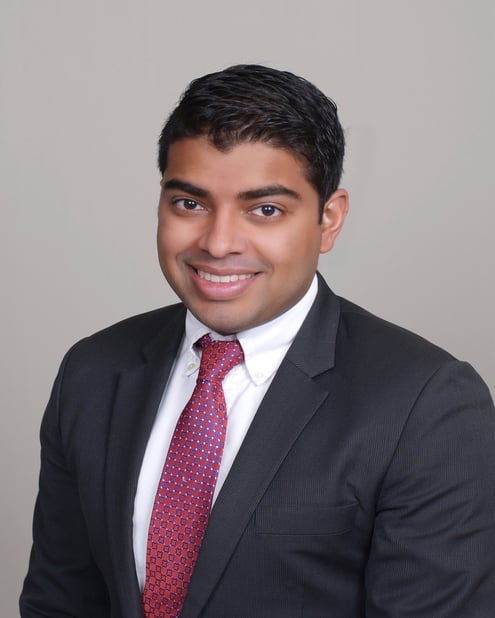 UMHS student Nihal Satyadev. Photo courtesy of Mr. Satyadev.
Alzheimer's disease & research in medical school
UMHS fourth-year student Nihal Satyadev and UMHS professor Dr. D. Craig Ayre hosted a special livestream "Alzheimer's Disease & Exploring Research in Medical School" in November in honor of Alzheimer's Disease Awareness Month. In addition, the live event featured the growing research department at UMHS.
Nihal Satyadev, a fourth-year UMHS student, has accomplished a lot regarding research, founding the Caribbean Research Group—an association of UMHS students and alumni and people from other Caribbean medical schools working on research—and working for a nonprofit for Alzheimer's Disease.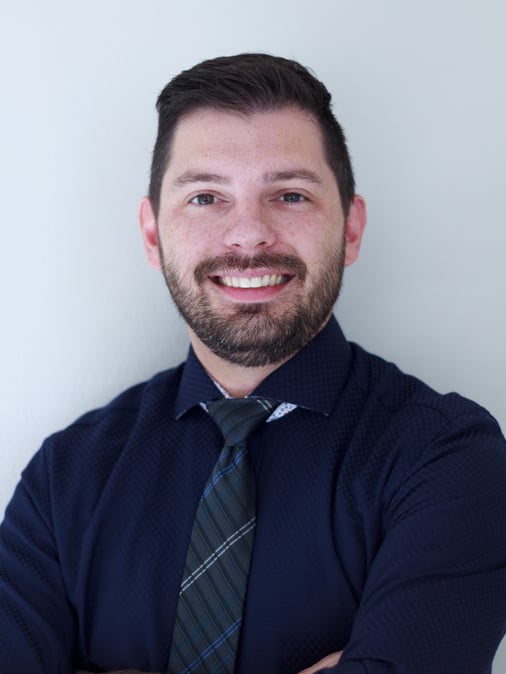 UMHS professor Dr. D. Craig Ayre. Photo courtesy of Dr. Ayre.
Associate Professor of Molecular Sciences Dr. D. Craig Ayre returned to UMHS as a professor, having previously worked for UMHS from 2019 to 2021. Between his stints at UMHS, he was principal scientist managing aspects of clinical trials for immunology-based products. He said he worked on "new products that are coming to market, on disease monitoring, and on therapeutics in the immunology sphere." Dr. Ayre has contributed to more than 10 research publications in immunology, personalized medicine and liquid biopsy. At UMHS, Dr. Ayre is a professor in the molecular sciences department and is active on several faculty committees such as student admissions and is the chair of the university research committee.
Click to read the interview with Nihal Satyadev and Dr. Ayre.
More & more Canadians return to Canada to practice medicine
Persistence and hard work pay off for Canadians who study medicine abroad at UMHS, complete residency in the USA and return to Canada to practice. UMHS graduate Dr. Rebecca Bremner, a hospitalist/family medicine physician from a small town in Ontario, has lots to say about her particular journey. Dr. Bremner completed her rural family medicine residency at Louisiana State University in Bogalusa, Louisiana. After completing her undergrad at the University of Ontario Institute of Technology, graduating from UMHS and finishing her residency, Dr. Bremner returned to her native Canada to practice family medicine.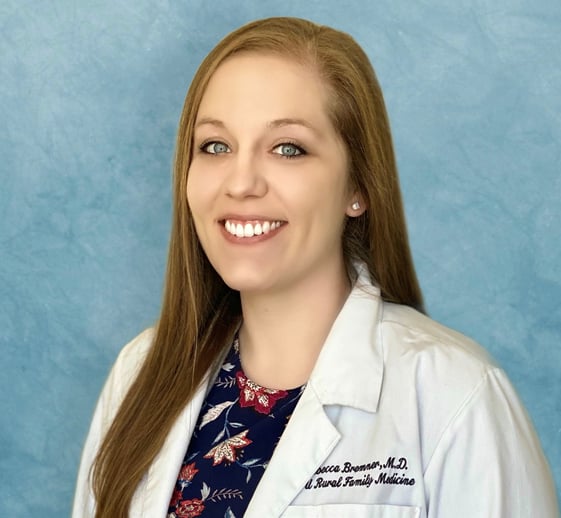 UMHS grad Dr. Rebecca Bremner. Photo courtesy of Dr. Bremner.
Dr. Bremner currently works at Lakeview Family Health Team in Ontario.
"I am practicing in Trenton, Ontario, which is the next city over from where we live (Belleville). It's about a 25-minute drive from home. Trenton houses the largest air base in all of Canada. I am on a model of both hospitalist medicine and clinic medicine. For our hospitalist model right now, I'm working about every six weeks give or take. For one week, from Tuesday to Tuesday, I'm on call 24/7 for seven days. Our hospital is a little lower acuity than what I was used to in residency. We don't have ventilated patients or anything like that. And we typically run about a 25-patient census. So that's what I manage independently. And then we have some long-term-care type patients as well that are mostly managed by a nurse practitioner. It's been a long haul to get my license here in Ontario and to get approved for independent practice. I have now received final approval to join a family health organization, which is a group of physicians. We also have a couple of nurse practitioners in our clinic, a nutritionist, a pharmacist, a social worker for counseling, and that kind of stuff so it is a team-oriented model to help care for patients. You have to achieve full approval with the Ministry of Health to join a FHO [family health organization] which also is a lengthy process. But right now, I'm locuming [filling in for doctors] in the clinic. On days that the doctors want to take time off or they don't feel like coming in for after-hours clinic, I take their clinic days and see patients for them in the interim and then as of April 1st, everything will be good to go for me to have a roster of patients of my own. I aim to be in the clinic about two and a half days per week. And then the weeks that I'm on hospitalist medicine, the other physicians cover for me."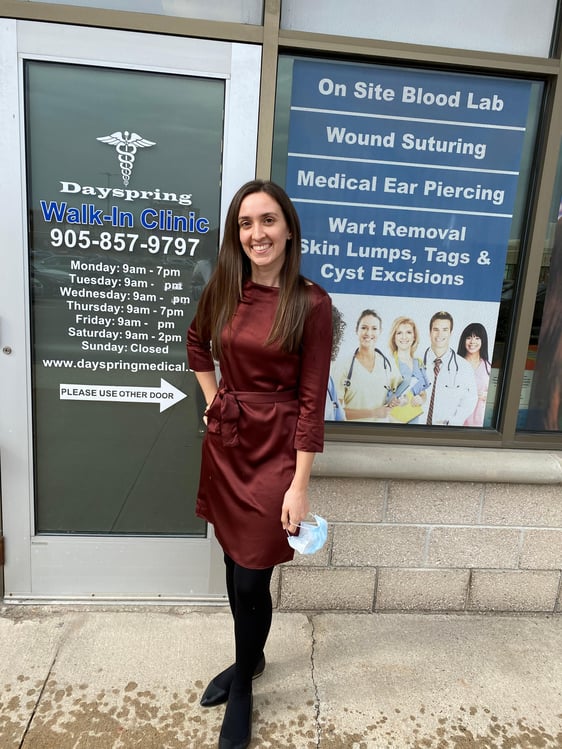 UMHS grad Dr. Shamim Shakeel Khan. Photo courtesy of Dr. Khan.
UMHS graduate Dr. Shamim Shakeel Khan, a family medicine physician from Toronto, is proof that Canadians studying medicine abroad can return to practice as a doctor in Canada. In April, we spoke with Dr. Khan, a doctor practicing at Dayspring Medical Centre in Bolton, Ontario, just outside of Toronto. After completing her undergrad at the University of Toronto Mississauga and graduating from UMHS, she completed her family medicine residency at Northeast Iowa Family Practice in Waterloo, Iowa, and then returned to Canada to work for a year at Cira Health Solutions in Mississauga, Ontario in the greater Toronto area.
UMHS spoke to Dr. Khan about her medical education and how UMHS helped her eventually return to Canada to practice medicine, as well as what she experienced in residency and her new experiences as a licensed family medicine doctor in Canada.
What about her medical education at UMHS helped her get where she is today?
"There was a lot of aspects of my education that helped me get where I am," Dr. Khan said. "First, starting off on the island. Completing the basic sciences was key, because really you can't get anywhere unless you complete the USMLE as well. And so, they kind of taught me how to study. I learned how to understand what was needed to pass those exams, what they were looking for and what the style of questioning was so that I'd be well prepared for the USMLE."
UMHS clinical rotations also helped her.
"It was great to rotate at several different hospitals across the US and Canada, because it gave me insight and experience about how different hospitals systems work. In particular, I did a family medicine rotation in Ontario. So that kind of helped me realize that this is really where I want to be and what I want to do. I also specifically found that I learned a lot doing internal medicine and emergency room rotations, because they were very hands on. They let me learn how to do things. I've learned how to do suturing, I could do IV insertions, Foley catheter insertions, and EKG. All the basic things that a doctor really needs to know in order to practice."
Dr. Khan did rotations in Canada that helped.
"I also found it pretty easy to obtain rotations that were outside the regularly available rotations through UMHS. So, for example, the family medicine rotation that I did in Ontario was through the University of Toronto's lottery system. And once I was able to obtain that rotation on my own, it was easily added to my schedule and I was able to integrate that into my rotations."
Watch the livestream with these two doctors "Pathways to Practicing Medicine in Canada: UMHS Alumni Share Their Experiences" on YouTube .
Outstanding UMHS alumni from 2022 & earlier
Following are excerpts from interviews with inspiring new doctors from the Class of 2022 as well as updates on alumni from earlier years who shared their amazing stories with us in 2022.
Dr. Jared Sharza matches in emergency medicine
Emergency medicine is a highly specialized area of medicine. Class of 2022 grad Dr. Sharza matched in emergency medicine at McLaren Macomb hospital in Michigan and started last summer. What about it initially interested Dr. Sharza?
"I guess it was just my curiosity, and fostering my education, and interest, from every single class that I had."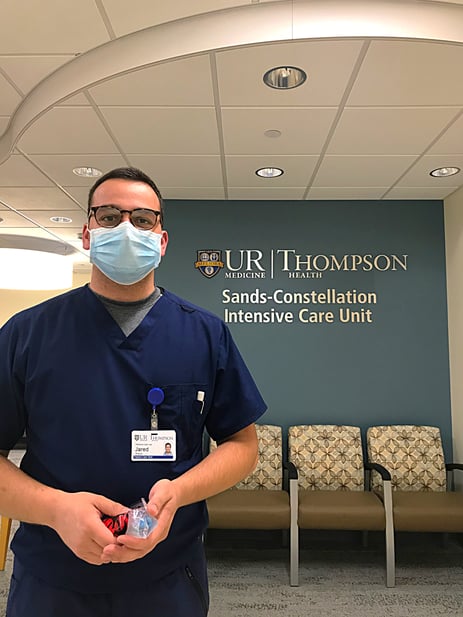 UMHS grad Dr. Jared Sharza. Photo courtesy of Dr. Sharza.
Dr. Sharza did a lot of EMS and frontline work during the early days of the COVID-19 pandemic. He learned a lot about Emergency Medicine during clinical rotations.
"It actually all came about when I started my clinical rotations, beginning of my third year. I got to be a base student at McLaren Macomb, and I had always played around with the idea of, especially as an IMG, is it better to rotate at multiple different places or to really plant yourself at one place to grow and to facilitate more opportunities hopefully to match? But when I was there, I really enjoyed all rotations and just getting all the skill from different rotations allowed me to perform pretty well enough, I suppose, on my Emergency Medicine rotation. McLaren Macomb is a small, medium-sized hospital in the suburbs of Detroit in Mt. Clemons, Michigan."
McLaren Macomb is a hospital with a little under 300 beds.
"When I first started rotations, they were building an expansion onto the hospital. And part of that expansion is a 69-bed emergency room. That was really cool to me because they went from a 20-something bed ER to tripling their size to a large-scale ER. It's a level-two trauma center, which is really attractive to me because what that's going to allow, hopefully, is to get patient volume, and hopefully a widespread of patient presentation cases, along with breadth of procedures as well."
What exactly does an emergency medicine doctor do?
"I feel like a lot of the times people just think that emergency medicine is a lot of heart attacks. It's a lot of immediate treatment, but emergency medicine is the stabilization. It's the triaging. And it's the treatment of different patients that come into the hospital. It can be from lifesaving measures, to non-acute measures, with patients coming in just for minor complaints. And from there, they're either discharged to go home or they're admitted into the hospital for further workups, evaluations, or procedures by other teams. In that sense, emergency medicine is the frontline of the hospital for different resources."
What interests him the most about the specialty?
"Emergency medicine—on top of my experience having been a medic for just eight years now—I really enjoy the fast-paced environment. I enjoy the variety that comes into the department. I like how I can go from one case to another and it can be something mild to mild, or mild to severe, and that kind of environment I really do thrive in. It's just about anything and everything. And I also do enjoy some procedures as well. Emergency Medicine allows me to really do all of those different things."
UMHS valedictorian Dr. Alexa Datko treats rural patients in Wyoming
Class of 2022 graduate and valedictorian Dr. Alexa Datko started a family medicine residency this summer at the University of Wyoming-Casper. She is an inspiring example of UMHS continues to educate strong women to enter the US healthcare system. Dr. Datko is committed to helping rural patients and particularly rural women in underserved areas.
Dr. Datko was born and raised in San Diego, CA. She always loved athletics and science.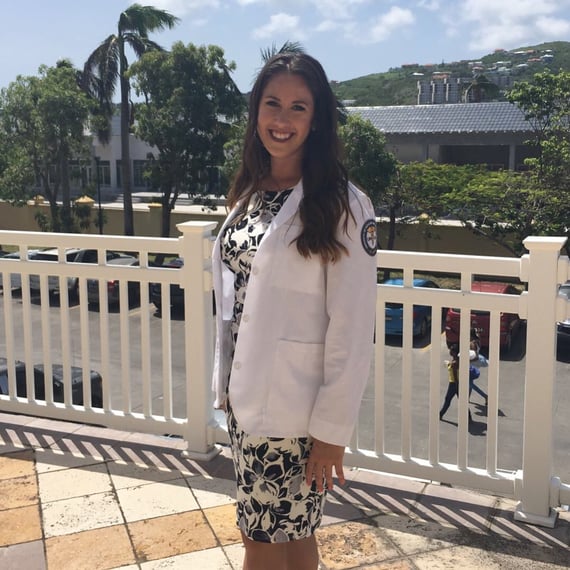 UMHS grad Dr. Alexa Datko. Photo courtesy of Dr. Datko.
"I am originally from San Diego, California. I was a Division 1 athlete, and earned a scholarship to play softball in college. I did my undergraduate at College of Charleston (C of C), which took me to the Southern US, and eventually I made my way to UMHS. I'm doing my residency in family medicine at the University of Wyoming at Casper with a concentration in Obstetrics and Women's Health."
Dr. Datko is excited about her family medicine residency at the University of Wyoming-Casper. She spoke about why she wanted to do residency at this particular program.
"When I was looking at applying for residency, I wanted something in which I could do everything. Family Medicine definitely stood out to me being able to do sports medicine, being able to do OB if I wanted to and just get that well-rounded kind of sense of medicine. When I was looking at University of Wyoming, they have a specific OB tract. You could do C-sections; you could do other OB procedures and essentially fulfill what you would need to do to go straight from Family Medicine and into OB. Or if you really wanted to, you could still apply for a fellowship, but I think it was the opportunity to get hands-on experience in many areas that appealed to me the most. It is a smaller town and they do also have a rural track and training program."
Dr. Datko likes the fact that she is helping rural medically underserved communities.
"It just kind of gives me the idea that I could get into anything. That is something that we don't necessarily see in residencies. You go to the big cities and there are specialty doctors for everything, but a lot of the United States doesn't live like that. There are plenty of places that are low income, under serviced. And this residency gives me that. University of Wyoming at Casper gives me that opportunity to learn everything that I would need to be a great doctor and excel in a smaller town."
To read the full interview with Dr. Datko, click here. Or visit our YouTube channel to watch our video interview with her.
UMHS grads from Puerto Rico making a difference
UMHS has a large student body and alumni from Puerto Rico. One of the most inspiring 2022 graduates from Puerto Rico is Dr. Michelle Hornedo.
Dr. Hornedo wanted to become a doctor ever since she was in kindergarten and liked to play with first aid kits and a toy stethoscope. The native of Puerto Rico started an internal medicine residency at Ohio Health, Riverside Methodist Hospital in Columbus, Ohio last summer.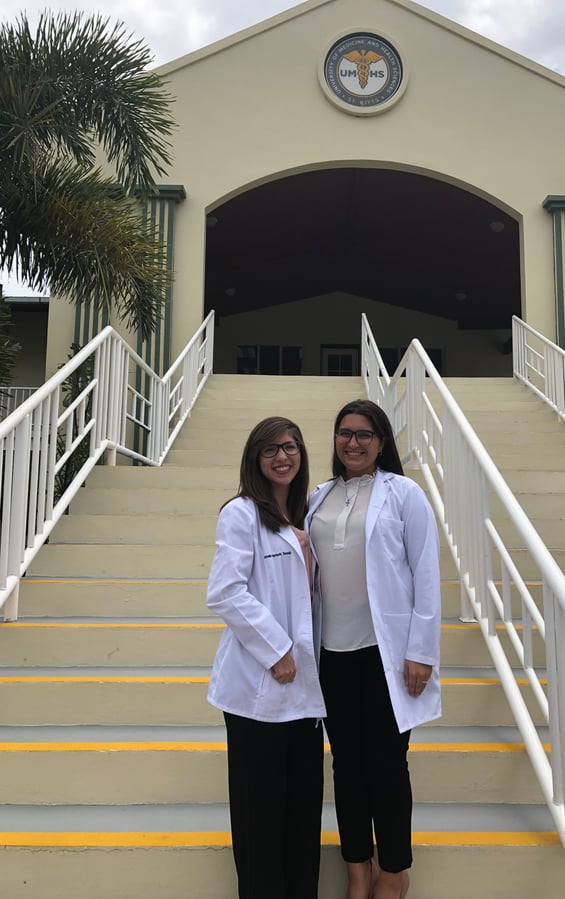 UMHS grad Dr. Michelle Hornedo & UMHS student Glorirma Urbino after the ICM presentations at UMHS in St. Kitts. Photo: Courtesy of Dr. Hornedo.
The UMHS Endeavour spoke to Dr. Hornedo about her background, why she decided to become a doctor, her medical education at UMHS, her goals for her residency, advice for matching, and more.
"I was born and raised in San Juan, Puerto Rico where I've lived all my life up until my undergrad, which was at Penn State Behrend," Dr. Hornedo said. "I've been fortunate enough to have amazing family support, obviously being from the Latin community, we're all very warm and welcoming, and it's part of what I want to bring into becoming a physician and being that way with my patients. Also, I'm just excited that I matched in Ohio Health, Riverside Methodist Hospital in Columbus, Ohio in Internal Medicine. I'm excited to meet new people and learn so much from all of my attendings and colleagues."
Dr. Hornedo said UMHS helped her obtain a residency in many ways.
"I think there's so many aspects in UMHS that have really helped out through this process. I think one of the main things is we have so many opportunities to be in different hospitals throughout our clinical rotations. You don't realize this until you're there, but everybody has a different perspective on a specific topic that you personally might be having some trouble with. I remember the attendings giving me certain tricks of how to understand it in the long run and I'm going to have that whenever I'm a resident, whenever I'm an attending; that's what I'm going to be thinking of and what I'm going to be remembering. I think that just being able to go to different hospitals, learn from different physicians is one of the main things that has really helped me go into Internal Medicine and Match.'"
Click to read more on this amazing young doctor in the UMHS Endeavour.
Dr. Neda Svrakic
UMHS 2021 graduate Dr. Neda Svrakic recently started an internal medicine residency at Rosalind Franklin University Medical School (RFMUS) Chicago Medical School. Becoming a doctor is a family tradition for Dr. Svrakic. Originally from St. Louis, MO, Dr. Svrakic learned a lot about medicine from her father, a psychiatrist.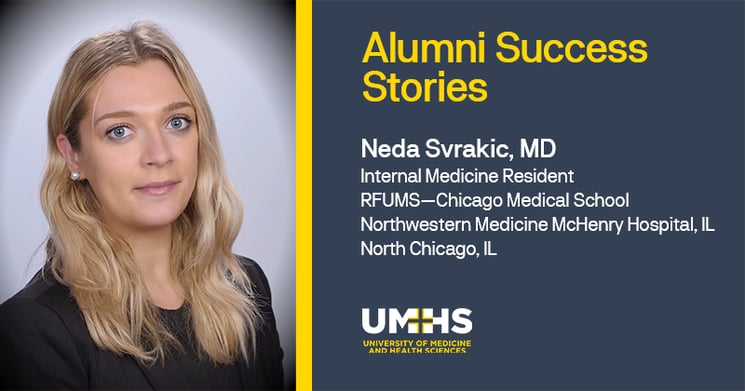 UMHS grad Dr. Neda Svrackic. Photo courtesy of Dr. Svrakic.
"I am first-generation Serbian," Dr. Svrakic said. "My parents immigrated to United States in 1989. My dad's a psychiatrist. He's a Fulbright professor at the Washington University School of Medicine in St. Louis. I come from a long lineage of psychiatrists in my family, and so I knew that I always wanted to go into medicine. It's always been a huge part of my life, part of my childhood. I decided to major in molecular and cellular biology at the University of Illinois in Champaign-Urbana. I did that with the intention of going into medical school, so I was pre-med."
The UMHS Endeavour spoke to Dr. Svrakic about why she wanted to become a doctor, why she decided to look at Caribbean medical schools and chose UMHS, her interest in Internal Medicine, her future goal to one day be a Rheumatologist, advice for current and prospective students, and more.
While majoring in molecular and cellular biology as an undergrad, Dr. Svrakic conducted a large amount of research. She worked professionally in research in Chicago after graduating from college.
"Then I sort of came to a crossroads where I wasn't sure if I wanted to stay on the research side of things. I came to the realization one day that I wanted to go further. I didn't really see myself on the lab bench side of things, I think as a lot of people liked to say."
Her father had a resident who graduated from UMHS and was a first-year psychiatry resident at Washington University School of Medicine in St. Louis. Dr. Svrakic said she was impressed, especially since the resident came from a Caribbean medical school.
"I was really intrigued. She offered to sit down with me one day and told me about her experience at UMHS, and how they had so many options and opportunities for clinical rotations, and really impressive board pass rates. And I said, 'This sounds perfect. This sounds like exactly what I want to do. It gives me a huge new opportunity to see how far I can push myself, not only academically but immersing myself in a completely new environment, totally new people, completely out of my comfort zone.' "
Dr. Svrakic applied to UMHS and was accepted immediately.
"Within two weeks I was on the island for orientation and haven't looked back since. It was one of the best decisions I've ever made."
Read the full interview with Dr. Svrakic in our blog and watch her video interview on our YouTube channel.
Dr. Shivaan Oomrigar
Dr. Shivaan Oomrigar started a residency in internal medicine last summer at HCA Florida Kendall Hospital in Miami, FL. Her story is unique because she did not Match on the first try (she graduated in 2020 and obtained residency in 2022). In addition, Dr. Oomrigar lost one of her eyes to cancer at a young age and she's always wanted to become a doctor ever since because she saw as a child how physicians can truly make a difference in people's lives.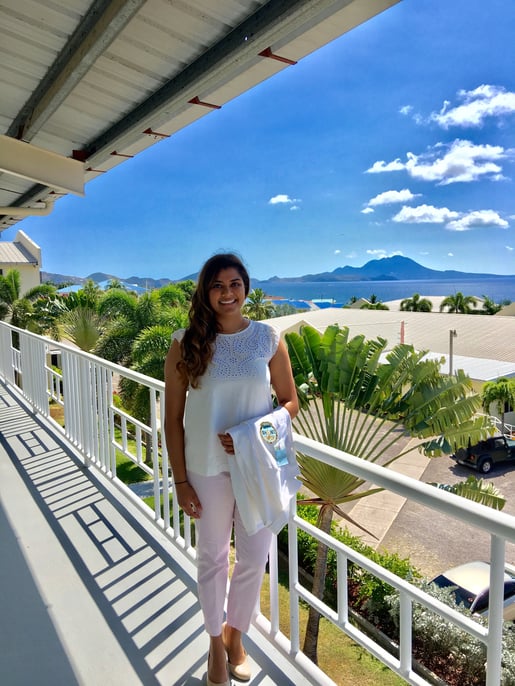 UMHS grad Dr. Shivaan Oomrigar at UMHS in St. Kitts. Photo: Courtesy of Dr. Oomrigar.
UMHS spoke to Dr. Oomrigar about beating cancer, life in her native Florida, why she chose UMHS over other med schools, why she likes internal medicine, and more.
Dr. Oomrigar has her own personal journey with medicine.
"Medicine has been in and out of my life since I was an infant," she said. "When I was a year old, I was diagnosed with retinoblastoma, which is a cancer of the retina in my left eye. Long story short, I lost my left eye to cancer. Ever since that young age, I've worn a prosthetic eye in my left eye."
Surviving cancer inspired her early on to one day become a doctor.
"I remember from infancy; I have vivid memories of being on the operating table and seeing men and women in blue gowns and blue scrubs and blue scrub caps. I remember being on an operating table and them trying to put a mask over my face to lay me down for surgery. That has carried me through all of my experiences from regular school to undergrad to medical school and to now. It's pushed me to be a physician today. I feel that it's not my job, but I feel that it's my duty to give back to those who helped me at a young age. That is one of the biggest reasons why I am a physician today."
What made her decide on attending UMHS over other medical schools?
"That's a very good question. To be very honest, when I was applying in the states and to other Caribbean schools, everybody told me no. Every other school told me no. For whatever reason they gave, the answer was still no, and UMHS was the only school that decided to take a chance on me. And now here I am, a successful Match about to graduate and go into Internal Medicine training. I'm very honored and proud to have gone to UMHS and for them to have taken the chance on me."
Read her story in our blog and watch her video interview on the UMHS YouTube channel.
Dr. Charles Opperman on his direct primary care practice
Dr. Charles Opperman was in the first UMHS graduating class and completed his residency in internal medicine at Kettering Medical Center in Ohio. Dr. Opperman has served as clinical teaching faculty for Kettering Medical Center's internal medicine residency program, along with teaching assignments with Wright State University and Ohio University Schools of Medicine. Dr. Opperman now runs Simplicity Health Direct Primary Care in Centerville, Ohio, near Dayton.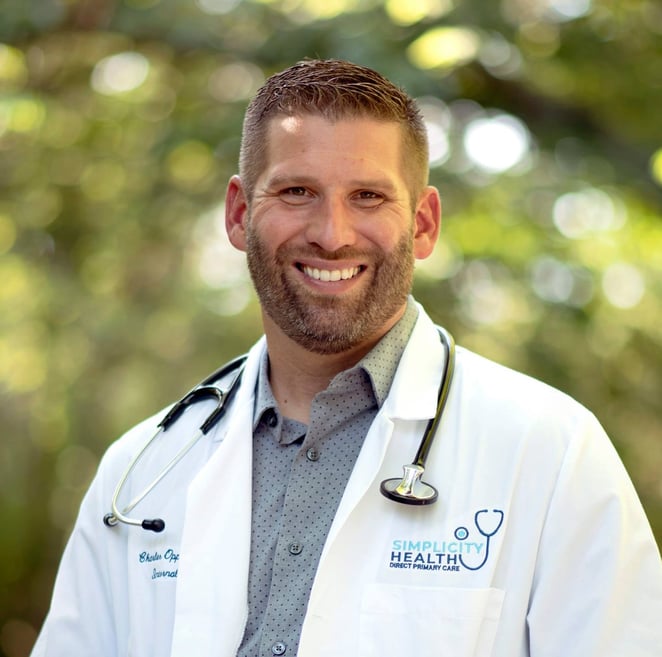 UMHS grad Dr. Charles Opperman. Photo courtesy of Dr. Opperman.
UMHS interviewed Dr. Opperman about his medical education and how UMHS helped him get where he is today. Dr. Opperman was in the first graduating class at UMHS in 2012 and spoke to us about the challenges and benefits of studying at a new Caribbean medical school and how President Warren Ross helped him and other students with a personalized, hands-on approach and the benefits of small class sizes. We also discussed the concept of Direct Primary Care, defined by the American Association of Family Physicians as "a practice and payment model where patients/consumers pay their physician or practice directly in the form of periodic payments for a defined set of primary care services." Direct Primary Care practices like Dr. Opperman's charge patients an affordable flat monthly fee in exchange for a variety of primary care services and more.
How did UMHS help Dr. Opperman get to where he is today?
"I was in that first class ever in St Kitts, right when the medical school started," Dr. Opperman said. "Being in that first class definitely had some challenges and logistical challenges and things that I'm sure that we had to try to figure out that the school has figured out. But part of that definitely created some serious resilience and perseverance. That was great. What I would say about UMHS was, when I was there, the leadership—President Ross specifically—it was very obvious that he was invested in the students' learning experience. We had faculty that would come in from all across the country, visiting faculty that were phenomenal. The faculty that they hired on as just their regular faculty were great as well."
The state-of-the-art facilities were just one positive factor of his experience at UMHS in St. Kitts.
"The resources and the environment to learn in the classrooms and things like that were just obviously top notch. I teach at a lot of different medical schools now, and I've been part of residency programs, and I do a lot of teaching. I've seen it done in a lot of places. What I would say is that I know that President Ross has the students' best interest at heart. He truly cares about the students, and it shows through the resources available to the students. Now don't get me wrong, to get it through medical school, you have to put in hard work. So, it's not easy, but UMHS made it easier for us. Let's put it that way. The faculty were invested. They truly cared. They wanted to see us all succeed. I still, to this day, have lasting relationships with many of my friends that I met, classmates I met through UMHS, and faculty as well. I still communicate with many of my professors from 10 years ago, which is really cool."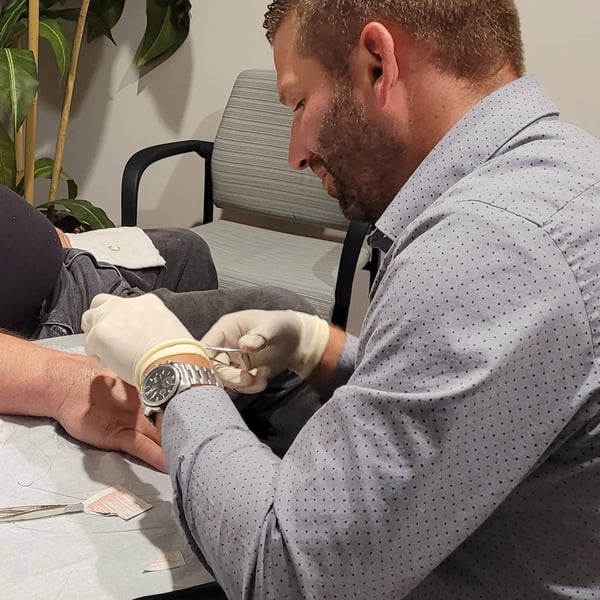 Dr. Opperman sutures a patient at his office in Centerville, OH. Photo courtesy of Dr. Opperman.
Dr. Opperman founded Simplicity Health Direct Primary Care in late 2020. We asked how he started this unique practice and how it works.
"As a physician, I worked for the large healthcare network in the area, and the typical physician day, you stack patients up every 10 minutes. Patients have time to ask one question, basically, and then you zoom them out of the room as fast as you can. You don't know anybody's name at the end of the day. It's all in the interest of making as much money as possible for the giant hospital networks who are essentially working for the insurance companies, and that's how they get their reimbursement.
"I grew really tired of that, not knowing my patients' names, not being able to provide the quality care that I felt that my patients deserved. So, I basically boycotted the entire healthcare system and started a practice where we do not accept any insurance whatsoever. It's like a membership practice. It's like Netflix for your doctor. We have been just tremendously successful, been open for about a year and a half. We're getting close to the spot where we can't accept patients anymore because, again, I want to limit my patient panel so I can still provide that high quality care for people. So, we're going to be growing, expanding, adding new doctors soon."
Dr. Opperman reserves an entire hour for each patient appointment, a rarity in primary care since many doctors only see patients for 15 minutes or 30 minutes at the most. The day UMHS interviewed Dr. Opperman, he had been working closely with a patient with a serious health issue.
"What actually just happened right before we got on this phone call is I had an 11:00 patient, and then at 10:30, one of my patients called, and there's some concern that he may be having a heart attack. Or some issues. So, he called at 10:30 and he was here at 11:00. I got him in, we did an EKG. I found out that he had a rhythm called A-Fib [atrial fibrillation]. So then, instead of just sending him to the hospital, like I would've in my old practice, I had time to call his cardiologist, talk to his cardiologist. I'm calling the hospital; he's going to skip the ER. I'm directly admitting him to the hospital. He called me an hour and a half ago and it's just like immediate care. I spent a half an hour with him, too."
Read more about Dr. Opperman and his unique medical practice in our blog.
(Top photo, above): UMHS alumni, faculty & students & top news makers of 2022.

Posted by
Scott Harrah
Scott is Director of Digital Content & Alumni Communications Liaison at UMHS and editor of the UMHS Endeavour blog. When he's not writing about UMHS students, faculty, events, public health, alumni and UMHS research, he writes and edits Broadway theater reviews for a website he publishes in New York City, StageZine.com.