Class of 2022 grad Dr. Alexa Datko starts a Family Medicine residency this summer at the University of Wyoming-Casper.
The UMHS Endeavour spoke to Dr. Datko about her medical education at UMHS, growing up in her native San Diego, CA, being a Division 1 athlete, her undergraduate studies at College of Charleston, and more.
Growing up in San Diego
Dr. Datko was born and raised in San Diego, CA. She always loved athletics and science.
"I am originally from San Diego, California. I was a Division 1 athlete, and earned a scholarship to play softball in college. I did my undergraduate at College of Charleston (C of C), which took me to the Southern US, and eventually I made my way to UMHS. I'm going to be doing my residency in Family Medicine at the University of Wyoming at Casper with a concentration in Obstetrics and Women's Health."
Although she loved sports, she always wanted to become a doctor.
"Going into college, medicine was what I was planning on pursuing. My undergraduate was a bachelor's of science in biology with a minor in math. C of C didn't have a specific pre-med track, but I got all my prerequisites with the intention of going to medical school. After graduation, I had applied and didn't get in that first cycle. I went into the workforce where I started working at one of our local healthcare systems in San Diego, specifically working in physical therapy, both inpatient and outpatient. Working in PT kept me interested in pursuing a career in medicine. I have been an athlete my whole life and I was always around injuries and physical setbacks that are associated with orthopedic surgery, PT, athletic training. The medical field was something that I really wanted to go into. These experiences are how it started and it's kept going from there."
At first she thought about going into sports medicine.
"My intention going into medical school was driven by my background in sports," she said. "I liked sports medicine, ortho, something along that line. Once I started my clinical rotations and completed my first OB rotation, I fell in love with women's health and the practice of working with women. Family Medicine will let me do everything. So, I'm looking forward to it."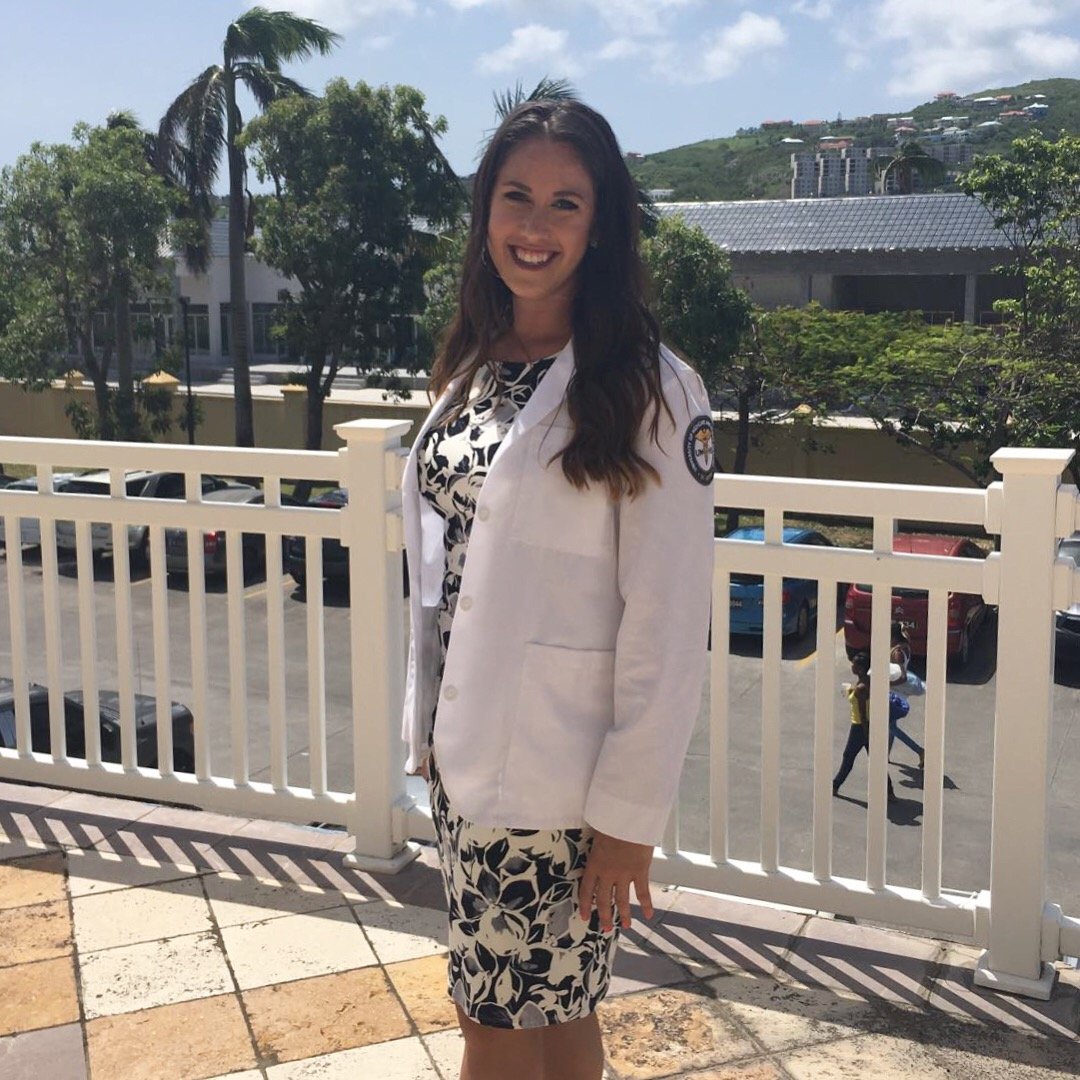 Dr. Alexa Datko in St. Kitts. Photo: Courtesy of Dr. Datko.
Why UMHS?
What made her decide on attending UMHS over other medical schools?
"Most people think of medical school, you go straight out of college and go from there with your career. For me personally, it was probably a good six years after I finished college, I went to UMHS. One of my aunts was a nurse practitioner, she had done her undergraduate and went into nursing and decided that she wanted to go into medicine and become a doctor. She actually went to one of the first Caribbean schools and she did about six credits in one of the islands and then came back and did all of her stuff in Pennsylvania. But for me, she was working with some of her fellow residents and she was talking to a lot of people that had gone to St. George's and some of the other schools in the Caribbean. I hadn't really thought about it as an option. So, then I looked into it, looked into the website, and talked to the other people that had gone to Caribbean schools. On the UMHS website, the small class sizes and the interaction with the professors were among the main things that made me choose UMHS."
Many professors and staff members at UMHS were especially helpful to Dr. Datko.
"The first class I took as a med one student was my anatomy class. I always loved the human body and I fell in love with the anatomy class. Dr. McCracken and Dr. Afolabi definitely helped me out understanding the body more. You get to see what medicine is and you get to say, 'Oh, well I've always had this cough or felt something in my lungs—in anatomy, you get to see the visual and actually see the body in our lab. Dr. Roy for pathology; he had a very good way of breaking things down and just explaining it to a basic level so that you could grow in your understanding from there."
Dr. Datko got involved with student clubs like the American Medical Women's Association (AMWA) and preclinical rotations in St. Kitts, and this helped her a lot during basic sciences.
"One of the big things about UMHS is the ability to put yourself into whatever situation you want to do. I was a big part of AMWA when we started on the island. I enjoyed the preclinical rotations that we did at JNF Hospital on the island. It was a great initial step in the clinical setting and it added to the previous experience in clinicals in San Diego. The difference in an island hospital gave excellent perspective to what other parts of the world go through as well. We are very privileged to be in the United States and have top healthcare systems, but it's not like that for everyone else. Having that perspective I learned, there's so much that you can do within medicine and specifically going into Family Medicine, you have to know every aspect of it."
Preclinical work in St. Kitts gave her a taste of what to expect later.
"As a doctor, you're going to be in situations where your patients don't exactly know what they're looking for; specifically, what's wrong with them and you have to kind of guide them through that. And I think being able to do that on the island before going into our clinical years really helps as well."
Family Medicine residency in Wyoming
Dr. Datko is excited about her upcoming Family Medicine residency at the University of Wyoming-Casper. She spoke about why she wanted to do residency at this particular program.
"When I was looking at applying for residency, I wanted something in which I could do everything. Family Medicine definitely stood out to me being able to do sports medicine, being able to do OB if I wanted to and just get that well-rounded kind of sense of medicine. When I was looking at University of Wyoming, they have a specific OB tract. You could do C-sections, you could do other OB procedures and essentially fulfill what you would need to do to go straight from Family Medicine and into OB. Or if you really wanted to, you could still apply for a fellowship, but I think it was the opportunity to get hands-on experience in many areas that appealed to me the most. It is a smaller town and they do also have a rural track and training program."
Dr. Datko likes the fact that she will be helping rural medically underserved communities.
"It just kind of gives me the idea that I could get into anything. That is something that we don't necessarily see in residencies. You go to the big cities and there are specialty doctors for everything, but a lot of the United States doesn't live like that. There are plenty of places that are low income, under serviced. And this residency gives me that. University of Wyoming at Casper gives me that opportunity to learn everything that I would need to be a great doctor and excel in a smaller town."
She spoke about the differences between Family Medicine and other specialties.
"Family Medicine is what most people think about when going to a primary care doctor. General practice is your health and wellness checks, your annual physicals, your introductory OB checks, preventative health—a lot are big topics in Family Medicine. Primary care is also a lot of your introductory rehab and what you need on just a regular basis for health. Treatment for things such as general depression for psychiatry, going in and getting your Medicare wellness check, etc. For me specifically, the variety of treatment and I can tailor what I want to do in that practice so I may cover everything was very appealing. I can work with pediatrics and geriatrics or be specific if I want to as my career grows. Family Medicine gives you that opportunity to treat everybody. However, the one thing that really stood out to me is the education. When we go through medical school, we learn all of this information, but a lot of the population doesn't necessarily have detailed medical knowledge. As a Family Medicine physician, we can provide some education to our patients therefore they begin to know what is needed to do to prevent diabetes, heart failure or other major ailments. The preventive aspect and the education that you can promote to the community was appealing for me looking into Family Medicine."
Her core Family Medicine rotation helped her realize she could work in several areas of medicine at once.
"As I mentioned, I grew up an athlete. I've always been interested in sports medicine and while going through my clinical rotations, OB and women's health stood out to me. The simple fact that women's health is not promoted enough, and over half the population are women, and being able to tailor my future practice to promote women's health is a tract I find fascinating. It will be a good way I will be helping the community to learn more about what they can do for their health."
Goals for residency
Dr. Datko is excited about the many opportunities to serve rural areas.
"Being in a small-town community, my goal is to immerse myself in the culture and see everything that I can see. We have the opportunity at University of Wyoming at Casper to go on to some of the American Indian reservations and do health and medicine with them. As well as we get to go offsite into Utah, Colorado and Washington to do a few pediatric rotations. I will soak in the experience and learn as much as I can within my three years. That will allow me to become a better doctor in the future."
What Dr. Datko learned from the pandemic
Dr. Datko said she has learned a lot the last two years during the COVID-19 pandemic.
"I think it's been a rough couple years just kind of dealing with Covid-19 and figuring out what's the new normal. Within the medical field, it made a lot of people question of what they really want to do because you're experiencing the challenges day in and day out. We didn't have that luxury of taking time off from work to decompress or necessarily changing our position on treatment. For me, this is really what I want to do, and this is how I can help people. Moving forward, it's being able to reach the people that weren't able to come out and access healthcare during that time. Whether it is because of Covid-19 or other illnesses but knowing that they can have faith in the medical community that we're going to help them anyway we can. I think it's going to change some practices of how medicine is provided by allowing patients more options to seek medical care. A few examples are the telehealth communications, being able to bring back house calls and setting flexible hours to see patients at times that may be more convenient to their schedule."
What have medical students learned from the last two grueling years?
"The biggest things I took from the past two years is the fact that we don't know enough and that you're constantly learning. If you go into the medical field, understand everything's going to evolve. Obviously, we don't do procedures and surgeries the same way that we did 50 years ago. So, from a med student's perspective, you're trying to learn as much as you can by putting yourself into any different situation to learn as much as possible. During Covid-19 hospitals were shut down to med students but we have returned to learning in hospitals and now we are ready and asking, what can we do? The more that you can experience different ailments and types of patients the more prepared you will be to help your patients in the future.
The UMHS experience
Studying at UMHS has really prepared Dr. Datko for her medical career for many reasons.
"I think UMHS definitely pushed me to get out of my comfort zone. You go study on an island for two years and then get thrown into clinicals and it definitely pushes you to see if this is what you want to do. It's for a student that wants to take the extra step and say, 'I'm going to help lead other students or start a group that can help us all reach our goal.' UMHS definitely helped me pursue what I want to do."
Dr. Datko is happy to answer any questions from current and prospective students via email at adatko@umhs-sk.net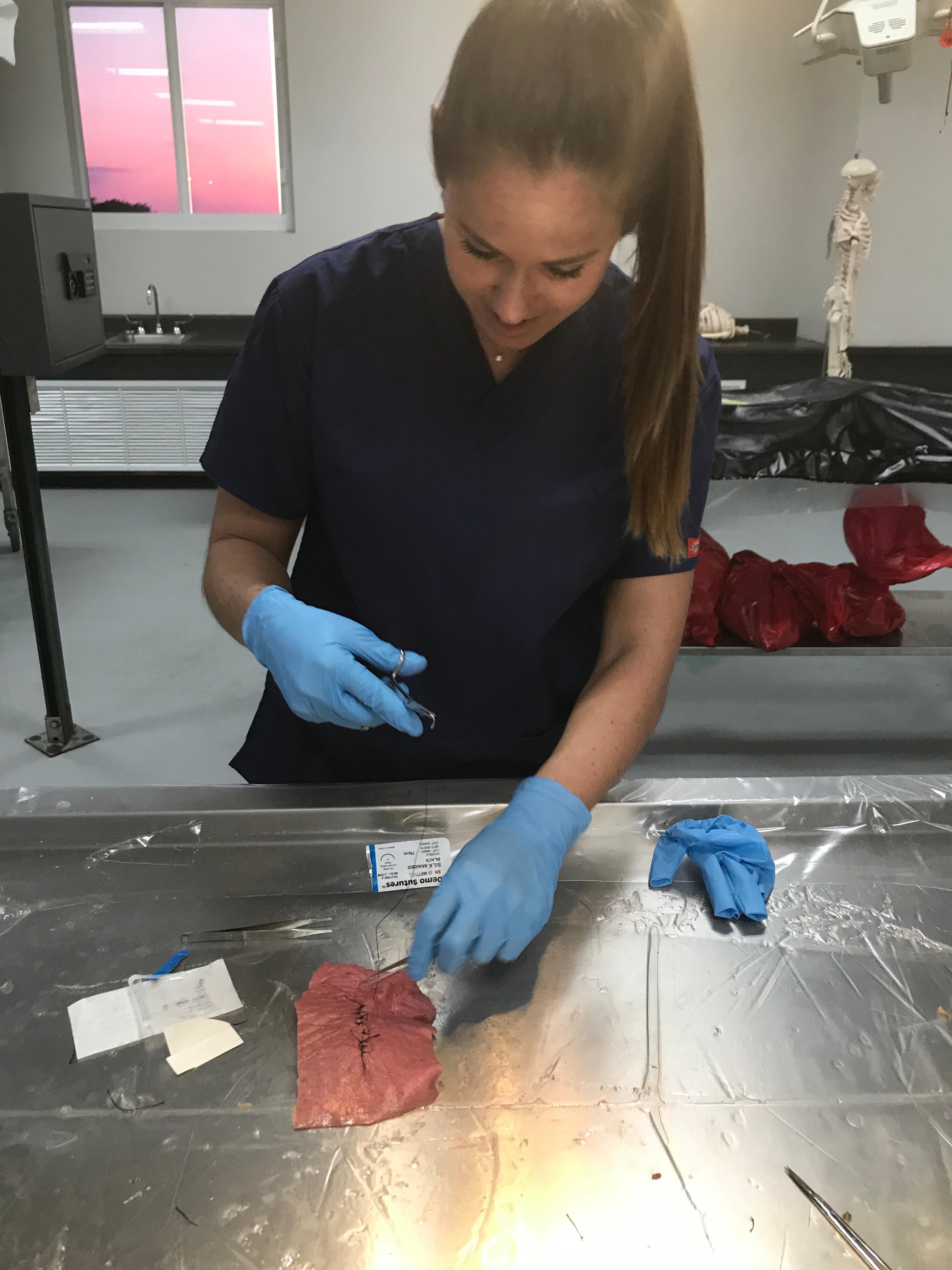 Dr. Alexa Datko works in a suture lab. Photo: Courtesy of Dr. Datko.
---
Dr. Alexa Datko video interview on UMHS YouTube channel

Posted by
Scott Harrah
Scott is Director of Digital Content & Alumni Communications Liaison at UMHS and editor of the UMHS Endeavour blog. When he's not writing about UMHS students, faculty, events, public health, alumni and UMHS research, he writes and edits Broadway theater reviews for a website he publishes in New York City, StageZine.com.