Dr. Charles Opperman was in the first UMHS graduating class and completed his residency in internal medicine at Kettering Medical Center in Ohio. Dr. Opperman has served as clinical teaching faculty for Kettering Medical Center's internal medicine residency program, along with teaching assignments with Wright State University and Ohio University Schools of Medicine. Dr. Opperman now runs Simplicity Health Direct Primary Care in Centerville, Ohio, near Dayton.
The UMHS Endeavour, as part of its new Alumni Achievers series focusing on the success stories of UMHS graduates, recently interviewed Dr. Opperman about his medical education and how UMHS helped him get where he is today. Dr. Opperman was in the first graduating class at UMHS in 2012 and spoke to us about the challenges and benefits of studying at a new Caribbean medical school and how President Warren Ross helped him and other students with a personalized, hands-on approach and the benefits of small class sizes. We also discussed the concept of Direct Primary Care, defined by the American Association of Family Physicians as "a practice and payment model where patients/consumers pay their physician or practice directly in the form of periodic payments for a defined set of primary care services." Direct Primary Care practices like Dr. Opperman's charge patients an affordable flat monthly fee in exchange for a variety of primary care services and more.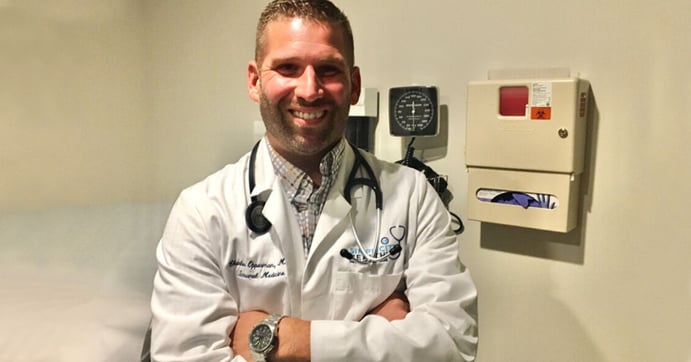 Ohio-based family medicine physician Dr. Charles Opperman was in the first UMHS graduating class. Photo courtesy of Dr. Opperman.
Being in the first UMHS class
How did UMHS help Dr. Opperman get to where he is today?
"I was in that first class ever in St Kitts, right when the medical school started," Dr. Opperman said. "Being in that first class definitely had some challenges and logistical challenges and things that I'm sure that we had to try to figure out that the school has figured out. But part of that definitely created some serious resilience and perseverance. That was great. What I would say about UMHS was, when I was there, the leadership—President Ross specifically—it was very obvious that he was invested in the students' learning experience. We had faculty that would come in from all across the country, visiting faculty that were phenomenal. The faculty that they hired on as just their regular faculty were great as well."
The state-of-the-art facilities were just one positive factor of his experience at UMHS in St. Kitts.
"The resources and the environment to learn in the classrooms and things like that were just obviously top notch. I teach at a lot of different medical schools now, and I've been part of residency programs, and I do a lot of teaching. I've seen it done in a lot of places. What I would say is that I know that President Ross has the students' best interest at heart. He truly cares about the students, and it shows through the resources available to the students. Now don't get me wrong, to get it through medical school, you have to put in hard work. So it's not easy, but UMHS made it easier for us. Let's put it that way. The faculty were invested. They truly cared. They wanted to see us all succeed. I still, to this day, have lasting relationships with many of my friends that I met, classmates I met through UMHS, and faculty as well. I still communicate with many of my professors from 10 years ago, which is really cool."
UMHS truly prepared Dr. Opperman for a career in medicine.
"Coming from a Caribbean medical school, you have to be motivated, and it taught me how to work harder than everyone else," he said. "So that really paid off big time when I was doing my medical rotations, clinical rotations. I rotated up in Maine at the time with students from Tufts University, which is a pretty prestigious university.
"The attending doctors knew that I was going to be the first one to show up and the last one to leave. I had that work hard attitude, work harder than everyone else. Dare I say it, the Tufts students were a bit entitled and wanted things handed to them. But that resilience, that perseverance [of] being able to be a self-starter and work really hard to achieve your goals has definitely paid off in my medical education career, getting a residency, and now with my new endeavor at this practice.
"I think that UMHS has been fantastic for me. Again, the people running UMHS care. They really care about the students. I continue to, 10 years later, have relationships with faculty and administration and President Ross. It's been a great experience. Honestly, I've been invited back to teach in Maine and things like that. Been to St. Kitts, it's just been an awesome experience. It sort of feels more like a family experience, and you know that you have people cheering for you, rooting for you. Knowing that they're in your corner is valuable."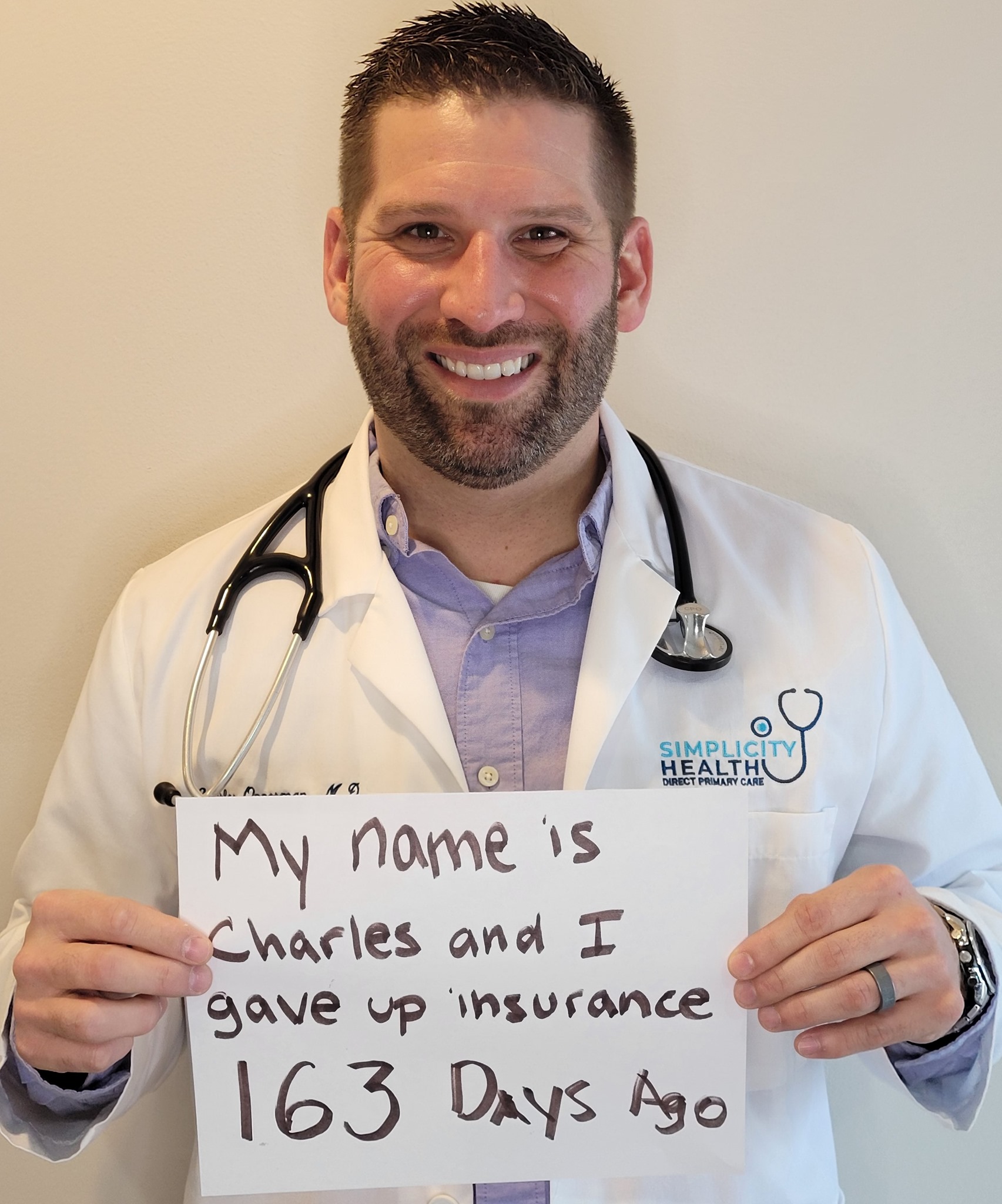 Dr. Charles Opperman's Simplicity Health Direct Primary Care practice in Centerville, Ohio offers a unique approach to healthcare. Photo courtesy of Dr. Opperman.
Simplicity Health Direct Primary Care
Dr. Opperman founded Simplicity Health Direct Primary Care in late 2020. We asked how he started this unique practice and how it works.
"As a physician, I worked for the large healthcare network in the area, and the typical physician day, you stack patients up every 10 minutes. Patients have time to ask one question, basically, and then you zoom them out of the room as fast as you can. You don't know anybody's name at the end of the day. It's all in the interest of making as much money as possible for the giant hospital networks who are essentially working for the insurance companies, and that's how they get their reimbursement.
"I grew really tired of that, not knowing my patients' names, not being able to provide the quality care that I felt that my patients deserved. So, I basically boycotted the entire healthcare system and started a practice where we do not accept any insurance whatsoever. It's like a membership practice. It's like Netflix for your doctor. We have been just tremendously successful, been open for about a year and a half. We're getting close to the spot where we can't accept patients anymore because, again, I want to limit my patient panel so I can still provide that high quality care for people. So, we're going to be growing, expanding, adding new doctors soon."
Dr. Opperman reserves an entire hour for each patient appointment, a rarity in primary care since many doctors only see patients for 15 minutes or 30 minutes at the most. The day UMHS interviewed Dr. Opperman, he had been working closely with a patient with a serious health issue.
"What actually just happened right before we got on this phone call is I had an 11:00 patient, and then at 10:30, one of my patients called, and there's some concern that he may be having a heart attack. Or some issues. So, he called at 10:30 and he was here at 11:00. I got him in, we did an EKG. I found out that he had a rhythm called A-Fib [atrial fibrillation]. So then, instead of just sending him to the hospital, like I would've in my old practice, I had time to call his cardiologist, talk to his cardiologist. I'm calling the hospital; he's going to skip the ER. I'm directly admitting him to the hospital. He called me an hour and a half ago and it's just like immediate care. I spent a half an hour with him, too."
Dr. Opperman explained the difference between concierge primary care, direct primary care and using insurance.
"I think the differences are very nuanced. They're extremely similar. So, a lot of times I'll tell patients I'm a concierge doctor because it's easier for them to understand. Here in the area, we have two concierge doctors. They charge double what we charge for membership. Then typically concierge doctors historically have [billed] insurance, too. So ,they sort of double dip, but it's the same concept where they provide really high-quality care. They book off a lot of time for patients. So, we do all of that. Again, we book our patients for an hour-long visit. Our patients never, ever wait for an appointment. If you call in at 10:00 for an appointment, you're usually in by 11:00 for that same day. Then my patients get my cell phone number. So, a lot of times they will text me a picture of a rash or text me questions or whatever. I just answer them in real time.
"They can email me; they can do all that stuff. So, in many regards, we do everything just like a concierge doctor. The difference is we do absolutely no insurance. We [bill] no insurance at all. By doing that, it allows me to bypass some of those insurance policies and rules. We have our own lab here where we draw our patient's blood. Usually, it's like at 95% or higher of reduction in cost. We have our own pharmacy in Ohio. If you're a sole provider, you can dispense. You don't need to be a pharmacist. So, I dispense medications directly from the office. Those are things that a concierge doctor would not do. Then again, because we do a lot of concierge-type care, I have patients that are extremely wealthy. They come to see us. Money is no object [for the wealthy], but part of what I want to do is also provide care to people that aren't super wealthy. I have a lot of patients that have no insurance at all. So, if you don't have insurance, you can get your lab work through us. You can get your medications filled through us or you have your doctor's visits through us. We really bridge a really huge gap in healthcare for folks that don't have insurance. I have a lady that stock shelves at Walmart. Our membership is affordable really for everyone. It's not just sort of elitist. I think that's one of the differences between direct primary care and concierge medicine."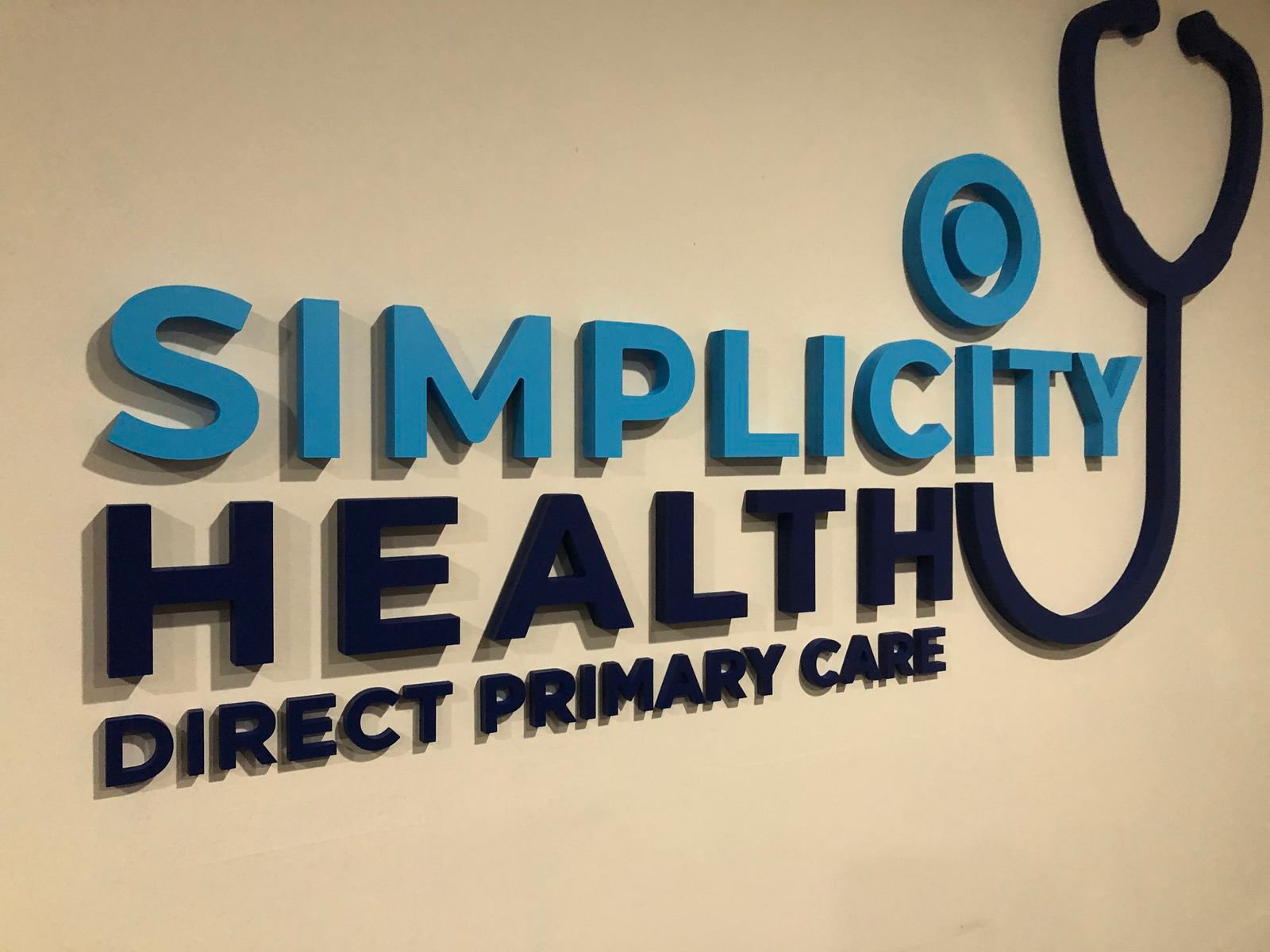 Simplicity Health Direct Primary Care's office in Ohio. Photo courtesy of Dr. Opperman.
What would the cost be for regular blood work for checking such things as blood sugar (A1C), cholesterol, etc.?
"We have several different tiers, but mostly they cost a little bit extra. But to give you an idea, an A1C—if you went to our local hospital network where I was previously employed, they would charge $278 for an A1C. We charge $5 for an A1C. If you do a lipid panel, they charge $200 and some dollars. We charge five dollars. If you do a metabolic panel, a CMP complete metabolic panel, they charge $332 and we charge five. If you do a complete blood count, they charge $115 and we charge four. So, you can get your A1C, you can get your lipid panel, you can get your blood counts, metabolic panel. You can have all of your yearly blood work and more for 25 bucks basically. Whereas if you went to the local hospital, it's well over a thousand [dollars]."
What about prescriptions?
"So, sometimes with trade name medications—which are not generic—I can't acquire them cheap because they have trademarks on them," he said. "So, I write those prescriptions. Patients sometimes have insurance and they'll use their insurance to cover super expensive medications. But for like 90% of medications that are generic, antibiotics or creams or blood pressure medication, depression medication, diabetes medications, most of those are generic. So, I can obtain those from the wholesaler, same place that the pharmacy gets them, and then I basically pass on all the savings to the patients. We don't make any money on that. We just charge them what it costs us. For example, a three-month supply of Plavix, which is a medication to thin your blood after you have a heart attack, a three-month supply at the pharmacy probably is $250, $300 for that medication using your insurance. It's four dollars here for a three-month supply. But we don't bill insurance at all, but most patients would say, 'I'd happily pay you four dollars for my three-month supply then have to deal with the insurance company, have to deal with the pharmacy.' Plus, by the way, it's 100 times more expensive.
"The markup in healthcare is ridiculous and our practice is trying to just go without. The whole idea of Simplicity Direct Primary Care is you get your doctor, you get your lab work, you get your medications. There's literally me and my nurse, that's it. We take care of everything. So, you don't have to deal with a bunch of other insurance hassles."
Generic versions of common cholesterol meds like Lipitor or Crestor are about $1 per month.
What about x-ray equipment, ultrasounds, MRIs and CT scans?
"Obviously, we have a small office. We can't put in all that stuff in our office, and that's super costly. So, what we do is, again, if someone needs an ultrasound, for example, I know the price of that. The local hospital networks will charge $1,500 for that, but we have independent facilities that are outside of that. So ,we'll send somebody for a $145 ultrasound instead of the $1,500 ultrasound. If you go to the big hospital network for an MRI, you're looking at $4,000 or $5,000 [with insurance]. We have a place that's independent that will do it for $350. So, we try to use all of our resources to point patients in the correct direction."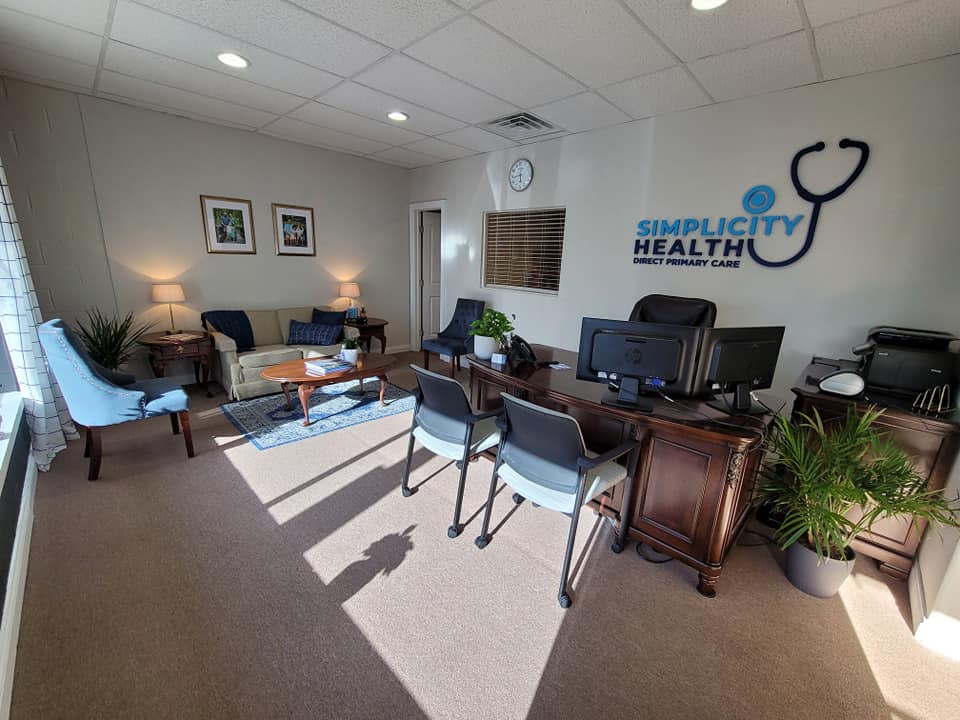 Simplicity Health Direct Primary Care's office in Centerville, Ohio, near Dayton. Photo courtesy of Dr. Opperman.
Due to the ongoing possibility of catastrophic events, Dr. Opperman recommends that his patients at least have minimal insurance to cover things like accidents or a major health crisis.
"If you have appendicitis or you have a heart attack or you have a car accident, your membership here is not going to help you. You might end up with a large hospital bill. So, we always recommend that patients have insurance. The reality is sometimes that's either not affordable for patients or they choose not to do that, or they don't have access to insurance. So again, we bridge that gap. You could simply say, 'Oh, tough luck. You don't have insurance. Forget it. You can't ever get healthcare again.' At least we can provide them most, I would say 95% of their healthcare. But we do recommend that, if you can get insurance, obviously for something catastrophic, that's a definitely a good option.
Patients without access to traditional insurance have other options available.
Dr. Opperman said some patients opt for health shares in healthcare ministries. Although health shares were originally formed by nonprofit foundations to help members of religious groups gain healthcare access, "many health sharing programs today have moved beyond this to focus on a community of giving that transcends religious boundaries," according to the website Healthshareguide.org
"Some of our patients join health shares, which are quite a bit cheaper than health insurance," Dr. Opperman said. "Some of our patients choose to go to high-deductible plans and save a lot of money because, if you have a $10,000 deductible and I can do all your lab work for $25 outside of insurance, then you never even come close to reaching that deductible. Patients, when they join our practice, they sort of modify the different amount of health coverage that they need. So that way, if you have a year where you get into a car accident and you end up hospitalized, you hit your $10,000 deductible, you have that insurance, but most years patients never even come close to hitting their deductibles."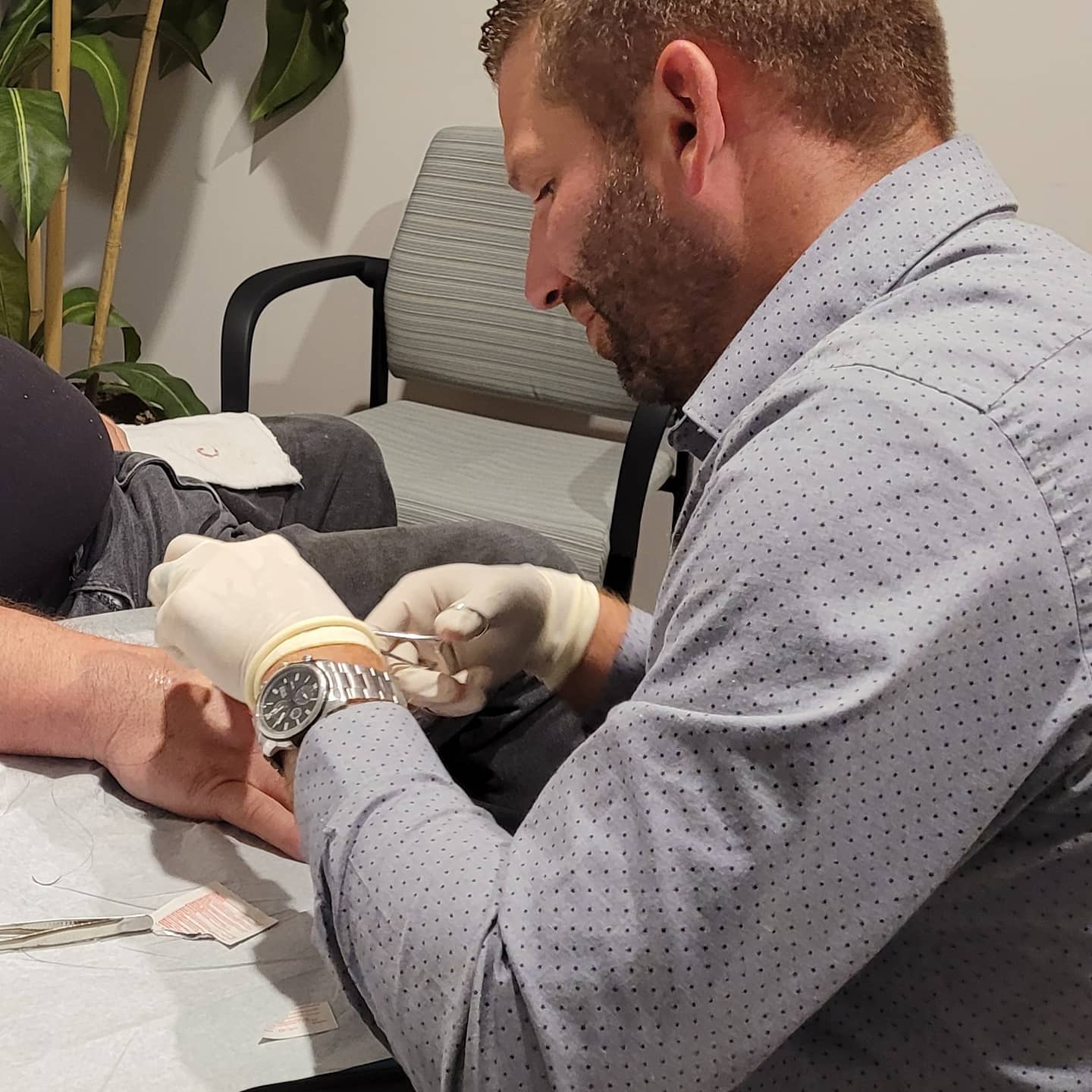 Dr. Opperman sutures a patient at his office in Centerville, Ohio. Photo courtesy of Dr. Opperman.
Patients often need referrals to dermatologists, cardiologists and other specialists. How does the referral system work with direct primary care?
"If they have insurance, it works just like the normal system. I just send a referral and they schedule a patient. The patient uses their insurance. If they don't have insurance, every specialist has cash pay prices. We have a local gastroenterologist that—if you want to get a colonoscopy and an endoscopy, you can have all of those plus the anesthesia, plus the biopsy, and you pay $1,500 out the door. That's the cash -pay price. If you use insurance, it's still going to cost you eight to $1,000 using your insurance out the door. So, it's not that much different to cash pay. But basically, if you don't have insurance, then we just ask for cash pay pricing. Many of the specialists actually prefer that so they don't have to deal with the insurance companies."
Direct primary care's many rewards
For Dr. Opperman, direct primary care has many rewards and has been more satisfying for him in many ways.
"I went from being a miserable, overworked doctor to the happiest doctor in the world. I have a deeper relationship with my patients. I know all my patients very intimately and know their family members, know what they do for work, know what they like to do for fun and hobbies. I can have more, better conversations with my patients, which it ultimately makes me love my patients and care about my patients more and they get better care from me. Then I have such a better work-life balance. I coach my son's basketball team and all of that comes without a reduction in pay. I basically make the exact same amount of money as I made working for the big hospital network where I was overworked and overburdened and burned out."
With so many people arguing over the state of healthcare, is direct primary care going to grow in the future?
"Yeah, totally," Dr. Opperman said. "The only thing standing in its way would be the insurance lobby. So, if the insurance companies get together—because obviously we're undermining everything that they're doing—but what they're doing is ripping people off. But obviously with those big companies, big corporations, they're powerful. So, they've already tried to classify direct primary care as insurance that, as a doctor, I'm providing insurance to patients, which is clearly not true. But that's our only obstacle to growth. However, this direct primary care movement has significantly accelerated. When I started, I think there were 1,200 practices. And over the course of the year, there's well over 1,500 practices throughout the United States."
Dr. Opperman said he believes direct primary care has a good purpose in the complicated world of insurance companies and corporate healthcare.
"There's a colleague of mine that practices direct primary care five miles away. He's direct competition with me actually, but we're a team. He has his own practice. I have my own practice, but we work together. He covers my patients. I cover his patients. Because what we're doing is how you fix healthcare and the big corporate healthcare, what's so broken and that's what's so frustrating about healthcare. So, I'm rooting for him. He's rooting for me even though we're competition."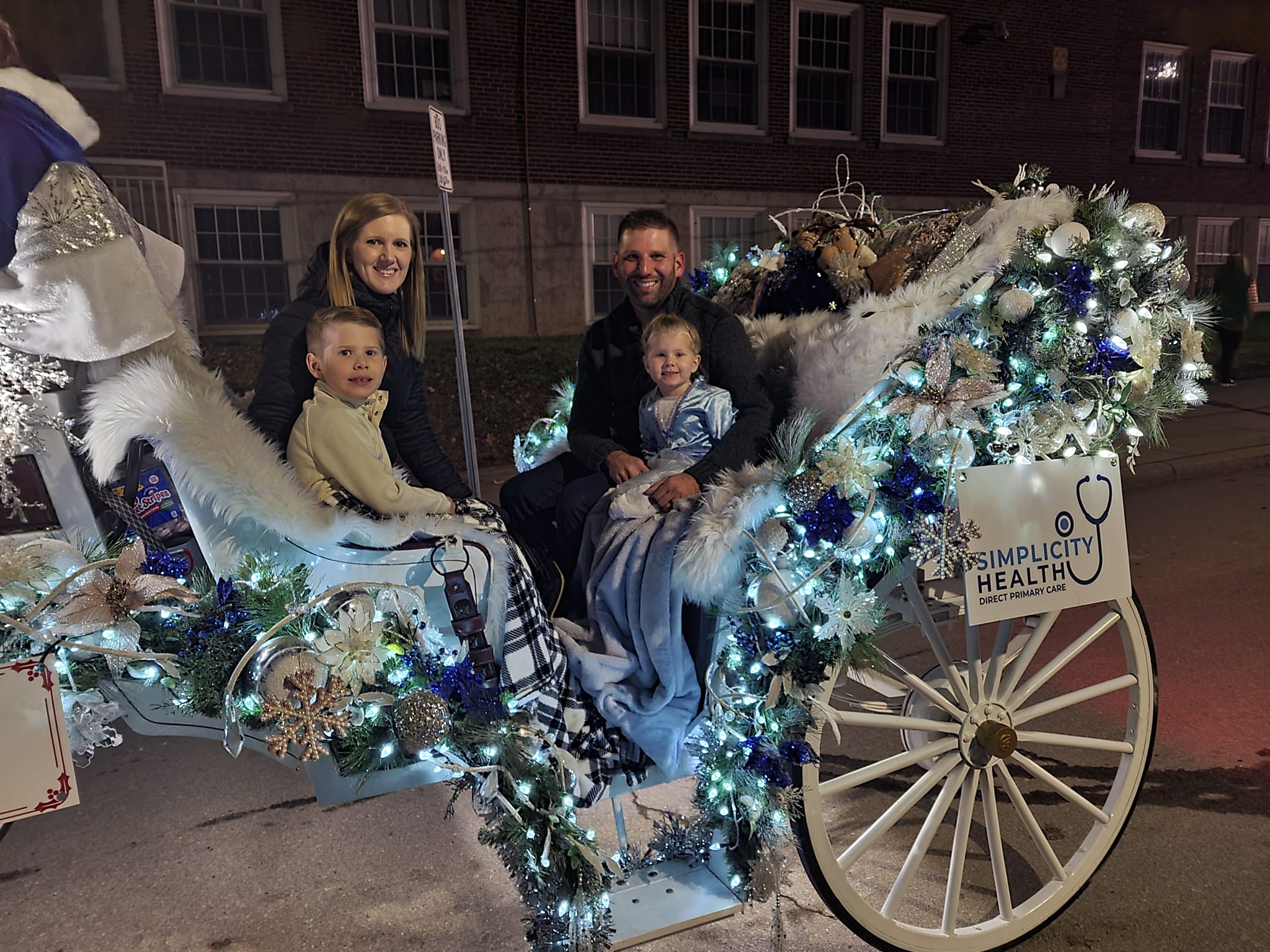 Dr. Opperman with his wife & children in a carriage during a local holiday parade. Photo courtesy of Dr. Opperman.
(Top photo) Dr. Charles Opperman, a UMHS Alumni Achiever. Photo courtesy of Dr. Opperman.

Posted by
Scott Harrah
Scott is Director of Digital Content & Alumni Communications Liaison at UMHS and editor of the UMHS Endeavour blog. When he's not writing about UMHS students, faculty, events, public health, alumni and UMHS research, he writes and edits Broadway theater reviews for a website he publishes in New York City, StageZine.com.