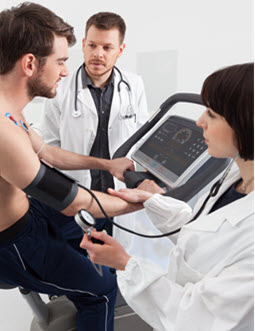 If you are wondering what is a Cardiologist and what do they do, then you have come to the right place. As a School of Medicine, we know all about residencies, medical specialties, fellowships, and subspecialties, including cardiology.
We currently have alumni pursuing fellowships to become cardiologists, as well as licensed, practicing cardiologists in the United States! Check out the links at the bottom of the page and read interviews with 2 alumni from UMHS medical school that are Cardiologists.
In addition, we will answer the 8 top frequently asked questions that our admissions staff get asked about Cardiologists and the cardiology subspecialty.
Frequently Asked Questions - Navigation Links:
Exactly what is a cardiologist?
When asked the question, what is a cardiologist, the most accurate answer we can give is the following:

A Cardiologist is a licensed Doctor of Medicine (M.D.) or Doctor of Osteopathic medicine (D.O.) that is specialty trained in the medical diagnosis and treatment of diseases and abnormalities of the heart, blood vessels, and circulatory system. Cardiologists who work with adults are subspecialists in the Medical specialty of Internal medicine while Pediatric cardiologists are subspecialists in the Medical specialty of Pediatrics. The education and training to become a Cardiologist takes a minimum of 10 years and includes 4 years of medical school, followed by a 3-year residency in Internal Medicine and a subsequent 3-year Cardiology fellowship.
What does a Cardiologist doctor do?
A cardiologist is a licensed physician that specializes in managing conditions that affect the heart and vessels such as high blood pressure, cardiac arrhythmias, heart valve disorders, heart failure, vascular diseases, heart attacks, abnormal heart rhythm, pacemaker heart disease, congenital heart disease, and chest pain. Cardiology physicians can work in both outpatient clinics and see patients within the hospital.

Cardiologists interview patients, conduct physical exams, listen to heart sounds, order laboratory tests, order imaging, prescribe and monitor medications or other treatments, prescribe regimens for cardiac rehabilitation, and perform minor procedures. Common tests that a cardiologist may order and interpret include:
Electrocardiograms (EKGs)
Echocardiograms (Echos)
Stress tests
CT angiograms
MRIs
Blood tests
Imaging
With their expertise in complex diagnosis, these medical professionals can also prescribe medications, become a trusted resource and suggest lifestyle changes such as dieting for weight management, dispel myths about home remedies, discuss health issues with a smoker, and suggest an exercise plan.
Why would a person see a Cardiologist?
Individuals with symptoms such as recurrent chest pain, leg swelling, difficulty breathing, or an irregular pulse may need an appointment with a cardiologist. The main way patients get to see Cardiologist heart specialists is by first getting a referral from one of the primary care doctors (Internal Medicine Physicians, Family Medicine Physicians, or OB-GYNs). Depending upon a person's medical insurance, some patients can schedule an appointment with a Cardiologist without a referral from a Primary care Doctor. However, the majority of health insurance plans do require referrals for specialists, like Cardiologists via the Primary Care Physician (PCP).

The four main reasons that people will see or be referred to Cardiologists are:
1. Family History - Heart disease is usually genetic, or "runs in the family". If a person has a mother, father, brother, or sister with a history of heart problems, then a primary care physician may suggest further testing.
2. Risk Factors - A referral for evaluation by a heart doctor is required when certain risk factors exist. These include:
High blood pressure
High cholesterol
Diabetes
Obesity
Smoking


3. Health complications during pregnancy - During pregnancy, human bodies undergo certain changes and must adapt. Unfortunately, there are several changes that are abnormal and can have severe effects on the cardiovascular system. These include:
Preeclampsia - Preeclampsia is a dangerous condition that affects blood pressure and can harm many organs. When a woman develops high blood pressure while pregnant and exhibits other indications that her body systems aren't working properly, she is diagnosed with preeclampsia.


Gestational Diabetes - Diabetes that is diagnosed during pregnancy is known as gestational diabetes. Gestational diabetes, like other forms of diabetes, impacts how the body uses sugar (glucose). High blood sugar levels caused by gestational diabetes can harm both mother and baby by increasing the risk of developing high blood pressure and preeclampsia.


4. Previously established conditions - Many patients referred to cardiovascular disease specialists are elderly individuals with a history of heart problems. These people may have been previously affected by adult congenital heart disease, heart attacks, abnormal heart rhythms (such as atrial fibrillation), coronary artery disease (coronary heart disease), or cardiomyopathy (chronic disease of the heart muscle). Men are at higher risk for these occurrences although the incidence of heart conditions in post-menopausal women increases after the age of 60.
Cardiologists education - How to become a Cardiologist doctor?
The educational path to become a Cardiologist takes a minimum of 13 years to complete. A great amount of commitment and sacrifice is needed to complete this career path. Assuming that a person has already obtained a high school diploma or GED, here are the stages to becoming a Cardiology specialist:
Step 1: Attend an undergraduate university or college and complete the required coursework necessary for entrance into medical school.
The required coursework for acceptance into medical school may vary from one institution to another. Some Medical schools require obtaining a Bachelor's degree while others do not. However, all medical schools have a list of required courses that applicants must complete. In the majority of cases, required courses include: Biology, Chemistry, Organic Chemistry, Mathematics, English (writing), and Physics. Highly recommended courses include Biochemistry, Psychology/sociology, and Anatomy with lab.
Medical admissions experts recommend getting a B or better in all classes to remain competitive. Other experiences like research, shadowing, volunteer work, and experience in leadership roles are also considered by admissions specialists.
---
Discover if a career in Cardiology is right for you.
Learn why 92% of doctors would choose the same specialty again.
---
Step 2: Prepare for and take the Medical College Admission Test - MCAT.
The MCAT is an eight-hour computer-based exam that is required for admission to all medical schools in the United States. It is very important to perform well on this examination in order to be considered for medical school. If a predefined MCAT score is not met, most med schools use complex algorithms that automatically screen and reject applicants.
Step 3: Get admitted into and attend an allopathic (MD) or osteopathic (DO degree) School of medicine.
Students interested in becoming Cardiologists must apply and be accepted into an Allopathic or Osteopathic medical school after completing their undergraduate qualifications. Because medical school admittance is so competitive, excellent GPAs and MCAT scores are crucial.

The education and training in medical school takes on average four years to complete and is divided into two parts. Years one and two are in-class didactic training, learning the fundamental sciences of medicine. Med students then spend the next two years in teaching hospitals, where they learn clinical skills and medical techniques. All medical students are required to pass two comprehensive medical board examinations during their education. The USMLE Step 1 and 2 examinations are required for allopathic students while D.O. students take the COMLEX tests, which are equivalent to Step examinations.

Students apply for and interview for residencies in their chosen field during their last year of medical school. Medical students are matched into a residency program using a computer based method known as "The Match". The most common route to become a Cardiologist begins by matching into Internal medicine. However, there is an alternate route, completed by matching into Pediatrics and becoming a Pediatric cardiologist. Finally, medical students finish their education and prepare for residency.
Step 4: Complete Internship and Residency programs.
In a residency program, graduates have a limited professional license and are able to examine patients under supervision. Internal medicine residency is three years in duration. During this time, trained students with an MD or DO degree gain experience by working in teaching hospitals, medical clinics, and ER departments, meeting patients and practice skills that will help them get a wide grasp of medicine. Also during the first year of residency, residents usually complete the COMLEX Level 3 or USMLE Step 3 exams.
Step 5: Cardiology Fellowship training.
To become a Cardiologist, Internal medicine residents must apply and be accepted into a Cardiology Fellowship. In order to apply for a Cardiology fellowship, Internal medicine residents must first become board certified by the either the American Board of Internal Medicine (MD's) or The American Osteopathic Board of Internal Medicine (DO's). Only the best and brightest are accepted into these prestigious programs. Cardiology Fellowship lasts for 3 years. Some Cardiology fellows pursue further heart specialization and apply to one of the Cardiology subspecialty fellowships that are discussed here:
Step 6: Obtain Board certification
The final certification needed before becoming a Cardiologist is achieved by passing the subspecialty board certification tests for Cardiology that is given by the American Board of Internal Medicine (ABIM) or the American Osteopathic Board of Internal Medicine (AOBIM).
What are the subspecialties of Cardiology?
There are several Cardiology sub-specialties in the United States that are recognized by the ACGME. These include:
cardiac electrophysiology - 2 additional years
Echocardiography
Interventional Cardiology
Nuclear Cardiology
Recognized subspecialties in the United States by the American Osteopathic Association Bureau of Osteopathic Specialists (AOABOS) include:
Clinical Cardiac Electrophysiology
Interventional Cardiology
How long is Cardiovascular disease fellowship?
Cardiovascular Disease Fellowship is the term given by the ABIM (American Board of Internal Medicine) for the subspecialty of cardiovascular diseases. This fellowship is 3 years in length and is commonly known as a Cardiologist fellowship.
Are Cardiologists Surgeons?
No, a cardiologist does not perform heart surgery and is not trained as a heart surgeon. The Medical specialist that does perform heart surgery is a cardiac surgeon. A cardiologist manages medical conditions with prescriptions and other treatments, while a cardiac surgeons treats medical conditions with surgery and other procedures.
Information about Medical school education and how to pursue a career as a Cardiologist?
By now, the reader should have great insight into the question - What is a Cardiologist? For those of you that are reading this article as prospective Medical students, you could be eager to begin your medical career and plan your journey toward becoming a Cardiologist. This starts with being admitted into a medical school such as UMHS. Click on the following link and learn more about The University of Medicine and Health Sciences School of medicine in the Caribbean.
Cardiologist's Profiles - Interviews with UMHS Medical school alumni that are Cardiologists
If you are exploring the possibility of becoming a Cardiologist, then please read interviews with several of our alumni. Each has a unique story about how they chose Cardiology as their chosen career and the University of Medicine and Health Sciences as their medical school of choice. Below the doctor's photographs are links to in-depth interviews with these Cardiology professionals! Please note that Dr. Arjun Kanwal chose to become a Cardiologist by going through the traditional route of Internal medicine, while Dr. Igor Areinamo followed the less common route by becoming a Pediatric Cardiologist via a Pediatrics residency before cardiology sub-specialization. Dr Kanwal is currently a 1st year fellow at New York Medical College, while Dr. Areinamo has completed a second fellowship in pediatric critical care and is now a pediatric cardiac critical care intensivist at the Texas Center for Pediatric and Congenital Heart Disease in Austin, TX.
Please note: Both interviews with these alumni took place prior to Cardiology Fellowship and we hope to update this soon!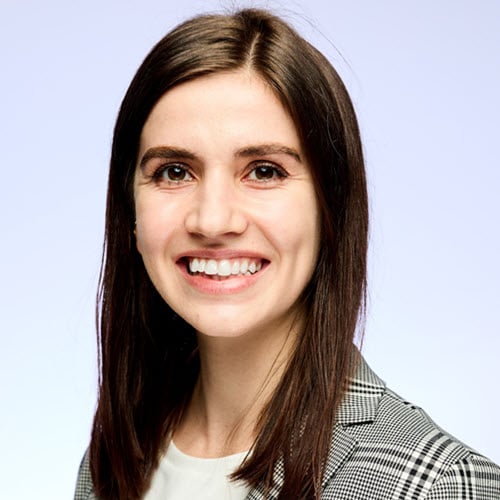 Posted by
Callie Torres
Callie Torres is a Captain in the United States Air Force and a resident at Wash U/Barnes Jewish Hospital in St Louis. She is a freelance writer with many published medical articles as well as multiple peer-reviewed medical publications