UMHS Class of 2018 graduate Dr. Arjun Kanwal is currently doing an Internal Medicine residency at MedStar Baltimore in Maryland. When the COVID-19 pandemic first hit the USA back in March, Dr. Kanwal and his hospital were overwhelmed with COVID-19 patients. At the time, we heard about all the important front-line work Dr. Kanwal was doing and reached out to him, but he was working nonstop.
Now that COVID-19 cases have declined in the Northeast and Mid-Atlantic regions of the U.S., Dr. Kanwal finally had time to talk to the UMHS Endeavour about the unprecedented public health emergency he and his colleagues have been dealing with the past three months. This is the latest installment in our UMHS Alumni On the Front Lines series, featuring UMHS graduates working to save lives during the COVID-19 pandemic.
Working in a Hospital at Height of Pandemic
As someone who has been out of medical school for two years, Dr. Kanwal, like most physicians, found the beginning of the COVID-19 pandemic frightening, almost biblical uncharted territory in a hospital setting.
"The transition from medical school to residency is close to 180 degrees," he said. "The responsibility of being a senior resident during the COVID-19 pandemic has been increasingly stressful. We are tasked with managing the sickest patients in the ICU, with a disease process that no one understands. The job remains frustrating, but rewarding as well."
---
Discover if a career in Internal Medicine is right for you.
Learn why 75% of doctors would choose a career in medicine again.
---
The hospital had to make many adjustments and take new precautions during the crisis.
"Our residency program had completely reworked our schedule to deal with the demand of patients. All residents are off of electives and we have implemented a 'backup' system, in case providers get exposed or are sick. It's a fluid situation so the game plan is changing almost daily. Just recently, toward the end of June, things have started to go back to normal. However, masks and eye protection are still being implemented throughout the hospitals."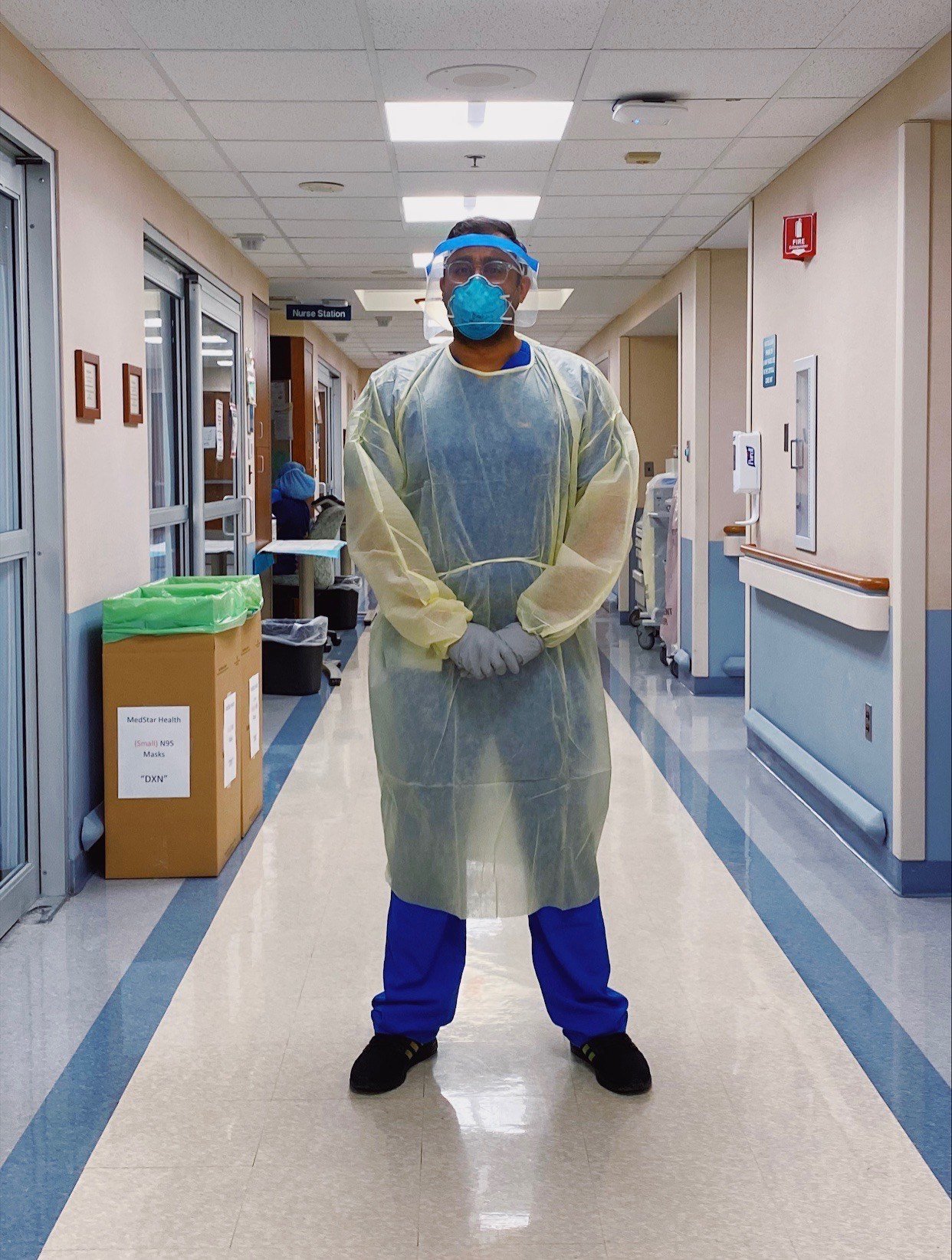 Dr. Arjun Kanwal on a shift treating COVID-19 patients. Photo: Courtesy of Dr. Kanwal.
Caring for COVID-19 Patients
Dr. Kanwal has been working diligently to treat COVID-19 patients the past few months.
"Being in the ICU for almost six weeks and the ED for two weeks during COVID-19, I probably cared for close to 100 patients. It was the craziest thing I've ever dealt with in my short time as a physician. We had adequate PPE; however, donning and doffing in between every patient room becomes tedious and exhausting. When I get home from the ICU, I immediately take off my scrubs and put them in the washer, and go straight to the shower. I make sure to put soap in my hair. I also have to clean my sneakers the second I get home to not track COVID-19 into the house."
What are the specific symptoms that may make doctors want to have a patient be tested for COVID-19?
"Everyone has the typical symptoms of cough, fever, shortness of breath," he said. "These symptoms are pretty non-specific, so even if you have them, I would urge caution for anxiety and hysteria. Other symptoms to look out for are decreased sense of taste and smell, which has been noted in younger individuals with COVID-19."
New York and other large cities are thinking built temporary hospitals and brought in naval hospital ships to treat emergency patients. The Baltimore area has implemented similar measures to treat the overflow of patients.
"Baltimore just announced that the convention center will be converted to a makeshift hospital, and Maryland is trying to reopen closed hospitals. It's unclear whether these hospitals will be for only COVID+ patients, regular patients, or a mix of both. It seems that as the numbers come down, a lot of the makeshift hospitals have closed. I think having them as backup was a great idea, and even though not used to their fullest extent, were good to have just in case."
Baltimore fortunately did not have the shortage of supplies and equipment that New York City experienced when the pandemic first hit.
"Our hospital has had adequate PPE and we have had no problems. We all have N95s to wear for COVID-19."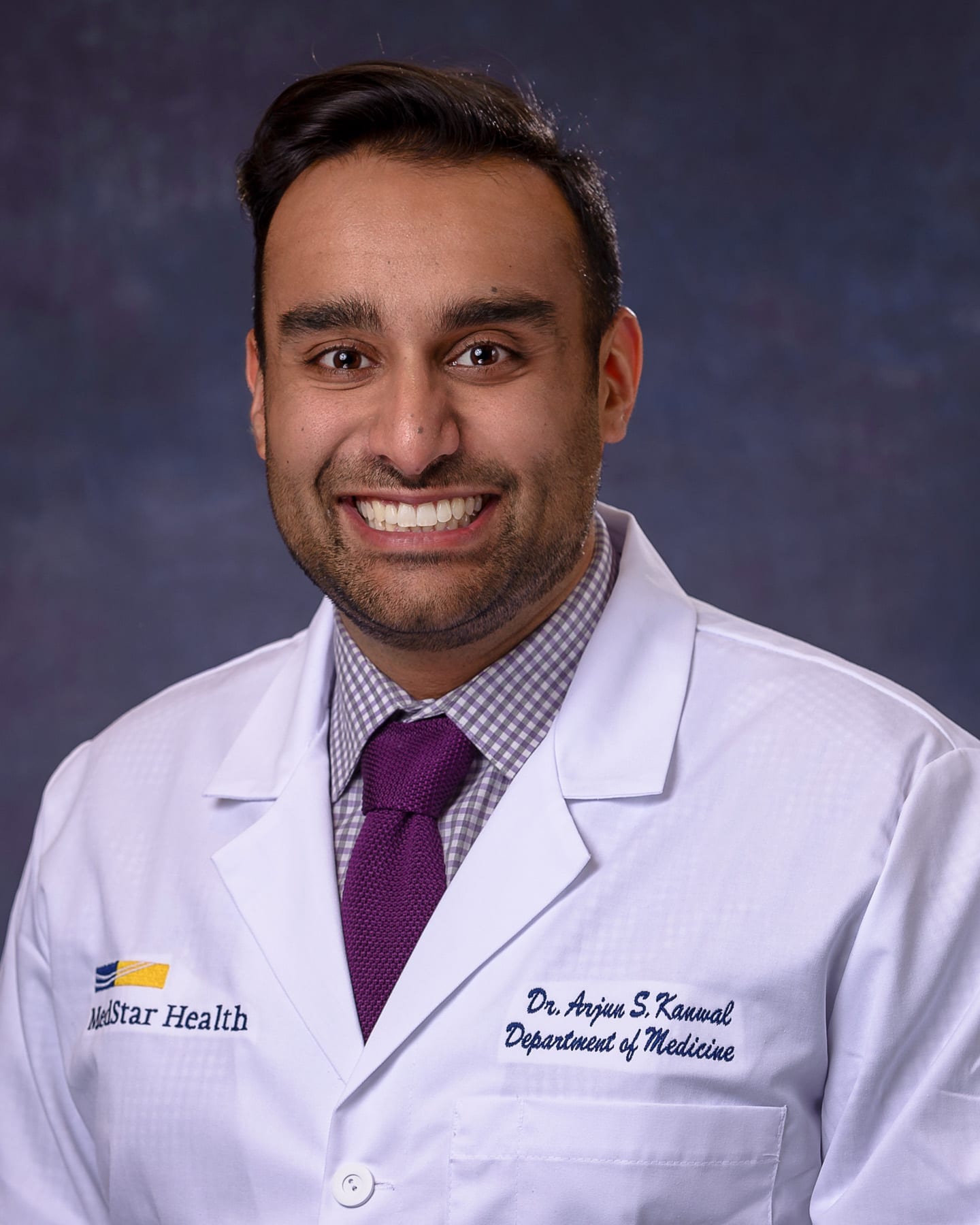 Dr. Arjun Kanwal. Photo: Courtesy of Dr. Kanwal
Treatment & Hospitalization for COVID-19 Patients
"Patients with confirmed or suspected COVID-19 may or may not need to be admitted to a hospital, based on what healthcare providers feel is necessary.
People who have a diagnosis of COVID-19 only need to be admitted to the hospital as providers see fit. While I was in the emergency room, there are many COVID-19 patients who do not need to be hospitalized and can be sent home with instructions to quarantine themselves. If patients are experiencing short ness of breath or require oxygen, they will likely be admitted to the hospital."
For people requiring hospitalization, a number of factors determine how long they need to be in the hospital and when they can be discharged.
"It changes from patient to patient based on why they are hospitalized, "Dr. Kanwal said. "Often COVID-19 is a disease of the pulmonary system but can also involve other systems such as the heart or the kidneys. The severity of the disease is what the length of hospitalization is going to be based on. I have seen people discharged after one day and I have seen patients that are in the hospital for almost two months. The patients that are in the hospital longer are obviously sicker."
Some of the sickest COVID-19 patients experience respiratory failure, septic shock and organ failure. While there is presently no vaccine or a widely used therapeutic drug, the virus is being treated with numerous methods.
"Currently there is very limited evidence on what treatments are available for COVID-19 people. Patients have anecdotally done better in some places with the use of anticoagulation. A study came out on remdesivir [an antiviral medication administered intravenously] which showed that the use of remdesivir decreases hospitalizations by four days. Most recently, a study came out showing that dexamethasone (a commonly used steroid) decreases mortality in these patients. We have tried using all of these treatments and more in our ICU and each patient reacts differently to each treatment. We need significant amounts of randomized control trials to figure out what the best course of action and treatment of these patients are."
Patients with milder cases of COVID-19 are somewhat easier to treat.
"Patients with mild COVID-19 often just get oxygen therapy and can be sent home. Some patients are being discharged on anticoagulation to the risk of hypercoagulable states."
Although COVID-19 cases are decreasing in the Northeast and Mid-Atlantic regions of the country, the virus is spiking in other areas. Dr. Kanwal warns that we all must still take COVID-19 seriously.
"As the number of cases go down of COVID-19, it is still important to be vigilant and remember that there is no cure or vaccine for the disease yet. It is still possible for anyone to acquire it. Unfortunately, we still know so little about it and while the mortality rate primarily affects the elderly, it can affect young people as well."
For more updates about Dr. Kanwal's time fighting COVID-19 on the front lines, follow him on Instagram: @Arjun.Kanwal
(Top photo) Dr. Arjun Kanwal in PPE about to enter the hospital room of an isolated COVID-19 patient.
---
About UMHS:
Built in the tradition of the best U.S. universities, the University of Medicine and Health Sciences focuses on individual student attention, maintaining small class sizes and recruiting high-quality faculty. We call this unique approach, "personalized medical education," and it's what has led to our unprecedented 96% student retention rate, and outstanding residency placements across the USA and Canada. UMHS is challenging everything you thought you knew about Caribbean medical schools.

Posted by
Scott Harrah
Scott is Director of Digital Content & Alumni Communications Liaison at UMHS and editor of the UMHS Endeavour blog. When he's not writing about UMHS students, faculty, events, public health, alumni and UMHS research, he writes and edits Broadway theater reviews for a website he publishes in New York City, StageZine.com.