UMHS 2021 graduate Dr. Neda Svrakic recently started an Internal Medicine residency at Rosalind Franklin University Medical School (RFMUS) Chicago Medical School. Becoming a doctor is a family tradition for Dr. Svrakic. Originally from St. Louis, MO, Dr. Svrakic learned a lot about medicine from her father, a psychiatrist.
"I am first-generation Serbian," Dr. Svrakic said. "My parents immigrated to United States in 1989. My dad's a psychiatrist. He's a Fulbright professor at the Washington University School of Medicine in St. Louis. I come from a long lineage of psychiatrists in my family, and so I knew that I always wanted to go into medicine. It's always been a huge part of my life, part of my childhood. I decided to major in molecular and cellular biology at the University of Illinois in Champaign-Urbana. I did that with the intention of going into medical school, so I was pre-med."
The UMHS Endeavour spoke to Dr. Svrakic about why she wanted to become a doctor, why she decided to look at Caribbean medical schools and chose UMHS, her interest in Internal Medicine, her future goal to one day be a Rheumatologist, advice for current and prospective students, and more.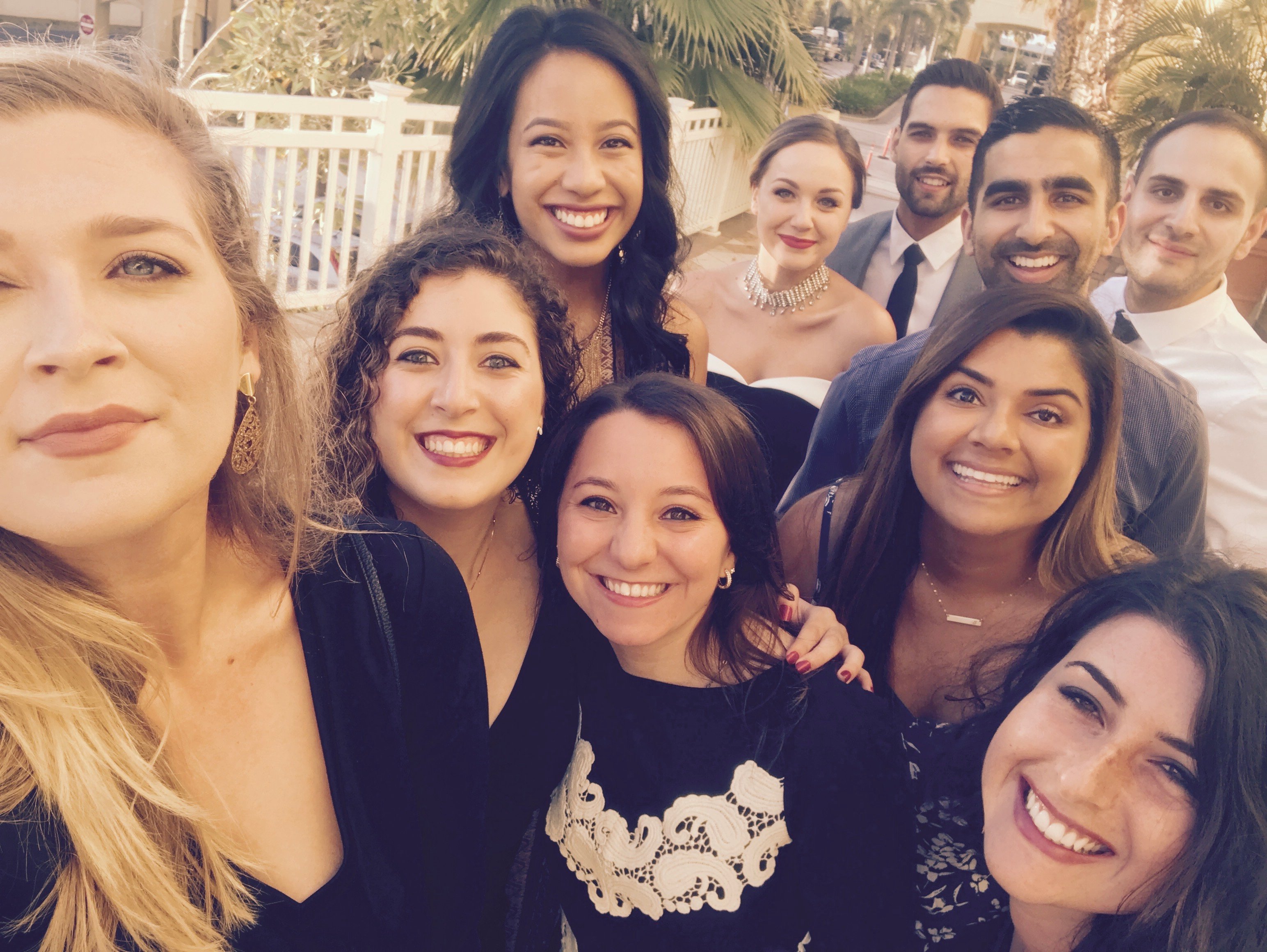 Dr. Neda Svrakic (left) & fellow UMHS students in St. Kitts. Photo: Courtesy of Dr. Svrakic.
Started in professional research before attending UMHS
While majoring in molecular and cellular biology as an undergrad, Dr. Svrakic conducted a large amount of research. She worked professionally in research in Chicago after graduating from college.
"Then I sort of came to a crossroads where I wasn't sure if I wanted to stay on the research side of things. I came to the realization one day that I wanted to go further. I didn't really see myself on the lab bench side of things, I think as a lot of people liked to say."
Her father had a resident who graduated from UMHS and was a first-year Psychiatry resident at Washington University School of Medicine in St. Louis. Dr. Svrakic said she was impressed, especially since the resident came from a Caribbean medical school.
"I was really intrigued. She offered to sit down with me one day and told me about her experience at UMHS, and how they had so many options and opportunities for clinical rotations, and really impressive board pass rates. And I said, 'This sounds perfect. This sounds like exactly what I want to do. It gives me a huge new opportunity to see how far I can push myself, not only academically but immersing myself in a completely new environment, totally new people, completely out of my comfort zone.' "
Dr. Svrakic applied to UMHS and was accepted immediately.
"Within two weeks I was on the island for orientation and haven't looked back since. It was one of the best decisions I've ever made."
Always wanted to become a doctor
Dr. Svrakic wanted to be a doctor even as a small child.
"I think there's even some preschool papers where they asked me when I was four years old, 'What do you want to be?' And I was like, 'I want to be a doctor.' And I thought I was going to be a psychiatrist. I did my internal medicine rotations. I did a sub-I in internal medicine. I did a bunch of electives in cardio, and renal nephrology, rheumatology, and I fell in love with it. So internal medicine it was."
Why UMHS?
When she was ready to apply to medical schools, she had many choices. In addition to the positive experience her father's resident had, what else made Dr. Svrakic choose UMHS?
"I would say one of the biggest things that stood out to me was their pass rates for the USMLE and the quality and quantity of clinical rotations that were available to us once we got to our third and fourth years. There was a huge hub in Chicago, which is where I'm from and I want to stay, but also, I was in Baltimore, I did some rotations at Johns Hopkins University, so it was just a lot of opportunity and availability for us for clinical experience, and I think that was huge for me."
She also had positive experiences with several professors.
"The first person that comes to mind is Dr. Anoop Jalan. He was a pathology one professor. He—to this day, and this is throughout in relation to all of my professors and undergraduate as well—he is the most impressive, knowledgeable, passionate, compelling professor I've ever had and probably ever will have. Really having the honor to be his student and witnessing how he teaches, pushed me into the conviction that I wanted to pursue academia as well once I finished residency and also become a professor of medicine."
The clinical experience was also outstanding.
"The quality of the attendings I think that I had, especially in Chicago and in Baltimore. They were so gracious and so willing to help out, write letters of recommendation, work with you, really push you and support you, and I think that was a huge component of my application. They really made it apparent how closely they were able to work with me and really see my skills, and my talent, and what I had to offer as a resident. I'm not sure if a lot of other people get that opportunity at other medical schools— I can't speak on that—but I know for UMHS the types of attendings we had was really one of a kind. I can say that with sincerity."
Internal Medicine residency at Chicago Medical School
Dr. Svrakic recently started an Internal Medicine residency at the Chicago Medical School, part of the Rosalind Franklin University Medical School in North Chicago, IL.
"They have a really great Internal Medicine program, and a lot of fellowship programs, and a lot of fellowship success for their residents. But, also, if you decided to just become a hospitalist, there's so many opportunities within the Rosalind Franklin network, but also in the city of Chicago. It's such a medical hub, so many hospitals, so many medical schools. It's a program of 10 of us. It's really IMG-friendly, but there's also a lot of residents who went to medical school at Rosalind Franklin or in the States."
Internal Medicine encompasses many of Dr. Svrakic's interests.
"I like seeing blood work and recognizing a problem and then having sort of your algorithmic approach to your treatment and your plan. I think Internal Medicine is really good at incorporating that. And I like the variety. There are so many things you can see day in and day out. I'm pretty hopeful that within even the first six months of my intern year, some things will become second nature in terms of treating congestive heart failure, diabetes, hypertension, sort of your bread-and-butter medicine that I think are just everywhere today, and to become as knowledgeable and as comfortable with those diseases as you can to provide the best patient care."
Dr. Svrakic did not initially want to pursue Internal Medicine.
" I always thought I wanted to do Psychiatry, but I felt like for my personal interests, and sort of what I gravitated to within a hospital, Psychiatry would put me in too small of a box. I also wanted to be in a hospital setting. And so those two factors were huge in pushing me towards internal medicine. I really wanted to specialize, I want to become a rheumatologist, and so the only way to do that is to do a residency in Internal Medicine."
Interest in rheumatology
Dr. Svarakic wants to eventually go into rheumatology. What does a Rheumatologist do exactly?
"A rheumatologist specializes, studies, and treats autoimmune diseases— lupus, rheumatoid arthritis— and it's a very holistic approach to medicine. It really deals with so many systems of the body. Predominantly, a lot of immune autoimmune diseases affect women, and I have a huge passion for women's health and sort of advocating for women in medicine on the patient side of things."
Rheumatology interests her for many reasons.
"I think it can be an incredibly rewarding practice because a lot of these patients do deal with chronic issues. They're in chronic pain. Most of the time they could go into heart failure, they have a lot of renal problems. So being able to alleviate any of that and help them live as 'normal' of a life as they can, I find to be incredibly rewarding. It's a huge goal of mine to be able to treat and call myself a rheumatologist."
How does one become a Rheumatologist?
"You do a two-year fellowship in rheumatology and then you could go private practice. You could work in a hospital, you could do research, you could even be on the molecular side of things, studying the antibodies or the genetic components of autoimmune diseases. There's a lot you can do."
Advice for current & prospective students
When students are about to apply for the residency Match, Dr. Svrakic advises UMHS students to follow the advice of the UMHS Academic and Student Affairs Department in the New York office.
"Associate Dean of Academic and Student Affairs Patrick McCormick is such an asset and such a resource. My first advice would be to become as familiar with the Match and interview process as you can. Patrick sends really informative emails. Basically, like any question that you could have, Patrick's already covered in his email, but he's also so incredibly responsive and helpful if you have sort of a more unique question, so that would be my first piece of advice."
When it comes to residency interviews, the adage "practice makes perfect" rings true.
"What helped me incredibly in the interview process was to practice. I feel like that's not sort of told to us enough' it's sort of like 'make sure that your CV is great, make sure you're applying broadly and all this.' But in between interviews, practice, go over interview questions, get an interview tutor. I used a tutoring company that was incredibly helpful, and we'd have one-hour sessions a week for four weeks. I think it really improved my interview skills, and I think that made a huge difference in how I performed, because it really a performance, sort of like a test. So, you have to practice, you have to study just like you would for any written exam."
Once one does obtain a residency, it is crucial to remain open-minded and be willing to learn as much as possible.
"I would say—and it probably falls in line with a lot of the incoming residents—that you're not going to know everything," she said. "It'd be unreasonable to know everything. You're still learning as a resident. You are a student. But my goal would be to be competent and reliable. I think that's my main goal and to absorb as much information as I can. But to be a dependable, reliable, competent resident, I think can take you really far, especially in this field, and to be eager to learn. Because it's a stressful time, there's a lot of responsibility, but I think if you remain eager to learn and open to becoming a really good physician, I think can make it so enjoyable and so rewarding."
Lessons from the COVID-19 pandemic
Dr. Svrakic said she believes doctors and healthcare professionals in general have learned many lessons from the COVID-19 pandemic, and as a result now is an important time to be entering medicine.
"I think now is the time, if any, that people really understand that doctors and nurses and Pas— any medical professional—is putting themselves on the front line. A lot of us were forced to stay home while our spouses, our parents, our siblings, whoever were going to work to the hospital, treating patients, exposing them to a virus that we didn't really know much about to make sure that we can stay at home and be healthy and be safe. And I think as rewarding and taxing as the profession can be, I think that's a really honorable side of being in medicine. I only have so much gratitude and respect for every medical professional who really put themselves on the front lines for all of us."
What did she personally learn as a med student from the pandemic?
"Nothing is guaranteed. You know the pandemic really made a huge impact on the application process and matching, and it made the year a lot more competitive. Because you can prepare so much and then all of a sudden something like this happens and you're sort of left thinking, 'What do I do now?'"

Willing to help current & prospective UMHS students
Dr. Svrakic said she's "100%" open to answering questions from current and prospective students.
"I got to UMHS because somebody helped me, so I'd love to pay it forward," she said. "I want to say that it will all work out, whether you're in basic sciences and nervous about block exams, passing Step One, passing Step Two, matching. The entire process is so long and it really is draining, but take care of yourself. Prioritize your mental health and your physical health, study hard, and if you do all those things, I think you're really set up for success. There really shouldn't be anything in your way."
Email Dr. Neda Svarakic at nsvrakic@umhs-sk.net

Posted by
Scott Harrah
Scott is Director of Digital Content & Alumni Communications Liaison at UMHS and editor of the UMHS Endeavour blog. When he's not writing about UMHS students, faculty, events, public health, alumni and UMHS research, he writes and edits Broadway theater reviews for a website he publishes in New York City, StageZine.com.