Dr. Jared Sharza kicks off our UMHS Class of 2022 Success Stories series, featuring interviews with some of the best and brightest graduates preparing to start residencies this summer. The UMHS marketing team has known Dr. Sharza since he was a student in St. Kitts, and he was one of the very first UMHS media ambassadors, helping us with social media in St. Kitts and Maine, all the way up to clinical rotations. Dr. Sharza matched in Emergency Medicine at McLaren Macomb hospital in Michigan and starts this summer.
Dr. Sharza also did a lot of EMS and frontline work during the COVID pandemic and the UMHS Endeavour recently interviewed him about Emergency Medicine, his journey through med school at UMHS, working during the pandemic and more.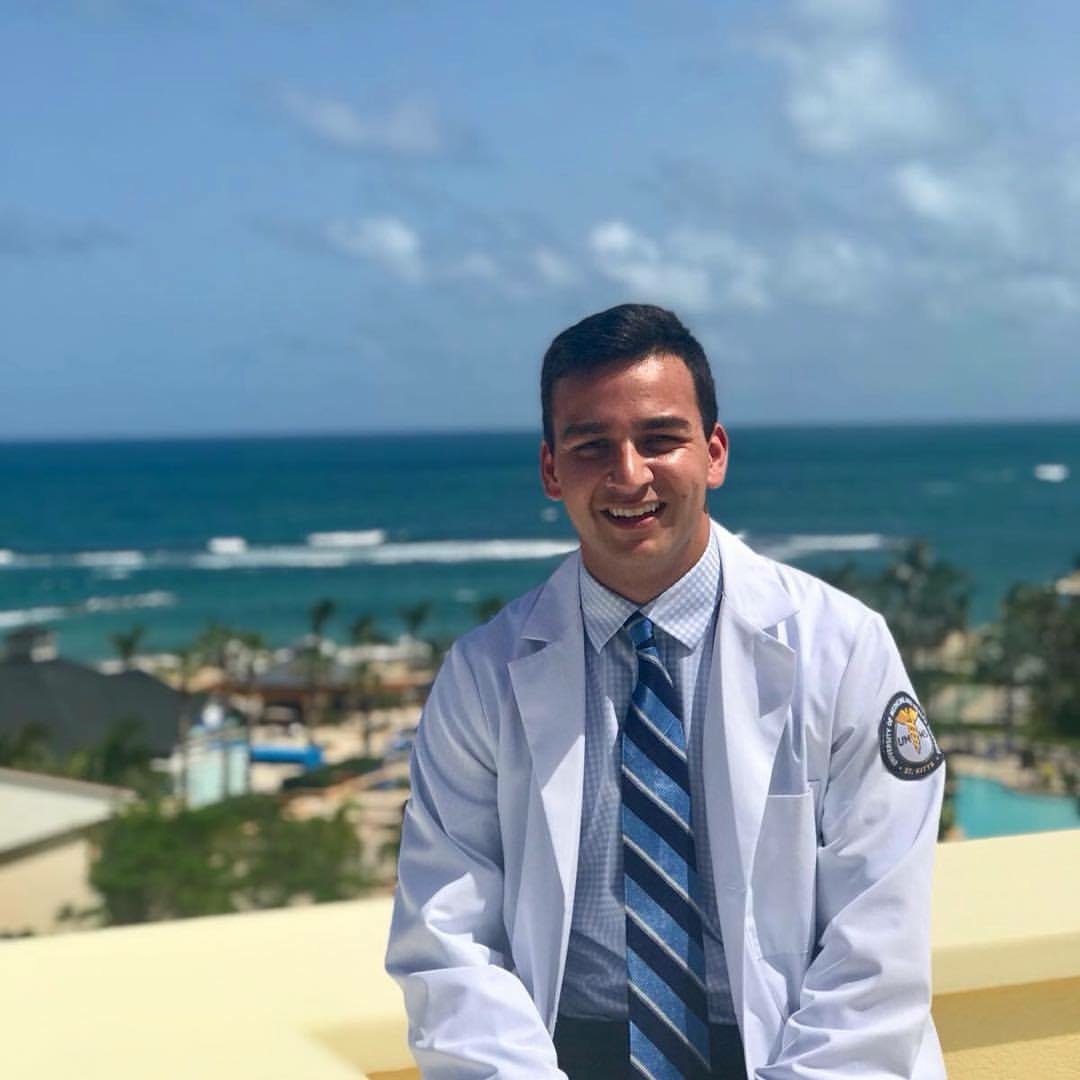 Dr. Jared Sharza in St. Kitts. Photo: Courtesy of Dr. Sharza.
Why UMHS?
Although Dr. Sharza is a young doctor, he was a nontraditional student and did not study on a pre-med track as an undergraduate.
"I'm from Canandaigua, New York," he said." It's a small town in upstate New York. It's close to Rochester, for anybody who's familiar with the area. I went to undergrad at St. Lawrence University for two years, where I was trying to focus on economics and pre-law. Then I transferred over to Nazareth College in Rochester, New York, where I studied anthropology. And afterwards I started getting involved with EMS where I was curious about medicine, but I wasn't really sold. I never did the pre-med traditional track or anything.
"So, I really wanted to just get a little experience in that. And I ended up falling in love with EMS. I worked about a year after graduating undergrad, and I found myself in a position where I wanted to go further with medicine, but I just didn't have the traditional background.
"What I ended up doing was researching different schools for non-traditional students. And I started coming across all of these Caribbean schools. It was funny because at the time I was reading this book called The Rum Diary, by Hunter S. Thompson. It was a wacky book about journey and discovery—but also adventure—for a young professional. I decided that I really wanted to go to the Caribbean. I wanted a life experience along with an education and I was looking into these different schools."
While working an overnight shift with EMS, Dr. Sharza went to the UMHS Facebook page. He noticed someone he knew was a UMHS student.
"So, I sent him 20 messages or something overnight. And the next morning he actually replied to all of them talking about the school. So that really sold me right then and there to get more information, to submit my application. And I absolutely do not regret it."
Dr. Sharza always had an interest in experiencing different culture so attending med school in the Caribbean was a good fit for him.
"Going to the Caribbean just was a perfect opportunity for me," he said.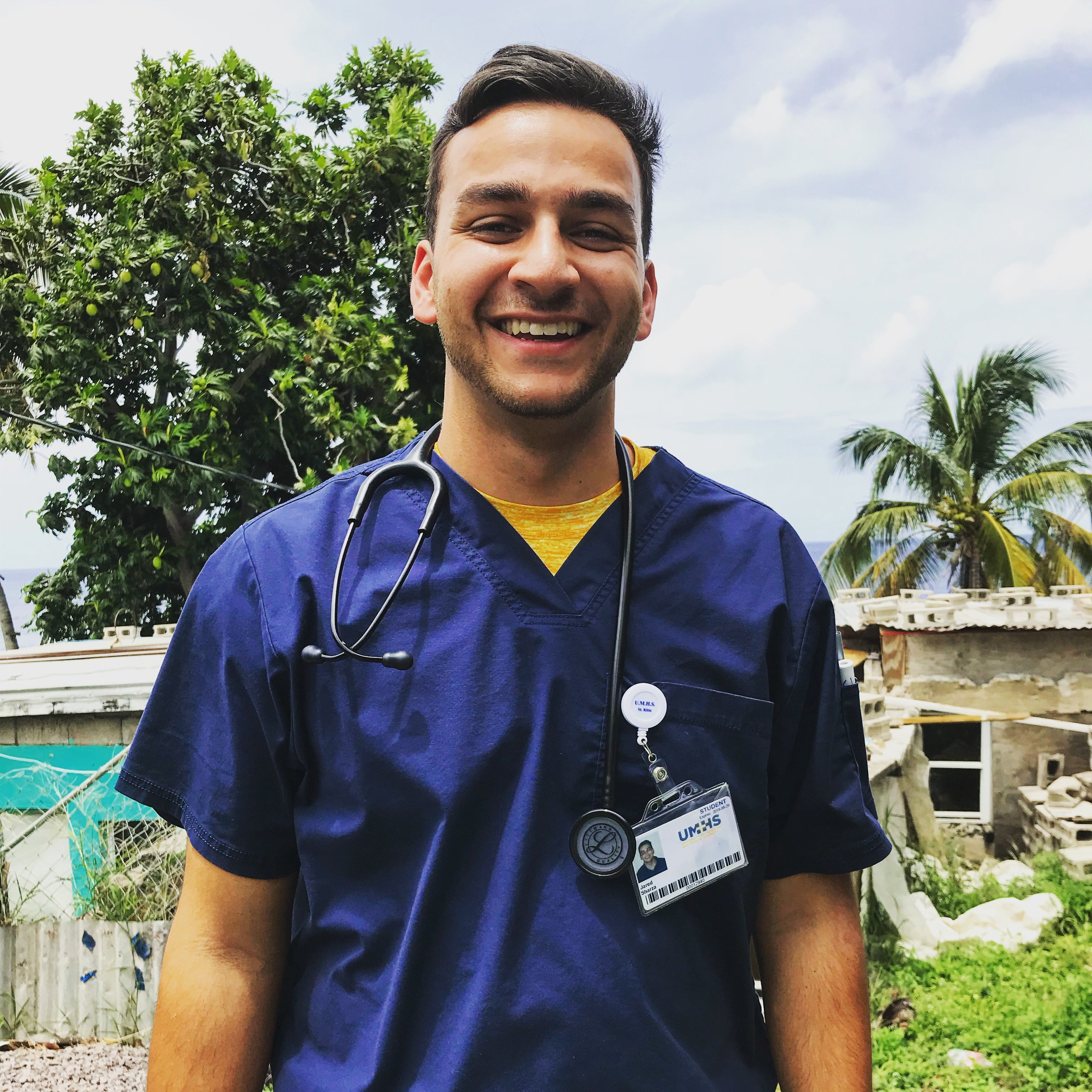 Dr. Jared Sharza when he was a student in St. Kitts. Photo: Courtesy of Dr. Sharza.
---
Discover if a Caribbean Medical School is right for you.
Learn about the most popular alternative path to becoming a doctor.
---
The UMHS experience
Many professors and staff members in St. Kitts, Maine and clinical rotations were especially inspiring to him and he believes UMHS is a very community-driven campus.
Certain faculty members have been particularly helpful over the years.
"Dr. Abayomi Afolabi [Course Director and Associate Professor of Anatomy] has always been one of my supporters, and I always got motivation from him. He always just spread great messages and everything. May he rest in peace—[the late] Dr. Michael Doherty was also a big proponent for continuing to move forward, continuing to challenge myself, but really everybody just on St. Kitts alone was awesome. And definitely Dr. Patrice Thibodeau [Assistant Clinical Dean, Director of Introduction to Clinical Medicine II], up in Maine, really set us up for success and really pushed us."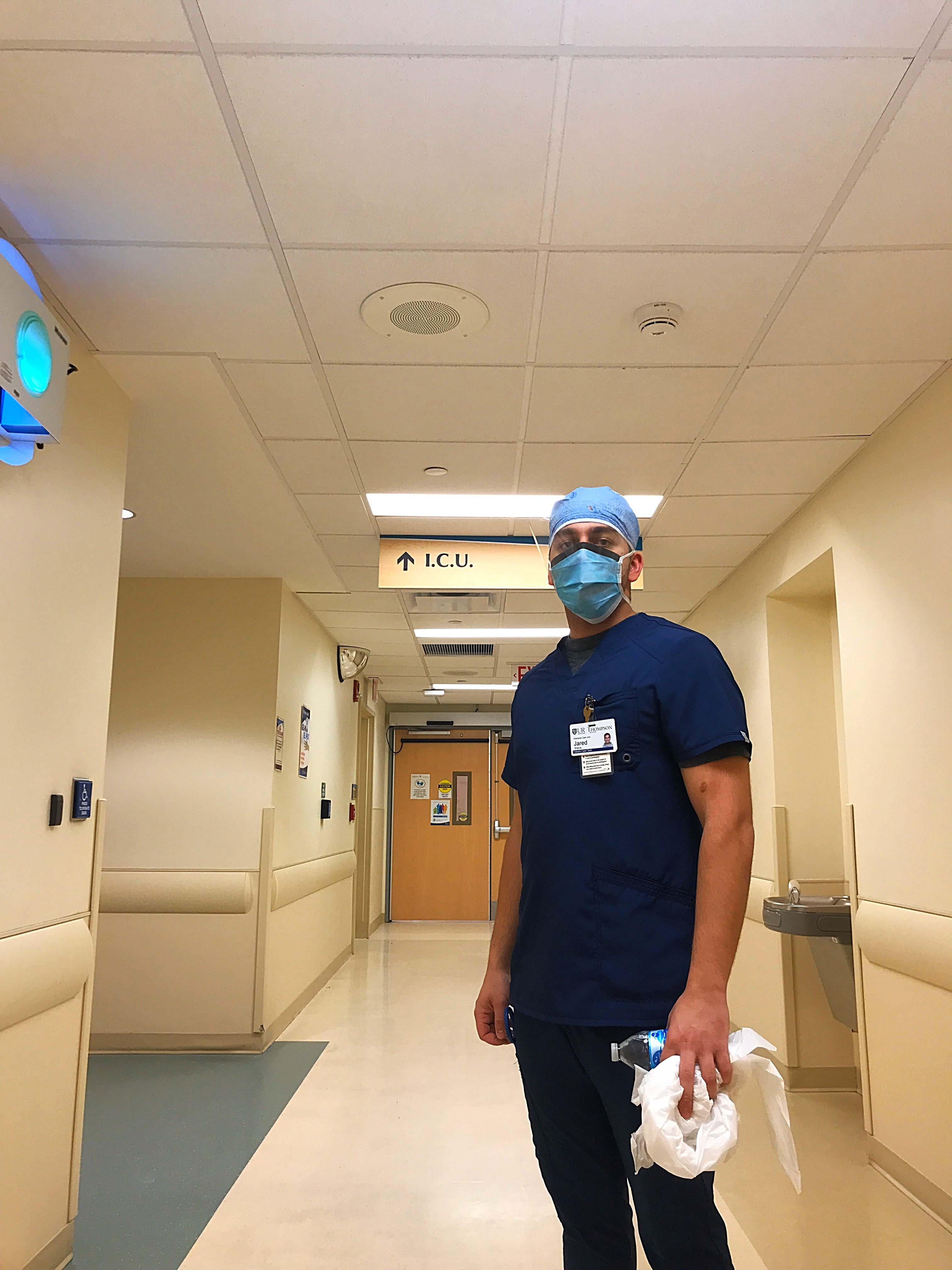 Dr. Jared Sharza in PPE at the end of a long shift during the COVID-19 pandemic in June 2020. Photo: Courtesy of Dr. Sharza.
Why Emergency Medicine?
Emergency Medicine is a highly specialized area of medicine. What about it initially interested him?
" I guess it was just my curiosity, and fostering my education, and interest, from every single class that I had."
Dr. Sharza did a lot of EMS and frontline work during the early days of the COVID-19 pandemic. He learned a lot about Emergency Medicine during clinical rotations.
"It actually all came about when I started my clinical rotations, beginning of my third year. I got to be a base student at McLaren Macomb, and I had always played around with the idea of, especially as an IMG, is it better to rotate at multiple different places or to really plant yourself at one place to grow and to facilitate more opportunities hopefully to match? But when I was there, I really enjoyed all rotations and just getting all the skill from different rotations allowed me to perform pretty well enough, I suppose, on my Emergency Medicine rotation. McLaren Macomb is a small, medium-sized hospital in the suburbs of Detroit in Mt. Clemons, Michigan."
McLaren Macomb is a hospital with a little under 300 beds.

"When I first started rotations, they were building an expansion onto the hospital. And part of that expansion is a 69-bed emergency room. That was really cool to me because they went from a 20-something bed ER to tripling their size to a large-scale ER. It's a level-two trauma center, which is really attractive to me because what that's going to allow, hopefully, is to get patient volume, and hopefully a widespread of patient presentation cases, along with breadth of procedures as well."
What exactly does an Emergency Medicine doctor do?
"I feel like a lot of the times people just think that Emergency Medicine is a lot of heart attacks. It's a lot of immediate treatment, but Emergency Medicine is the stabilization. It's the triaging. And it's the treatment of different patients that come into the hospital. It can be from lifesaving measures, to non-acute measures, with patients coming in just for minor complaints. And from there, they're either discharged to go home or they're admitted into the hospital for further workups, evaluations, or procedures by other teams. In that sense, Emergency Medicine is the frontline of the hospital for different resources."
What interests him the most about the specialty?
"Emergency Medicine—on top of my experience having been a medic for just eight years now—I really enjoy the fast-paced environment. I enjoy the variety that comes into the department. I like how I can go from one case to another and it can be something mild to mild, or mild to severe, and that kind of environment I really do thrive in. It's just about anything and everything. And I also do enjoy some procedures as well. Emergency Medicine allows me to really do all of those different things."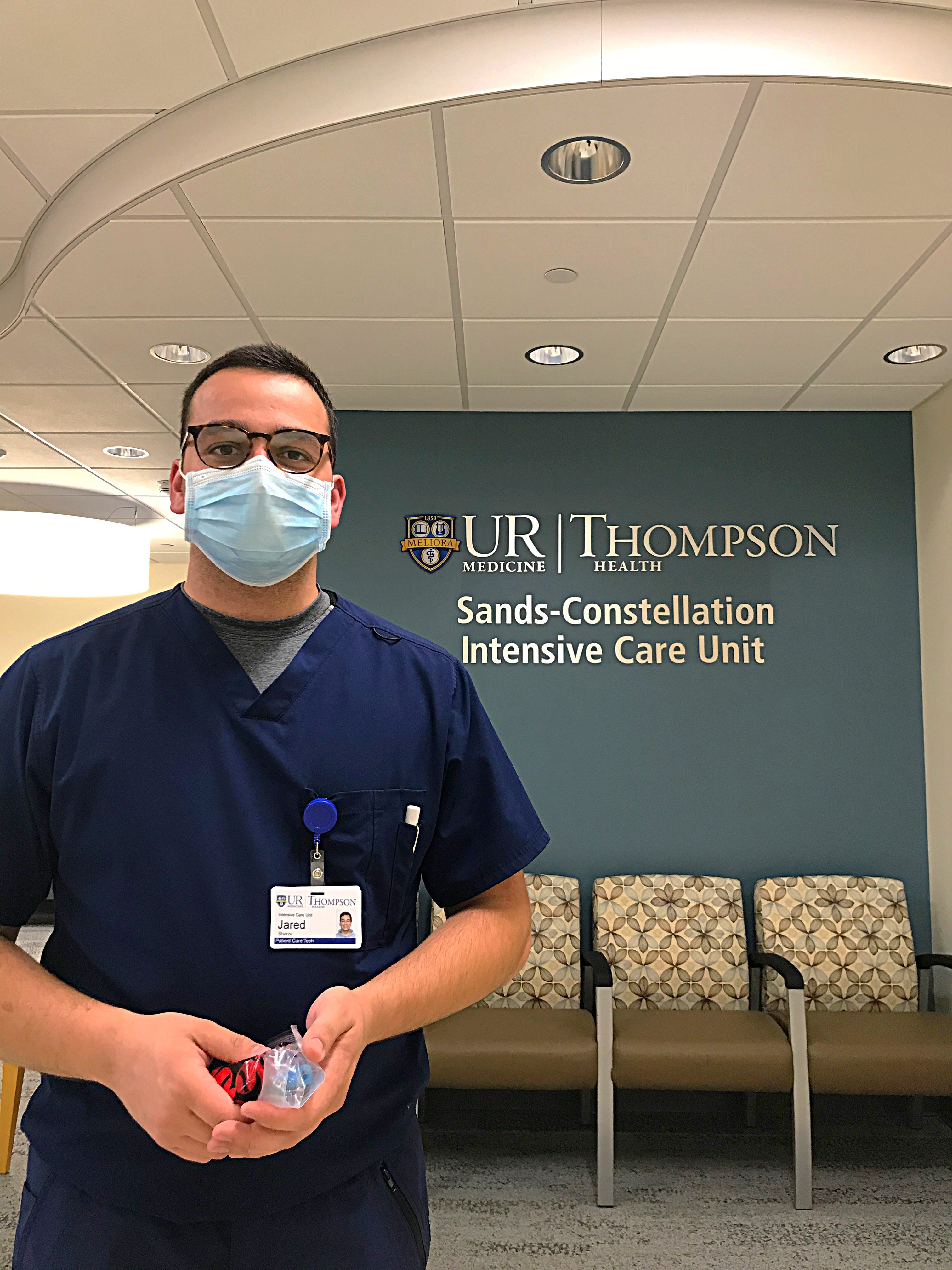 Dr. Jared Sharza about to start work during clinical rotations back in summer 2020. Photo: Courtesy of Jared Sharza.
Excelling in medical school
Dr. Sharza has simple advice for doing well in med school.
"Coming into UMHS, it's very important that you take advantage of as many opportunities as possible. Whether it's academic or recreational, all of those different resources and opportunities that we have at UMHS allow you to grow personally and professionally."
While in clinical rotations, it is important to take advantage of networking opportunities.
"The biggest thing that I'm proud of is our network. Take advantage of it because you never really know what opportunity is going to be highlighted on your resume when you're applying to residency or what's going to stick out."
Staying focused is key.
"I think it's very important to be the most hardworking person you can. Stay the extra hour, see the extra patient, watch the extra procedure. It's something that people really watch, and they remember that."
Goals for residency
Dr. Sharza has many goals for residency.
"Emergency Medicine is starting to transition from a four-year residency to a three-year training. So, my goals are to see as many patients as I can, do as many procedures as I can. That way, I'm coming out of the gate feeling prepared. With the high volume and high acuity of cases that come in through the doors at McLaren Macomb, I certainly feel like I'm going to be well prepared afterwards."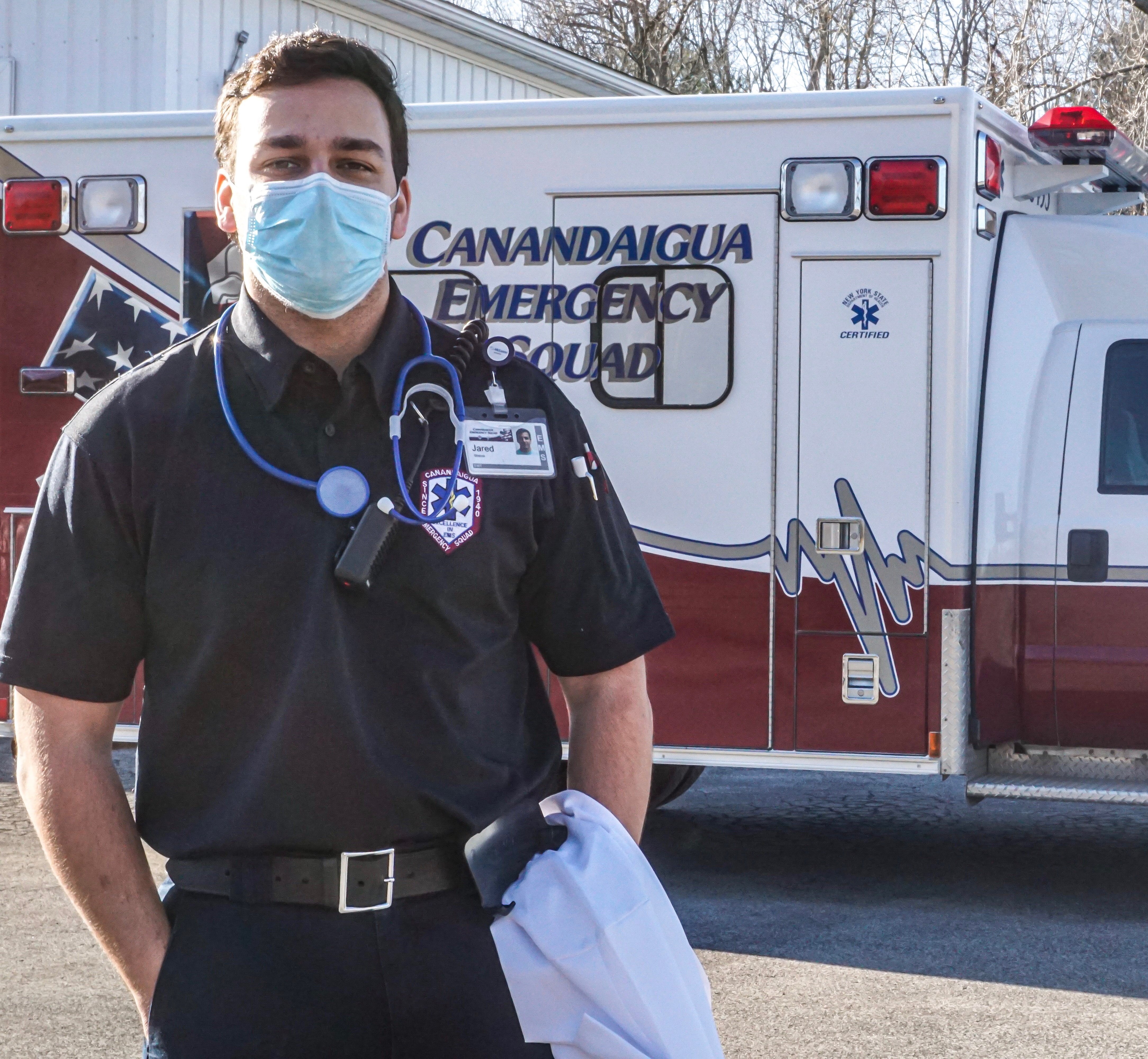 Dr. Jared Sharza during his EMS work in hometown of Canandaigua, NY in 2020. Photo: Courtesy of Dr. Sharza.
Medicine during the COVID-19 pandemic
Dr. Sharza did a lot of important frontline work the last two years. Now is a crucial time to be a doctor, and the public has a better understanding of the importance of doctors after all that has transpired since early 2020. However, the intensity in the healthcare system has taken a toll on many.

"I certainly do believe that not just as physicians, but throughout the healthcare system as a whole, people are fatigued. Especially during COVID, people were being overworked and everything.
"Physicians certainly found themselves in the middle of it. I think it's super important that we're joining the work forces with a lot of excitement, because we're going to be able to rekindle the flame in a sense where we're coming in with wide eyes. I think that's going to really inspire a lot of people back into medicine."
What does Dr. Sharza think most med students have learned from the pandemic?
"That's a really interesting question because in med school and in any healthcare training, we're always taught in a way where patient has a complaint or problem, we give it a diagnosis and we can give it a treatment. But what we're seeing, especially throughout the pandemic, we've had to come up with different ways of fighting this virus. The other thing to be taught as a lesson is the fact that not everybody is going to be as supportive of the means of treatment. And that's where we feel a little—not embarrassed—but we feel a little bit inadequate in a sense that what we are supposed to do, people aren't really listening, even though we're trying to help. It's one of those things where no matter what you do, people just won't listen. But it's okay that other people have other opinions. Even though it may not benefit the entire public, it's one of those things, I think as a med student, it's very important to learn that we might have the means available and able, but not everybody's going to listen."
---
Clip of Dr. Jared Sharza video interview on UMHS YouTube channel
Dr. Jared Sharza can be reached via email at jsharza@umhs-sk.net.

Posted by
Scott Harrah
Scott is Director of Digital Content & Alumni Communications Liaison at UMHS and editor of the UMHS Endeavour blog. When he's not writing about UMHS students, faculty, events, public health, alumni and UMHS research, he writes and edits Broadway theater reviews for a website he publishes in New York City, StageZine.com.