Single-payer healthcare in the USA is a hot topic these days, particularly among millennials and Generation Z as the 2020 presidential election nears. The UMHS Endeavour is exploring this controversial issue in a new series "Single-Payer Healthcare Spotlight," showing both the pros and cons of a nationalized medical system similar to what nearly every other nation in the world already has.
Stephanie Nakajima, Communications Director of the nonprofit advocacy group Healthcare-NOW!, with headquarters in Boston, granted an exclusive interview to the UMHS Endeavour for the first installment of our series and gave simple, incisive answers to some of the common questions about single-payer, and also debunked many of the misconceptions.
'Medicare for All' Key Election Issue in 2020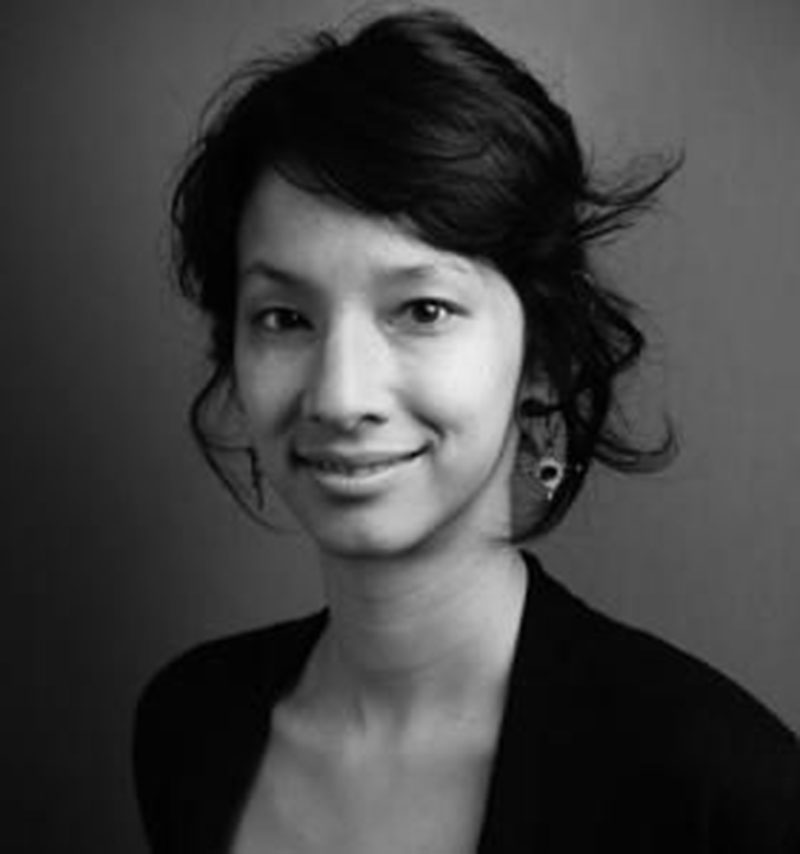 Single-payer healthcare is often called "Medicare for All" by advocates. Stephanie Nakajima of Healthcare-NOW! explained why this will be a key issue in the upcoming presidential election.
(Photo, inset right) Stephanie Nakajima of Healthcare-NOW! Photo: Courtesy of Ms. Nakajima.
"After the 2016 election, we had a huge surge in the number of cosponsors for H.R. 676, the Expanded and Improved Medicare Act – currently 64% of House Democrats are on the bill," Ms. Nakajima said. "Last year, Senator Bernie Sanders introduced a similar bill in the Senate, which all of the 2020 frontrunners – Elizabeth Warren, Kamala Harris, Corey Booker, etc. – have cosponsored. With healthcare being consistently the number one or two issues that Americans care about, and a majority of Americans – 58% - in support of a single-payer healthcare system, Medicare for All will be key in 2020, and in any election beyond that until we finally have a single payer healthcare system.
Regardless of one's political party affiliation, it is a fact that the current American healthcare system is expensive because people must either use employer-sponsored private insurance with high deductibles and high doctor and prescription copayments or pay out of pocket. You may have heard horror stories about people who have no insurance, get into an accident, run up astronomical medical bills and eventually must declare bankruptcy and ruin their credit. The Affordable Care Act "Obamacare" plans have notoriously high deductibles and as most millennials can attest, the plans mostly cover catastrophic illness. CNN reported in 2016 that the average deductible on an Obamacare plan for an individual was $6,000 and $12,400 for a family in 2017. Government-subsidized Medicaid plans mostly cover those living below poverty level and it's not easy to qualify, especially if one is a student over age 26 working part time.
So, what are the benefits of a single-payer system and how would it work in the U.S.?
"From a policy perspective, giving everyone healthcare coverage while reducing healthcare spending is a pretty neat advantage," Ms. Nakajima said. "Fulfilling everyone's right to healthcare and giving people equal access is a moral advantage. And from a personal level, the one that most people operate on – the biggest advantages include never having to go bankrupt to pay for care during a major illness or trauma, being able to choose whatever doctor you want, and not having to choose between care and other necessities of life."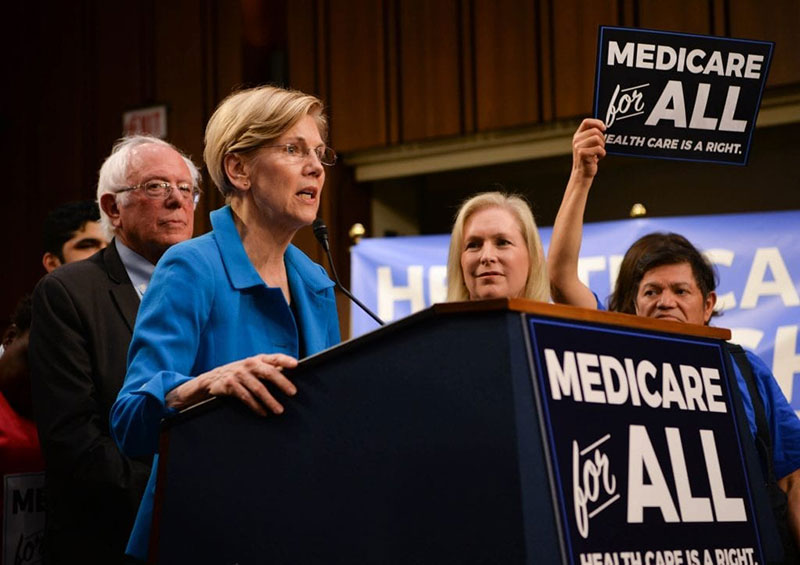 DEMOCRATS FOR 'MEDICARE FOR ALL': Senator Elizabeth Warren (D-MA) speaks in 2017 about single-payer healthcare as Senator Bernie Sanders (I-VT) listens in background. Photo: Senate Democrats/Wikimedia Commons
Benefits for New & Future Doctors
A single-payer healthcare system would mean many people who could not afford to go to the doctor would be able to do so, meaning doctors would be more in demand than ever before in U.S. history. This could be quite beneficial to future millennial and Generation Z doctors.
Ms. Nakajima explained why single-payer healthcare would benefit both patients and doctors and help the current physician shortage in America.
"So many providers talk about the frustration of poorly served or 'revolving door' patients – ones who can't get the care they need because there aren't enough programs or resources, their patients don't have insurance, or their insurance doesn't cover the care they need," she said. "A single-payer system can budget and redirect funds where they are needed rather than where they will bring in the most financial return, solving many of the problems that vex providers. Single-payer could also take steps toward resolving our shortage of Primary Care physicians, by taking on the medical cartel that prevents more doctors from becoming trained and licensed and also by encouraging Primary Care doctors to go to places with shortages with financial incentives."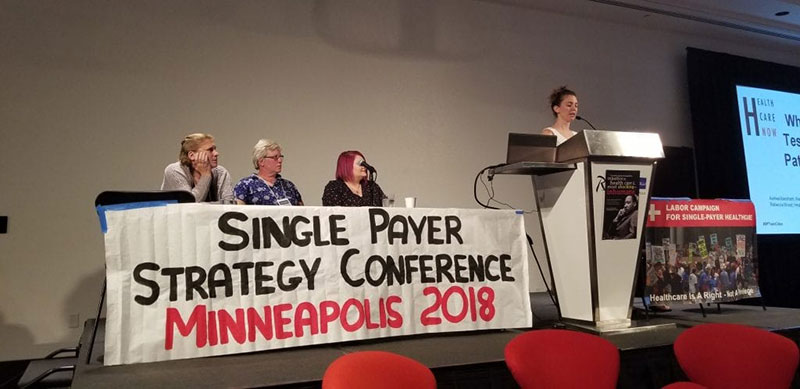 Answers to Criticism of 'Medicare for All'
"Nationalized healthcare works overseas, but will never be feasible in America because we have a bigger population than most small European countries" is a common argument from critics of single-payer.
When we posed this question to Ms. Nakajima, she said, "I'll let Bernie [Sanders] take this one: 'If every major country on earth can guarantee health care to all, and achieve better health outcomes, while spending substantially less per capita than we do, it is absurd for anyone to suggest that the United States cannot do the same.' "
The second often-heard criticism of single-payer healthcare is that it cannot work in the USA because we see private hospitals and doctors as superior to others, although there are many great public hospitals throughout the country. As Ms. Nakajima explains, nothing would change regarding hospitals and doctors.
"Single-payer healthcare is about making health insurance coverage a public good, but healthcare providers would continue to be a mix of public and private, as they are currently," she said. "Almost all countries with single-payer healthcare systems have a similar mix as the U.S., including Canada. One benefit of a single-payer system, however, is that it would do a better job of stabilizing finances for hospitals servicing low-income communities and providing low-reimbursement services such as mental health and care for substance use disorders, which are disproportionately public hospitals."
One of the largest fears many have is that with a single-payer system, the government would "ration" care.
"Every system rations based on resources – most other countries ration based on need, rather than the way the U.S. rations, which is on ability to pay," she said. "Unlike all other OECD [Organization for Economic Cooperation and Development] countries, the U.S. doesn't keep track of its waiting times, so it's difficult to compare; however, according to self-reporting, U.S. wait times to see both GPs and specialists are in line with countries like France and Germany. So even in that sense, we most likely 'ration' at about the same rate as other similar economies; we're just so used to being told that we have the best healthcare in the world and that everyone else waits in line."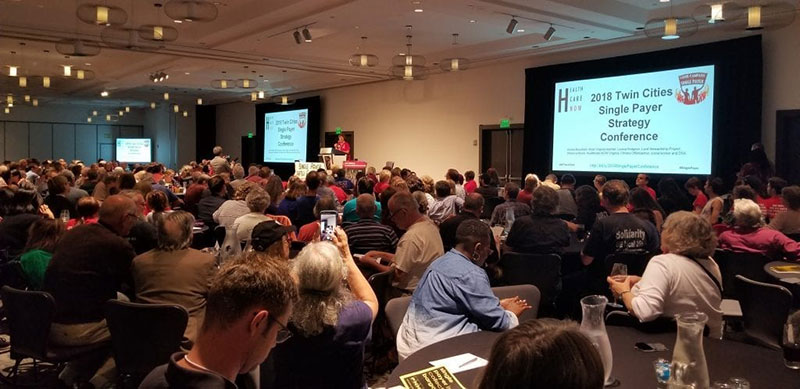 Is Single-Payer 'Socialized Medicine'?
Many critics say single-payer healthcare is really socialism in action and is "socialized medicine," but there is indeed a difference.
"We at Healthcare-NOW find no fault with socialized medicine, but that is not what we're fighting for. In socialized medicine systems, not only does the government finance health insurance, but hospitals are owned by the government and doctors are salaried public employees," Ms. Nakajima said. "Examples of this include England's NHS, Spain's health system, and our very own Veterans Administration. Single-payer healthcare is a system of public insurance but private delivery – so while the government collects taxes for the financing of the system, the doctors and hospitals are mostly private."
Taxes & Single-Payer
Americans must realize they are already paying for health insurance through payroll deductions (or on their own), plus high deductibles, high doctor and specialist co-payments and high prescription drug co-payments. Granted, with a single-payer system, we would be paying a little more in taxes, but we would also no longer be paying for insurance premiums and co-payments, and some healthy millennials and Generation Z members would no longer be forced to use insurance plans with absurdly high deductibles of $7,000 to $8,000.
"Taxes would definitely go up through a single-payer system, and we think that's ok – after all, Americans are happy to pay taxes for the things we currently receive through public financing like roads, police, and public education," Ms. Nakajima said. "The important question is not about tax hikes, but whether at the end of the day people would be paying more for healthcare than they do currently."
Lessons from 'Romneycare'
Mitt Romney, former Massachusetts governor and the 2012 Republican presidential candidate, helped create healthcare reform in Massachusetts, passed in 2006 and often called "Romneycare." As Ms. Nakajima explains, with its mandate that every Massachusetts resident maintain a minimum level of healthcare, it became the model for the Affordable Care Act, but it is not a single-payer system.
"The lesson from Massachusetts is that if you want to expand coverage to (nearly) everyone, and you don't want to go the public route, you'll have to spend quite a lot; while Massachusetts has one of the lowest uninsurance rates in the country, it also has some of the highest per capita healthcare costs and rising unsustainably," she said.
Coverage from Cradle to Grave
How possible is it that America will one day have a single-payer healthcare system ? Of course, it will take a different administration and a majority of progressive Democrats in Congress, and that may happen sooner than we think. Single-payer healthcare is an issue most millennials and Generation Z members are passionate about, but older Americans remain skeptical. Those over 40 have been raised to believe it's best to keep the government out of the medical field.
Do skeptics have reason to be concerned? Of course, but doctors are becoming some of the biggest advocates of single-payer. A recent article in Kaiser Health News spoke about the American Medical Association (AMA) meeting in Chicago this June. The AMA has been opposed to single-payer healthcare for years, but agreed to a full hearing at the June meeting. Shefali Luthra noted in the article that "by the meeting's end, the AMA's older members had agreed to at least study the possibility of changing its stance."
For advocates like Stephanie Nakajima, single-payer healthcare simply makes sense.
"If the experience of the rest of the world is any indication, then public financing of healthcare allows taxpayers to get more healthcare for less money," she said. "Not only would you be getting comprehensive coverage from cradle to grave, unless you're in the top 5% of earners, you'll end up paying less than you do now. And your 'payments' would be more predictable – rather than paying a large sum when you got sick, you'd pay consistently over a lifetime and be guaranteed coverage every time you walked into a doctor's office - whether you needed a check-up or chemotherapy."
Future installments of Single-Payer Healthcare Spotlight in the UMHS Endeavour will include details from opponents and interviews with physicians and medical experts about their thoughts on this important topic.
Email info@healthcare-now.org for more information on Healthcare-NOW! or visit https://www.healthcare-now.org/

(Top photo) 'MEDICARE FOR ALL' RALLY IN TWIN CITIES: Advocates for 'Medicare for All' in Minneapolis earlier this year. Millennial & Generation Z med students are among single-payer healthcare's biggest supporters. Photo: Courtesy of Healthcare-NOW!
---

About UMHS:
Built in the tradition of the best US universities, the University of Medicine and Health Sciencesfocuses on individual student attention, maintaining small class sizes and recruiting high-quality faculty. We call this unique approach, "personalized medical education," and it's what has led to our unprecedented 96% student retention rate, and outstanding residency placements across the US and Canada. UMHS is challenging everything you thought you knew about Caribbean medical schools.

Posted by
Scott Harrah
Scott is Director of Digital Content & Alumni Communications Liaison at UMHS and editor of the UMHS Endeavour blog. When he's not writing about UMHS students, faculty, events, public health, alumni and UMHS research, he writes and edits Broadway theater reviews for a website he publishes in New York City, StageZine.com.