February is Heart Health Awareness Month, and many corporate sponsors are teaming up with the American Heart Association to "Go Red for Women" because studies show heart disease is the number one killer of women in the USA, claiming more lives than all forms of cancer combined, but only 1 in 5 women believe heart disease is a threat.
Friday, February 7, 2014 is National Wear Red Day, when women across the nation will wear red to raise awareness of women's heart disease, which strikes at any age.
The UMHS Pulse looks at some of the surprising statistics about heart disease in women and what you can do to stay "heart healthy."
Women & Heart Disease
The American Heart Association's Go Red for Women website outlines startling facts about heart disease and women.
Heart disease causes 1 in 3 women's deaths each year, killing approximately one woman every minute.
90 percent of women have one or more risk factors for developing heart disease.
Since 1984, more women than men have died each year from heart disease and the gap between men and women's survival continues to widen.
The symptoms of heart disease can be different in women vs. men, and are often misunderstood.
While 1 in 31 American women dies from breast cancer each year, 1 in 3 dies of heart disease. Heart disease affects women's blood vessels and the cardiovascular system.
One of the biggest women's heart diseases is atheroscleroris, better known as "hardening of the arteries." The American Heart Association says this occurs when "deposits of fatty substances, cholesterol, cellular waste products, calcium and other substances build up in the inner lining of an artery. This buildup is called plaque."
The disease starts out slow in childhood and can surfaces when women reach their 20s, but some don't realize they have it until they are in their 50s. High blood cholesterol (LDL or "bad" cholesterol over 100 mg/dL), smoking, high blood pressure, diabetes, obesity and physical activity are among the main causes. If left untreated, atheroscleroris can cause heart attack or stroke.

Other problems include the following:
"Heart failure or congestive heart failure, which means that the heart is still working, but it isn't pumping blood as well as it should, or getting enough oxygen."

"Arrhythmia or an abnormal rhythm of the heart, which means the heart is either beating too fast, too slow or irregularly. This can affect how well the heart is functioning and whether or not the heart is able to pump enough blood to meet the body's needs.'

"Heart valve problems can lead to the heart not opening enough to allow proper blood flow. Sometimes the heart valves don't close and blood leaks through, or the valve leaflets bulge or prolapse into the upper chamber, causing blood to flow backward through them."
Preventing Heart Disease
A number of factors put women at risk for hearth disease, but keep in mind you can control some but not all of them.
The American Heart Association says healthy choices can make "330 fewer women" die from heart disease daily. Healthy choices include quitting smoking, managing blood sugar, having blood pressure checked regularly and getting it under control if high, lowering your cholesterol, knowing your family history of heart disease, losing weight, staying active and eating healthier.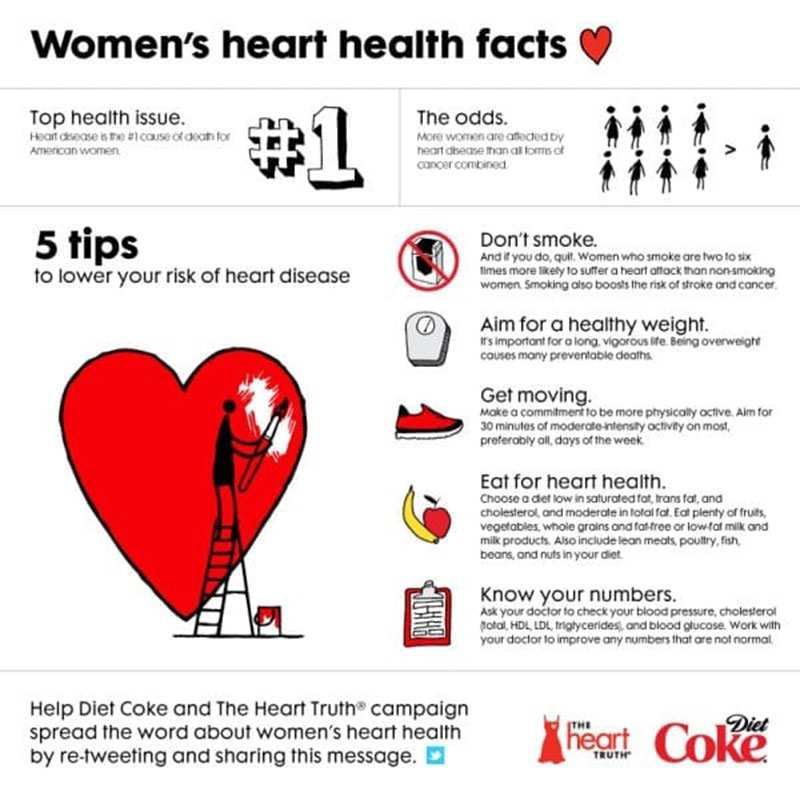 Image: Courtesy of American Heart Association & Diet Coke
---
About UMHS:
Built in the tradition of the best US universities, the University of Medicine and Health Sciences focuses on individual student attention, maintaining small class sizes and recruiting high-quality faculty. We call this unique approach, "personalized medical education," and it's what has led to our unprecedented 96% student retention rate, and outstanding residency placements across the US and Canada. UMHS is challenging everything you thought you knew about Caribbean medical schools.

Posted by
Scott Harrah
Scott is Director of Digital Content & Alumni Communications Liaison at UMHS and editor of the UMHS Endeavour blog. When he's not writing about UMHS students, faculty, events, public health, alumni and UMHS research, he writes and edits Broadway theater reviews for a website he publishes in New York City, StageZine.com.