The UMHS community mourns the untimely passing of Avril Duporte-Walters— Assistant Manager for the Bookstore/Cafeteria on the UMHS campus in St. Kitts—on Wednesday, April 7, 2021. Avril died just a few days after her 50th birthday.
Instead of publishing a standard obituary, the UMHS Endeavour has compiled tributes to Avril from various people who knew her, from her coworkers and staff in St. Kitts to students to New York staff members and Avril's extended family. The tributes range from fond remembrances of Avril to poems in her honor and much more. Services for Avril will be held Thursday, May 6, 2021 at the Antioch Baptist Church, Lime Kiln, Commercial Development in St. Kitts. Viewing and tributes will start at 1:00pm, with the service initiated promptly at 2:00pm and internment at Springfield Cemetery.

Christine McMaster, Human Resources Generalist & HR Director Daniel Vitalo, Jr.



This comes I'm certain as a total shock to all of us as Avril was last seen at work on Wednesday, March 31st by her colleagues. Avril was one of the original staff of the Bookstore/Cafeteria. She will surely be missed by her peers and other co-workers as Avril was usually the face of the Bookstore/Cafeteria, meaning as you entered, she was the first person you saw as she sat at the cash register which is immediately at the forefront. She was always pleasant and willing to provide assistance to everyone upon entering the Bookstore. Avril was one of our longest-serving employees as she held this position for a period of 15 years.
On behalf of Management, Students and Staff, may her soul rest in eternal peace. You will be missed, Avril!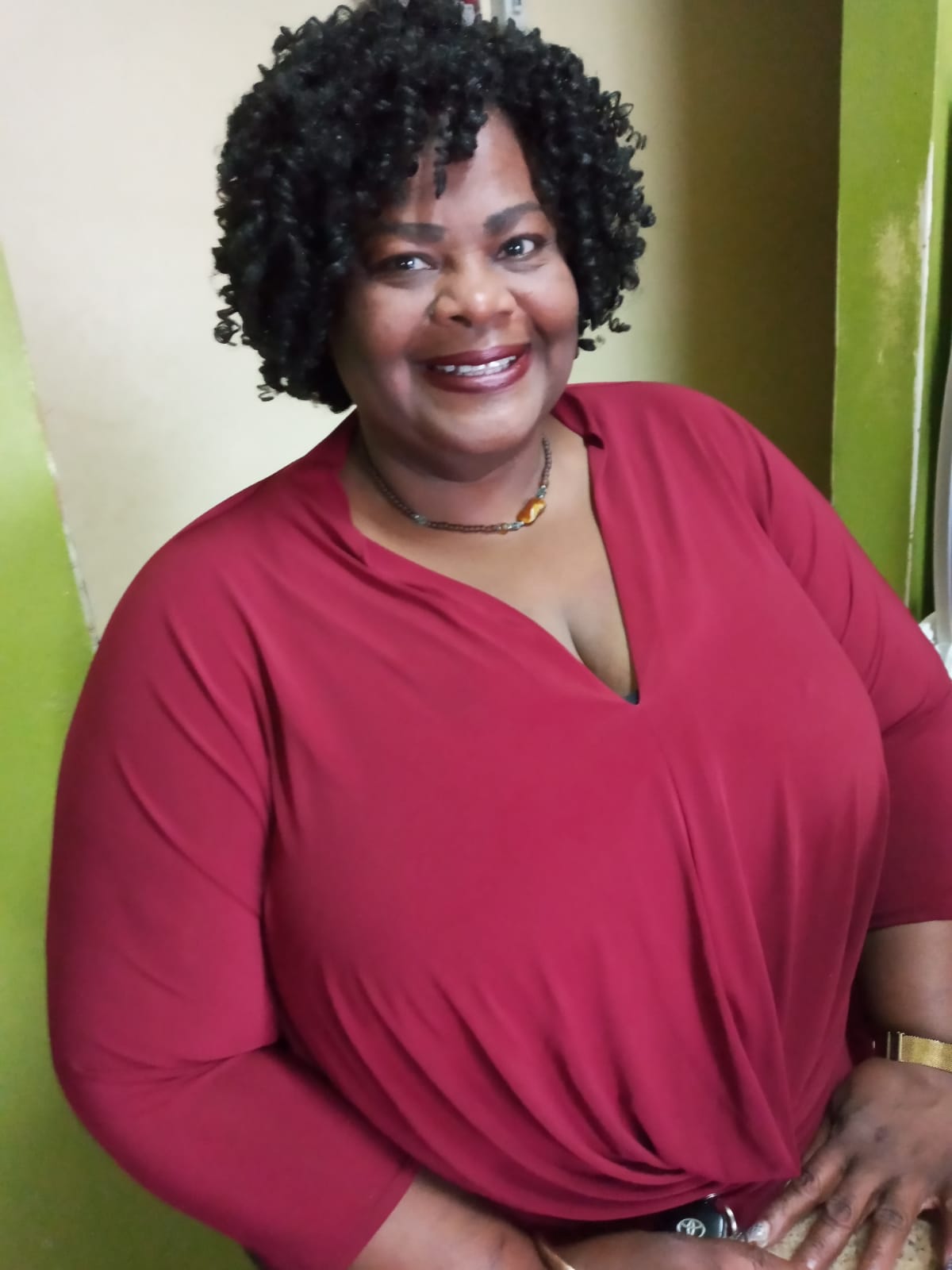 Avril Duporte-Walters. Photo courtesy of Merle Liburd-Browne, Manager Bookstore/Cafeteria.
Cecilia France, UMHS Campus Registrar
I first met Avril when I started at the University back in 2007 and over the years, we formed a bond that I cannot even begin to describe.
That smile that she showed to everyone who entered the doors of the Bookstore will never be forgotten. I would often call her Aunty Avril because she was not only my elder; she was a woman to be respected. Her love for the students and the people who worked closely with her was a testament to the sweet and caring person she was. I recall that she had recently celebrated her 50th birthday and she said to me, "Celia, I am so grateful for life." The joy I saw on her face that day when she was at work, I will never forget. You should have seen her; she was absolutely radiant. I saw her the following week and would have never thought that it would have been the last time I'd see her alive. Avril, the impact you had on my life will never be forgotten. The many times you encouraged me and offered words of advice I will forever cherish. It will not be the same entering the Bookstore knowing that I won't see you again, but I live with the hope that I will see you again. I loved you then and I will always love you. Sleep in peace, my sweet Aunty Avril, until we meet again.
Love, Cecilia.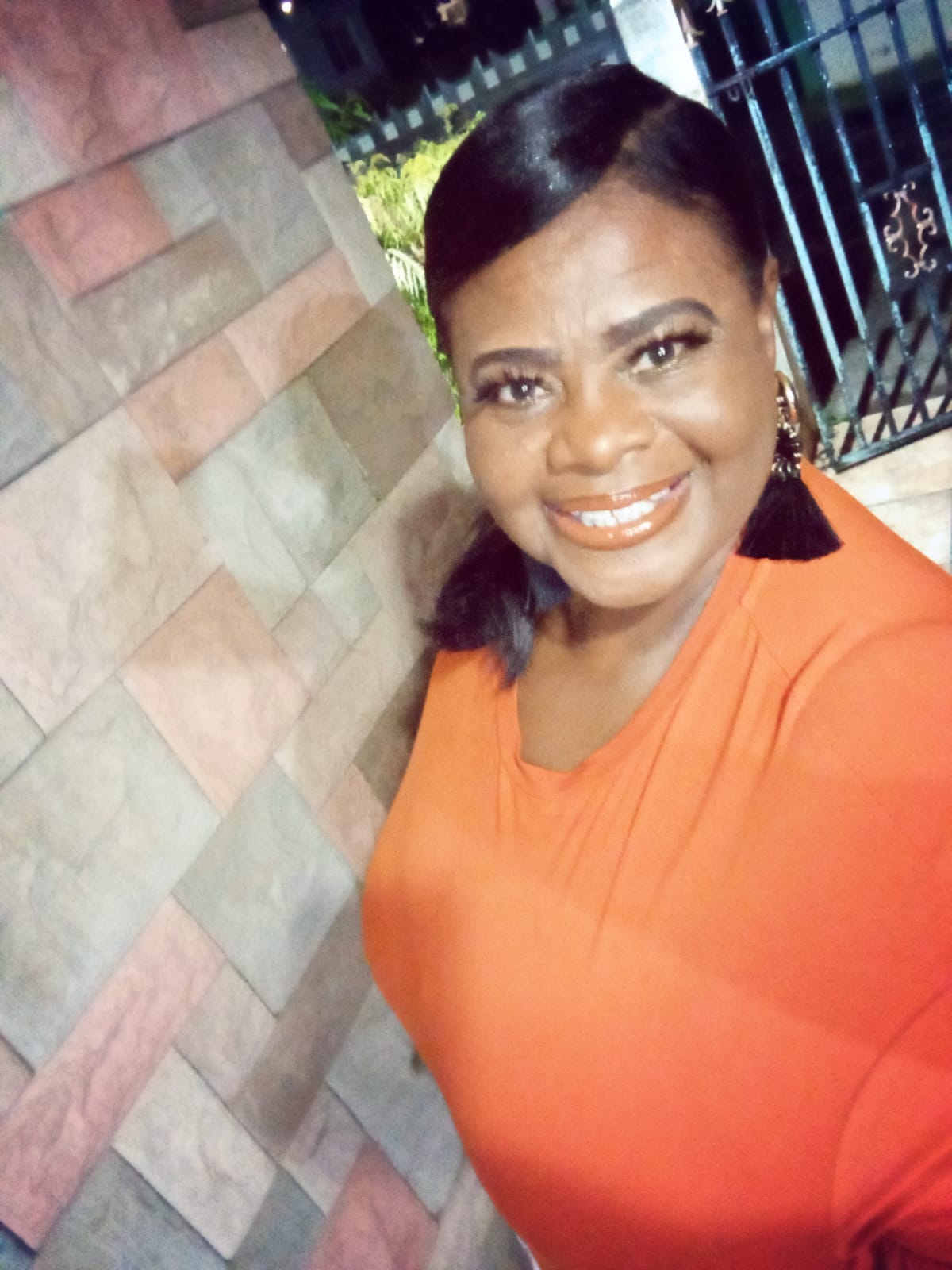 Avril Duporte-Walters. Photo courtesy of Merle Liburd-Browne, Manager Bookstore/Cafeteria.
Warren Ross, UMHS President
Thanks for your many years of dedication, hard work, and loyalty to UMHS, its students, faculty and staff. Our deepest condolences to your family, friends, and coworkers. You will be missed but not forgotten.
Sincerely, Your Family at UMHS.
Everson Matthew, Senior Audio Visual/Computer/Networking Technician
You could always count on receiving a bright smile and a cheerful greeting once Avril was at the Bookstore's register. Ready to give a joke and uplift your spirit with her natural sense of humor. She enjoyed getting to know the students, especially during registration where we would get in all the new faces. She often gave them pet names that made every conversation a blast. I pray that her family and friends will find comfort as she will be greatly missed by many.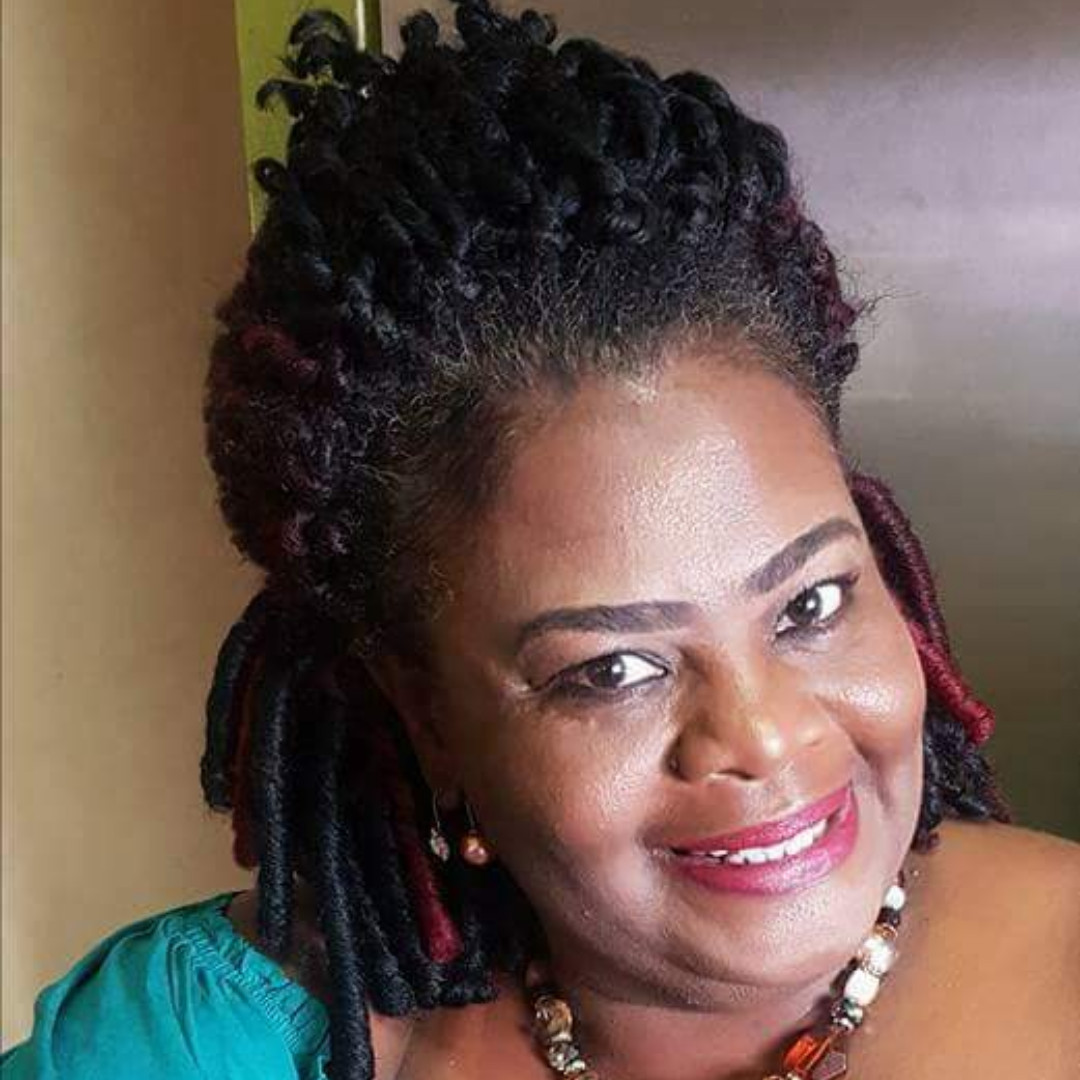 Avril Duporte-Walters. Photo courtesy of Merle Liburd-Browne, Manager Bookstore/Cafeteria.
Merle Liburd-Browne, UMHS Bookstore & Cafeteria Manager
I met Avril on November 15th 2006, at the UMHS Cafeteria where she was introduced to me, as my assistant. We got off to a rocky start, but that was short lived as the years went by. We developed a bond. Although our opinions differed at times with the job, it never affected our personal relationship. She called me her sister; we shared so much.
That charming smile that she had captivated many students and staff. She had such a lovely birthday celebration where she encouraged us to just live life. We shared and exchanged so many thoughts on our Christian principles.
Time and words will fail me to describe this champion of a woman. I am saddened at not seeing her sitting there to greet me with the brightest of "Good morning, how are you?" I am daily bringing myself to understand that I won't see my dear sister in the chair anymore or in the cafeteria anymore or when I go to her house, I won't be greeted with that smile but I will see her in the resurrection.
Until then I will cherish all our memories, especially Saturday, March 27th 2021 at her birthday breakfast when we hugged and squeezed each other, expressing our love.
Sis, I loved you then and I will continue loving you. Continue to sleep in eternal peace.
Caroline Liburd Bass, Director of Housing
Today I write this tribute for Avril, a woman who had such a big heart, I can describe she had a heart of rainbows and kindness, so full of love for her colleagues, staff and students. Her big, bright smile would light up the bookstore whenever you walked in.
I got to see the funnier side of Avril when we had the training sessions, she was my partner and we had to make each other laugh without talking and within seconds, she had me in stitches!
Avril is a great loss to our company, but we were lucky to have had the opportunity to work with her.
"She will be sadly missed along life's way,
Quietly remembered everyday…
No longer in our life to share,
But in our hearts, you will always be there."
May her soul rest in eternal peace.
Christine McMaster, UMHS Human Resources Generalist
ON BEHALF OF MANAGEMENT AND THE HUMAN RESOURCES DEPARTMENT
TRIBUTE TO MRS. AVRIL DUPORTE-WALTERS
God knows Best
The sad, unfortunate day your
Heart of Gold stopped beating
Two shining eyes at rest
God broke our hearts to prove to us He'll only take the best
We knew you had to leave us one day someday even immediately
For down here we're all just passing through as guests
But you didn't go alone
For part of your Family, Friends and Colleagues, all of us went with you
The day God called you Home
To some you might be forgotten or just a fleeting thought
Perhaps to others just a part of the past but to us who loved and lost you
You and the memory of you will always last
Avril, you will always be in our hearts
Because in there you are still vibrantly alive
Thanks for the privilege of knowing and working with you
Do rest in eternal peace
Gone but most definitely not forgotten.
Pastor Pauline V. Duporte, Purchasing Inventory Coordinator (Avril's Cousin)
I met the late Avril Duporte-Walters back in 2008 when I joined the university. I was told later by Denzil Duporte—a former employee on the campus—that she was my cousin. A true Duporte. I looked at her and immediately realized that she was indeed a Duporte as she resembled one of my younger cousins, fat face with those high cheeks; it was quite evident.
Avi, as I affectionately called her, was one who I can never forget, that especially bright smile and her infectious laughter always drew one in. She was rough at first but after many years of getting to know her she turned out to be a lovely person.
The first person you met upon entering the bookstore was Avi, a cheerful "good morning, how are you?" was always on her lips.
We shared many stories about the family whenever we had an opportunity, one thing I can say, is that she would always let one know that she was a Duporte, and this would mean that she was about to give you a piece of her mind.
Avi, you are gone but will not be forgotten.
Rest in Eternal Peace.
Your Loving Cousin, Pastor Pauline V. Duporte.
La Toya Davis, Bookstore/Cafeteria Assistant
I met Avril when I was introduced to her on September 9th, 2009. She had a radiant smile and sparkle in her eyes that would suck you up into loving her. We shared a bond of her as my supervisor. Over the years that bond got closer and we would share so much advice and knowledge together. Avril had a very sweet soul that will never be forgotten.
In 2021, she formed a group outside of work named Flossy Gems, and I'm so glad that I was chosen to be a part of the group, to share memories and just live life with her.
I will miss her voice on the phone and at the workplace calling my name. Mornings I would bring Johnnycake and fish and ask her if she needed any. She would reply "is Newtown I from, anything out of the sea I eat." I can't ask anymore; it breaks my heart knowing that I will never see her again, but I know she's in a better place.
Rest on, Av.
La Toya.
Jacqueline Farrell, Visa Liaison
Avril, my school mate, my work colleague
If I only had five minutes, the day you passed away, I would have had time to tell you all the things I needed to say.
I never got to tell you how much you meant to me. The last time we talked, I wish I would have known. I would have said I love you.
Now God has called upon you, it's time to get your wings to leave this life behind you and enjoy all heaven's beautiful things.
Those special memories of you will always bring a smile if only I could have you back for a little while. Then we could sit and talk again just like we used to do.
The fact that you're no longer here will always cause me pain but you're forever in my heart until we meet again.
Goodbye.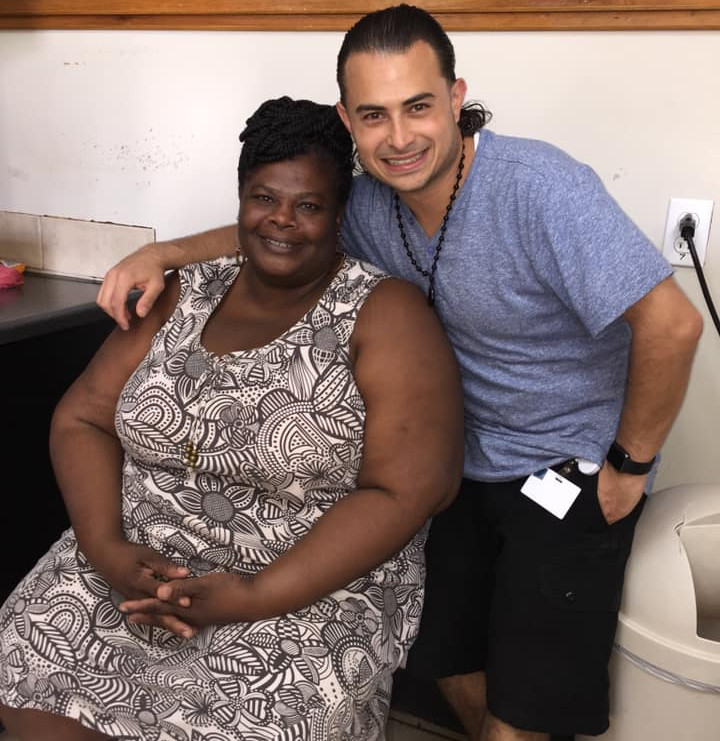 Avril Duporte-Walters with UMHS 2020 graduate Dr. Bahaa Elzein when he was a student in St. Kitts. Photo courtesy of Dr. Elzein.
Dr. Bahaa Elzein, UMHS Class of 2020
She was a wonderful soul. I looked forward to seeing her smile every day I entered the bookstore. She was always happy to see me and I never saw her take a day off.
Magdalena Rosario, UMHS Bursar, New York Office
I was deeply saddened to hear of the passing of Avril Duporte-Walters. Avril was an unforgettable individual. I enjoyed her sincere and witty personality. I will really miss seeing her at the bookstore. My thoughts and prayers go out to her family along with sincerest condolences. She will be missed.
Nelida Alvarez, Post Acceptance Director, New York Office
Avril was a kind person. Always willing to help the students. She will truly be missed.
Wayne Williams, Director of IT, New York Office
I was greatly saddened to hear of the passing of Avril. I considered Avril a friend, not just a colleague.
Some people say life is short and some say life is long. It all depends on how you look at it. What is most important is the journey and how you impact others. I am glad to have known Avril and she made an impact on me. I enjoyed our conversations in the campus bookstore. Avril was quite witty and I will miss our banter back and forth.
Avril had a gentle soul and I know her family and friends will dearly miss her. I know she is smiling, looking down from heaven.
Gone but not forgotten.
Wayne.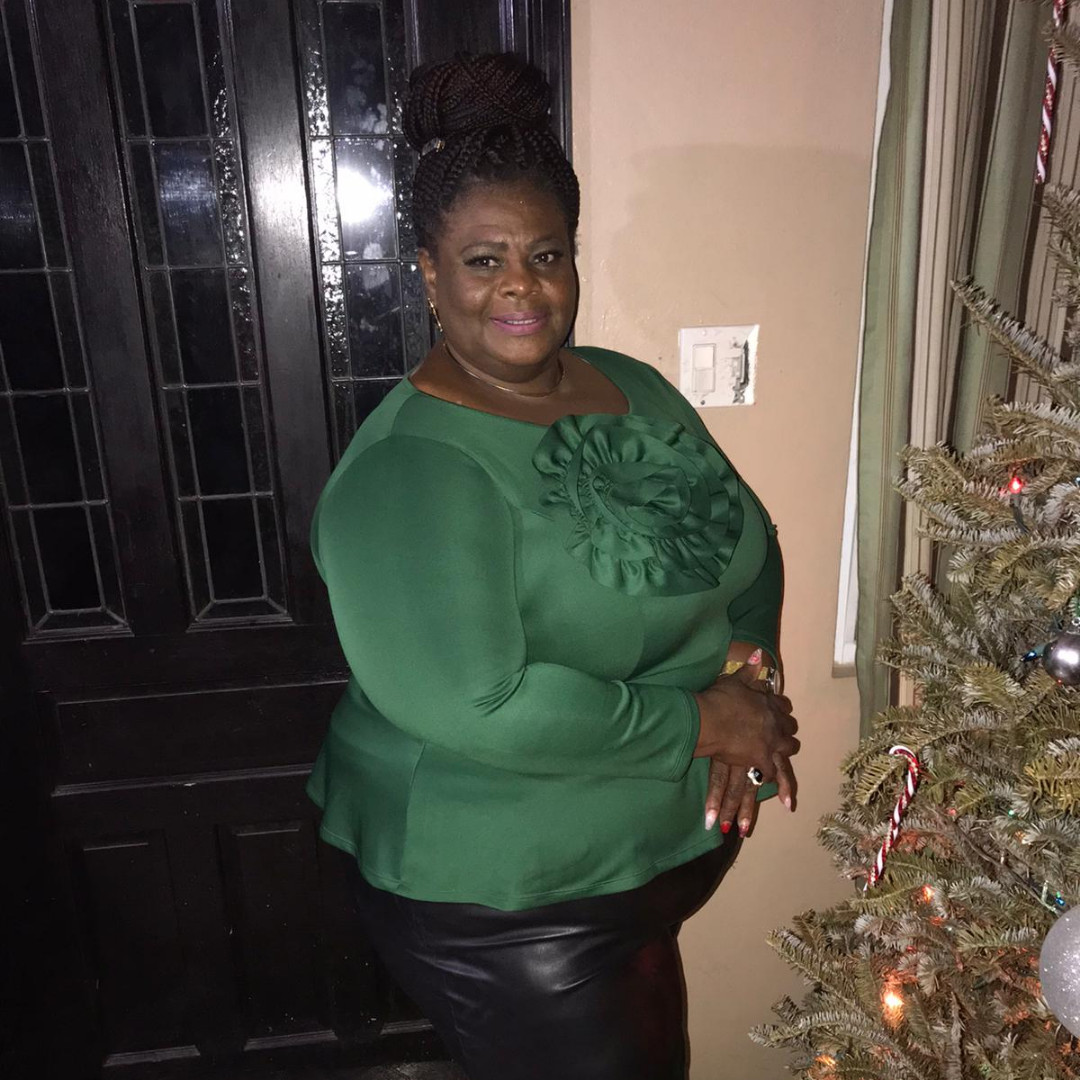 Avril Duporte-Walters. Photo courtesy of Merle Liburd-Browne, Manager Bookstore/Cafeteria.
Irmilyn Joseph, UMHS Accounting Clerk, St. Kitts
Until We Meet Again.
Avril, it was a pleasure working with you over the past year. I will always remember you for your approachable manner and friendly smile. It broke our hearts to lose you, but you did not go alone. A part of us went with you the day God took you home. In life you were loved dearly and in death we will still love you. In our hearts we will hold that "friendly smile" no one can ever fill.
Rest in Peace, Avril.
From your co-worker, Irmilyn Joseph.
Anthea Abbott, Senior Accountant , UMHS Accounting Department in St. Kitts & Anne Prillaman, CFO in New York Office
Avril's welcoming and infectious smile is gone forever
Her voice no longer answers the phone
The memories of working together, will leave us never
Although she's been called to her sweet home.

Too sudden, too soon are the expressions among us.
Not a warning, we hadn't even a clue.
That Our Heavenly Father needed you thus.
But the fondness stays forever in our hearts, so true.
Swept away to glory's day.
Resting safely in His arms.
Until we meet again, we'll say
In Him we'll find peace and such a calm.
Dr. Michael Doherty, UMHS Professor
I have known Avril since I came to UHMS. She always had a smile for me, always laughed at my jokes, and never refused a hug. I will not forget that smile, or her "Hi, Dr D." each day.
She made a difference in my life, and certainly to all the students that she saw and greeted with kindness every day.
Avril had a big heart and I will miss her dearly.
Dr. D.
Sandra Carter, Housekeeping Department in St. Kitts
Avril Duporte Walters was a member of our IUON and UMHS family for the past 15 years. The Housekeeping Department and the Bookstore Department (where Mrs. Walters worked) has fostered an essential working relationship. Each of us learned to appreciate her in our individual ways. Some by her warm smile and pleasant greeting upon entering the store, some by her affirmation that she took her job seriously, and yet others by her sense of humor. Mrs. Walters played an integral part in our IUON and UMHS family, we were saddened by her sudden departure, but [this] holds to the promise that we will be united someday.
We the Housekeeping Staff take this time to extend sympathy to her husband, children and her extended family.
Housekeeping.
(Photo at top of the page): Avril Duporte-Walters. Photo courtesy of Merle Liburd-Browne, Manager Bookstore/Cafeteria.

Posted by
Scott Harrah
Scott is Director of Digital Content & Alumni Communications Liaison at UMHS and editor of the UMHS Endeavour blog. When he's not writing about UMHS students, faculty, events, public health, alumni and UMHS research, he writes and edits Broadway theater reviews for a website he publishes in New York City, StageZine.com.