Editor's Note: This is a guest post from UMHS student Pedro Padró Carrasquillo about the UMHS Student Government Association Beach Cleanup at Keys Beach, St. Kitts on February. The UMHS Endeavour will publish a full post and lots of photos about the event later this week.
---

By Pedro Padró Carrasquillo
Recently I was invited to a beach cleanup event hosted by the Student Government Association (SGA) of UMHS at Keys Beach. As a Seventh Day Adventist, I keep the Saturdays as my Sabbaths and do not do any labor except things that involve helping people and God's creation. Cleaning a beach seemed to qualify for the occasion, so I was more than happy to join the group. It required me getting up a little earlier than what I would normally on a Saturday, but by 9:00 a.m., I was already at the beach, ready to get the job started.
Before arriving at the location, I was expecting it to be a public beach for people to bathe in the waters, but I was wrong. Even though it had plenty of sand to lie on and get some Cholecalciferol (gotta show off some of the knowledge I have gained in this school), the waters of the Atlantic Ocean raged with waves ready to devour any wondering tourist. When we arrived at the beach, there were students from our neighbor university (Ross Vet) and some locals already working on the cleanup. They gave us some basic instructions about where to place the trash and sent us off to spread through the beach and work.
There were a lot of personal growth experiences I took from this seemingly simple experience. And the first one was with how easy it was to get the job started. All we needed to do was put some gloves on and start picking up trash. They say that starting a job is the hardest part, but to do a clean up you just start bending and picking up trash. This can be easily applied to our own personal lives. We deal with a lot of stress as medical students. This stress and other problems we might be dealing with tend to build up like trash on the sands of our brain. We sometimes need to take our time to get rid of that trash and all it takes is to make the decision to start doing it. One piece of trash at a time.
At some point during the cleanup, Eboni Peoples of UMHS SGA checked on me and she told me something very true and important: "It's the little trash; the one that's dangerous." When we go to the beach or even on the streets, we sometimes throw "little" pieces of trash because they are too little to cause any real harm. Maybe the trash consists of a little candy wrap, a bottle of water, a plastic bag, that tissue that the wind blew from your table and you just do not feel like chasing after it. You get the idea, no? Those little, insignificant pieces of trash end building up somewhere, and a very common place is our beaches. They grab trash not just thrown there but from all parts of the world. And those little pieces of trash are the hardest to clean up and the ones that could cause more damage to the animals that make a part of the natural environment.
Of course, there is some more personal growth lessons to be found here. Do not take any small problem or trash for granted. The little things tend to build up to bigger problems if not addressed timely. "It's the little trash; the one that's dangerous".
One last lesson I want to share here. At some point the group came upon a small piece of rope. Three different people tried pulling the rope but it seemed anchored into something and it was impossible to remove. It was when two people started working together that we were able to pull out the rope. The rope was not anchored to anything, it was just tangled into one giant node. Lesson: Do not be afraid to seek for help in family, a friend, or a professional. Sometimes one simple problem can tangle into something overwhelming and impossible to overcome. A second person might help the impossible seem a little bit more possible.
Before noon had arrived, we had already filled up the trash bags we had. It was sad to see so much more trash remaining in the beach. The worst sensation was that there was still work to be done and people willing to do the work, but simply not enough transportation to take out the trash. So, for those who think that someone else will take care of the trash you leave on this Earth, remember that sadly there is a limit. I encourage everyone to do their best to maintain our planet in the best possible conditions. I hope that more activities like this one take place and I challenge you who is reading to join us on the next one. I guarantee you will love the experience. Let us leave the world a better place than how we received it.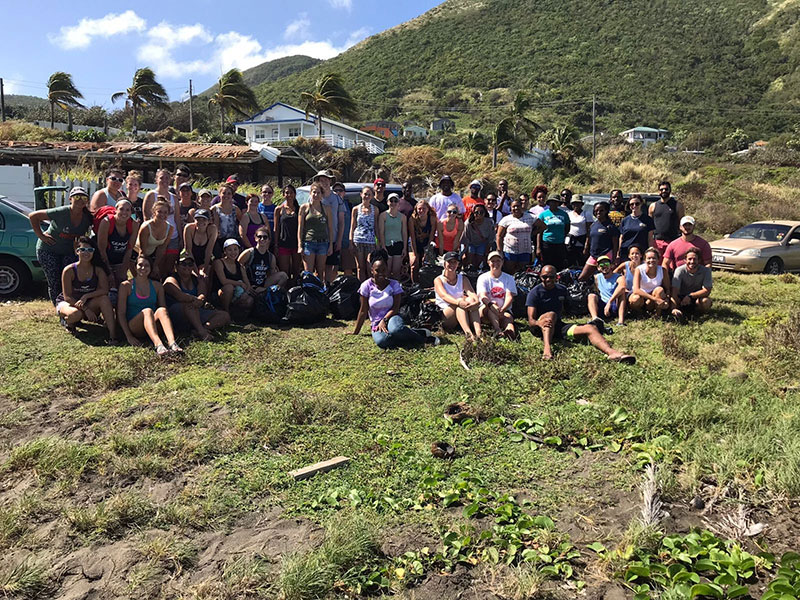 Group shot of all volunteers at the event & St. Kitts Sea Turtle Monitoring Network on February 10, 2018. Photo: UMHS SGA
---

About UMHS:
Built in the tradition of the best U.S. universities, the University of Medicine and Health Sciences focuses on individualized student attention, small class sizes and recruiting high-quality faculty. For these reasons, UMHS is quickly becoming the school of choice among Caribbean medical schools.

Posted by
Scott Harrah
Scott is Director of Digital Content at UMHS and editor of the UMHS Endeavour blog. When he's not writing about UMHS students, faculty, events, public health, alumni and UMHS research, he writes and edits Broadway theater reviews for a website he publishes in New York City, StageZine.com.