The UMHS Pulse looks at why 2014 is being called a "make or break year" for EHR (electronic health records), the many benefits, and some of the downsides of the digital transfer of patient information.
Bloomberg BusinessWeek.com lists the following facts about EHR and how they benefit patients:
"A September study by one of Kaiser Permanente's research arms shows that when doctors switched from paper to digital records, their diabetic patients made 5.5 percent fewer trips to the emergency room and were hospitalized 5.3 percent fewer times. These modest gains added up to savings of $158,478 for every 1,000 patients."
"The Obama administration has been spurring the development of a digitally connected health-care system since 2009, when the Health Information Technology for Economic and Clinical Health Act was wrapped into the stimulus program. As of September, more than $16.5 billion in subsidies had been disbursed to help hospitals and doctors who treat Medicare and Medicaid patients defray the cost of purchasing certified technology. Medicare providers who don't go digital will have payments reduced starting in 2015."
"The transition to electronic records underpins many of the goals set out in the Affordable Care Act of 2010, such as curbing hospital readmissions and encouraging the development of Accountable Care Organizations, groups of doctors, hospitals, and other professionals who coordinate care for Medicare patients and get paid more for keeping their patients well. Digitization also promises to unlock a wealth of data that drugmakers, insurance companies, and government agencies could mine to improve treatment and contain costs."
"Next year will be 'a make-or-break year' for electronic health records, says Dr. Farzad Mostashari, who stepped down in October as national coordinator for health IT at the U.S. Department of Health and Human Services. 'In the past three years, we've been busy putting the systems in place,' says Mostashari, now a Brookings Institution visiting fellow. By 2014, these platforms are expected to be able to interoperate, which means 'talk to each other and to patients,' he says."
Easier Access to Patient Data & Privacy Concerns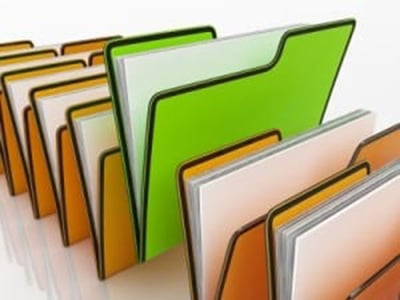 The website for Advanced Data Systems Corporation discusses the pros and cons of electronic health records.
The biggest upside is "how quickly and conveniently your staff can enter and access patient data," the website says.
(Photo, inset right) ANALOG PAPER RECORDS: Soon to be a thing of the past in health care. Photo: FreeDigitalPhotos.net
EHR software has templates for such specialties as OB/GYN and neurology. In addition, EHR creates a one-stop place for everything about a patient's history, from diagnostic test results to medical imaging. When updated regularly, EHR software, "using the latest version of the ICD (international classification of diseases) code," facilitates payment from Medicare and Medicaid.
Privacy can be a problem for EHR if precautions aren't taken. "While paper records also make it easy to violate a patient's privacy, the convenience and immediacy of electronic records make it easier to violate privacy at an unprecedented level," Advanced Data Systems Corporation says.
There is a possibility of identity theft if such sensitive data as Social Security Numbers get into the wrong hands, but this is true for both EHR and paper records.
Data loss is a concern, but this can be avoided if information is properly backed up. "Many practices opt to conduct offsite backups of their data through a cloud computing services provider," Advanced Data Systems Corporation says. "Even if your local servers suffer a catastrophic crash, you will still be able to reconstruct your patient information through the backup in the cloud."
(Top photo) DOCTORS GO DIGITAL: Medical & diagnostic imaging (including x-rays) are included in electronic health records. Photo: FreeDigitalPhotos.net
---
About UMHS:
Built in the tradition of the best US universities, the University of Medicine and Health Sciencesfocuses on individual student attention, maintaining small class sizes and recruiting high-quality faculty. We call this unique approach, "personalized medical education," and it's what has led to our unprecedented 96% student retention rate, and outstanding residency placements across the US and Canada. UMHS is challenging everything you thought you knew about Caribbean medical schools.

Posted by
Scott Harrah
Scott is Director of Digital Content at UMHS and editor of the UMHS Endeavour blog. When he's not writing about UMHS students, faculty, events, public health, alumni and UMHS research, he writes and edits Broadway theater reviews for a website he publishes in New York City, StageZine.com.