UMHS student Zain Hussain won Second Place in the Rabb-Venable Excellence in Ophthalmology Awards for a poster presentation on "Impact of Marital Status on Survival in Patients with Choroidal Melanomas: A SEER Analysis" with Claudia Maria Prospero, MD as mentor. Dr. Dan S. Gombos, the co-director with Retinoblastoma with the MD Anderson Cancer Center in Texas Medical Center, contributed to the development of the project and as a corresponding author. Mr. Hussain tied for Second Place with Jessica Brinson of Howard University College of Medicine.
The UMHS Endeavour spoke to Mr. Hussain, a California native, about the award and what medical students and young doctors should know about choroidal melanomas, how marital status can have a positive effect on this type of cancer, who is at risk, treatment and survival rate, and more.
Rabb-Venable Excellence in Ophthalmology Research Awards
Mr. Hussain is pleased to have received the award, but said he is more interested in the poster's impact on medicine and the field of ophthalmology in particular.
"It's less about the award and more about the tangible impact on current clinical care," he said. "Being advised by well-respected ocular oncologists that our particular investigation is not only uniquely contributory to the ophthalmic literature— but also has the capacity to influence current clinical guidelines and patient care—is incredibly satisfying. While creating a personalized impact on a patient-by-patient basis is also especially rewarding, identifying outcomes with the potential to generate a meaningful impact on a systemic level in the psychosocial niche of oncologic and ophthalmic care is truly commendable."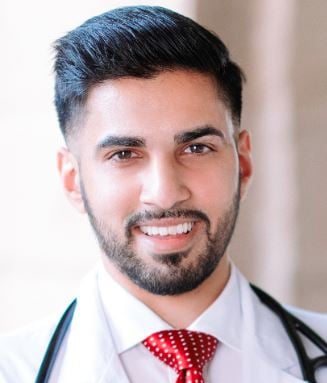 UMHS student Zain Hussain. Photo courtesy of Mr. Hussain.
What is choroidal melanoma?
According to Harvard Health, choroidal melanoma "is a cancer that affects part of the eye. It develops in the choroid, the sponge-like membrane at the back of the eye between the sclera (the white of the eye) and the retina." If left untreated, choroidal melanoma can cause the retina to detach and can also metastasize and spread to other parts of the body, particularly the liver, and be fatal.
Mr. Hussain explained the details of his poster presentation about choroidal melanomas and how marital status—especially among Hispanic patients—affects the survival rate for this rare eye cancer.
"Marital status has an inextricable influence on survival in adults diagnosed with the most common primary intraocular tumor in adults," he said. "Our US national study characterizes the exact survival advantage of married individuals diagnosed with choroidal melanoma as compared to individuals that are divorced, single, or widowed. Interestingly, a significant survival advantage amongst married Hispanics was described as compared to married non-Hispanics. In the context of the Rabb-Venable mission to explore ophthalmic associations in minority populations, this experience has allowed me to develop meaningful relationships with notable physicians in the ophthalmic community."
---
Discover if a career in Ophthalmology is right for you.
Learn why 95% of doctors would choose the same specialty again.
---
How can marital status affect outcomes for patients with choroidal melanomas?
There are many reasons why marital status affects the survival rate of patients with choroidal melanomas.
"Firstly, it is important to state that a multitude of studies demonstrate enhanced survival in married individuals as compared to single, widowed, and divorced patients afflicted by prostate cancer, non-small cell lung cancer, ovarian cancer, and several others. A plethora of research highlights reasons why, in the context of a cancer diagnosis, married patients have survival advantages. We are inherently social beings and thrive through the bonds we have with those around us. A diagnosis of cancer is a serious and potentially life-changing event with an inherent engenderment of stress, emotional dysregulation, and propensity for development of depression. Goldzweig et al. demonstrated married individuals afflicted with cancer experience significantly decreased levels of stress, depression, and anxiety. This psychological compensation improves a patient's future outlook in their capacity to endure and fight the diagnosis of cancer. Married individuals obtain increased emotional and physical support from their partner. This can explain why studies showcase increased adherence rates to treatment protocols in the married demographic, which is inextricably vital for eventual resolution of any cancer. Socioeconomic status and patient compliance are plausible confounders; however, the US national database utilized for our study, Surveillance, Epidemiology, and End Results (SEER) program, does not contain the necessary time-sensitive registries. Additional research in this niche of oncological care would likely shed light on these mechanisms."
There are numerous risk factors for choroidal melanomas, but they can be treated with a high survival rate if caught early.
"Choroidal melanomas are the most commonly diagnosed primary intraocular tumor in adults. Certain risk factors were characterized such as heavy exposure to ultraviolet (UV) light, certain genetic mutations, age, and identifying as Caucasian. However, expert ocular oncologists are far too familiar with the extensively diverse array of clinical presentations that choroidal melanomas occupy. Because of the unclear etiologies behind the formation of CM, there are currently no clinically-validated prophylactic measures. For patients with no risk factors, the American Academy of Ophthalmology (AAO) recommends a baseline eye exam at the age of 40. Other advice for prevention is limited to abiding by a healthy lifestyle in general, such as reducing excessive UV exposure and maintaining an active lifestyle with healthy eating habits. You could also get married."
Early detection is key, so people age 40 and over should have regular eye exams.
"Application of current therapeutics for oncologic and ophthalmic care is an advanced discussion," Mr. Hussain said. "However, enucleation, brachytherapy, transpupillary thermotherapy, photocoagulation, and local resection are a few options. Selection of treatment type is incredibly dependent on tumor characteristics including thickness, co-localization, and histological patterns."
"The American Brachytherapy Society advises a multi-modal reconstruction program to very accurately understand the tumor size and location before radioisotope plaque implantation. While challenges continue to exist in the implementation of key pharmacologic therapeutics & understanding of genetic mechanisms, the ophthalmic community at large is disheartened to say that the rates of metastasis are unacceptable. Survival probabilities reduce drastically once metastasis to the liver occurs. Current guidelines recommend serial liver ultrasounds and LFT panels every six months in patients diagnosed with choroidal melanoma for this very reason."
Mr. Hussain completed his undergraduate education at the University of Houston—Main Campus. He has a personal reason for being so interested in Ophthalmology.
"My dad lost his eyesight after a biopsy in 2016," he said. "It allowed me to realize firsthand how stressful it is for someone you love to lose the blessing of vision and how meaningful it would be to be able to restore this gift. Since then, this incident has served as my personal impetus towards a career in ophthalmology."
Mr. Hussain competed in the Rabb-Venable Excellence in Ophthalmology Research Awards along with residents and medical students from University of California San Francisco (UCSF), University of Chicago Pritzker School of Medicine, Johns Hopkins University School of Medicine, Virginia Commonwealth School of Medicine, and Yale School of Medicine.
(Top photo): UMHS student Zain Hussain, Second Place winner of the Rabb-Venable Excellence in Ophthalmology Awards for his research poster on a rare eye cancer. Photo courtesy of Unseen by Alexa & Mr. Hussain.

Posted by
Scott Harrah
Scott is Director of Digital Content at UMHS and editor of the UMHS Endeavour blog. When he's not writing about UMHS students, faculty, events, public health, alumni and UMHS research, he writes and edits Broadway theater reviews for a website he publishes in New York City, StageZine.com.