UMHS Class of 2021 graduate Venus Swearingen, MD, MBA starts a Family Medicine residency at UAMS in Arkansas this summer. When she decided to attend medical school, the California native first heard about UMHS by reading a former student's blog.
"In the blog, this student detailed her entire journey from day one as a UMHS student to her last day as a successful graduate," Dr. Swearingen said. "The blog was sincere and informative. It led me to other sites and additional reviews of graduates from UMHS that successfully Match into residency. UMHS was one of the few Caribbean-based medical schools with many positive reviews from current and previous students. I was also excited to learn about their small class size, allowing for personalized learning with the staff and instructors, their reasonable tuition rates, and competitive clinical rotations sites—including Emory Hospital in Decatur, Georgia, and Sinai Hospital Baltimore, Maryland."
The UMHS Endeavour spoke to Dr. Swearingen about her childhood interest in science and health, her journey through med school, how UMHS staff and clinical rotations helped her, why she decided to pursue Family Medicine, her upcoming residency, thoughts on women and people of color entering medicine, how the COVID-19 pandemic has made doctors more important than ever, and more.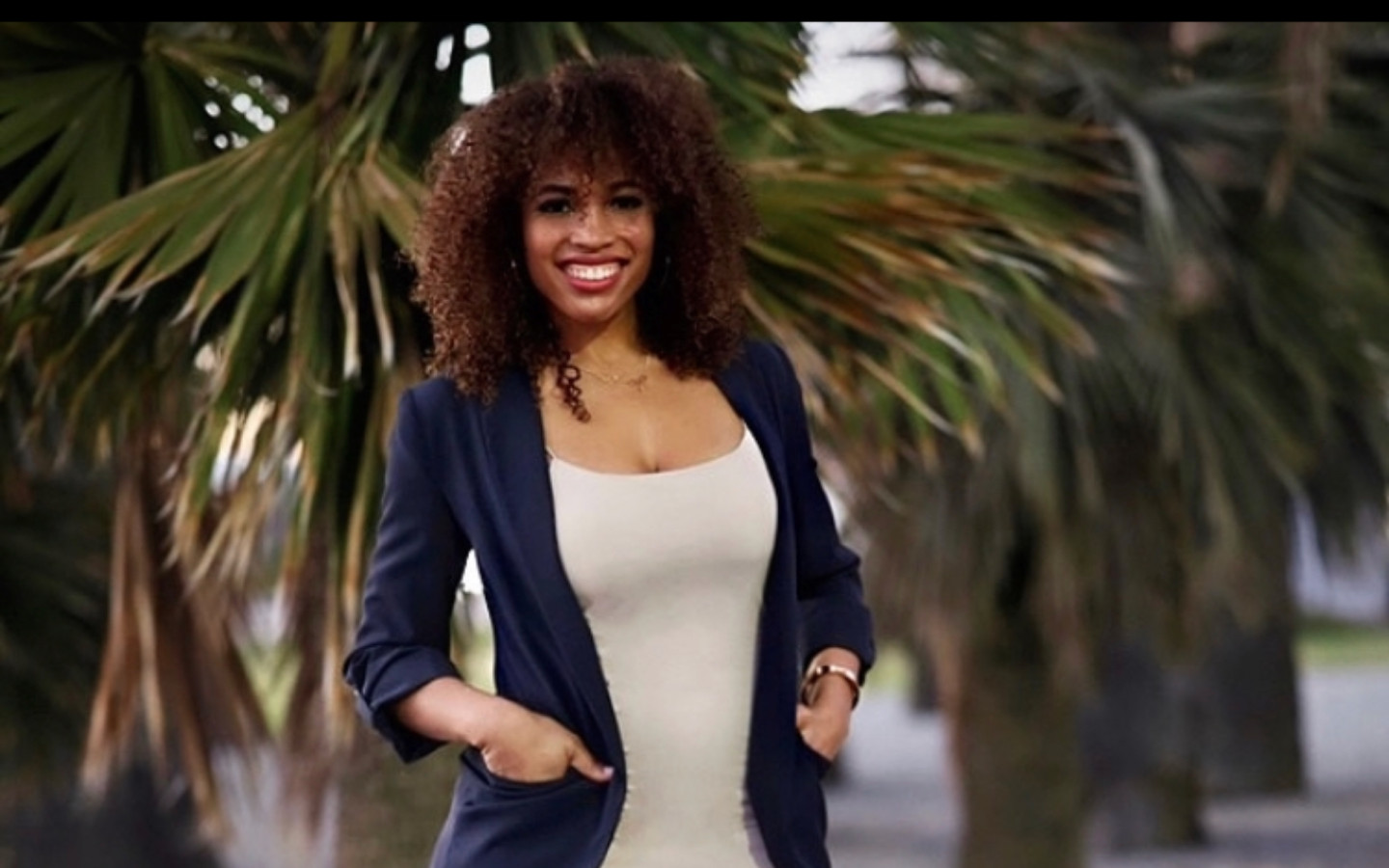 Dr. Venus Swearingen. Photo courtesy of Dr. Swearingen.
Always interested in science
Dr. Swearingen was born and raised in Riverside, California. Her interest in medicine started early.
"At a young age, I did not fully understand a doctor's role, but I did know I was excited about science and learning more about the human body," she said. "At the age of six, my mother took me to a health fair held at the local university. I noticed that a group of pre-med students had a sheep's heart on display, and I still remember my excitement when I first saw that; I just wanted to learn more. By the age of thirteen, my passion for medicine began to deepen further when I was diagnosed with type 1 Diabetes. I wanted more than ever to conquer my medical impairment and live a long, healthy life. I soon found myself engrossed in learning about the anatomy and pathology of the human body. I ended up attending the local university and majoring in biology, with an emphasis in pre-med."
UMHS staff helped make a difference
Dr. Swearingen said the staff at UMHS really made a difference in St. Kitts and Maine.
"I enjoyed the cheerful and helpful personalities of all the staff. Everyone was friendly and willing to help. I remember on long days at the Maine campus, the secretary Mrs. Carol Place would leave cupcakes or candies on her desk for the students to brighten up our day. Ms. Rachael Roberts always left her door wide open for students to come in with any question. The support and guidance that I received from all the faculty and staff encouraged and supported me throughout this journey."
---
Discover if a career in Family Medicine is right for you.
Learn why 70% of doctors would choose the same specialty again.
---
How UMHS clinical program helped her succeed
A number of factors contributed to Dr. Swearingen's success in matching, but she credits the clinical program at UMHS first and foremost.
"It was a combination of my high grades obtained from my strong work ethic and dedication, the strong letter of recommendations I received from my preceptors, my USMLE step scores, and my personal statement, which highlighted my passion for medicine."
UMHS helped Dr. Swearingen sharpen her medical skills but obtaining a residency also requires studying hard and learning to network during clinical rotations.
Her advice for current or incoming students about attending UMHS and also the Match process?
"Your grades, GPA, and test scores play a significant role in getting a Match at a hospital, so it is essential to focus, work hard, study, and do the best that you can. It is imperative to remain focused on your goals because it is easy to get distracted on a beautiful island. It is also good to network and stand out on your clinical rotations to get good letters of recommendation, which is something else that hospitals consider highly when choosing an applicant. Some ways to get good letters of recommendation include showing up early to clinical rotations, staying late, studying all the case you encounter that day, and maintaining a positive attitude."
The basic sciences classes in St. Kitts, the fifth semester in Maine and the clinical rotations at various US hospitals helped Dr. Swearingen sharpen her skills.
"At UMHS, I was able to have early hands-on training and experience interacting with patients from diverse backgrounds, which help to enhance my skills in cultural competency, humility, and empathy. Also, my time spent on an island far from home enabled me to become more independent, develop strong work ethics, and enhance my confidence."
UMHS also gave her an extra edge by exposing Dr. Swearingen to a different culture, something that may not have been possible at a med school in the USA.
"Attending a Caribbean medical school offered me a unique foreign cultural experience that I couldn't get if I did my training at a US medical school. This experience helped to enhance my cultural competency skills and better understand and builds personal relationships with my patients who represent a diverse group and background."
Family Medicine residency at UAMS in Arkansas
This summer, Dr. Swearingen starts a Family Medicine residency at UAMS in Arkansas. She will work at the Washington Regional Medical Center in Fayetteville, Arkansas, and Northwest Medical Center in Springdale, Arkansas.
"I am excited to continue my medical training at UAMS," she said. "This program offers an unopposed Family Medicine residency training, allowing me the opportunity for increased exposure to intriguing cases and procedures. I am also excited to learn in a diverse and underserved population, exposing me to a broad spectrum of diseases and pathologies."
Dr. Swearingen decided to pursue a Family Medicine residency because this area of medicine encompasses many types of health care.
"During my third and fourth year in my clinical clerkship, I enjoyed every single one of my rotations, and I wanted the ability to continue to study and practice all branches of medicine," she said. "I also wanted a specialty that allowed me the opportunity to practice and provide comprehensive care of therapy that included prevention, diagnosis, and treatment of disease and the chance to work with patients of all ages, from infants to the elderly. I choose to practice Family Medicine because it offered me a wide variety of exposure to multiple fields of medicine while allowing me to build an ongoing relationship with my patients."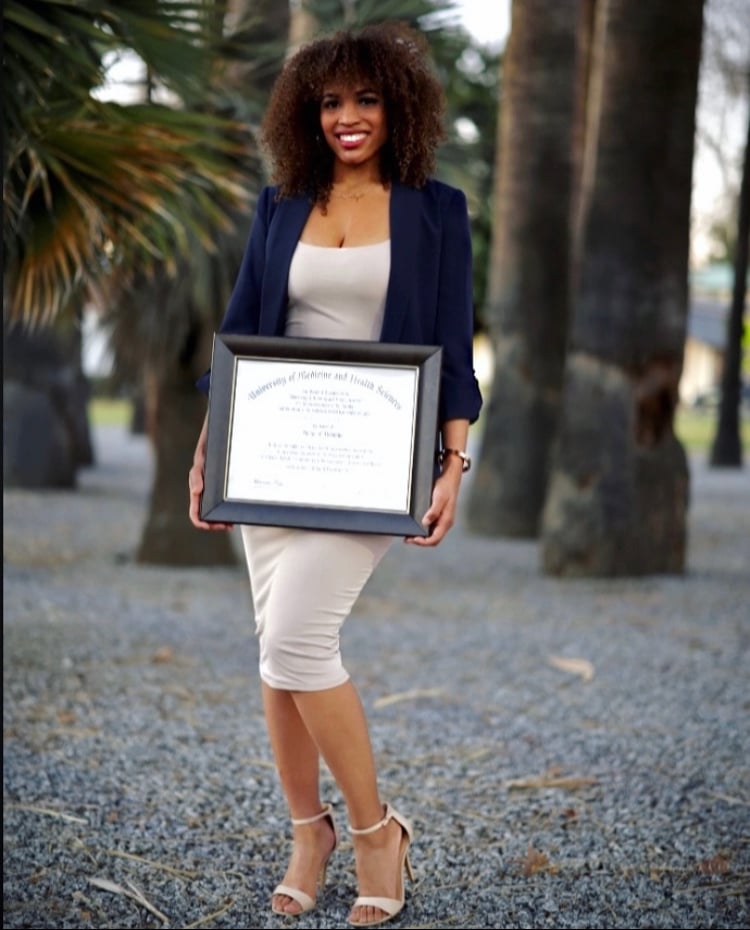 Dr. Venus Swearingen with her UMHS MD. Photo courtesy of Dr. Swearingen.
Goals for residency
Dr. Swearingen would like to accomplish many things during her residency.
"I plan to learn as much as possible by participating in procedural skills within the scope of family practice to become a fully competent physician capable of providing high-quality care to my patients. I also want to use the skills I learned at UMHS to be a professional and efficient, self-directed learner who is detail-oriented and personable."
Advice for women & people of color in medicine
As a woman of color, Dr. Swearingen knows firsthand the obstacles med students and young doctors face entering medicine.
"Medicine is a tough field, and females make up 36% of physicians in America, while only 2% represent black female physicians. A lack of diversity, discrimination from patients, bias from colleagues and superiors, lack of mentorship, and struggles to navigate the system can make it difficult for a woman and woman of color to imagine herself in this field. So, it is imperative to build a trustworthy team of family and friends, participate in mentorship programs geared toward supporting women of color in medicine, trust in yourself and your abilities, and never give up."
Why doctors are vital in the age of COVID-19
Dr. Swearingen said this is a crucial time to be a physician and that the public has a better understanding of the importance of doctors after what the world has experienced.
"As the nation's population grows and ages, there has always been an urgent need for more doctors and medical professionals to address the population's health goals. With this recent pandemic, it has become even more crucial to have physicians handle the burden of increasing patients seeking care all at once. The COVID-19 pandemic has highlighted the critical role doctors play in our overall well-being. In the past, the term 'hero' was rarely used when describing healthcare providers. However, this has changed with the sacrifice of millions of physicians worldwide. Faced with the challenge of providing care for COVID-19 positive patients—while often poorly prepared and risking their own lives to save the lives of others—the use of the term hero has now been widespread."
Med students have learned a lot from the unprecedented circumstances of the pandemic as we now move closer to the goal of herd immunity and everyone being vaccinated.
"At the start of 2020, the most extensive problem I experienced as a medical student was passing my next exam," Dr. Swearingen said. "Doctors, in general, viewed medical students as people who needed to be taught but were of minimal help in the hospital. The COVID-19 pandemic changed this for both parties. As COVID-19 started to overwhelm this country, medical students saw exams canceled, graduations accelerated, and our career start date fast-forwarded. This pandemic has taught medical students how to be prepared and navigate sudden changes to our curriculum. Most importantly, medical professionals witnessed the crucial roles medical students played in the hospital, primary care, and in the communities, from communicating to families unable to see their loved ones to triaging and delivering medications to COVID-19 positive patients. It was the sense of duty and purpose that motivated me as a medical student to step up and help."
Follow Venus Swearingen, MD, MBA on Instagram at @dr.swearingen and reach her via email at dr.swearingen@yahoo.com
(Top photo): Dr. Venus Swearingen on Match Day on March 19, 2021, the day she learned she matched at UAMS in Arkansas in Family Medicine. Photo courtesy of Dr. Swearingen.

Posted by
Scott Harrah
Scott is Director of Digital Content & Alumni Communications Liaison at UMHS and editor of the UMHS Endeavour blog. When he's not writing about UMHS students, faculty, events, public health, alumni and UMHS research, he writes and edits Broadway theater reviews for a website he publishes in New York City, StageZine.com.