UMHS professors and students have had new research published recently—from Dr. Rania Siam having two articles published, including one in the Lancet Microbe—to work by Dr. Adegbenro Fakoya and students and faculty in the UMHS Department of Anatomical Sciences published in "Anomalous Origin of the Superior Thyroid Artery from the Internal Carotid Artery" in Open Access Macedonia Journal of Medical Sciences. Dr. Edith Esparza-Young and UMHS student Milagros I. Rivera Cora, in collaboration with two other institutions, had their work "The Power of a Doodling Brain: Concept Maps as Pathways to Learning" published in Education Quarterly Reviews on the Asian Institute of Research website.
The UMHS Endeavour interviewed faculty members and also Ms. Rivera Cora about their recently published work.
Dr. Rania Siam published in THE LANCET Microbe & Mobile DNA Journal
Rania Siam, M.B.B.Ch., Ph.D., UMHS Course Director and Professor of Microbiology, spoke to us about two recent publications.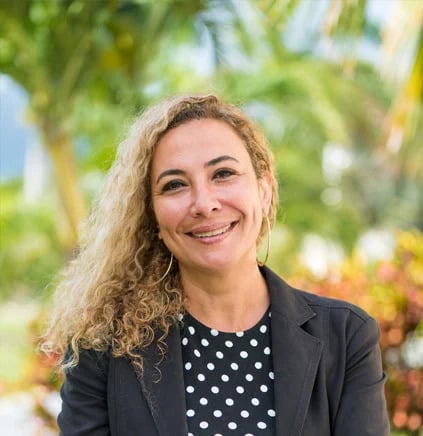 (Inset photo): Dr. Rania Siam.
Dr. Siam was one of many authors of "COVID-19 drug practices risk antimicrobial resistance evolution" in THE LANCET Microbe. The work was authored by members of the MetaSub consortium.
"The consortium is a novel, interdisciplinary initiative made up of experts across many fields, including microbiology, genomics, bioinformatics, data analysis, and public health" Dr. Siam said.
"We highlight the possible emergence of antibiotic resistance in the past year during the COVID-19 pandemic. Several antimicrobial agents, including anti-parasite, antiviral, antibacterial, and anti-inflammatory drugs were used to prevent secondary infections in patients with COVID-19. This raises concerns on the possible emergence of antimicrobial resistance. Antimicrobial resistance has been a global health concern that jeopardizes the prevention and treatment of the vast and emerging infectious diseases. This study raises awareness of complications following the administration of antimicrobials in COVID-19 patients."
Dr. Siam of UMHS and Sarah Sonbol of the Biology Department and the Graduate Program of Biotechnology, School of Sciences and Engineering at the American University in Cairo, Egypt published an article in the Mobile DNA journal, "The association of group IIB intron with integrons in hypersaline environments."
"My other recent article looks into the mechanism behind the evolution of microbes in extreme environments," Dr. Siam said. "We utilize the genome and metagenomes of microbes from extreme (hypersaline) environments to investigate mobile genetic elements that contributed to the evolution and survival of the microbes in these environments. This is the first investigation of group II introns within integrons in halophilic (meaning microbes living in salt environments) genomes and metagenomes from hypersaline environments. We believe and report that this 'study provides the basis for understanding the role of group IIB introns in the evolution of halophiles and provides insight on life in extreme environments.'"
Dr. Adegbenro Fakoya & UMHS Dept. of Anatomical Sciences published in Open Access Macedonia Journal of Medical Sciences
Adegbenro O. J. Fakoya, MBBS, MSC, MBA, PGDIP, UMHS Associate Professor of Gross & Developmental Anatomy and Histology, recently had "Anomalous Origin of the Superior Thyroid Artery from the Internal Carotid Artery" published in the Open Access Macedonia Journal of Medical Sciences.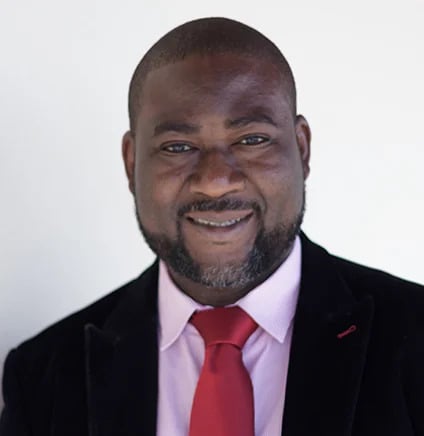 (Inset photo, right): Dr. Fakoya.
Dr. Fakoya told the UMHS Endeavour that the campus anatomy lab was especially helpful for students while conducting the research. Study participants included Jennifer Beniquez Martir, Neha Subedi, Byron Chique Carreras, Dr. Abayomi Gbolahan Afolabi and Dr. Thomas McCracken of the UMHS Department of Anatomical Sciences.
"The Anatomy dissection laboratory at the University of Medicine and Health Sciences has proven to be not only to be an instructional lab but also a place of discovery and research for medical students," Dr. Fakoya said. "During one of the routine dissections, the medical students discovered a variation in the origin of the artery that supplies the superior part of the Thyroid gland called the Superior Thyroid artery. This artery usually originates from the External Carotid artery. However, the students with a clean dissection pointed out the Superior Thyroid artery's unusual origin from the Internal Carotid artery.
"This variation is of importance for surgeons during the removal of the thyroid, a procedure called thyroidectomy. The students at UMHS love dissecting, and this group of students was so excited to find this variation, and authoring this paper was a fantastic experience for them. The Anatomy faculty team at UMHS is an amazing one, and we work as a family."
Dr. Edith Esparza-Young & Milagros I. Rivera Cora published in Education Quarterly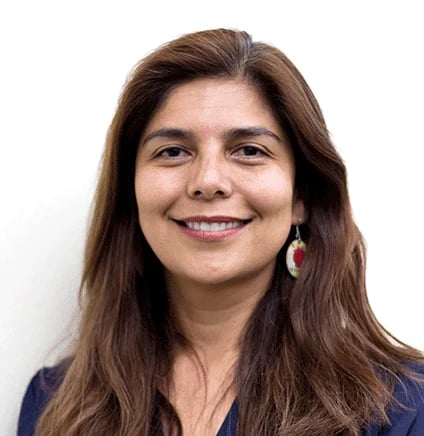 UMHS professor Dr. Edith Esparza-Young.

Edith Esparza-Young, Ph.D., UMHS Associate Professor of Learning Development and Language Skills, along with UMHS student Milagros I. Rivera Cora, recently published "The Power of a Doodling Brain: Concept Maps as Pathways to Learning" in Education Quarterly Reviews on the Asian Institute of Research site. Dr. Young and Ms. Rivera Cora were authors, along with Soledad Gonzales, Matilde Sarmiento, Alejandra Esparza Young, Nikolina Madjer, Pinaikini Shankar, Yadmarie Rivera and Isaac Abulatan in collaboration with UMHS, Oyster Adams Bilingual School in Washington, DC and Stanford University in California.
We spoke first with Dr. Esparza-Young about the piece.
"We are still learning about how the brain works," she said. "The brain is an organ that has not stopped growing even after we are born. Research by Dr. Patricia Kuhl at the University of Washington centered on the bilingual brain and recent work by Carnegie Mellon on 'mind reading' is fascinating. By taking images of the brain, they are figuring out how the brain decodes complex concepts. The work they are doing is groundbreaking. I believe concept maps represent and illustrate the hard work and serious cognitive processing students are engaged in. It made sense to me to want to write about how bilingual students experience learning and then create a tangible product that reflects the visualization and understanding of complex concepts. I think a student like Milagros perfectly embodies the richness, creativity and potential of a beautiful bilingual brain."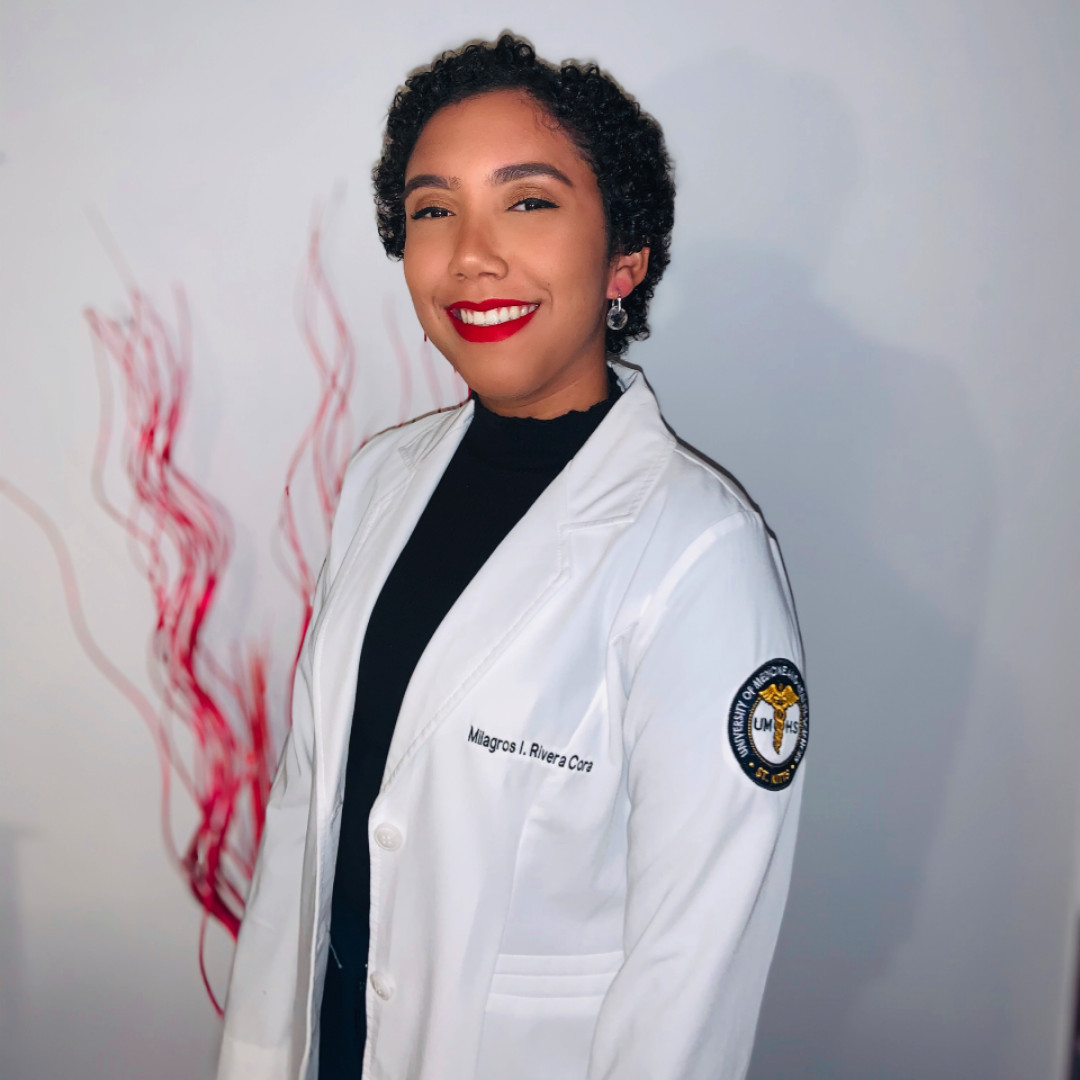 UMHS student Milagros I. Rivera Cora. Photo courtesy of Ms. Rivera Cora.
UMHS student Milagros I. Rivera Cora spoke to the UMHS Endeavour in detail about the research. She explained in layman's terms the premise of concept mapping as a pathway to learning.
"Concept mapping is all about choosing a topic and dissecting it into smaller categories which can be interconnected and compared between them," she said.
Ms. Rivera Cora gave an example.
"When I had the opportunity of being Teaching Assistant for the Physiology course at UMHS, I did the review presentations using concept maps in order to review organize myself, reflect on what was truly important to include and recall information that were not written in the class slides. I was able to show the students the same material in another perspective. That served me to review my Physiology notion by reestablishing the connections between the topics and form relationships that I might have missed before. Because medical students can get so used to seeing so many slides with words and photos, we can forget how much more interesting it would be if we spice it up and reorganize the topics to our convenience.
The article notes how handwriting has many cognitive benefits. We asked if she thinks med students can be more productive when studying by taking handwritten notes in class or when reading.
"I fully believe in the power of studying the material in one's own words," she said. "It gives us the role of editors and with editing comes analysis, reflection and confidence. Writing our own notes provides us the power of making our life easier, in a way that we can better understand the subjects because we are explaining it to ourselves. When we take handwritten notes, time is less, and that is why we choose the most important words, drawings, between others. We start filtering whatever is unnecessary. If notes are taken digitally, the same things apply except the student has to be more careful not to transcribe all the information. Try to be as concise and possible to reduce future stress. When going back to our own notes, our own work, there is a sense of familiarity that equip the student with some mental peace and assurance that hard work pays off."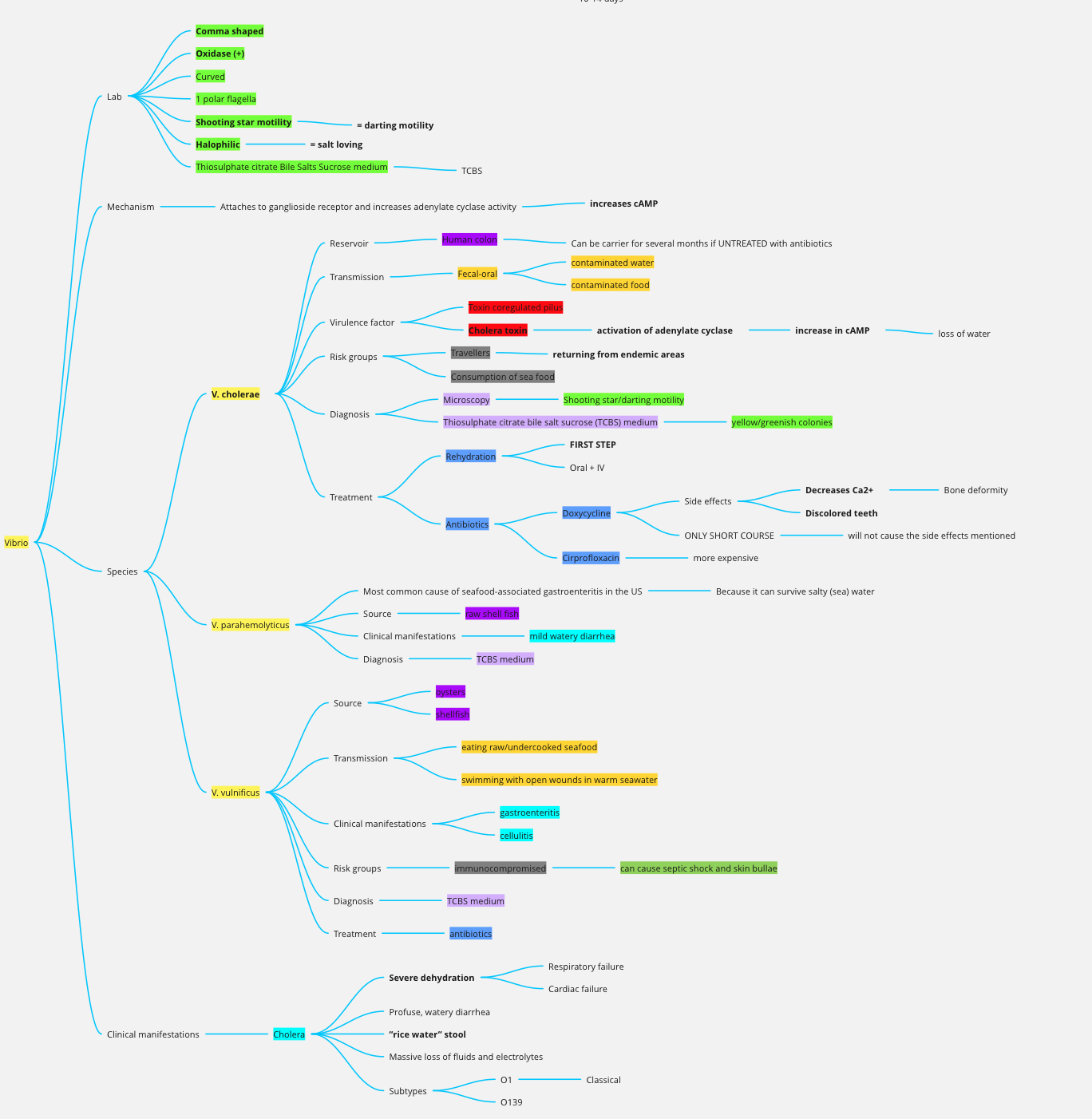 A diagram that Milagros I. Rivera Cora created in a microbiology class.

What are some ways that concept mapping is helpful for clinical rotations using diagrams, etc.?
"Concept mapping is just an example of how our brain works. Building connections is how we go around in life. lf not, we feel lost. Learning medicine is not the exception. That is why the earlier we understand the associations between topics, the better. Diagrams allow us to create a network of ideas which actually have a meaning and not pure memorization."
What are some ways that she has personally learned to use concept mapping to save time while studying?
"When I was taking the Microbiology course, I used to write my notes in a diagram manner during class time. Because bacterias, fungis, parasites and viruses contain so many classifications, I found concept mapping as a good approach to compare them by organizing the material at the same time it was being taught. That allowed me to practice concept mapping every single day of the week and get better at it."
The UMHS Endeavour asked Ms. Rivera Cora about the benefits of using technology while studying in med school as well as the downsides.
"Technology is such a good backup plan," she said. "I say backup plan because we shouldn't completely depend on it. For example, I always have a study technique which does not require any type of electricity, so if the power goes off, I stay calm, knowing I still can study. The benefits of using technology while studying in medical school is that it can be employed as an extension of our bodies. Thus, it offers: quick access to information, easy mobility, increased productivity and cost-efficiency. For example, we can create amazing reviews, drawings and tables that would take double the time if we did those by hand, and we all know how busy medical students get. The major downside of technology I have seen in myself is that I can get overloaded with work just because I know I can do it, while forgetting that rest time is as important as study time. Also, technology can have a lot of complexity, which can delay future tasks. In addition, we might get too invested in the digital world and turn socially disconnected which can increase anxiety and decrease basic social skills. Finally, being on the screens for so long can lead to severe headaches."
Ms. Rivera Cora cites a quote from Regina Krel, MD, director of the Headache Center at Hackensack University Medical Center in New Jersey: ""With the rise of technology, we're seeing more patients come in who experience headaches following long periods of screen use. Patients who suffer from migraines are also identifying screen use as a trigger for their migraine attacks."
Balance is key, Ms. Rivera Cora notes. When you feel like you are getting a headache from staring too long at a screen, turn off all your devices and go outside to exercise and take a break.
Ms. Rivera Cora said she wishes to thank everyone who contributed to the research.
"This is a great example of teamwork and I will be forever grateful for the opportunity.," she said. "Mind mapping brought all of us together, and we truly hope that this paper helps so many people out there. I believe medical students should collaborate between each other, together with professors, physicians, other professionals and the community. That way, we share what is good and make this world a better place."
Anyone wishing to contact Ms. Rivera Cora with questions about the article can email mirivera@umhs-sk.net
(Top photo collage): Left to right: Dr. Edith Esparza-Young, Milagros I. Rivera Cora, Dr. Adegbenro Fakoya & Dr. Rania Siam. Collage by Victoria Ross.

Posted by
Scott Harrah
Scott is Director of Digital Content & Alumni Communications Liaison at UMHS and editor of the UMHS Endeavour blog. When he's not writing about UMHS students, faculty, events, public health, alumni and UMHS research, he writes and edits Broadway theater reviews for a website he publishes in New York City, StageZine.com.