Class of 2019 alumna Dr. Sarah Mohtadi is the first UMHS graduate to Match in California. She is currently a Psychiatry resident at Charles R. Drew University of Medicine and Science in Los Angeles. In addition to putting in long hours as a resident, the California native has also been busy helping with volunteer COVID-19 vaccination efforts in the state, and even vaccinated the Mayor of Long Beach, CA.
The UMHS Endeavour spoke to Dr. Mohtadi about why she attended UMHS, what it is like to be the first UMHS grad to Match in California, how she's helped inform the public about COVID-19 and assisted with the vaccine rollout locally, the importance of getting vaccinated, the challenges she faced, and more.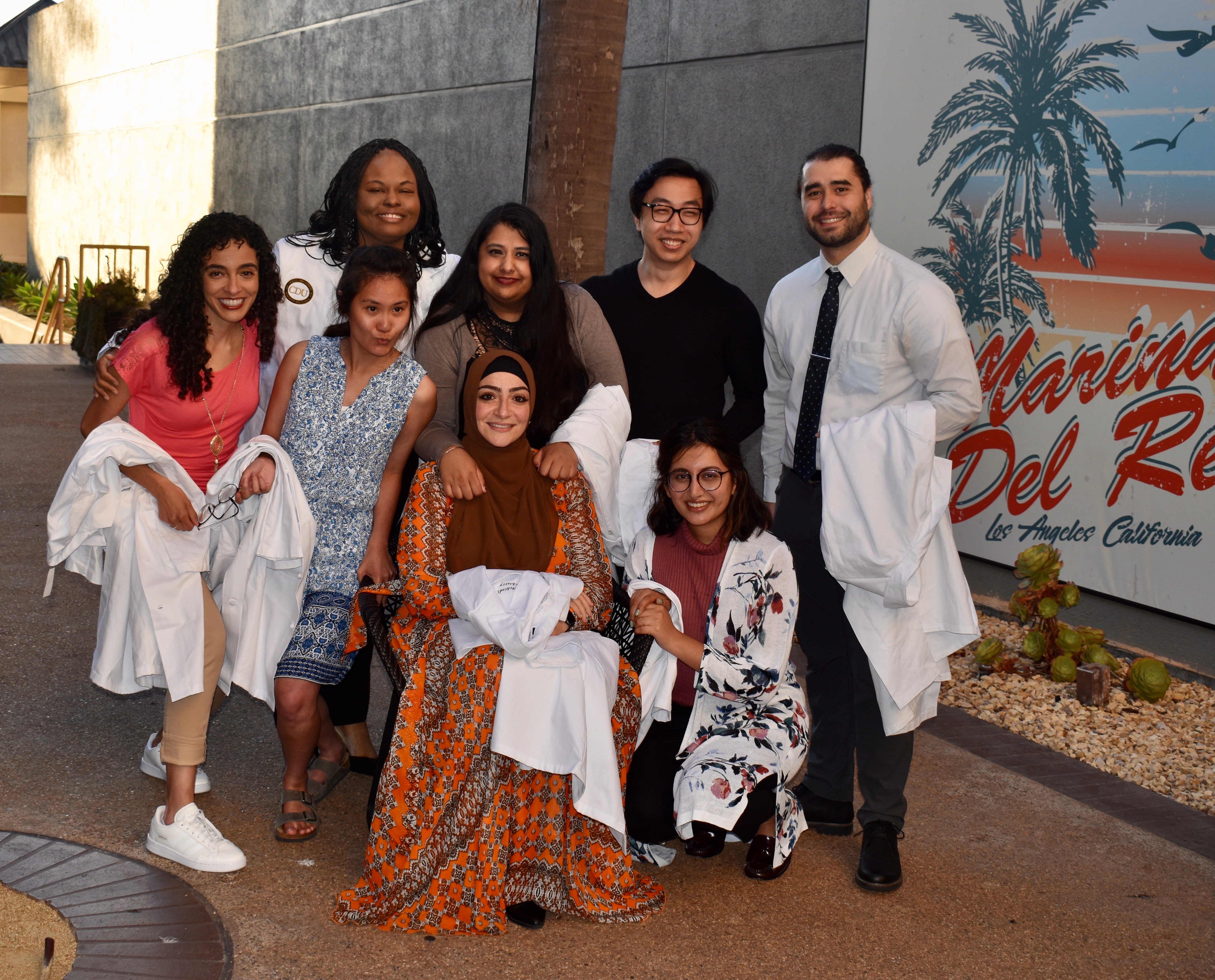 Dr. Sarah Mohtadi (center) with co-interns at CDU, Psychiatry Residency Program in California. Photo courtesy of Dr. Mohtadi.
First UMHS grad to Match in California
UMHS finally received California recognition in 2020, allowing graduates to Match in California residencies. Dr. Mohtadi was elated to learn she was the very first UMHS grad to Match in the Golden State.
"It feels surreal that I am the first UMHS graduate to Match in California. I remember how my graduating class would talk about the possibility of having residency options in California in the future, but I had no idea I would become part of that reality," she said. "I received my diploma in December 2019 and applied for the 2020 Match. This was my first choice in the Match, and I say this as motivation for others who are interested in applying for residency in California."
She graduated from Cal State Northridge with a biology degree and completed her master's degree in psychology. Graduating from university and med school and then obtaining a California residency was groundbreaking for Dr. Mohtadi personally and professionally in more ways than one.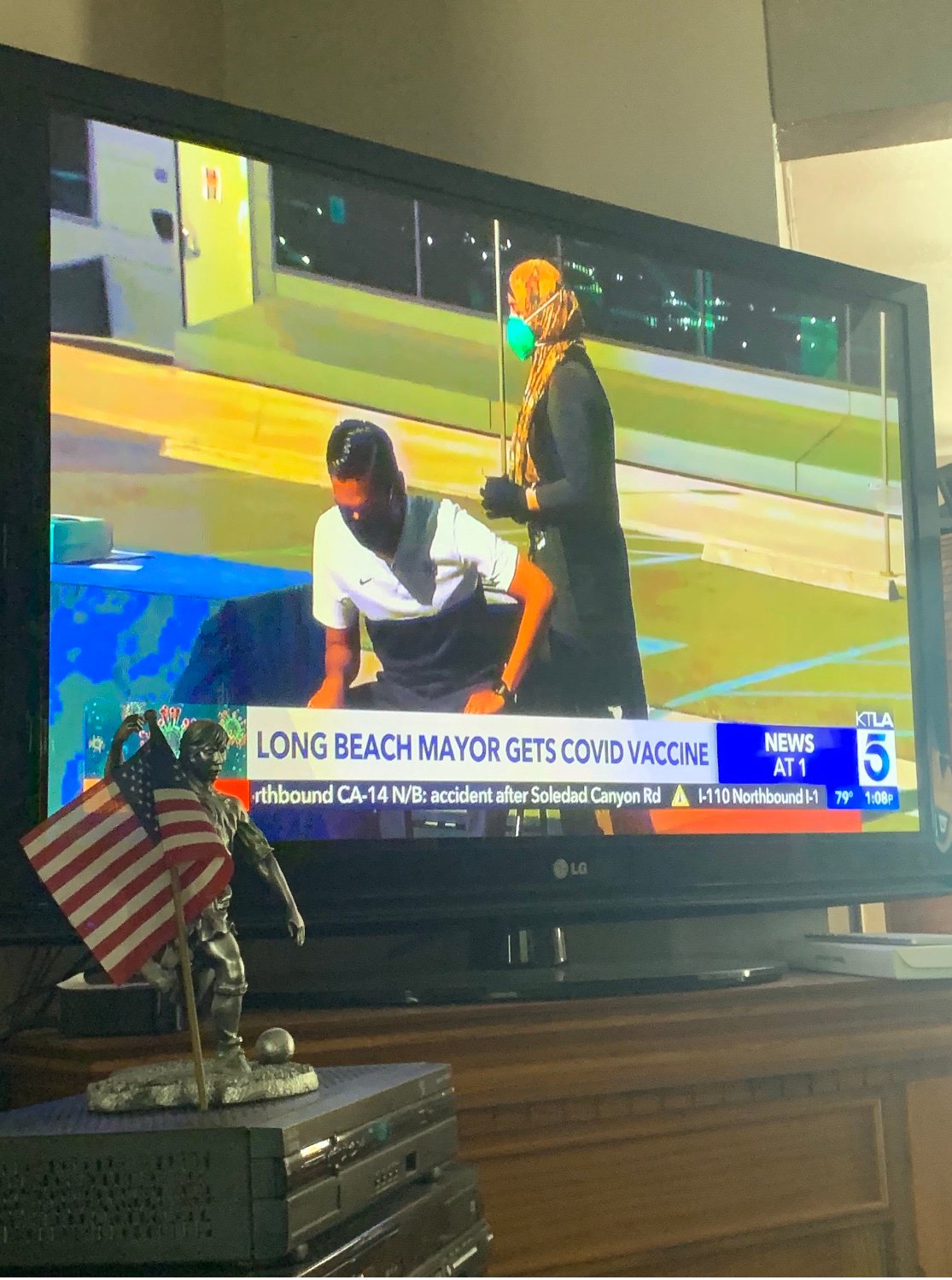 A screenshot of a KTLA Channel 5 News item on TV, showing Dr. Mohtadi vaccinating Long Beach Mayor Robert Garcia. Photo courtesy of Dr. Mohtadi & KTLA.
"I am a PGY-1 resident at Charles R. Drew [CDU] in Los Angeles and specializing in Psychiatry. I was born and raised in the San Fernando Valley in California, so getting matched in my hometown was always my goal. My parents are from the Middle East. I am a first-generation college graduate."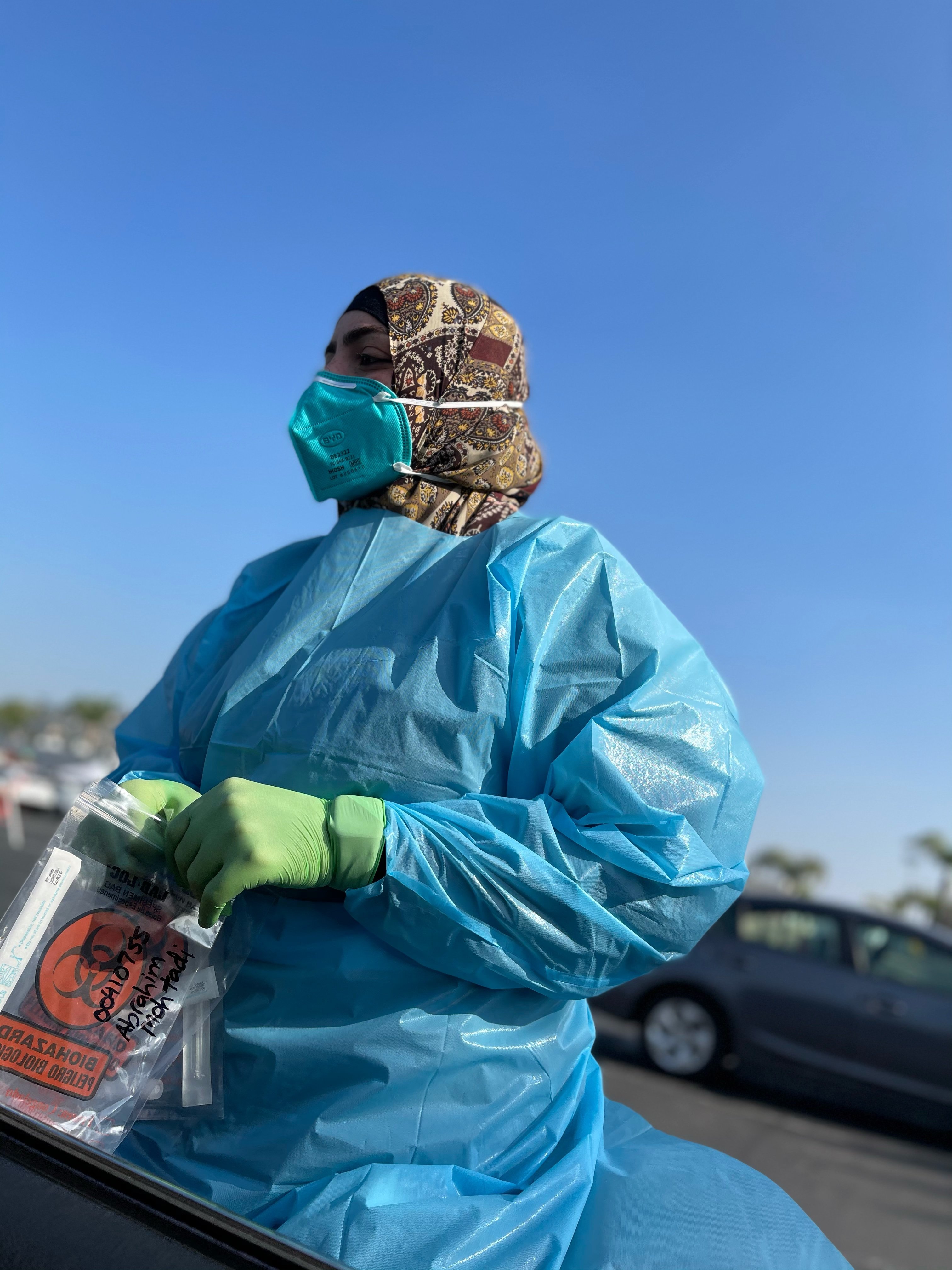 Dr. Mohtadi as a volunteer conducting COVID-19 nasal swab tests for patients at a drive-thru testing site. Photo courtesy of Dr. Mohtadi.
Residency in California
Dr. Mohtadi was happy she matched at Charles R. Drew, a hospital system that helps many medically underserved people of color and uninsured individuals.
"The Charles R. Drew University Psychiatry program allows us to rotate in a few hospitals, such as Harbor-UCLA, Rancho Los Amigos National Rehabilitation Center, and Long Beach VA. The variety of locations is what drew my attention to this program. Moreover, their mission is what I believe in and hope to be as a physician. The program's aim is to serve communities where healthcare disparities are prevalent. This is where I want to be."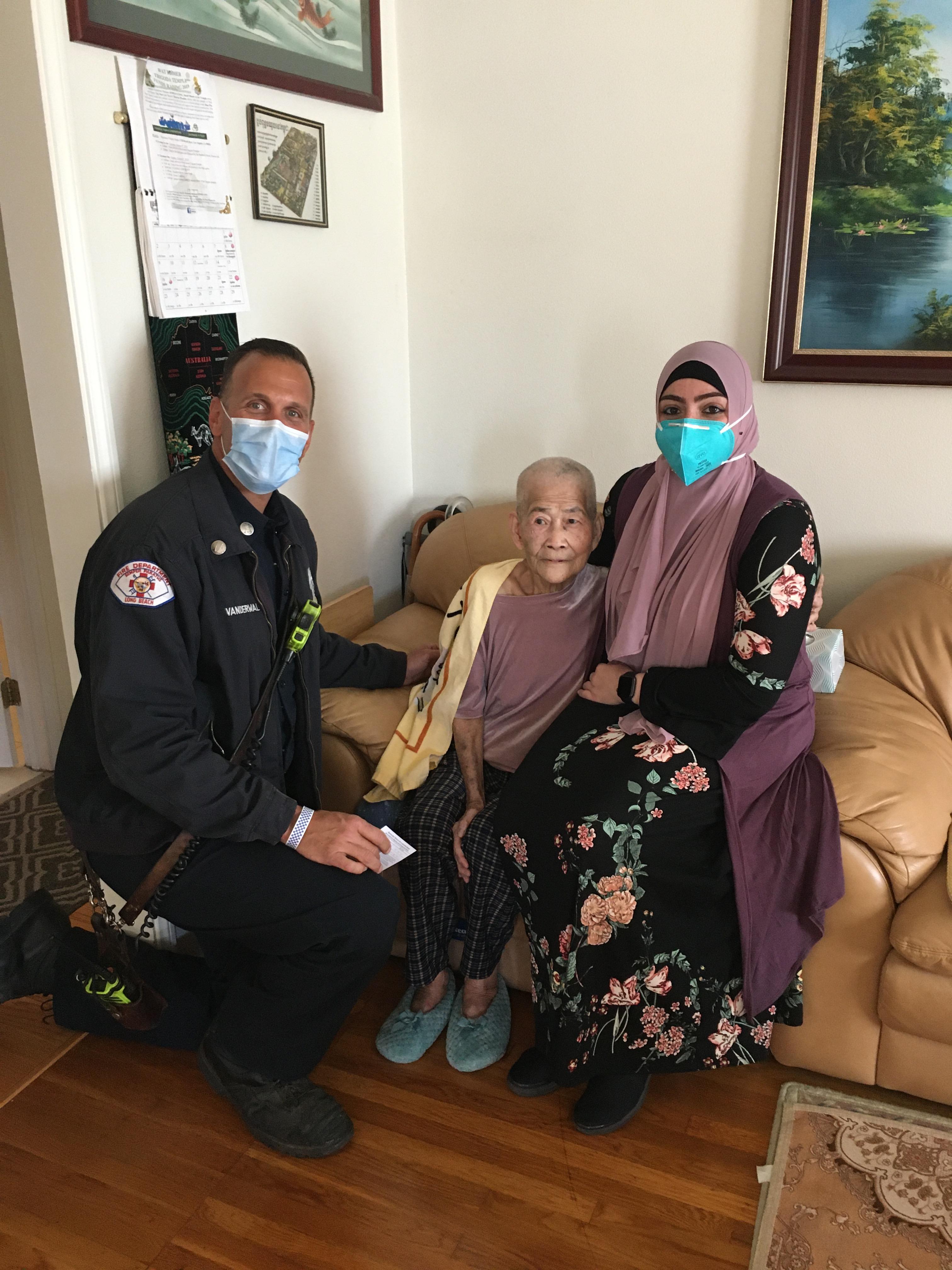 Dr. Mohtadi on a mobile vaccination mission in which she visited residential areas for patients unable to travel to get a vaccine. A Long Beach fireman (left) & Dr. Mohtadi (far right) with a 92-year-old patient. "She was very grateful for our visit," Dr. Mohtadi said. Photo courtesy of Dr. Mohtadi.

How UMHS made a difference
Dr. Mohtadi had a lifelong dream of being a physician and said she could not have achieved her objectives without the first-rate education at UMHS and the support of faculty and staff.
---
Discover if a career in Psychiatry is right for you.
Learn why 89% of doctors would choose the same specialty again.
---
"I always wanted to become a doctor and attending UMHS allowed me to accomplish my goal of being a physician. I chose UMHS because of the intimate learning environment. I was guided by so many mentors and faculty to help me facilitate my success. This is something that is difficult to find, and mentorship is what helped me get to where I am today. I would like to especially thank [Associate Dean of Clinical Sciences and Professor of Neuroscience] Dr. David Felton and [Associate Dean of Academic Administration] Dr. Brijette Sena, both of whom have been there for me academically and personally when I needed them."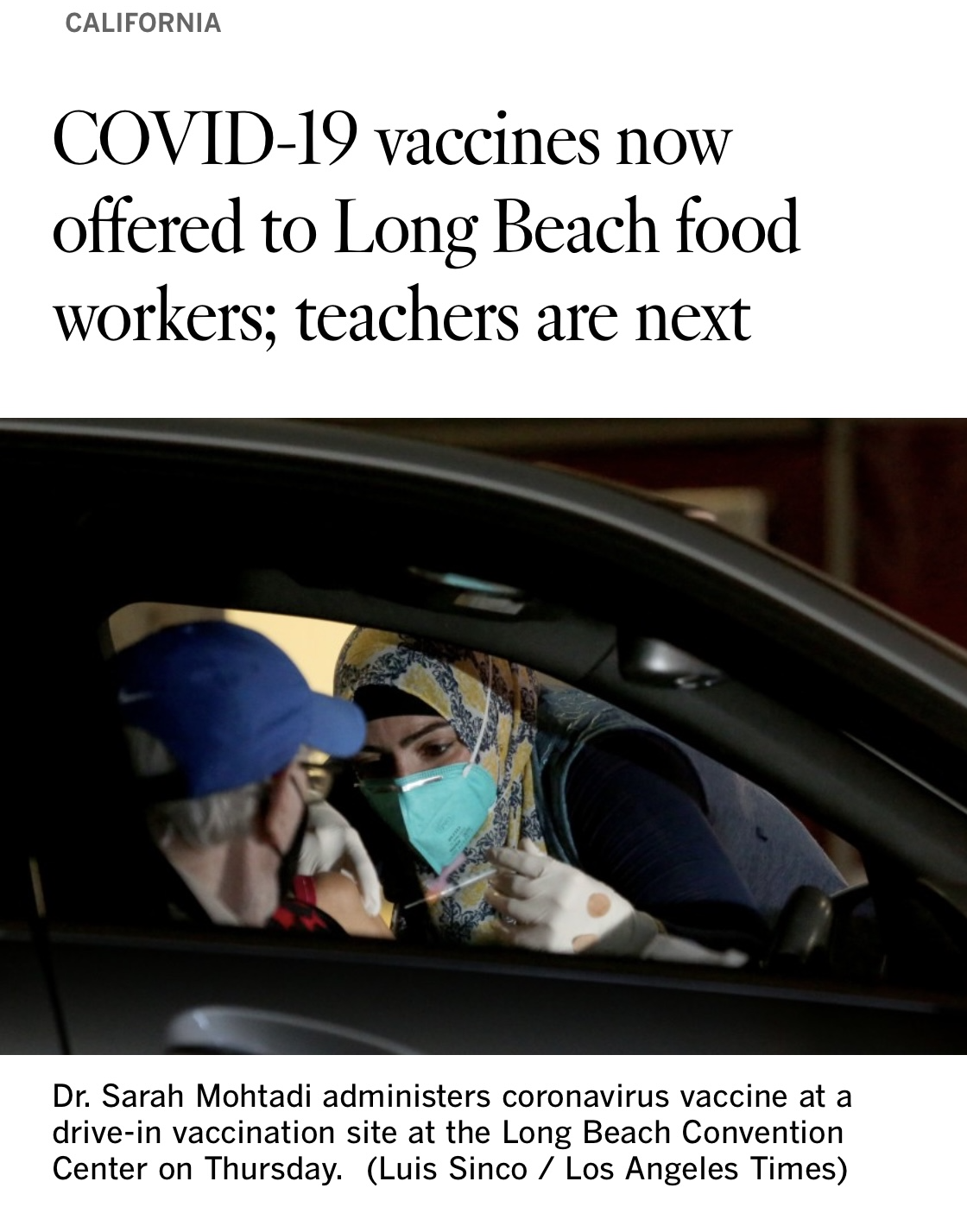 Dr. Mohtadi was featured in a Los Angeles Times article by Lila Seidman & Maya Lau about vaccination efforts at the Long Beach Convention Center. Photo courtesy of Luis Sinco/Los Angeles Times & Dr. Mohtadi
UMHS helped Dr. Mohtadi in many ways.
"Going to a Caribbean medical school is what also gave me the skills to be a better physician. It allowed me to be adaptable, resilient, and accommodating to any environment. Being patient is one characteristic that I know now to be important for a physician to acquire. The journey to becoming a physician is not easy and patience helped me persevere."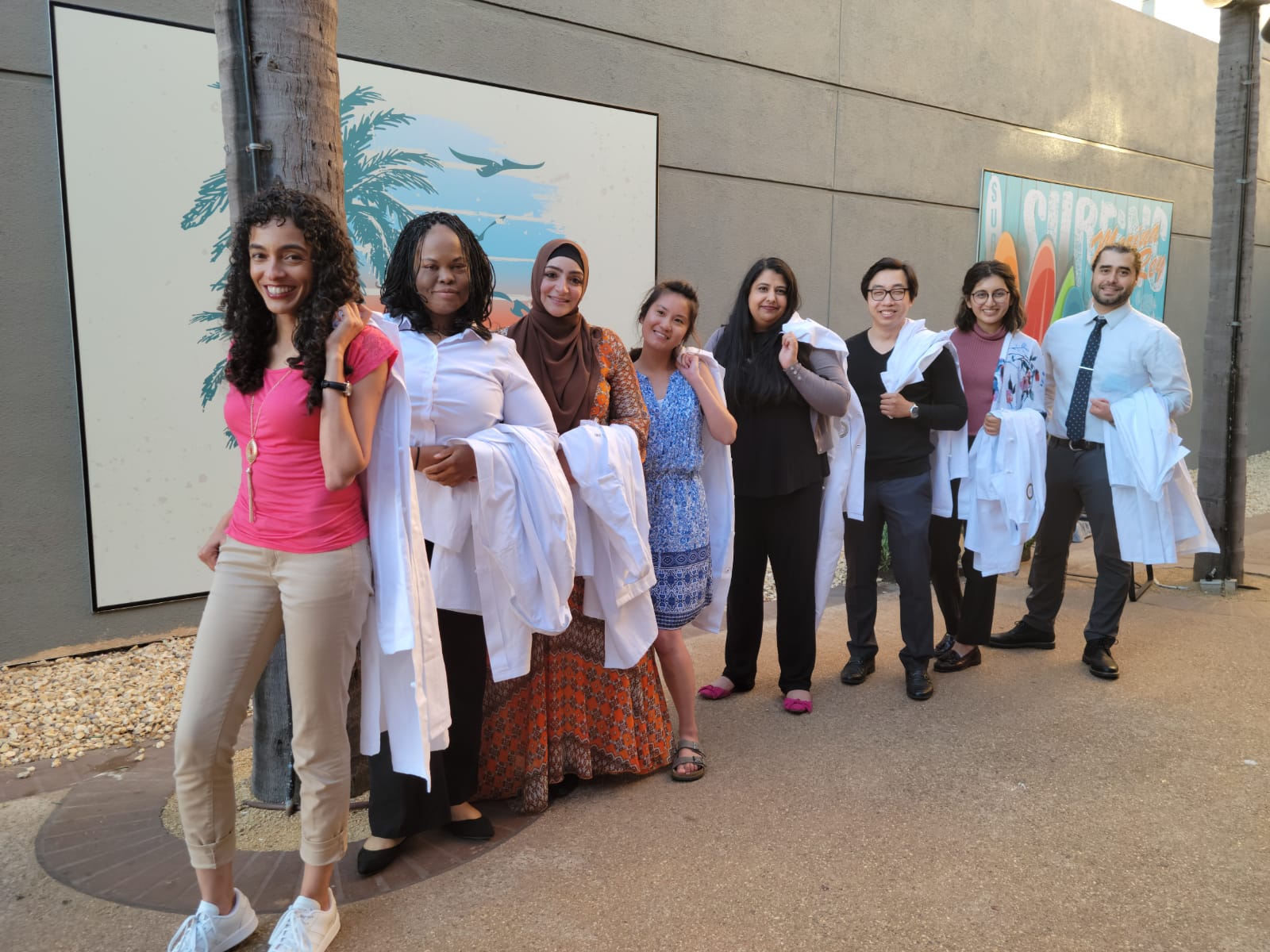 Dr. Sarah Mohtadi (third from left) with co-interns at CDU, Psychiatry Residency Program. Photo courtesy of Dr. Mohtadi.

Volunteering to help during COVID-19 pandemic
Dr. Mohtadi applied for the Match during the height of the pandemic in 2020. She was committed to helping the people of California during this unprecedented time and volunteered to assist with medical efforts.
"I think what helped me Match or gave me an extra boost in representation is the continued effort to be part of medical care while I was applying for residency in the medical specialty of Psychiatry. When the pandemic struck, I immediately signed up to volunteer with the Medical Reserve Corps, which needed medical professionals in Long Beach to help with patients who were sick or needed to get tested for COVID-19. From there, I became a Public Health Physician and was part of the COVID-19 vaccination mission for the City of Long Beach. This allowed me to network with other fields and gave me the experience of community medicine."
She felt a sense of duty to help others while also honing her skills as a future doctor.
"The COVID-19 pandemic was a time for me to really think about my future as a physician. I knew that I needed to help in any way I can. Volunteering was the best way for me to help, while also gaining experience with patient care and practicing medicine at a time where it was scary, chaotic, and unpredictable."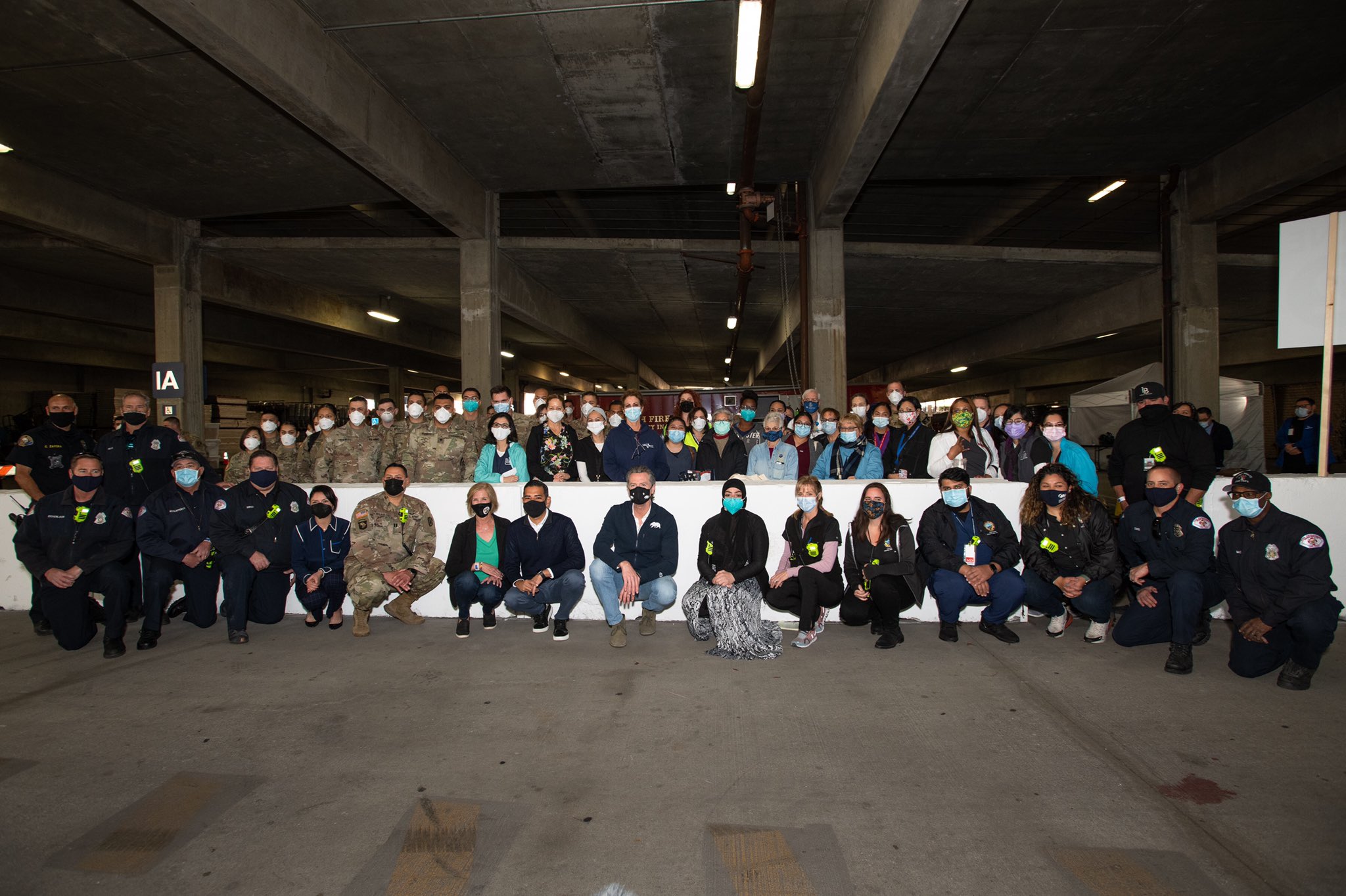 California Governor Gavin Newsom (center & Dr. Mohtadi, center right) visited the mass vaccination site at the Long Beach Convention Center where Dr. Mohtadi worked earlier this year. Photo courtesy of Dr. Mohtadi.
Since she was in such close contact with patients sick with COVID-19, she had to take all the necessary precautions, including not putting her family and loved ones at risk.
"Because of the pandemic, the public has a better understanding of the importance of physicians and the sacrifices we make for others. I did not see my family for almost one year to help keep them safe. I knew that the sacrifice was worth it."
The unpredictable weather and circumstances of climate change in Southern California—particularly all the tragic wildfires the past year—made things especially challenging.
"When I began the COVID-19 mission in Long Beach, I was in a shelter tent for 10 months," she said. "There were days where the tent was flooded from rain. Other days were hot, and ashes were falling from nearby fires. All of this, and we had to be in full PPE. I look back and I would do it again. We helped thousands of individuals who needed medical attention or had to be tested for COVID-19. Most of these individuals were uninsured, and this made our mission even more crucial. At the beginning of the pandemic, many medical offices closed, and our rapid assessment clinic was one of the only places available to seek medical attention."
The Pfizer and Moderna vaccines were first offered to healthcare workers in December 2020 and became available for individuals age 65 and older soon afterward.
"When COVID-19 vaccines arrived for the Long Beach Health Department, I began focusing on vaccinating as many people as I could. From working at the mass vaccination site to doing house calls, and even mobile vaccination units, our goal was to vaccinate as many people as possible. We did an amazing job."
Dr. Mohtadi had the honor of vaccinating Robert Garcia, the Mayor of Long Beach, and her team was visited by California Governor Gavin Newsom.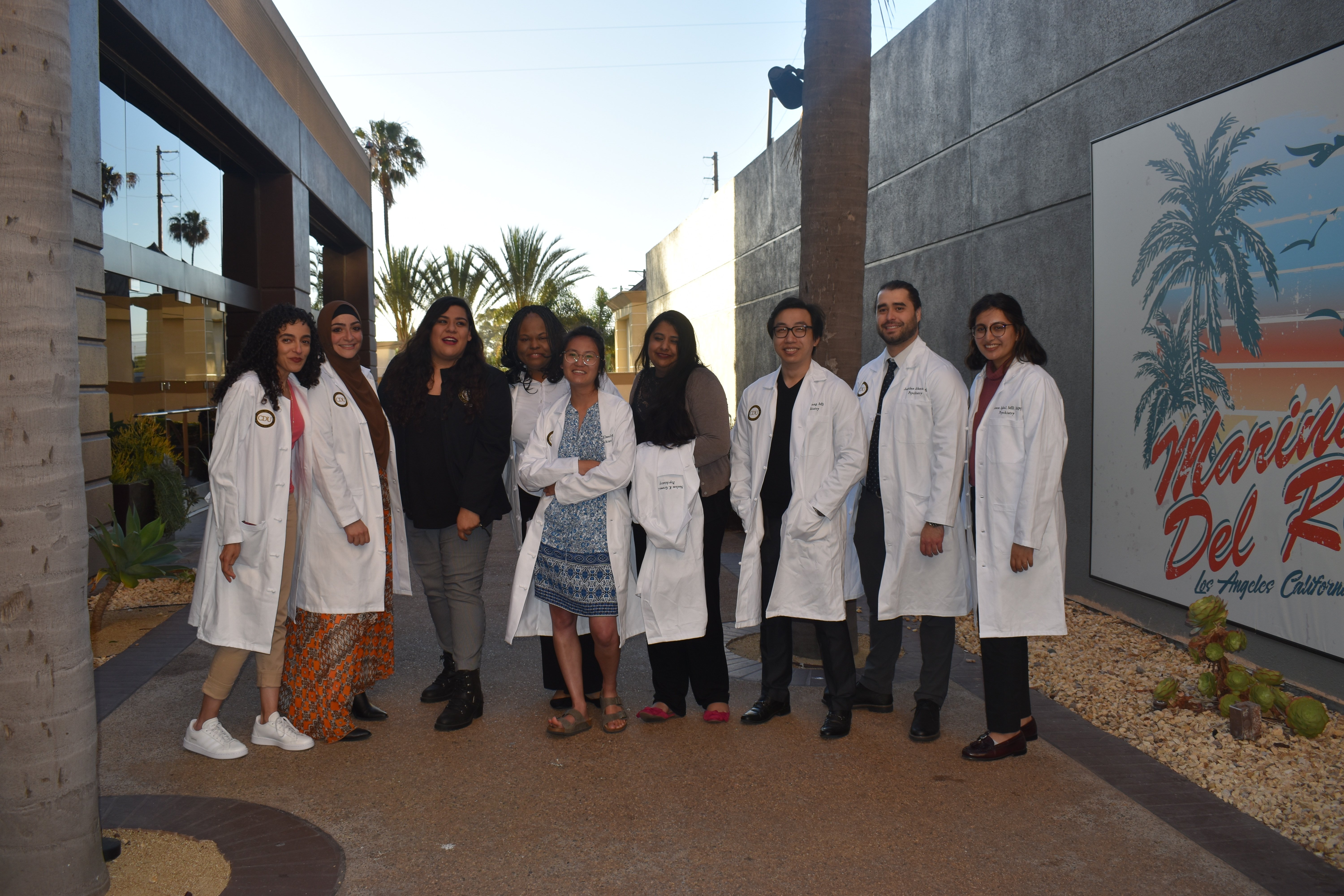 Dr. Mohtadi (second from left) with her co-interns from CDU. Photo courtesy of Dr. Mothtadi.
Making it through med school
Studying in medical school and then applying for the residency Match are both challenging, but neither are impossible tasks. Staying focused, being confident and strong-willed are all keys to success.
"My advice for students is that although medical school is hard work, you will persevere," Dr. Mohtadi said. "Do not feel intimidated to apply to the program that you want. Even if it is competitive and your profile is not stellar, you can always have an opportunity to Match. I say this from experience. I never thought I would be given this chance, but I believed in myself, applied, got the interview, and got matched. Another piece of advice is that if this is truly your passion, do not give up. The journey of medicine is not easy, and there will be challenges that come your way. Use these moments as learning experiences and keep moving forward. Do not dwell on who finished the fastest, who matched the first, and who passed the boards with the highest score. These are all distractions."
Photos of Dr. Mohtadi helping vaccinate Californians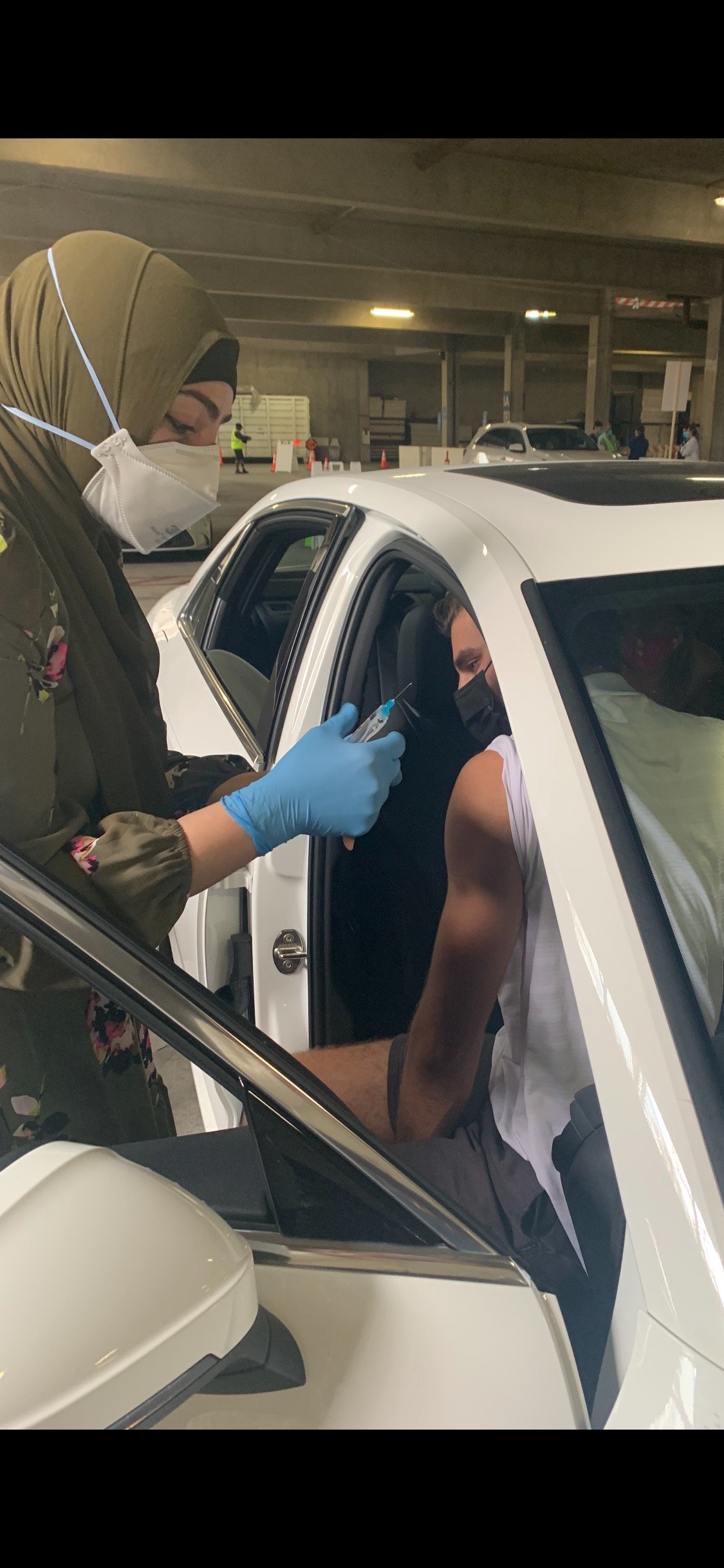 Dr. Mohtadi vaccinating a college student at a drive-thru mass vaccination site at the Long Beach Convention Center. Photo courtesy of Dr. Mohtadi.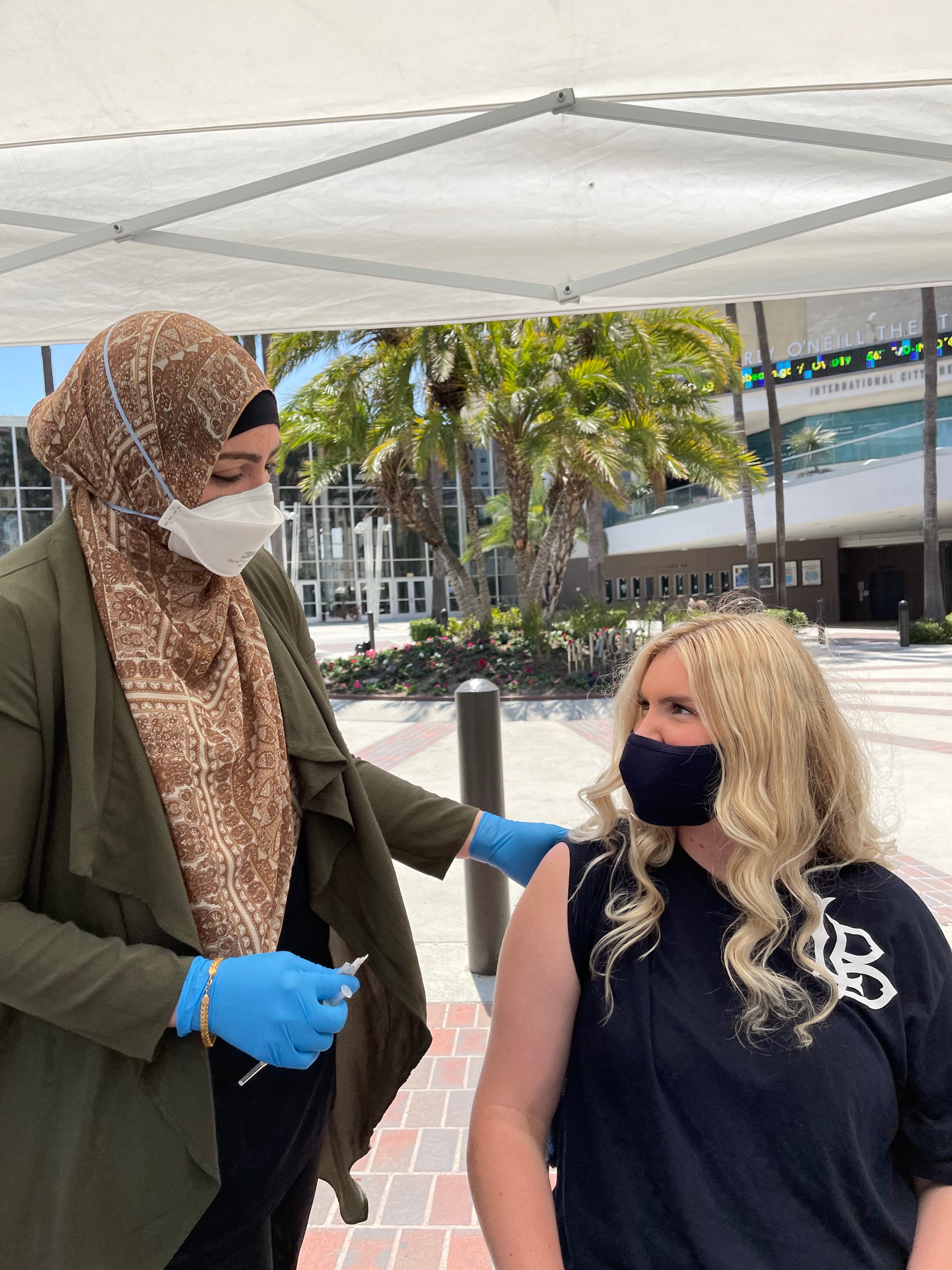 Dr. Mohtadi educating a Long Beach, CA resident on the importance of vaccines & potential side effects. Photo courtesy of Dr. Mohtadi.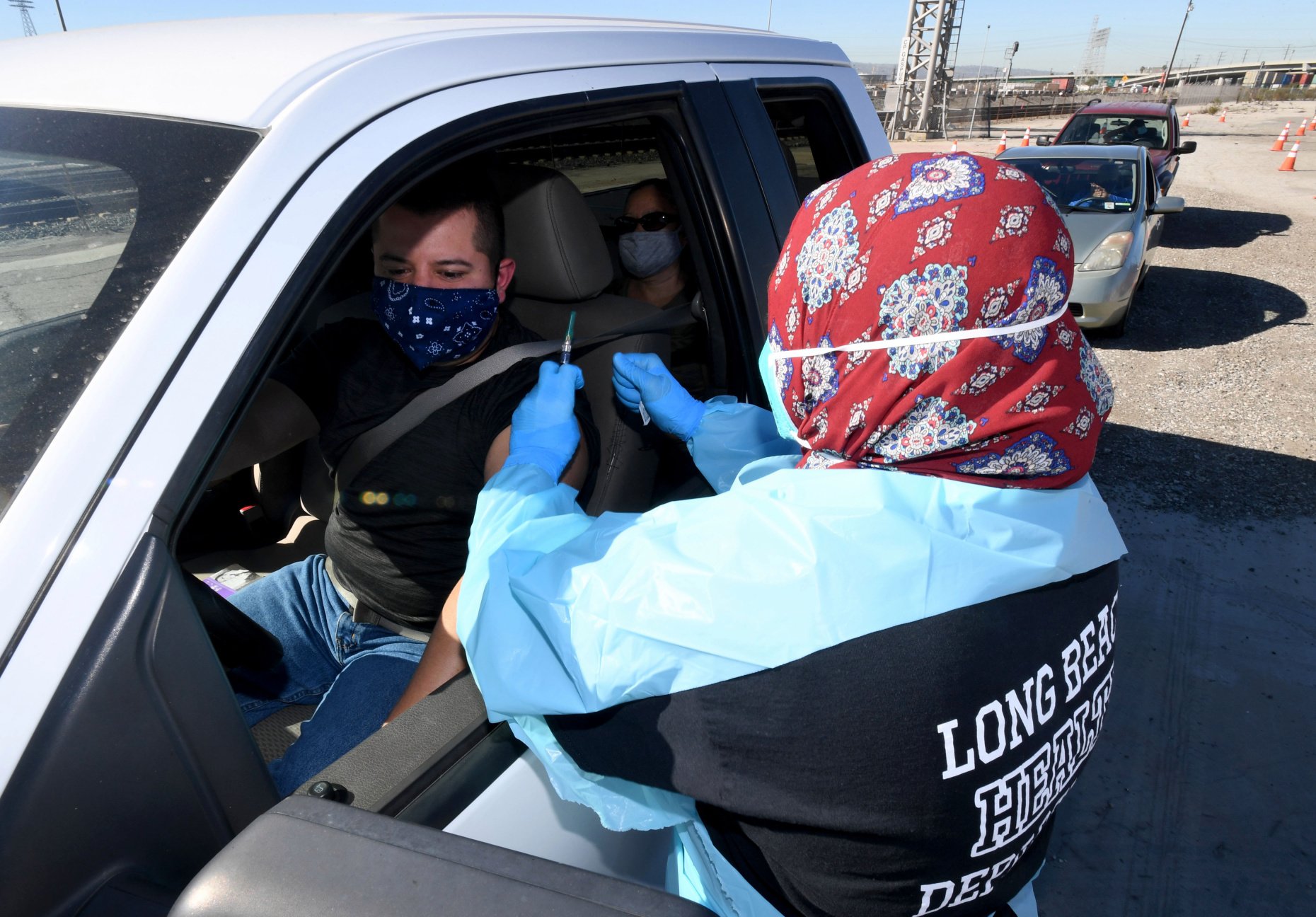 Dr. Mohtadi administering flu shots in a drive-thru vaccination site at the Port of Long Beach. Photo courtesy of Dr. Mohtadi.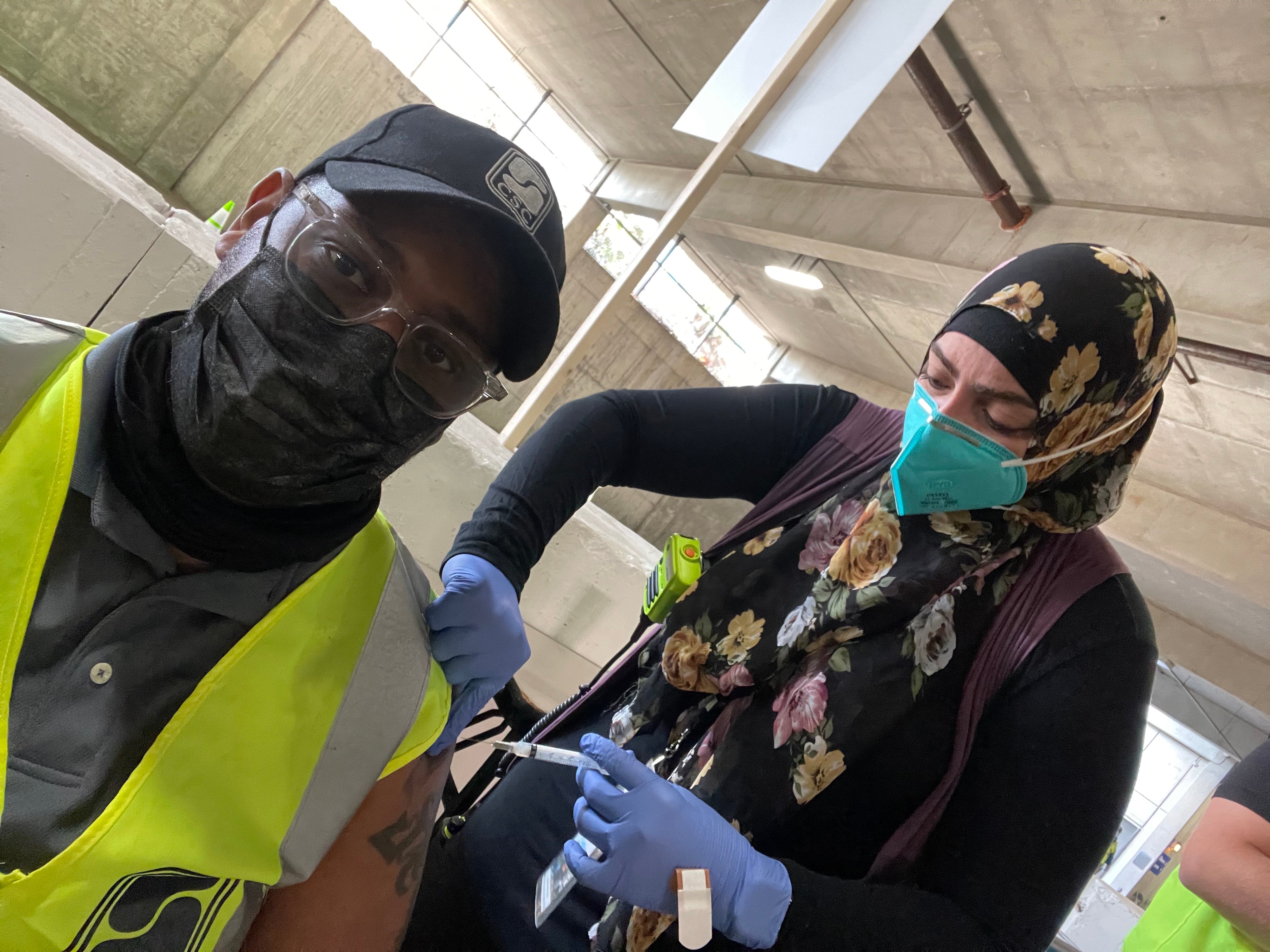 Dr. Mohtadi giving a COVID-19 vaccine to an essential worker at the Long Beach Convention Center in March 2021. Photo courtesy of Dr. Mohtadi.
(Top photo): Dr. Sarah Mohtadi, the first UMHS grad to Match in California. Photo courtesy of Dr. Mohtadi.


Posted by
Scott Harrah
Scott is Director of Digital Content & Alumni Communications Liaison at UMHS and editor of the UMHS Endeavour blog. When he's not writing about UMHS students, faculty, events, public health, alumni and UMHS research, he writes and edits Broadway theater reviews for a website he publishes in New York City, StageZine.com.