UMHS Class of 2015 graduate Dr. Aaron Vazquez completed his residency in Psychiatry at Case Western University in Cleveland, OH and works as an inpatient psychiatrist and medical director and medical director at Intermountain Healthcare St. George Regional Hospital, a 284-bed hospital in St. George, UT. He currently teaches and advises medical students as an adjunct faculty member at Rocky Vista University College of Osteopathic Medicine. Dr. Vazquez and 2017 UMHS graduate Dr. Harki Kaur, a fourth-year Psychiatry resident at Case Western University in OH, hosted a livestream on National Suicide Prevention Week and the State of Psychiatry on Thursday, September 9, 2021 in recognition of National Suicide Prevention Week September 5 to 10, 2021.
The UMHS Endeavour spoke to Dr. Vazquez about how UMHS prepared him to become the psychiatrist he is today, his thoughts on the specialty, the high suicide rates for doctors and medical students, new, cutting-edge treatments for depression and mental health conditions, why primary care physicians must be properly trained to screen for mental health issues, common warning signs for possible suicide, and more.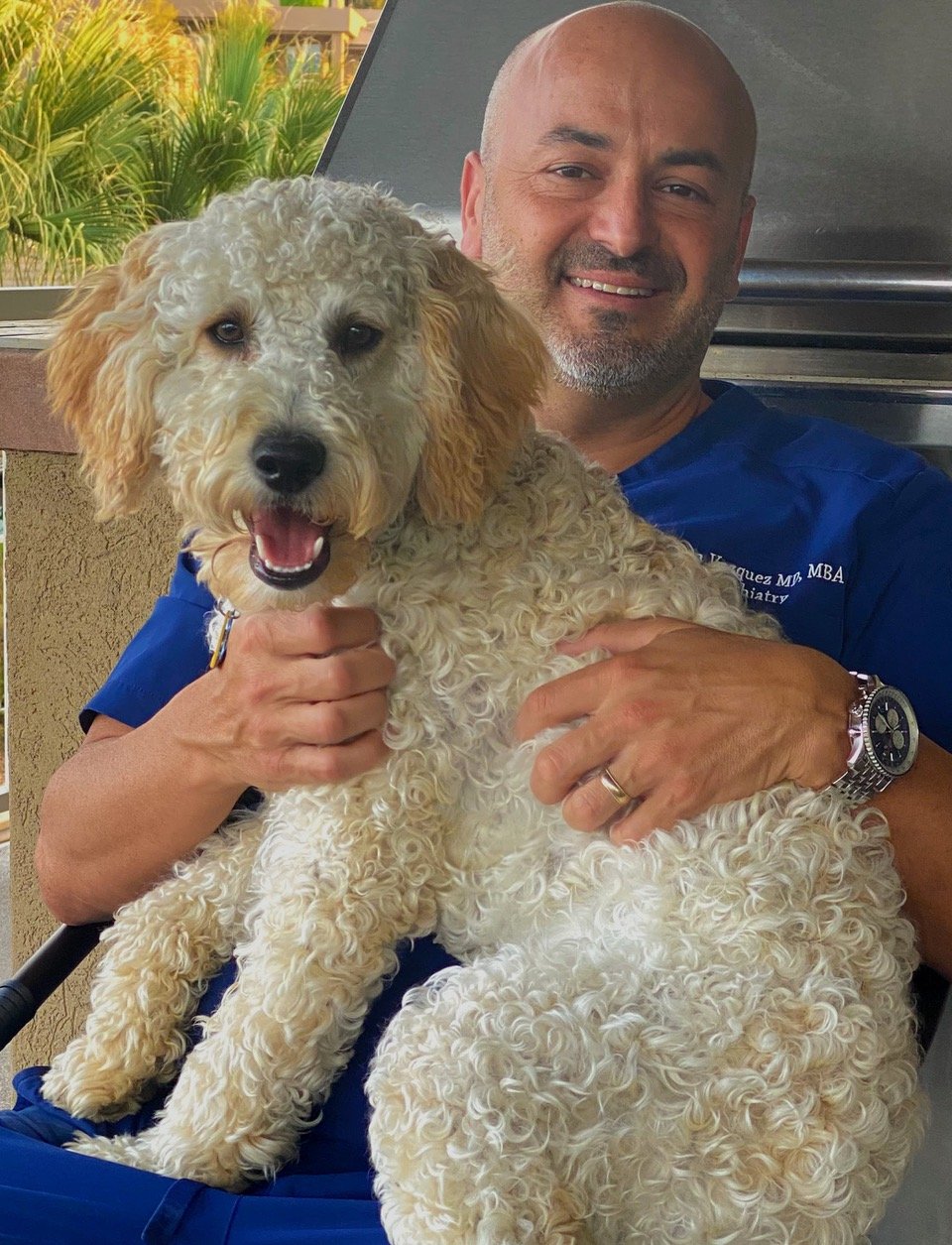 Dr. Aaron Vazquez with his dog, Maverick. Photo courtesy of Dr. Vazquez.
Why he chose Psychiatry & new innovative treatments
Dr. Vazquez was interested in neuroscience while majoring in psychology as an undergraduate.
"My interest in Psychiatry peaked when completing outcomes research. The principal investigator of that research was a psychiatrist and he became a great mentor and friend to me."
Dr. Vazquez specializes in caring for patients that are deemed "treatment-resistant" to conventional treatment.
"I use an eclectic approach to treat patients that suffer from severe physical and emotional pain. I enjoy helping patients recover from addiction and trauma by using psychotherapy, medication-assisted treatments (MAT), and ketamine in practice. I believe that other non-ordinary treatments hold promise, such as hormone therapy for Major Depressive Disorder, Psychedelics for depression and PTSD, and cannabis for several ailments."
Dr. Vazquez attended UMHS in St. Kitts and brought along his wife and kids while studying. He learned a lot about the need for medical students and young doctors to find support from their families.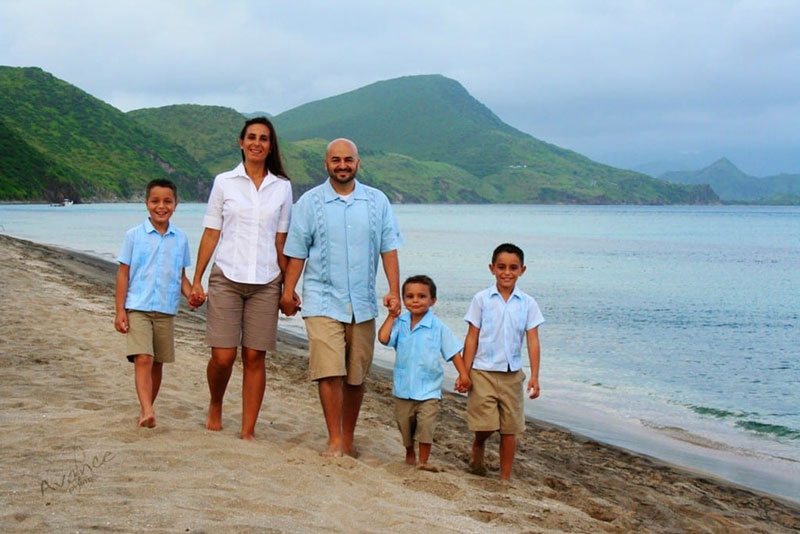 Dr. Aaron Vazquez & wife Esther & children when he was a med student in St. Kitts. Photo courtesy of Dr. Vazquez.
"My family provided me with unconditional emotional support while studying in St. Kitts," he said. "Having young children at the time forced me to take breaks from my studies to help them with theirs. They helped me achieve an ideal work-life balance. We found a lot of solitude on the island at different beaches and at our church."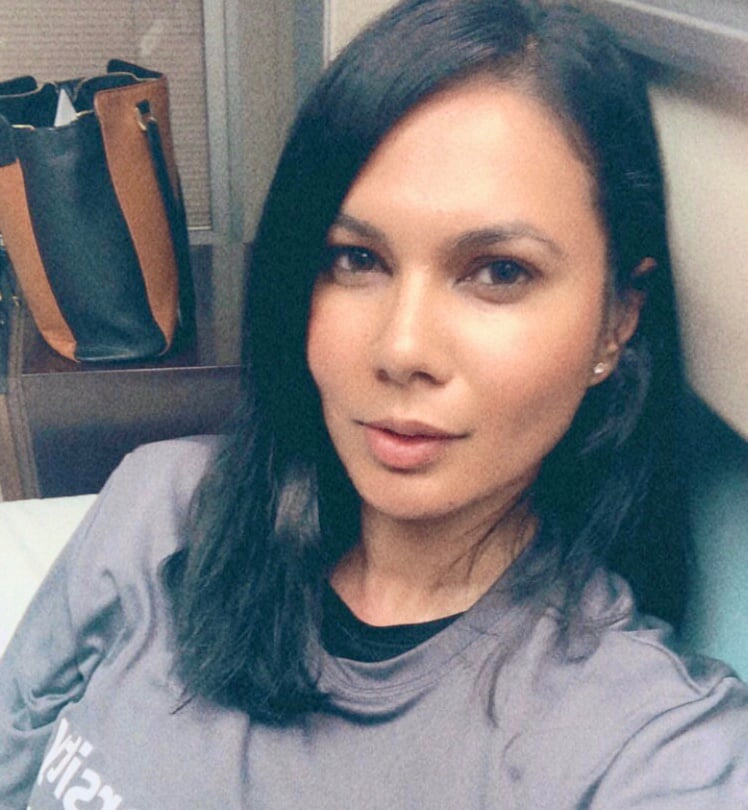 Dr. Harki Kaur, a UMHS 2017 grad in her final year of a Psychiatry residency at an Ohio hospital, joined the livestream on Thursday, September 9, 2021. Photo courtesy of Dr. Kaur.

National Suicide Prevention Week & Month
This is National Suicide Prevention Week and September is National Suicide Prevention Month. We spoke to Dr. Vazquez about common things people should know about physician suicide because doctors have a shockingly high suicide rate.
"Suicide is relatively uncommon, affecting 12 per 100,000 people in the US per year," he said. "However, doctors die by suicide at a rate of 28 to 40 per 100,000 or more than double that of the general population, which total 300-400 deaths per year. One doctor commits suicide in the US every day—the highest suicide rate of any profession, including military. Medical students are three times likelier to die of suicide than the general population."
Common warning signs for physicians & suicide
Because the physician suicide rate is high, what are warning signs to look for? Dr. Vazquez said common signs include increasing substance use, mood changes, depression, anxiety, agitation, anger, loss of interest, humiliation and shame, or expressing no sense of purpose in life. Additional risk factors include: recent loss of a patient, license restriction, malpractice, financial problems, a professional identity crisis, or professional isolation.
Besides encouraging someone to speak to a therapist or psychiatrist, what are things one should ask a fellow physician or medical student if you fear they might be considering suicide?
"Encourage a colleague to share what is happening with them," Dr. Vazquez said. "Do not hesitate to ask about self-harm. It will not increase the chances that someone will commit suicide. Taking the approach, 'Let's do this together and get you the help you need' infers you will be there to see them through this difficult time."
Take suicidal ideation seriously
One should always assume one might be the only person reaching out to a fellow physician or patient considering suicide. Take anyone's suicidal ideation seriously, Dr. Vazquez said.
Dr. Vazquez notes that it is a falsehood that "people who talk about suicide are those who won't actually do it."
"Although 50% of physicians that die by suicide have not been formally diagnosed with a psychiatric illness, the other 50% have and do talk about their suicidal thoughts."
There are many ways to help someone you know or a fellow doctor or med student who is in crisis by connecting them to professional help. Dr. Vazquez suggests referring a colleague to the Employee Assistance Program or a therapist when someone needs help.
He also suggests that med students and doctors should avoid a commonly used term in society.
"Avoid using the term 'commit' suicide because it is not a crime," Dr. Vazquez said. "It is preferable to say 'die by suicide' as it is an illness. It helps shed the stigma."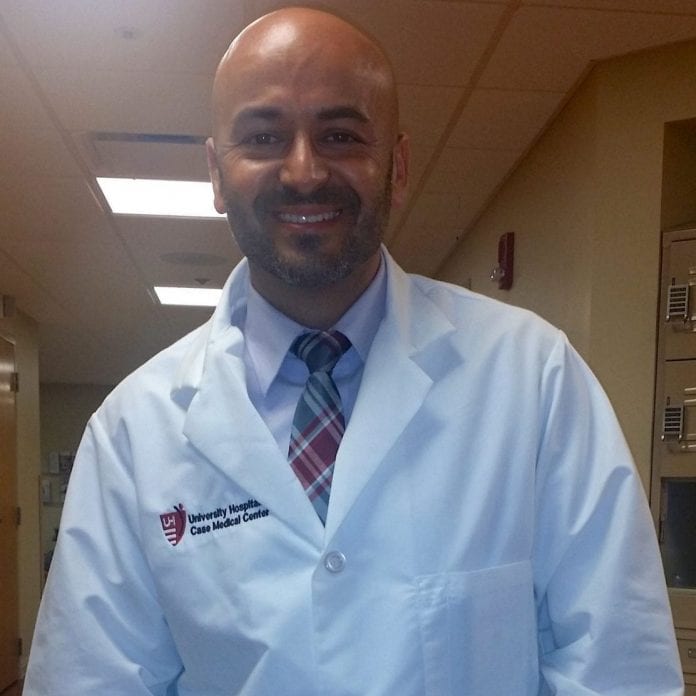 Dr. Aaron Vazquez back when he was still a Psychiatry resident at Case Western University in OH. Photo courtesy of Dr. Vazquez.
Training healthcare professionals in mental health screening
Healthcare professionals should be properly trained to do standard mental health screening on patients.
"Start by administering the PHQ-9 instrument," he said. "This nine-question survey screens someone for major depression. It is a subjective (self-report) instrument that has good sensitivity. From the clinician's standpoint, look for changes in affect, behaviors, grooming and hygiene. It is helpful to also be mindful of major life events such as divorce, loss of a loved one, loss of employment, etc."
Substance abuse & the pandemic
Dr. Vazquez said use of alcohol and recreational drugs has increased since the pandemic started in early 2020.
"13% of Americans reported starting or increasing substance use as a way of coping with stress or emotions related to the pandemic," he said. "There has been an increase of 17.59% in suspected overdoses following the enactment of stay-at home orders. So far, the overall 2020 values for deaths by overdose were elevated by approximately 50%. Online alcohol sales have increased as have national cannabis sales"
Mental wellness for healthcare professionals coping with COVID-19
The past 18 months have been brutal for healthcare professionals and medical students. Dealing with all the unprecedented aspects of the pandemic has made things especially tough for people in medicine.
"The stress really starts in medical school and continues in residency due to lack of residency spots, increase in demands, competitiveness, long hours, and lack of sleep," Dr. Vazquez said. "After training, doctors face different but equally challenging stressors. The current wave of COVID-19 is impacting the mental health of our healthcare workers."
During the current global health crisis, Dr. Vazquez offers straightforward advice.
"Put your own mask on first. Do not wait for your employer to put it on for you. Take care of your own mental health so you can help others. Your primary care physician can help connect you with mental health services, and the National Suicide Prevention Lifeline is available anytime at 1-800-273-8255."
You can do a lot to help other doctors and medical students having trouble coping.
"Help others who are struggling. If you see others who aren't doing well, reach out to them, let them know you notice, ask if you can help, and connect them with helpful resources. Focus on the positive. Every night, list at least three good things that happened that day. Studies show having a grateful mindset and focusing on the positive can have lasting health benefits."
To stay focused, supporting local public health measures is crucial.
"Support public health measures. Despite claims that public health measures like mask-wearing or social distancing can lead to an increase in suicide and mental health problems, there's no empirical evidence backing these claims."
There are numerous ways to diffuse the pressure the healthcare community is experiencing in doctors' offices and hospitals. Dr. Vazquez suggests engaging in mindfulness activities like deep breathing exercises and meditation to ease stress and anxiety.
As a doctor or medical student, do not be too hard on yourself, particularly when dealing with patients refusing to get the COVID-19 vaccine.
"Remember that you cannot save everyone.," Dr. Vazquez said. "If a doctor feels they are doing more work to keep their patient safe than the patient is, that should serve as a red flag and give pause. Remember your medical ethics and the principle of respecting autonomy in patients that have the capacity to make their own medical choices."
There have been reports the past year of nurses and doctors who died by suicide because of all the grief they were seeing in the ICU and ER. Most hospitals are good about giving staff time off, but some places are better than others and younger doctors may have less leave time than more experienced physicians. What do doctors or medical students do when they are feeling overwhelmed?
"Make your needs known to your supervisor. In certain institutions, time off has to be 'taken' by the doc as it will never be 'given'. When taking time off, take time off. Don't check work emails, or answer work phone calls. Avoid watching too much news or spending excessive amounts of time on social media, as both correlate to increased rates of depression."
He recommends everyone see the film Do No Harm: Exposing the Hippocratic Hoax, "a movie about medical students and families of physicians touched by suicide that expose a sick healthcare system that drives doctors to take their own lives."
View the entire livestream below.

(Top photo): UMHS grad Dr. Aaron Vazquez back when he was a student. Pictured in front of the Lou Ruvo Center for Brain Health at the Cleveland Clinic in Las Vegas, NV. Photo courtesy of Dr. Vazquez.

Posted by
Scott Harrah
Scott is Director of Digital Content & Alumni Communications Liaison at UMHS and editor of the UMHS Endeavour blog. When he's not writing about UMHS students, faculty, events, public health, alumni and UMHS research, he writes and edits Broadway theater reviews for a website he publishes in New York City, StageZine.com.