Introduction
Students stress over the score they receive for the Medical College Admissions Test (better known as simply the MCAT). Many think the MCAT is the sole factor regarding medical school admittance. However, an MCAT score alone does not determine whether or not you will get into US and Caribbean medical schools. Numerous factors are taken into consideration when applying. The MCAT is just one of many tests required on the road to becoming an MD.
The UMHS Endeavour offers an overview of the MCAT, from what is on the test to why it is important and why prospective students should understand why "you are not your MCAT." We take a look at the MCAT and all the tests required to become an MD, including Kaplan test preparation for the USMLE Step 1 and why test preparation is important, clinical rotations and shelf examinations, USMLE Step 2, matching, completing residency and passing USMLE Step 3. We will also discuss Board Certification by passing both written and oral exams before going into practice.
What Tests Are Required to Become an MD?
MCAT
USMLE Step 1
NBME shelf exams
USMLE Step 2 CK
USMLE Step 3
Board Certification (includes oral and written exams)
MCAT Basics & Kaplan
What is the best time to take the MCAT?
US residents interested in attending med school must take the MCAT. Experts say it's a good idea to take it in your junior year of university. Regardless of when you take the exam, one needs to know what is on the test and how to study for it.
How do you study for the MCAT?
Leading companies like Kaplan offer MCAT study guides that help you every step of the way to do well on the MCAT. Most students set aside three months to study for the MCAT and Kaplan offers a study guide that covers three months so one can study all sections of the MCAT.
What areas does the MCAT cover?
Kaplan's study guide includes 59 multiple-choice questions for 95 minutes each: Biological and Biochemical Foundations of Living Systems (testing basic biology, organic chemistry, inorganic chemistry and biochemistry); Chemical and Physical Foundations of Biological Systems (testing basic biochemistry, biology, general chemistry, organic chemistry and physics); Psychological, Social, and Biological Foundations of Behavior (testing psychology, sociology, and biology. Finally, 53 multiple-choice questions are included over 90 minutes for Critical Analysis and Reasoning Skills, which covers questions from various humanities and social science areas and is similar to reading comprehension questions on other standardized tests.
What is a "good" MCAT score?
Getting a decent MCAT score (most schools looks for a score above 490) is important. What is a "good" score? Most schools look for a score above 490. What if you score lower than 490? Retaking the MCAT might then be a good idea, but keep in mind you should not take it more than twice. "Your first MCAT score might not be as bad as you think," an admissions professional told the Endeavour." Subsequent attempts generally do not result in dramatic changes to the overall MCAT score."
What other factors do med schools look for?
Most US and Caribbean medical schools do not just look at your MCAT score. Keep in mind that schools often evaluate the total student, so do not let what you think is a low GPA or MCAT deter you from applying. Many variables are considered, including:
Academic performance: Schools like UMHS look for a specific cumulative grade point average, listed at the end of your transcript. Your GPA also lets faculty admissions committees determine whether or not you have the intellectual capability to perform in a challenging medical school curriculum. Some schools will even compute as many as five or six separate GPAs in order to determine if you meet their criteria. Many are more interested in the pattern of your academic development than whether or not you have had difficulties some years past.
Motivation: A personal motivation for success is one of the most important qualities of an applicant. An admissions official told the UMHS Endeavour that medical schools "seek students who have demonstrated the ability to adapt, to study hard, to integrate various modes of instruction and retain the useful knowledge required for promotion. Your personal statement, letters of recommendation and personal interview will be important components of your application."
What are clinicals & USMLE 'Board' exams"?
Once you get into medical school, you will take basic science courses and move on to a pre-clinical semester to prepare for the United States Medical Licensing Exam (best known by the acronym USMLE) Step 1. UMSLE exams are also called "the Boards." Passing the Step 1 (with a score of at least 194) is required before a student can begin clinical rotations. How does one score high? When deciding on a medical school, choose one with a pre-clinical semester (often called "5th semester") that offers a Kaplan prep or similar USMLE preparation program. Prep programs help students overcome exam anxiety and provide the necessary skills to "ace" Step 1.

What are the USMLE exams?
Three separate exams comprise the UMSLE exams or "boards." The most important things one should know about UMSLE Exams, as outlined on the official USMLE website:
"The United States Medical Licensing Examination ® (USMLE®) is a three-step examination for medical licensure in the United States and is sponsored by the Federation of State Medical Boards (FSMB) and the National Board of Medical Examiners® (NBME®)."
"The USMLE assesses a physician's ability to apply knowledge, concepts, and principles, and to demonstrate fundamental patient-centered skills, that are important in health and disease and that constitute the basis of safe and effective patient care. Each of the three Steps of the USMLE complements the others; no Step can stand alone in the assessment of readiness for medical licensure."
(Photo, inset right above) Image: Courtesy of USMLE Facebook
Fundamentals of Clinical Rotations & NMBE
What are clinical rotations?
Clinical rotations (sometimes called "clerkships," depending on the school) give students hands-on experience in a hospital setting. They allow one to learn different medical specialties under the supervision of a physician. Students start clinical rotations after passing USMLE Step 1. Each medical school arranges clinical rotations at hospitals for students. At UMHS, students take 48 weeks of mandatory clinical core rotations and 30 weeks of electives. The core rotations represent the primary areas of medical practice and the elective rotations provide students with an understanding of the various specialties in medicine.
For those unfamiliar with clinical rotations, StudentDoctor.net explains the process: "In Year 3 of med school, you become part of a medical team. A medical team typically consists of an attending (senior doctor), residents (doctors-in-training) and interns (first-year residents). You will rotate through the many clinical specialties of medicine, such as Internal Medicine (adult medicine), pediatrics, ob/gyn, psychiatry, surgery, etc. Here, you will get a taste of what kind of doctor you wish to become. Your [preceptor] will grade you on your performance during your rotation. As with any work environment, this can be a bit subjective. However, a nationally offered final subject exam [NBME] is administered at the end of your core rotations in order to determine a final grade."
What is an NBME 'shelf' exam and what does it test for?
The NBME [National Board of Medical Examiners] website gives the following information about the subject (often called "shelf") exams .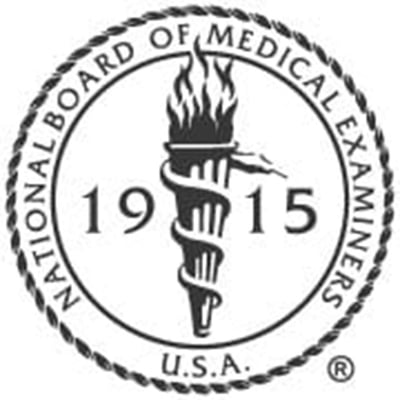 What are 5 facts about the NBME exams?
"The primary mission of the NBME Subject Examination Program is to serve medical education by providing high-quality assessment tools as well as information and assistance to medical educators."
"NBME subject exams are achievement tests in a broad sense, requiring medical students to solve scientific and clinical problems. Although students' performance on the exams will reflect the learning specific to their course and clerkship experiences, their test scores will also reflect educational development resulting from their overall medical school experiences. These exams are constructed to be appropriate for a broad range of curricular approaches."
"The NBME offers standardized, objective, discipline-based exams for use in assessment throughout the medical school curriculum. The exams are designed to provide institutions with effective evaluation tools and useful examinee performance data that can be compared with a large representative group of examinees at the same stage of training. Subject exams are cost-effective, available globally, and provide faculty with valuable feedback on the performance of their examinees."
"The comprehensive and clinical science web-based subject examinations may be ordered for administration at Prometric's worldwide network of 350 secure, convenient test centers."
"Prometric testing may be preferred for students serving on clinical rotations in a distributed hospital network or for those located at sites without web-based test delivery."
(Photo, inset right above) Image: Courtesy of NBME/ Facebook
What happens in Year 4 of med school?
In Year 4 of med school, things become more specialized as you choose electives. Therefore, "you can delve into the specialties of medicine even more," StudentDoctor.net explains. "For example, if you liked internal medicine, you can elect to do a gastroenterology, cardiology or rheumatology rotation."
At UMHS, after passing Step 1 of the USMLE, students take 12 weeks of Internal Medicine; 12 weeks of Surgery; plus 6 weeks of Pediatrics, 6 weeks of Obstetrics and Gynecology; 6 weeks of Pediatrics; 6 weeks of Psychiatry. In addition, 6 weeks of Family Practice, followed by 30 weeks of electives.
USMLE Step 2 CK
The USMLE Step 2 CK is an acronym for "clinical knowledge." The USMLE website says students take the Step 2 CK in their fourth year. Kaplan's website notes "Step 2 CK is a one-day, multiple-choice, computer-based examination lasting about nine hours." The exam is "divided into eight 60-minute blocks, and test item formats may vary within each block."
Content areas in the USMLE Step 2 CK?
Internal medicine
Obstetrics and gynecology
Pediatrics
Preventive medicine
Psychiatry
Surgery
Other areas related to providing care under supervision
What else is on the Step 2 CK?
In addition, Step 2 CK describe clinical situations and students must provide one or more of the following:
What is the passing score for Step 2 CK?
What is the passing score for USMLE Step 2 CK? The Memorang Blog gives average Step 2 CK scores for various specialties. 209 is the minimal passing score for Step 2 CK. However, that is simply to "pass." Here are average scores for the different areas of medicine below.
What are "good" Step 2 CK scores for various specialties?
Anesthesiology, 242
Family Medicine, 237
Internal Medicine, 246
Neurology, 243
Emergency Medicine, 245
Psychiatry, 238
Plastic Surgery, 256
USMLE Step 3
The final exams required to become a doctor include the USMLE Step 3 and Board Certification exams (which contain written and oral exams).
Equally important, after completing residency, you will take USMLE Step 3, a two-day examination that is the final exam in the USMLE sequence. This is the last exam one needs to do well on to get a license to practice without supervision. The USMLE website has detailed information about Step 3.
What is on the Step 3 exam?
"Step 3 assesses whether you can apply medical knowledge and understanding of biomedical and clinical science essential for the unsupervised practice of medicine, with emphasis on patient management in ambulatory settings," the site says. "The examination material is prepared by examination committees broadly representing the medical profession. The committees comprise recognized experts in their fields, including both academic and non-academic practitioners, as well as members of state medical licensing boards."
Below are details from the USMLE site about Step 3.
How many days needed for the Step 3?
"Step 3 is a two-day The first day of testing includes 232 multiple-choice items divided into 6 blocks of 38-39 items; 60 minutes are allotted for completion of each block of test items. There are approximately 7 hours in the test session on the first day, including 45 minutes of break time and a 5-minute optional tutorial." Time available for breaks "may be increased by finishing a block of test items or the optional tutorial before the allotted time expires."
"There are approximately 9 hours in the test session on the second day. This day of testing includes a 5-minute optional tutorial followed by 180 multiple-choice items, divided into 6 blocks of 30 items; 45 minutes are allotted for completion of each block of test items. The second day also includes a 7-minute CCS tutorial. This is followed by 13 case simulations, each of which is allotted a maximum of 10 or 20 minutes of real time. A minimum of 45 minutes is available for break time. There is an optional survey at the end of the second day, which can be completed if time allows."
What is Board Certification?
One often sees doctors advertising that they are "board certified." Board Certification is important for doctors, patients and hospitals. It ensures that doctors are constantly educating themselves on new treatments and technologies in their area of medicine. Board certification involves passing written and oral exams.
Why & how should doctors become Board Certified?
The American Board of Medical Specialties (ABMS) website explains the reasons for Board Certification in detail.
"When a physician or surgeon is Board Certified by an ABMS specialty board, it means he or she has chosen to achieve expertise in a medical specialty or subspecialty by meeting the profession-driven standards and requirements of one (or more) of the 24 ABMS certifying boards," the site says.
ABMS certification and the ABMS Program for Maintenance of Certification (ABMS MOC®) are vital to the integrity of each medical specialty. And the site points out that Board Certification is voluntary but different from medical licensure.
How is Board Certification different from obtaining a medical license?
"Obtaining a medical license sets the minimum competency requirements to diagnose and treat patients; it is not specialty specific," the ABMS site says. "Board Certification demonstrates a physician's exceptional expertise in a particular specialty and/or subspecialty of medical practice.
The ABMS Program for Maintenance of Certification "is a system of ongoing professional development and practice assessment and improvement. It challenges physicians to focus on the continuous development of their skill set, especially those skills that enable them to function effectively in interprofessional teams, integrated systems of care, and community settings."
Takeaway
The MCAT is just one of a series of exams you take to become an M.D. For instance, while getting a "good" score on the MCAT is important, prospective medical students at American and Caribbean medical schools should not place too much emphasis on this exam. Instead, focus on test-taking preparation in genera. In addition, develop good study habits before, during and even after medical school. Exams are a vital part of working in medicine and meeting ever-evolving standards and the demands of new treatments and medical technology. Familiarize yourself with other exams like USMLE Step 1, NBME "shelf" exams, USLME Step 2 CK, USMLE Step 3 and Board Certification. Before you become an MD and go into private practice, passing these exams is mandatory.
Eliminate anxiety by preparing yourself for each exam and knowing the questions. Study them diligently. Take advantage of study preparation materials and courses like Kaplan MCAT and Kaplan USMLE Step 1 prep options. Therefore, remember to study for all exams as soon as possible and go over material with your classmates regularly. This way, you won't have to "cram" for an exam at the last minute because "cramming" does not work in medical school because the material is too complex. With the right balance of studying, prep courses and diligence, you will be successful in medical school and have a prosperous career as a physician.

(Top photo) Photo: Deposit Photos
---
About UMHS:
Built in the tradition of the best US universities, the University of Medicine and Health Sciences focuses on individual student attention, maintaining small class sizes and recruiting high-quality faculty. We call this unique approach, "personalized medical education," and it's what has led to our unprecedented 96% student retention rate, and outstanding residency placements across the US and Canada. UMHS is challenging everything you thought you knew about Caribbean medical schools.

Posted by
Scott Harrah
Scott is Director of Digital Content at UMHS and editor of the UMHS Endeavour blog. When he's not writing about UMHS students, faculty, events, public health, alumni and UMHS research, he writes and edits Broadway theater reviews for a website he publishes in New York City, StageZine.com.