Class of 2018 grad Dr. Jasmine Rivas just completed a Family Medicine residency at East Carolina University in North Carolina and soon starts her first position as a Hospitalist at SIMED Health in Gainesville, Florida. It has been a long but rewarding journey for her as a Latina woman and a member of the LGBTQ+ community.
Readers of the UMHS Endeavour from a few years ago might already be familiar with Dr. Jasmine Rivas. Throughout her medical education at UMHS, Dr. Rivas was a regular contributor to the blog, writing about numerous campus events and medical issues. She also chronicled her med school days in a popular personal blog.
Born and raised in Miami, Florida by a Cuban mother and a Mexican father, Dr. Rivas is committed to multiculturalism and helping humanity. Although writing is one of her favorite hobbies, she always wanted to become a physician.
"Becoming a doctor was the only thing I ever imagined myself doing, "she said back in 2018 in a UMHS graduate feature.
---
Discover if a career in Family Medicine is right for you.
Learn why 70% of doctors would choose the same specialty again.
---
As an openly gay woman, Dr. Rivas fortunately never experienced much discrimination based on her sexuality in either her UMHS days or her current professional medical career. She lived in several states during UMHS clinical rotations and experienced the different cultures in several regions of the USA.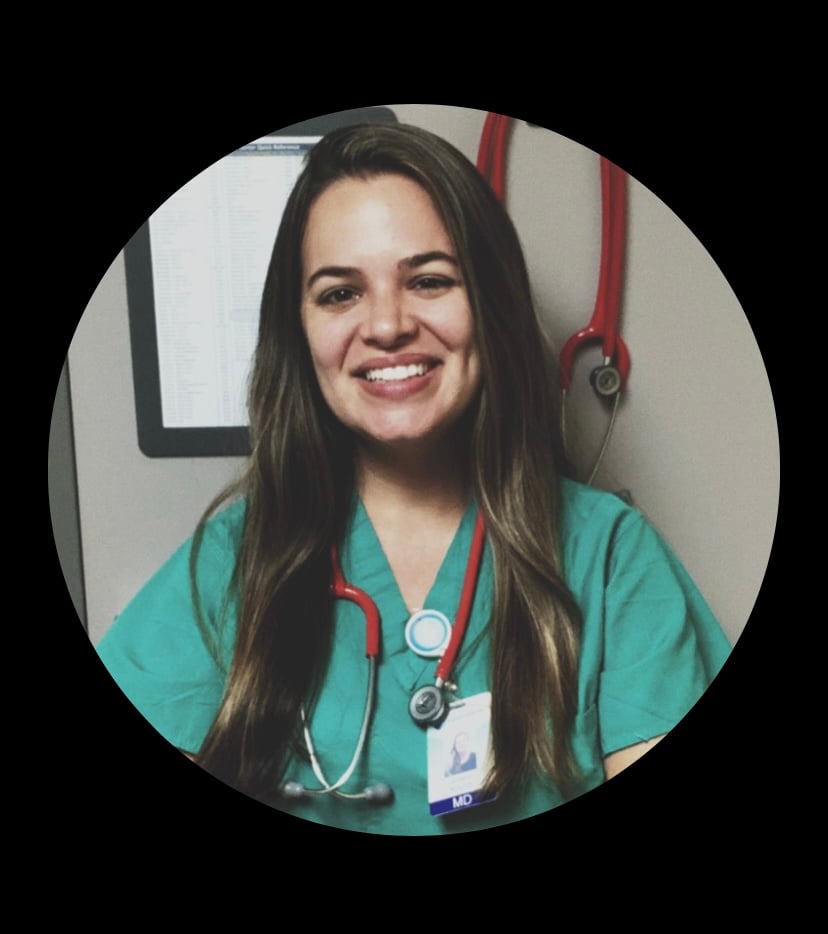 Dr. Jasmine Rivas on a shift during her second year of residency in North Carolina. Photo courtesy of Dr. Rivas.
"I traveled a lot during my clinical rotations, living in over five states," she said. "Every location had its own culture. Luckily, I never felt discriminated against or found it difficult to share as much or as little as I wanted about myself. For me, being gay isn't what defines me. Just as being Latina, or a physician, being gay is only one aspect of who I am. When my wife and I decided to enter the Match as a couple, we were apprehensive about whether it would hurt our chances. Nevertheless, we took a leap of faith and our prospective program directors at East Carolina University/Vidant were extraordinarily supportive and welcoming.
Sexism & homophobia in the work world
Living in North Carolina, in the conservative South, she has had experiences that shaped her current perspective on both sexism and homophobia. For future doctors who may experience bias, particularly homophobia, Dr. Rivas offers sound advice.
"I have experienced more sexism than I have homophobia as a female physician," she said. "Often patients will automatically turn to the only male in the room for direction, assuming they are the physician and just the same assume every woman is their nurse. This happens in many departments and I suspect it is an occurrence across the country. However, maybe I'll leave this topic for the next blog post."
"The people of Eastern North Carolina have surprised me and taught me to be more open-minded and not have pre-determined ideas as to how people will react to my marriage. My only advice for future doctors would be to come from a place of understanding and compassion. Our patients and coworkers have opinions that stem from their own experiences. If you do encounter hostility, whether it be for your religion, race, gender or sexual orientation, realize it is not a personal attack. In some instances, open communication is all that you'll need, but if you feel unsafe or that it will impede your ability to provide care, it is best to speak to a superior and seek support. You should never tolerate an unsafe environment, even as a physician trying to provide care to a patient."
Although "coming out" is a popular and often necessary rite of passage for most LGBTQ+ people, one needs to do so with caution in the world of medicine, especially when interviewing for jobs or dealing with patients who might be conservative and have more traditional beliefs.
"Coming out is a personal choice and isn't as straightforward when it comes to professional life and building rapport with patients who often want to know you on a more personal level. As a professional, you'll set the precedent for boundaries. I hesitated initially when deciding to enter the Match as a gay couple [with her wife]. Yet, it is one of the best choices I've made. I realized that if it would keep a program director from wanting me on their team, that isn't the team I would want to join. In order to be effective, it is important to feel safe, secure and be able to openly express yourself. Take this into consideration when you are ranking residency programs and applying for a job as a Hospital medicine physician."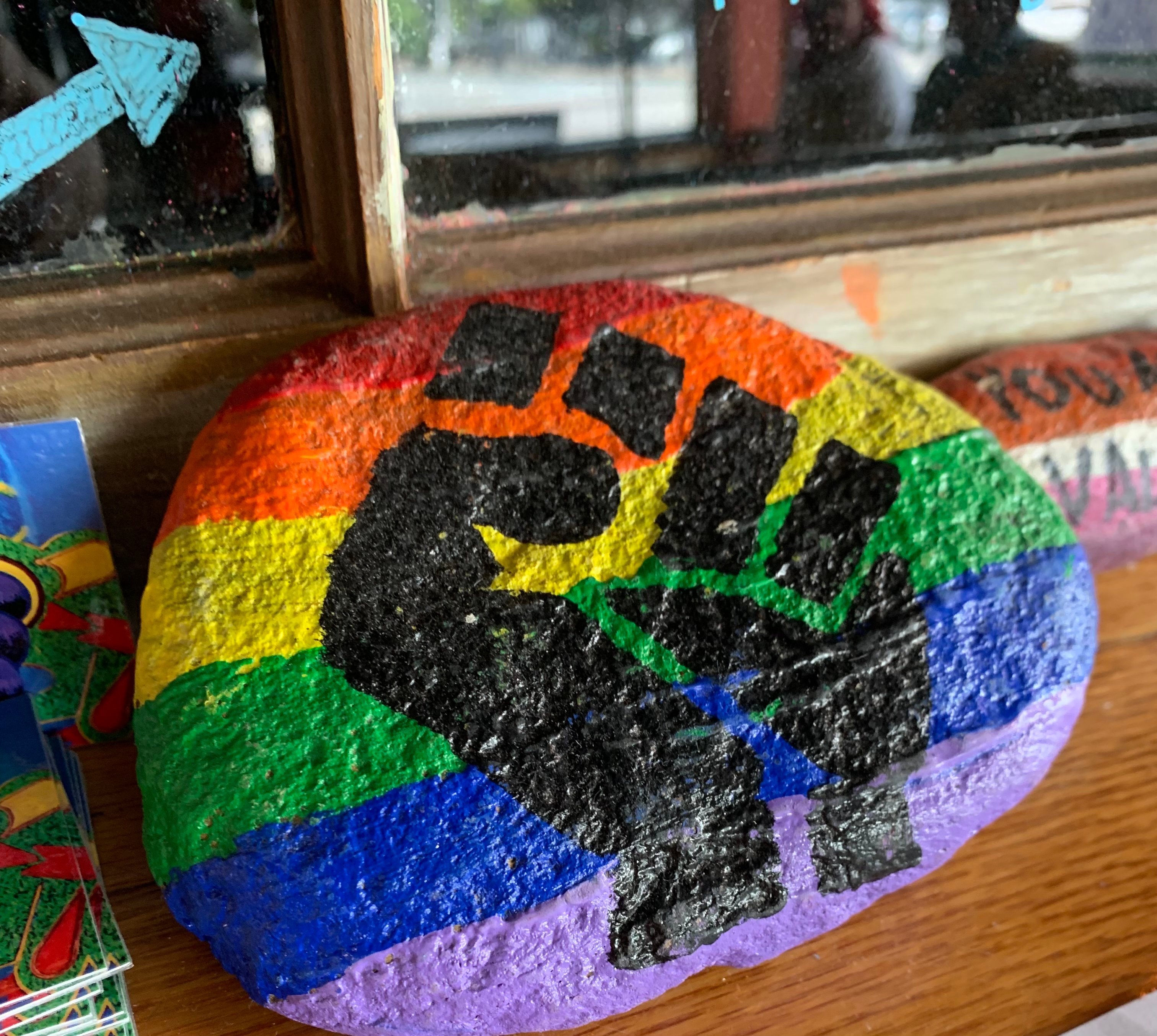 A paperweight at The Scullery, one of the LGBTQ+ friendly establishments in Greenville, NC Dr. Rivas enjoys visiting. Photo courtesy of Dr. Rivas.

Treating LGBTQ+ patients with compassion
When treating LGBTQ+ patients, doctors must be educated on the different patient groups and health issues with each, and screen people for certain things. More than anything, do not rely on stereotypes and really spend one-on-one time learning about your patients so they will be more comfortable with you.
"I'd say to know your evidence-based statistics for different patient populations and apply them clinically to the patient in front of you," Dr. Rivas said. "Getting to know your patient is key to providing care. Ask the uncomfortable questions without judgment. Leave your bias and opinions at the door and enter the room with compassion and a willingness to help not only treat but also prevent disease. Familiarity with the statistics will help guide your treatment and offer appropriate prevention. However, each patient is unique and their sexual experiences might surprise you so don't assume based on a label society has created. We have our community, built on courage and love. Within that community are a series of identifiers to make better sense of things but at the end of the day, humans are too complex for boxes and labels. Sit and learn about your patients, their support systems, loved ones, social and sexual experiences and explain the goal of providing them with the best patient care available. "
During the AIDS pandemic, much focus was placed on gay men's health as gay men were one of the highest risk groups for HIV. For this reason, over the past few decades, there has not been as much clinical information on gay and bisexual women's health, and transgender health is still an emerging field. As a female physician, what are some things doctors should keep in mind when treating lesbian and bisexual women?
"As a gay woman in medicine, I've experienced both sides of the playing field. I understand how vulnerable our patients feel as they sit on the examination table, answering very intimate questions. Spend a few minutes trying to learn about the person sitting in front of you before jumping right into the serious stuff. There are many confounding reasons as to why, however, there are studies that suggest much higher rates for lesbian and bisexual women when it comes to domestic violence, substance abuse, depression, and anxiety. Other medical issues such as cervical cancer and obesity are also more common. Despite where a person is on the spectrum, they deserve to have physicians who know them as individuals and deliver tailored care to meet their needs."
Being successful as a gay female doctor
After attending UMHS and completing residency, Dr. Rivas is more confident and does not have the fear she experienced when she was younger.
"For most of my life, I navigated the world with a massive safety net, making sure I wouldn't fall victim to a hate crime," she said. "I remember researching islands where I wanted to attend medical school and investigating what the laws were or if it would be a safe environment; not only for a single woman but for a single gay woman. I started UMHS in St. Kitts and never had any issues, always felt safe. However, it wasn't until the start of my medical residency training that I realized I no longer needed that safety net. The people around me taught me what it meant to be vulnerable and truly feel safe. Wherever this journey of becoming a physician takes you, I hope that you too find that you are loved and supported, not despite who you are but for all that you are."
(Top photo): Dr. Jasmine Rivas at UMHS graduation at Lincoln Center in New York City, NY back in 2018. Photo: Island Photography.

Posted by
Scott Harrah
Scott is Director of Digital Content & Alumni Communications Liaison at UMHS and editor of the UMHS Endeavour blog. When he's not writing about UMHS students, faculty, events, public health, alumni and UMHS research, he writes and edits Broadway theater reviews for a website he publishes in New York City, StageZine.com.