A cardiologist is a DO or MD trained physician who specializes in treating disorders of the heart and blood vessels. Cardiologists have attended medical school, completed a residency in internal medicine or pediatrics, followed by a fellowship in cardiology. They may work in both a hospital and/or outpatient clinic setting. Some common conditions they may treat include high blood pressure, heart failure, atherosclerosis, and chest pain (termed angina).
Cardiologists perform procedures such as catheterizations, order and interpret lab tests, prescribe medications, perform physical exams, and diagnose various conditions. In this article, we will discuss how to become a cardiologist, their salary, cardiology subspecialties and more.
Quick Navigation and FAQ Links
What is a Cardiologist?
Cardiologists are specialized doctors who diagnose, treat, and prevent diseases and conditions related to the cardiovascular system, including the heart and blood vessels. A cardiologist will undergo a three year fellowship after completion of internal medicine or pediatric residency. While they do not perform surgery, they do perform complicated procedures to help treat heart disease. With heart disease being a leading cause of death in the US, the work done by cardiologists has become increasingly important.
What does a Cardiologist do?
A cardiologist is a doctor who specializes in treating conditions of the heart and blood vessels. This includes heart conditions, such as heart attacks, heart failure, high blood pressure, and arrhythmias. They also perform procedures such as cardiac catheterizations and pacemaker implants. An example of some of the things a cardiologist may do includes:
Performs physical examinations
Orders and interprets tests, such as blood tests, electrocardiograms (ECGs), and imaging studies
Prescribes medicine and other treatments for heart conditions
Advises lifestyle changes to prevent heart disease
Performs procedures such as cardiac catheterizations
Refers patients to other healthcare providers, such as heart surgeons or interventional cardiologists when necessary


Cardiologists play a vital role in the diagnosis and treatment of heart disease. They are highly trained professionals who can provide patients the care they need to live long and healthy lives. When first seeing a cardiologist, they will collect essential information to asses cardiovascular health. This may include blood pressure, weight, glucose level, cholesterol levels, and heart function levels such as BNP. Cardiologists may see patients in either their outpatient clinic office or in a hospital setting.
Cardiologists may sometimes work with other healthcare providers, such as nurses, physician assistants, and social workers, during treatment of their patients. It is also common to have a cardiologist teach at universities or take part in medical research. They may be involved in developing new therapies or diagnostic approaches for heart problems. If you are concerned about your heart health, it is essential to see a cardiologist. They can help you assess your risk for heart disease and develop a plan to prevent it.
Cardiology education and training - How to become a cardiologist?
The path to becoming a cardiologist is rigorous and requires at least fourteen years of training and education following completion of high school. The steps to becoming a cardiologist include:
Step 1:

Attend college and earn an undergraduate degree. Most medical school applicants complete their degree in subjects relevant to medicine, such as biology, chemistry, or pre-medicine.

Step 2:

Prepare, take, and pass the Medical College Admissions Test (MCAT). An aspiring cardiologist, like all medical school applicants, must take the Association of American Medical Colleges (AAMC)-administered Medical College Admissions Test (MCAT) examination. This rigorous exam takes over seven hours and tests over science and writing courses. Medical schools use MCAT scores to compare and assess applicants, thus, a great MCAT score is vital to being admitted to Medical School.

Step 3:

Enroll in and complete medical school. After achieving a good MCAT score, one must apply for and enroll in medical school. Following four years of medical school one will obtain either a doctorate in medicine (MD) or osteopathic medicine (DO).

Step 4:

Apply for a residency program. During the last year of medical school, medical students will complete audition rotations at programs in which they are considering attending for residency. Medical students will then interview with and undergo a match process to figure out where they will complete residency.

Step 5:

Complete a residency program in either internal medicine or pediatrics. After graduating from medical school, one must complete either an internal medicine or pediatric residency program in order to be eligible for a cardiology fellowship. Both residencies last an average of three years. During this time, doctors will work in a hospital or clinic under the direction of skilled doctors to learn the necessary hands-on skills to become a fully fledged doctor.

Step 6:

Complete a fellowship program in Cardiology. During this time internists and pediatricians will receive specialized training in diagnosing and treating cardiac diseases. Fellowship usually lasts an average of three years.

Step 7:

Apply for and become board certified. Following completion of residency and fellowship, physicians will have to take their board examination. This test lasts the majority of the day and most physicians will spend months studying for it. Although the test is rigorous, this is the final step to become a cardiologist.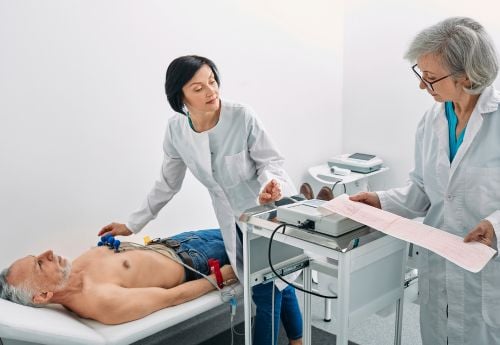 What are the subspecialties in Cardiology?
Following completion of cardiology fellowship, physicians may choose to subspecialize and pursue training in a more focused area of Cardiology. Some fellowships that a Cardiologist may complete include:
Interventional cardiology: In this field, physicians learn to perform catheterized medical procedures to treat conditions such as atherosclerosis and calcifications within the heart and clear blockages in arteries.
Electrophysiology: In electrophysiology, a cardiologist learns to diagnose and treat complex irregular heartbeats or arrhythmias. They may do this via the use of implanted pacemakers or via other methods and are experts in interpreting electrocardiograms.
Preventive Cardiology: The goal of preventative cardiology is to halt the onset of cardiac disease in order to prevent further damage to the heart. Some conditions that preventative cardiologists may treat include high cholesterol and high lipids.
Adult or Pediatric Congenital Heart Disease: In this field, cardiologists learn to treat congenital, meaning present from birth, heart diseases and defects. Both pediatric and adult cardiologists can complete a fellowship to treat congenital heart diseases. Some examples of congenital heard defects include valve malformations such as bicuspid aortic valves and blood flow abnormalities such as atrial septal defects.
Heart Failure and Transplant Cardiology: A cardiologist who specialize in this area learns to medically manage patients with heart failure and continue to treat them if they undergo a heart transplant. As transplants are large complicated operations, medical management of patients during this time is very complex and vital to ensure they recover properly from the procedure.
Structural Heart Disease: This area encompasses using procedures to treat valvular heart diseases and myocardial lesions. During fellowship, physicians learn to use complex transcatheter techniques to treat their patient's heart disease.
What skills are needed to become a cardiologist?

To be successful in this field, cardiologists need to have a variety of skills, including:
Communication: Cardiologists must be proficient communicators as their work continually involves interacting with patients and other healthcare providers. They need to be clear on how to explain difficult medical procedures to patients with no medical training and in communicating with other providers who are taking care of their patients. When writing prescriptions for patients or creating medical reports, communication skills are also required in order to provide clear documentation.
Confidence: Cardiologists must be able to establish trust with their patients so that they feel comfortable talking to them about their health issues, this takes confidence. Additionally, they must be capable of making complex and challenging treatment decisions, which calls for a high level of confidence in their skills and training.
Empathy: Many of the patients that a cardiologist sees have major and even life threatening health issues. Cardiologists must have the empathetic capacity to relate with and assist their patients on an emotional level, especially in situations where they must share bad news or poor outcomes.
Teamwork: Cardiologists frequently collaborate with surgeons, medical officers, and other experts in teams. They must successfully communicate and work together with other team members to guarantee good medical treatment. When paired with strong interpersonal abilities, this talent can facilitate the efficient completion of their everyday activities in a good working environment.
Dedication and hard working: Cardiologists frequently put in extended workdays, and even after long hours, they must accomplish difficult procedures. They need both mental and physical stamina due to the nature of their work.


---
Discover if a career in Cardiology is right for you.
Learn why 92% of doctors would choose the same specialty again.
---
Cardiologist salary - How much do cardiologists make?
There are several sources that report physician salaries. These include the American Association of Medial Colleges (AAMC) and Medscape. The AAMC separates salary into two different positions, clinical medicine and academic medicine. Academic medicine is a field in which physicians work at a large teaching hospital. These institutions commonly have residency or fellowship training programs and perform a large amount of research.
The average salary of a Associate Professor in Cardiology in academic medicine is $391,911. On the other hand, cardiologists who work in clinical practice may work in stand alone or community hospitals. The average salary of a Cardiologist in clinical practice is $433,000.
According to Medscape, who only provides an average salary across all of the specialty types, the average Cardiologist makes $507,000.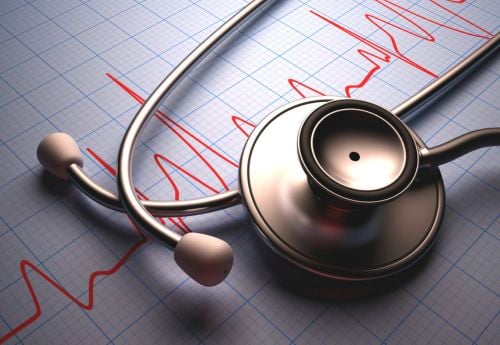 How long does it take to become a cardiologist?
Becoming a cardiologist will take at least 14 years of education and training. While this is a stressful and long journey, most Cardiologists feel the intense training path is worth the sacrifice. The stages of training include: four years of college or university, four years in medical school, three years of residency in either internal medicine or pediatrics, and finally three years in a Cardiology fellowship program. Some Cardiologists may choose to further subspecialize and pursue additional training after fellowship, but this is not required.
How long is Cardiology fellowship?
In order to apply for and complete a Cardiology fellowship, doctors must have finished either an internal medicine or pediatric residency. Individuals who completed internal medicine residency will treat adults while doctors who have completed a pediatrics residency will treat children. The Cardiology fellowship application process is very competitive and require application materials such as resumes, letters of recommendation, and test results. All applicants must also undergo a day long interview with multiple faculty including a program director interview. The fellowship typically last three years, although the length may vary between programs and include more time dedicated to research.
Is being a Cardiologist competitive?
Cardiologists are in great demand. Heart disease is one of the top causes of mortality in the US, and it is predicted that even more individuals have heart disease it in the future. Because of this, there is a significant need for cardiologists to treat these individuals. Cardiology is one of the most competitive, if not the most competitive subspecialty one can complete following internal medicine and pediatrics residency. Due to their complicated training and intense work experience cardiologists receive excellent income and perks, which contributes to the competitive nature of the specialty.

Do Cardiologists do surgery?
Although cardiologists perform tests and procedures to discover and treat cardiovascular abnormalities, they do not perform heart surgeries in the traditional sense (this is the responsibility of a cardiac surgeon). To assist in the diagnosis of cardiovascular disease, cardiologists can perform procedures such as an echocardiogram or a cardiac stress test. Some cardiologists, termed interventional cardiologists, may pursue additional education to allow them to perform more complicated procedures.
In general, the term interventional or invasive cardiologist refers to a cardiologist who has completed additional training that allows them to perform nonsurgical medical procedures such as the insertion of pacemakers, balloon angioplasty, cardiac catheterization, and coronary stents. Let's compare general cardiology and interventional cardiology further:
General cardiology: These medical professionals carry out physical exams and recommend tests (such as electrocardiograms, stress tests, chest X-rays, etc.) to diagnose a patient's condition and evaluate the state of the heart and blood vessels. In order to see a cardiologist one must be referred by another provider. Your primary care physician (PCP) will advise visiting this expert if they think your cardiac problem requires advanced therapy. General cardiologists will provide their expertise to correctly diagnose and treat cardiac conditions non-surgically.
Interventional Cardiology: An interventional cardiologist is a medical professional who focuses on minimally invasive catheter-based procedures, such as the installation of a short, wire-mesh tube (stent) to clear arterial blockage or replace a damaged heart valve. The ideal option for patients who don't want to or are unable to undergo complicated open cardiac surgery due to a general health condition is to see an interventional cardiologist. The main difference between general and interventional cardiology is that an interventional cardiologist obtains additional advanced training in catheter-based treatments for heart disease, which a normal cardiologist would not be able to perform.
What is the difference between a Cardiologist and a Cardiac Surgeon?
You may hear about patients being referred by a cardiologist to a cardiac surgeon. When medication, non-operative therapy, and other non-lifestyle changes are unsuccessful in treating a patient's heart disease, patients may be sent to a cardiac surgeon. Patients born with heart abnormalities that cannot be improved using catheter-based intervention or conservative treatment will require consultation with a cardiac surgeon. Cardiac surgeons have received specialized training and education in operating on the heart and its main blood arteries. These are physicians are highly skilled in ordinary and extremely complex heart operations intended to save lives as well as enhance patients' quality of life.
Getting started in Medicine

The reader should now have a solid understanding about Cardiology and how to become a Cardiologist. Those of you who are prospective medical students may be anxious to start your career in medicine and prepare your journey to becoming a cardiologist. This begins with admission to a medical institution like UMHS. Follow the link below to learn more about The University of Medicine and Health Sciences in St. Kitts. To get the ball rolling, apply here.
A Career in Cardiology - Video with UMHS Alumni

Popular and related articles: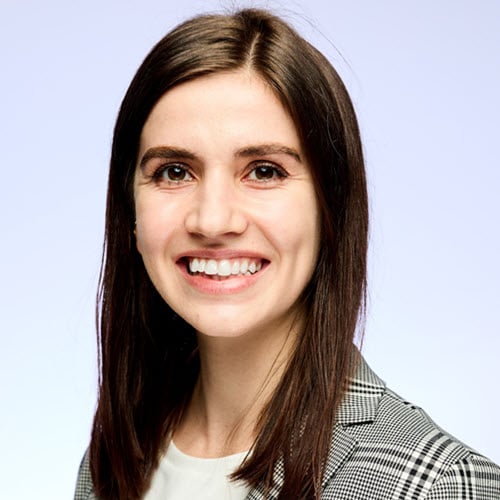 Posted by
Callie Torres
Callie Torres is a Captain in the United States Air Force and a resident at Wash U/Barnes Jewish Hospital in St Louis. She is a freelance writer with many published medical articles as well as multiple peer-reviewed medical publications