UMHS, one of the leading Caribbean medical schools, went to an online distance learning format in March when the COVID-19 pandemic became a serious threat globally and many students had to leave St. Kitts.
The UMHS Endeavour spoke to faculty members Dr. Abayomi Afolabi and Dr. Angel Matos about how students are making progress with the new distance learning platforms and what students should know.
What Should UMHS Students Know About Distance Learning?
We first consulted Dr. Abayomi Afolabi, M.B.B.S., Associate Professor of Gross Anatomy and Professor of Microbiology about distance learning at UMHS.
What should current and incoming UMHS students know about the new distance learning platform? How does it work and what is Dr. Afolabi's perspective on its effectiveness?
"The new distance learning platform is a modification of our lectures in which students can interact with faculty vis a vis Big Blue Button (BBM) or Zoom; in either cases students can type messages during lectures which are answered in real time," Dr. Afolabi said. "The lectures are recorded, giving students another opportunity to go over the information again. (While using this we have seen an increase in student interaction over the BBM). Dissection videos are being made available online for students to go over. With other prosection videos also being added to the learning management (LMS)."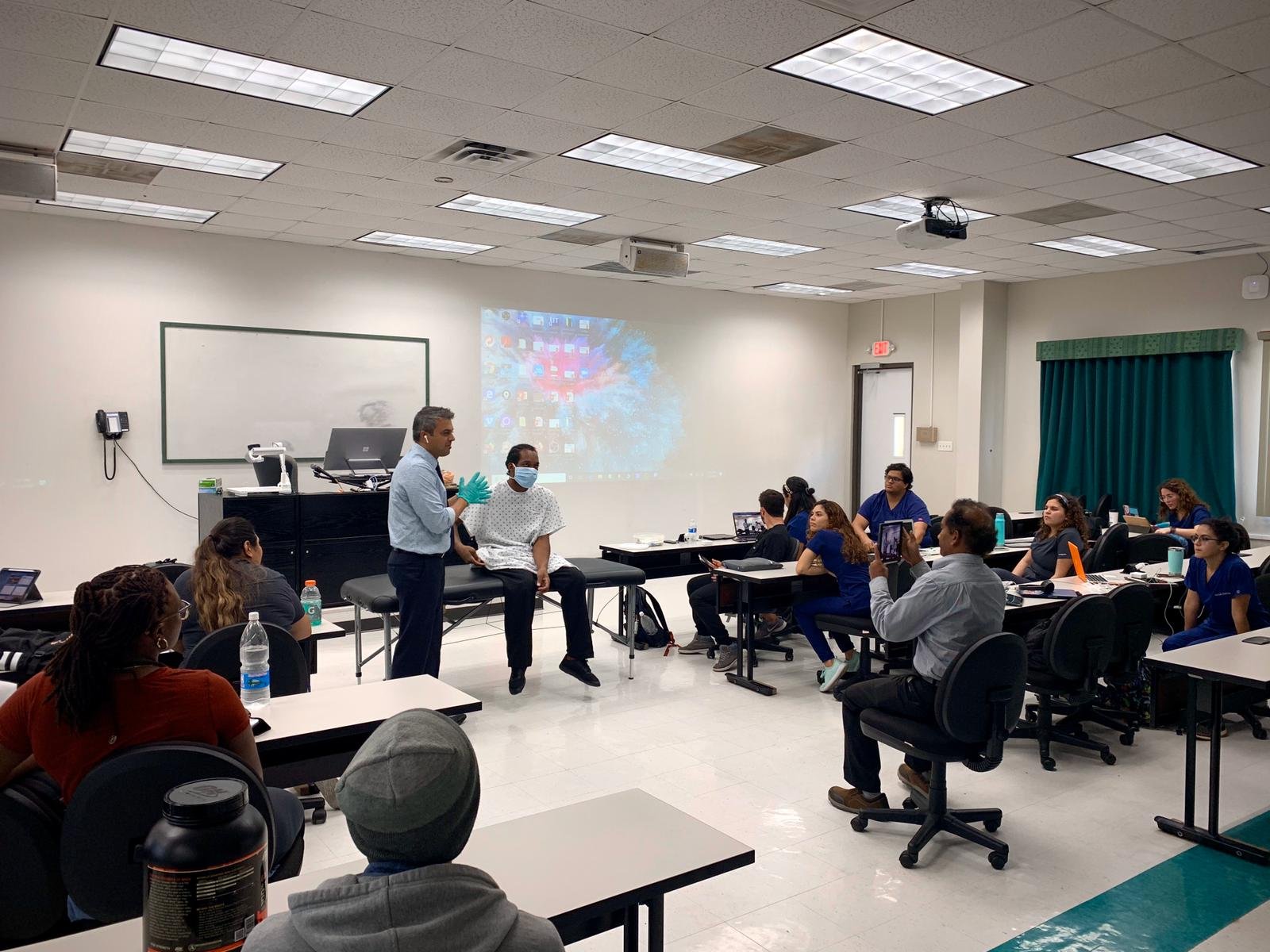 A look at the ICM lab on the UMHS campus & how lectures are being transmitted online. Photo: Carlos A. Villanueva Soto.
So far, there have been no real issues with getting something working so quickly.
"[We've had] no major challenges as the requirements for distance learning were already available and most of are faculty members have been updated with the latest technological advances," Dr. Afolabi said. "The faculty in the anatomy department are excited about incoming students and are available to help in anyway."
Some UMHS students have asked numerous questions about the anatomy lab and learning anatomy online.
"The Anatomy Lab is still being used by the faculty in making videos, and those videos are made available to students via the learning management system (LMS)," Dr. Afolabi said.
Distance learning makes a lot of sense as a way for UMHS students to continue with their med school studies during the COVID-19 pandemic.
"With regard to the current situation, distance learning is the way to go as reducing social interaction is playing a major role in reducing the disastrous effect of the COVID-19," Dr. Afolabi said. "However, this would not result in a decrease in the competency level expected for any major exam, including the USMLE Step 1 exam; hence, we are continuously striving to better the students that are part of the UMHS family."
Angel Matos, M.D., Director of the Accelerated Review Program (ARP), Director of Global Health and Assistant Professor of Medical Education at UMHS, said UMHS students are adapting well to distance learning.
"ARP is running smoothly, 100% online; 80% of the students are off-island," he said. "I have a WhatsApp Chat with all the group, so we are in constant communication; they all have my mobile number."
ExamMonitor for Tests
Both the Zoom and Big Blue Button platforms allow professors to interact live with students. Last week, ARP students had their first exam using ExamMonitor. ExamMonitor is "an Al-driven remote proctoring solution that continuously observes exam takers with video and audio monitoring throughout the entire exam, eliminating the need for in-person proctoring and providing absolute confidence in the integrity of all your exams," the UMHS website says.
"These artificial intelligence tools allow us to deliver secured exams online," Dr. Matos said. "Students are video and audio monitored while taking their tests. The system analyzes their eye and face movements."
The UMHS Endeavour and UMHS website will be updated in the coming days as news of the pandemic unfolds.
(Top photo) UMHS student Emilio Aguinaldo studies remotely on a distance learning platform. Photo: Courtesy of Emilio Aguinaldo.
---
About UMHS:
Built in the tradition of the best U.S. universities, the University of Medicine and Health Sciences focuses on individual student attention, maintaining small class sizes and recruiting high-quality faculty. We call this unique approach, "personalized medical education," and it's what has led to our unprecedented 96% student retention rate, and outstanding residency placements across the USA and Canada. UMHS is challenging everything you thought you knew about Caribbean medical schools.

Posted by
Scott Harrah
Scott is Director of Digital Content at UMHS and editor of the UMHS Endeavour blog. When he's not writing about UMHS students, faculty, events, public health, alumni and UMHS research, he writes and edits Broadway theater reviews for a website he publishes in New York City, StageZine.com.