By Carlos A. Villanueva Soto B.Sc
Why is it important to teach today's medical students about measles? Most doctors have never seen it, and many are unaware of the early presentations of measles virus.
I contacted Dr. Jane Harrington, Ph.D., Associate Professor of Microbiology and Immunology at the University of Medicine and Health Sciences, St. Kitts, for a knowledgeable discussion on the importance of teaching current American and Caribbean medical school students about the highly infectious disease, measles virus (which is becoming a public health crisis worldwide). Dr. Harrington is an expert in the field. Here is what she had to say during an interview with the UMHS Endeavour.
When students rely their studies exclusively on textbook clinical presentations, they might miss the measles virus in its initial stage in a real-case scenario in the future, Dr. Harrington said. Whenever you read a medical textbook that talks about measles, traveling comes up as the major risk factor, but things have changed recently. The current outbreaks of 2019 prove that local transmission of unvaccinated populations accounts for the majority of the cases. Educators should provide an accurate and updated flow of information on clinical case presentations to medical students, even on rare diseases to ensure a competent future of physicians and prevent or minimize a public health crisis.
"Not recognizing measles is a big problem, the timing is critical," Dr. Harrington said.
The clinical presentation of measles; it is unique but is not that common, and most of the time a doctor will only consider the most common causative agents and that is dangerous for public health. If physicians get in a comfortable mindset of not considering measles as a differential diagnosis in early stages of the viral infection, this will delay an accurate diagnosis and further the spread the infection among the population. Current and future physicians represent a crucial role in society, and they depend on the cases discussed during their basic sciences lectures.
Dr. Harrington explained that physicians who were trained prior to 1990 have a greater ability to recall and identify measles cases due to exposure to the above-mentioned events in that period. The vast majority of physicians from 1990 to 2010 have mostly only encountered textbook cases; measles was not considered as a public health threat during that time period due to an increase in the number of vaccine administration in the population. Measles cases were very unusual, thus medical students only relying on textbook education could have resulted in misdiagnosis when encountered in clinical practice years later.
"Hopefully, the current generation of medical students is better prepared to recognize and appreciate the public health consequence and severity of measles cases, on account of the educational interventions of the Basic Science and Clinical professors," she said.
(Top photo) UMHS Professor Dr. Jane Harrington on educating med students about the global measles crisis. Photo: Carlos A. Villanueva Soto.
---
About UMHS:
Built in the tradition of the best US universities, the University of Medicine and Health Sciences focuses on individual student attention, maintaining small class sizes and recruiting high-quality faculty. We call this unique approach, "personalized medical education," and it's what has led to our unprecedented 96% student retention rate, and outstanding residency placements across the US and Canada. UMHS is challenging everything you thought you knew about Caribbean medical schools.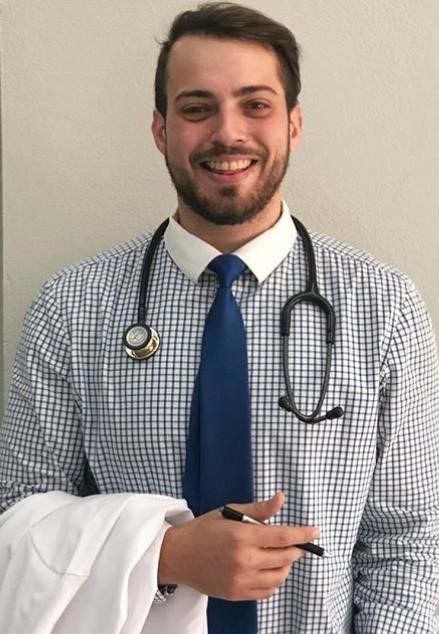 Posted by
Carlos A. Villanueva Soto
Carlos A. Villanueva Soto is a current UMHS basic sciences student and a UMHS Media Ambassador.