UMHS third-year medical student Tendai Marume has been making the best of the current COVID-19 pandemic as students have had to start classes via distance learning platforms like Zoom and Blue Button and make various adjustments. Mr. Marume—originally from Zimbabwe —completed his undergraduate studies in Canada, and has endured challenges while attending UMHS before, most recently back in 2017 when Hurricane Irma wreaked havoc in the Caribbean and classes were delayed. When the COVID-19 pandemic reached North America and the Caribbean in March, Mr. Marume continued to adapt and help others by tutoring other UMHS students.
The UMHS Endeavour spoke to Tendai Marume about how he's helping the student body at one of the leading Caribbean medical schools stay focused on their studies and determined to succeed during this unprecedented time.
How Reading About UMHS Study Techniques Inspired Him
Tendai Marume initially learned about med student study techniques by reading the UMHS Endeavour blog when he was still an undergraduate student in Canada.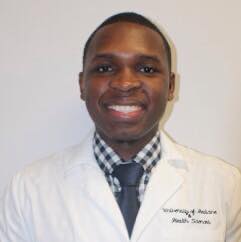 (Photo, inset, right): Tendai Marume. Courtesy of Mr. Marume.
"I browsed the UMHS website and started reading the UMHS Endeavour blog," he said. "Reading about student experiences helped convince me that UMHS was the right fit. Additionally, students also shared some of the techniques they used to study. This allowed me to be mentally prepared to start medical school."
Tendai Marume started at UMHS in January 2017 and admits that, like many others, he knew he wanted to study medicine but was nervous about getting started. UMHS Assistant Dean of Student Affairs, Associate Professor of Gross Anatomy and Professor of Microbiology Dr. Abayomi Afolabi quickly set his mind at ease.
"I remember during the first week of anatomy, I felt overwhelmed and felt like I was always trying to catch up," he said. "I remember going to see Dr. Afolabi in his office and was surprised that he knew my name and glad he made the effort to know everyone's name by the end of the first week. This quality makes him very approachable. I asked him for tips on how to study for the course, and he guided me by telling me about the importance of repetition. It was the first time I had heard about the practical learning method also quoted by him, 'See one, do one, teach one.'"
Mr. Marume explains how that one conversation with the UMHS professor completely changed the way he approached anatomy.
"A class that I initially found challenging began to become enjoyable," he said. "I would 'see one' by learning from the anatomy professors; I would 'do one' by practicing the dissecting technique on my own on the cadavers. Finally, I would 'teach one' by teaching my peers. By the second week of anatomy, I felt like I was in a rhythm and one step ahead of the class material. It was at that moment I knew that I wanted to be an anatomy teaching assistant."
He discovered he truly enjoyed being in the anatomy dissection lab.
"My friend Noel and I continued as Anatomy TAs from the very beginning and we constantly pushed ourselves. The TAs were designated to be there for two to three times a week from 3:30 pm to 5:30 pm. Because we liked it so much, we would often go into the lab to work every day."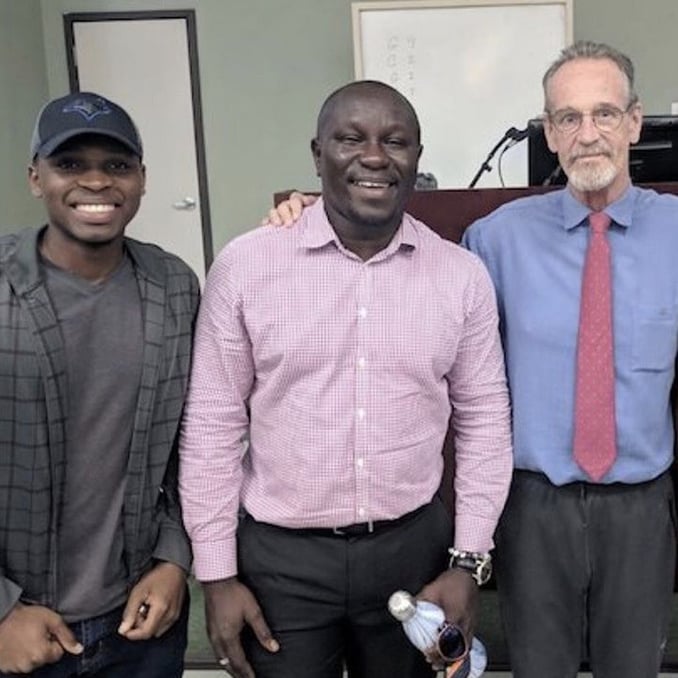 Last day as Anatomy TA with the Anatomy Professors. From left to right: Tendai Marume, Dr. Abayomi Afolabi, Dr. Thomas McCracken & Noel Puthenveetil. Photo: Courtesy of Mr. Marume.
Mr. Marume experienced a bit of adversity during his third semester at UMHS in 2017.
"The start of the semester was delayed due to Hurricane Irma and we had one of the biggest classes with up to 150 students," he said. "Working with Dr. Afolabi was easy because he was very understanding and wanted us to put our studies first. At that moment, we knew that we had to rise to the challenge. We found ourselves in the anatomy labs until 8 pm on some nights because we wanted the students to be caught up and genuinely wanted to help them.
During that time, UMHS students demonstrated their toughness and resilience; their willingness and eagerness to learn was truly inspiring."
Although he was doing well academically in Basic Sciences on the St. Kitts campus, he was, like many students, nervous about leaving the island for the fifth semester in Maine to study for USMLE Step 1 and prepare for clinical rotations.
"As I continued to advance in Basic Sciences, I knew that I was getting closer to the day where I would leave St. Kitts and start [fifth semester and] clinical rotations," he said. "I had a mixture of excitement and nostalgia. I knew that I wouldn't be an anatomy teaching assistant and I wondered what I was going to do with all the experience that I had acquired."
By June 2019, Mr. Marume had received his clinical schedule, and was about to start in September.
"I felt like I had gained so much experience from the anatomy lab and was thinking of ways that I could continue to help students," he said.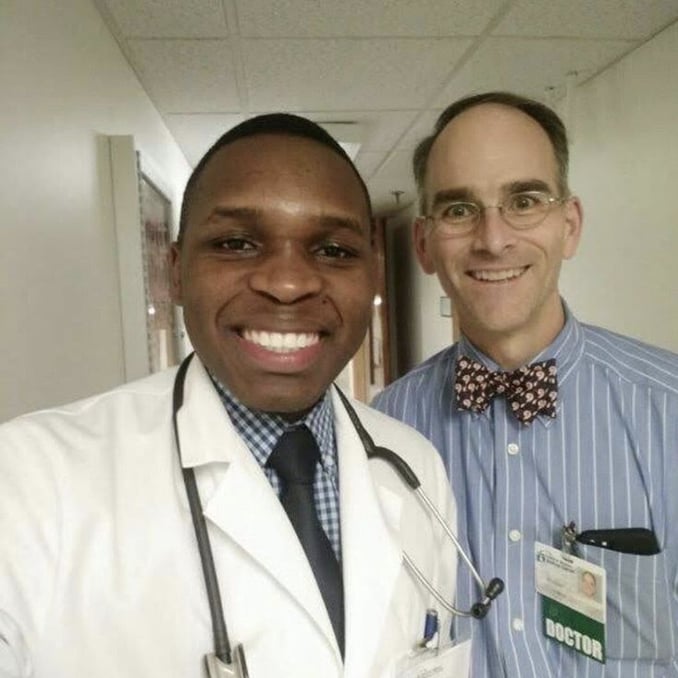 First day of Maine Preceptorship at Central Maine Medical Center. From right to left Tendai Marume & Dr. Bruce Condit. Photo: Courtesy of Mr. Marume.

Challenges of Studying & Tutoring Online
Mr. Marume went back home to his native Zimbabwe before starting clinical rotations and admits he faced challenges while transitioning to online tutoring.
"For example, I needed a platform to tutor students while keeping time zones in mind. Sometimes there would be occasional power outages which were another challenge that I had to deal with while also managing to tutor the students online."
He used WebEx and Zoom, utilizing the screen-sharing features on his iPad to allow him to annotate as he tutored, but working overseas created some consternation.
"There was a six-hour time difference between Zimbabwe and St Kitts, which meant that I had to tutor overnight," he said. "Most of my sessions would be from 10 pm – 4 am Zimbabwe time. The power outages were beyond my control and at times I had to carry out sessions in the dark."
Mr. Marume had to continuously find ways to adapt.
"Additionally, keeping the students engaged virtually was a challenge. The use of online whiteboard features allowed me to communicate effectively through high-resolution diagrams using my Apple Pencil."
Tutoring During COVID-19 Pandemic
During the ongoing pandemic, Mr. Marume has continued to tutor online during clinical rotations.
"With the current COVID-19 pandemic, I have been able to help more students and advise them on how to make the most of remote learning," he said. "It's been a challenge to stay focused while worrying about loved ones, although it's inspiring to see the way healthcare workers and first responders have risen to the challenge. That's what has been keeping me motivated."
He explained how remote tutoring works.
"Initially, I start tutoring students in one-on-one sessions; it allows me to get a feel for their learning style. Once the student feels comfortable and confident with the material, I implement the flipped classroom set-up in smaller groups. Informing the students about the high yield topics to be studied for."
He next goes through cases and questions related to topics for which students have studied.
"This allows the students to apply their knowledge in a relaxed environment. allowing them to be engaged," he said. "The goal with those sessions is to help students approach questions, and improve their problem-solving skills."
Mr. Marume explains that through distance learning, students learn to have more control over their time.
"Students get to work in the comfort of their own home. There is more flexibility and easier access to getting assistance. Furthermore, the students can go over questions one on one and any additional doubts they may have."
Although distance learning offers a sometimes more convenient schedule, it also requires tremendous discipline.
"I urge students to be very intentional with their time and study resources," he said. "I advise them to prepare for classes in advance, especially the fundamental courses. It's important to try and create an environment to help you maximize learning during online lecture time. After class, students should take the opportunity to identify the objectives that they have not understood and work on making sure they understand them by the end of that day. They should peak their knowledge for that day's material. If they leave it for the weekend, they can run into the risk of having information pile up. With remote learning, we have to make an effort to stay engaged. Having online group discussions with peers is one way to do so."
Overcoming Difficulties with Distance Learning
The sudden move to virtual learning has not been easy for some med students but Mr. Marume assures UMHS students to have a plan and make full use of both professors and TA's.
"The adjustment is going to take some time. It is important to establish a rhythm and game plan for studying online. UMHS provides resources for students to succeed. The professors are accessible. The TA's are available to help. I hope to continue to be an added resource for students in these difficult times. Reaching out is essential because there will always be someone willing to help."
Keep Hope Alive & Remember Pandemic is Temporary
Mr. Marume urges students to remain focused and not get discouraged by the limitations of being socially isolated and studying remotely because, after all, the current situation with the pandemic is only temporary.
"As the restrictions are gradually relaxed, I am looking forward to being able to be active again and playing team sports," he said. "Most importantly, I am excited to start my clinical rotations again and pick up where they had stopped. Bearing in mind that we will be entering a new normal. It's something that is worth looking forward to."
Mr. Marume emphasizes that as UMHS students continue learning remotely during this trying time, they are not alone.
"We may be physically apart, but we are all in this together. We are connected online."
Students with additional questions related to the online tutoring sessions such as cost, and courses covered may visit the website https://medtutors.net or email medtutors.net@gmail.com for more information.
(Top photo): UMHS student Tendai Marume at work tutoring students via distance learning. Photo: Courtesy of Tendai Marume.
---
About UMHS:
Built in the tradition of the best U.S. universities, the University of Medicine and Health Sciences focuses on individual student attention, maintaining small class sizes and recruiting high-quality faculty. We call this unique approach, "personalized medical education," and it's what has led to our unprecedented 96% student retention rate, and outstanding residency placements across the USA and Canada. UMHS is challenging everything you thought you knew about Caribbean medical schools.

Posted by
Scott Harrah
Scott is Director of Digital Content at UMHS and editor of the UMHS Endeavour blog. When he's not writing about UMHS students, faculty, events, public health, alumni and UMHS research, he writes and edits Broadway theater reviews for a website he publishes in New York City, StageZine.com.