Many high school seniors are rethinking their plans after they graduate because of the COVID-19 pandemic. Students are hesitant to commit to colleges if it means e-learning instead of the traditional classroom and on-campus experience; on top of that, there are financial and safety concerns. Other recent high school graduates have decided to take a gap year before beginning higher education.
Through national service programs like AmeriCorps, young people have volunteered to restore national parks, tutor students, and even serve as COVID-19 contact tracers. But what if there was an AmeriCorps for elder care?
That's the premise behind Care Corps, a service program in which recent high school and college graduates spend one to two years providing full-time respite care for older adults with dementia. In exchange for their service, they will receive a stipend and educational grants.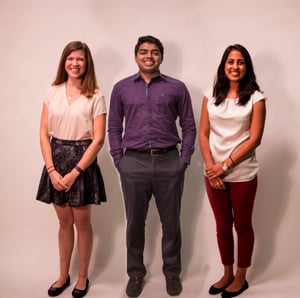 (Photo, inset right): Care Corps team includes (left to right) co-project investigator Norma Bostarr, Nihal Satyadev & co-project investigator Heena Doshi. Photo: Courtesy of NAM.
The idea of elder care as a service model isn't novel, but it hasn't been implemented on a national scale, said Nihal Satyadev, one of the winners of the National Academy of Medicine's Healthy Longevity Catalyst Awards. With this award, Nihal and co-project investigators Norma Bostarr and Heena Doshi founded Care Corps USA, 501(c)4, with the goal of building out the program at the national level.
COVID-19 has illuminated how isolating life can be for older adults with dementia, and Nihal is determined to direct long overdue attention to the issue.
"I look at social isolation as a social determinant of health — if we're stripped of social opportunities, that's going to threaten our health and longevity," he said.
Engaging Gen-Z in 'An Old Person's Disease'
In the United States, more than 10,000 people turn 65 every day — and we're not ready for it, said Nihal. How will senior services accommodate the millions of people who are about to retire? And what will happen to the economy when more people have to stop working to care for an aging parent?
Building a graduate-to-labor pipeline for caregiving would not only address workforce shortages but also provide relief to millions of family caregivers — many of whom are overburdened and suffer from depression. This program could enable many family caregivers to re-enter the workforce; and they won't have to give up income to qualify for Medicaid-funded home care (a process called Medicaid "spend-down").
Nihal anticipates one big challenge ahead in creating a Care Corps is engaging Gen Zers in what's often seen as "an old person's disease."
"We want to make this a beneficial experience for young people. If you put someone in a position where they provide care for a year, it gives you a new life perspective," he said. "But there's another aspect — we're building a career ladder, and we want to expose Corps members to different mentors in medicine, aging research, and entrepreneurship."
Keeping Care Close to Home
Unlike other programs where people volunteer in a different city or country, most Care Corps members would serve in their own communities. This is fundamental to the goal of reaching health equity.
"Reaching health care equity is an important goal for our team," said Nihal. "Care is something on such a deep, personal level — if you don't feel that connection or bond with the caregiver, the value of that care isn't going to be there. We wanted to structure the model in such a way that people are serving close to home, versus transplanting people from one community to another. People who have shared life experiences, race and ethnicity, and language — those are all important things to consider as we build out the model."
Building a Coalition and Evaluating Progress
With the NAM award, a major priority for Nihal is developing appropriate evaluation metrics for the Care Corps model.
"We want to be able to say with confidence, 'we saved the health care system X amount of money, we reduced family caregiver depression by X amount'," said Nihal. "We won't really know what's working or [how to] scale this further without an evaluation working group."
He is also hard at work cultivating relationships with legislators, labor unions, health care insurers, and other community groups.
"Our team is keen on doing this in a completely bipartisan way. Building the workforce to care for our aging population and saving taxpayer dollars are things we hope everyone will get behind," he said.
Beyond the workforce and economic benefits, Nihal says the Care Corps has potential to bring generations and the country together at a time when elders need us most.
Resources
Reprinted in the UMHS Endeavour with permission from the National Academies of Sciences, Engineering, and Medicine. This article originally appeared with the title "This Medical Student Wants to Start an AmeriCorps for Elder Care" on the National Academies of Sciences, Engineering and Medicine website. It is part of a series of profiles on the 2020 winners of the National Academy of Medicine's Healthy Longevity Catalyst Awards — part of the Healthy Longevity Global Competition, a multiyear, multimillion-dollar international competition seeking breakthrough innovations to improve physical, mental, and social well-being for people as they age. UMHS student Nihal Satyadev won a $50,000 grant as seed money to start Care Corps, the nonprofit discussed in this guest blog post.
(Top image) UMHS student Nihal Satyadev, one of the winners of the National Academy of Medicine's Healthy Longevity Catalyst Awards. Photo: Courtesy of NAM.
Posted by Stephanie Miceli