UMHS introduces a new podcast called Dextrocardia, hosted by current second-year UMHS medical student Nihal Satyadev.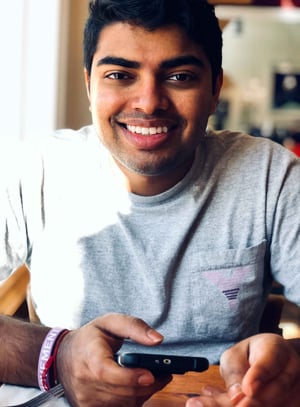 Dextrocardia features interviews with fellow medical students, medical school faculty, and medical practitioners on everything from how to succeed in medical school, to fighting racial inequality in medicine and how medical students are working in the Black Lives Matter movement.
What's the story behind the podcast's name?
"Dextrocardia is a medical term for when your heart is the other way around," said podcast co-creator and host Nihal Satyadev. Caribbean medical schools have many misconceptions, but this podcast might just help you look at things from the other way around."
(Image to the right): Nihal Satyadev, host of Dextrocardia.
Episode 1 debuts Monday, August 31, 2020, featuring an interview with UMHS student Stephanie Vang. Ms. Vang discusses working as a teaching assistant (TA) for anatomy and what it takes to get an "A" in her class. Anatomy is a standard course taught in the Basic Science portion of medical school.
Following the Monday, August 31st launch, episodes will subsequently be released every other week on Tuesdays. Dextrocardia will be available on Apple Podcast, Google Podcast, Spotify and Soundcloud.
Subscribe here - https://dextrocardia.podbean.com/
(Top image): The new podcast Dextrocardia by UMHS, hosted by Nihal Satyadev, debuts August 31, 2020. Subsequent episodes will be released every other week on Tuesdays. Image: UMHS.
---
About UMHS:
Built in the tradition of the best U.S. universities, the University of Medicine and Health Sciences focuses on individual student attention, maintaining small class sizes and recruiting high-quality faculty. We call this unique approach, "personalized medical education," and it's what has led to our unprecedented 96% student retention rate, and outstanding residency placements across the USA and Canada. UMHS is challenging everything you thought you knew about Caribbean medical schools.

Posted by
Scott Harrah
Scott is Director of Digital Content at UMHS and editor of the UMHS Endeavour blog. When he's not writing about UMHS students, faculty, events, public health, alumni and UMHS research, he writes and edits Broadway theater reviews for a website he publishes in New York City, StageZine.com.