UMHS professor Dr. Angel Matos—with the support of UMHS President Warren Ross—organized a group of UMHS students affiliated with the student nonprofit Med4You on a recent medical mission to bring badly needed health care to an underserved community in the Dominican Republic.
The UMHS Endeavour spoke to Dr. Matos in a phone interview about the UMHS trip in August 2018 and why health disparities in developing communities and nations are an ongoing global concern. We also spoke to clinical student Natalie Cazeau about the amazing care and outreach the students provided for people in need in the Dominican Republic and how the mission helped our med students practice their skills with patients.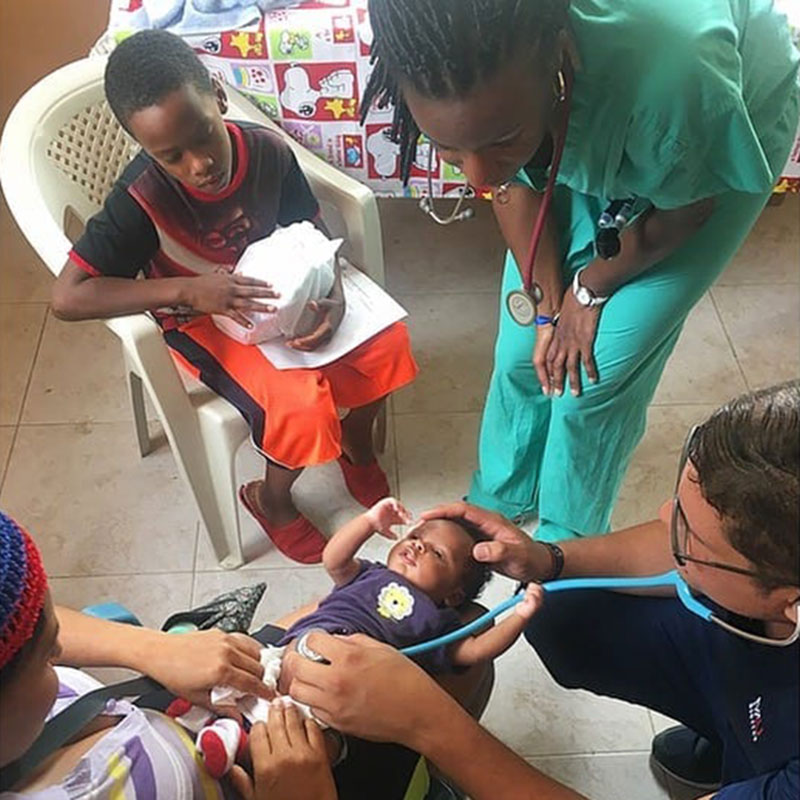 Dr. Angel Matos & UMHS student Natalie Cazeau treat a baby & his young mother at the UMHS medical mission in La Caleta, Boca Chica, Dominican Republic. Photo: UMHS Med4You
Bringing Medical Attention & Kindness to La Caleta, Boca Chica
Dr. Matos and a group of nine UMHS students traveled to the community of La Caleta, Boca Chica in the Dominican Republic. Life is hard in this part of the island. Electricity and water are sometimes only available two days a week, at certain times of the day and not for a full 24 hours.
The people were grateful to receive medical attention and the medication they desperately needed.
"The community leader said for them this was like Christmas in summer," Dr. Matos said, noting that the folks in La Caleta, Boca Chica live in extreme poverty and do not have regular access to health care. Even if people are able to find transportation to a doctor or hospital, many cannot afford the medications prescribed for them, he pointed out.
"So that's why our visit was so important for them," he said. "Everybody who was being checked by our team would get breakfast or lunch at the time they showed up to the clinic."
Residents suffer from many ailments, including hypertension and diabetes. Because of poor housing conditions and improper hygiene, entire families are exposed to communicable diseases that have a low prevalence in communities with better access to utilities and clean water. Due to the lack of health literacy and access to health services, some people are dying too young because they simply cannot get the proper medical attention, Dr. Matos said.
There is very little information about sexual health, disease prevention and contraception, but Dr. Matos mentioned he saw many pregnant teenagers and young adults becoming grandparents.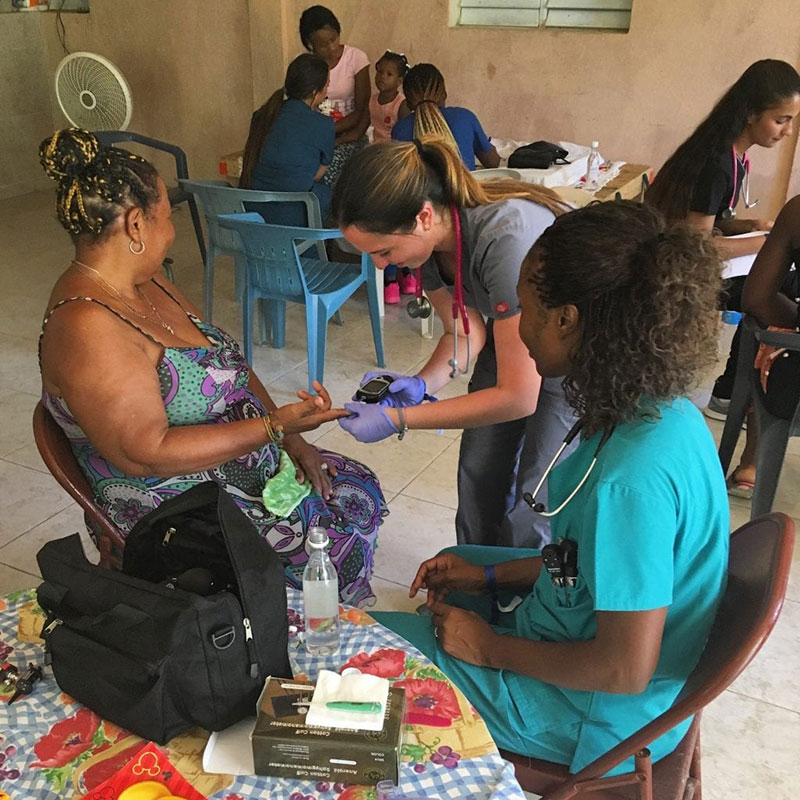 UMHS students Natalie Vera & Charmaine Trotman-Shumantov check a patient's blood sugar in La Caleta, Boca Chica, Dominican Republic. Photo: UMHS Med4You
Health Disparities in Poor Communities a Global Problem
Dr. Matos said health disparities in the Dominican Republic are not simply a local issue. The lack of resources, education and medication in developing communities is a global issue. He said a recent World Health Organization (WHO) report noted an alarming statistic.
"The average life expectancy can have as much as 40 years' difference between a rich and poor country or community," he said. " That's why we can see some people in their upper 20s having hypertension, diabetes and other conditions that, with healthy nutrition and lifestyle, they wouldn't even be experiencing when they are 70."
This is why it is imperative for UMHS students to keep up the good work they have done recently in the Dominican Republic, Guatemala, remote regions of Puerto Rico (after Hurricane Maria) and anywhere people need help and health care.
"Wherever we go, disparities that we have among the rich and the poor present a huge gap in the life expectancy of people," he said. "We need to create a consciousness among the students on the importance of reducing this."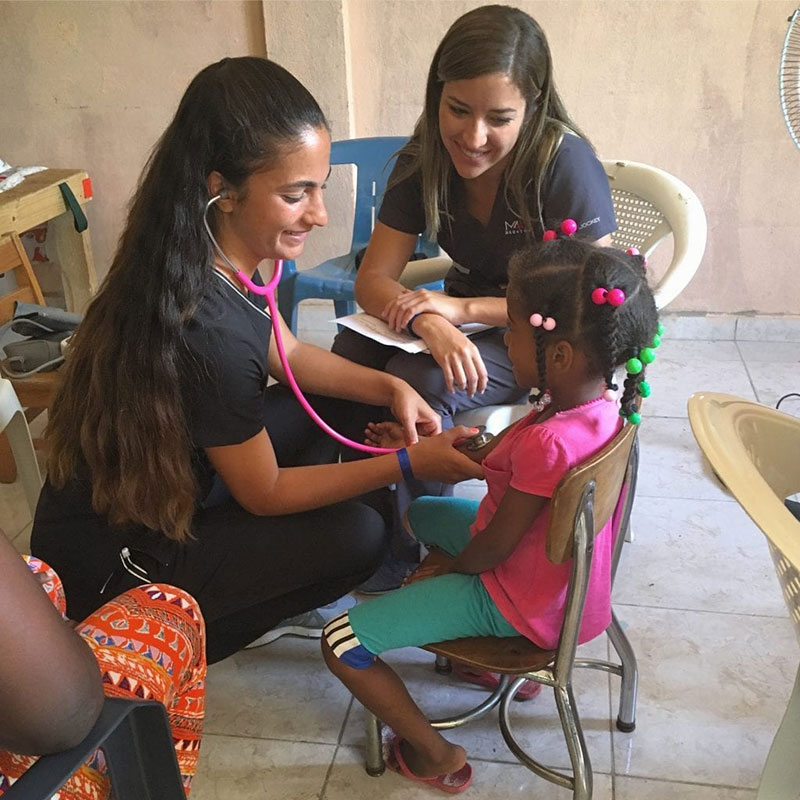 UMHS students (left to right) Paola Mora & Ariana Hernandez examine a young patient in La Caleta, Boca Chica, Dominican Republic. Photo: UMHS Med4You
UMHS Making a Difference While Giving Students Patient Experience
When UMHS students and Med4You bring medical attention to communities in need, they accomplish two crucial things simultaneously: They help patients while using skills learned in the classroom in real-life situations. This has many benefits for med students and patients alike.
"It's incredible to see students in their second, third and fourth semester of basic science and how they link all that information they learn in genetics and immunology and physiology, how they link that information to the pathologies they are seeing and what they've learned that's specific to diagnosis and examination of skills," Dr. Matos said. "So they are able to ask good questions and make a good analysis on the signs and symptoms. It was incredible to see how they all worked together from different semesters. We've had students who have taken pharmacology and others who haven't taken pharmacology yet, so putting together all those students at different levels was very good for their individual and group learning and showed they were skilled. I can tell you that when they came to me, their findings were accurate, their plan was accurate and most of them were even sure of the right medications and treatments to prescribe."
Dr. Matos said this indicates how well trained UMHS students are to handle real-life patient interactions for people who need medical attention more than ever.
UMHS Clinical Student Natalie Cazeau
The UMHS Endeavour spoke to Natalie Cazeau, a fourth-year UMHS student who is currently finishing up her electives.
"I had some time in my schedule and the dates of the Dominican Republic trip worked out," she said. "So I decided it would be a good opportunity and experience for myself."
The responses from the people of Boca Chica amazed her.
"The local people of Boca Chica seemed very grateful that we were able to come to the community to listen to their medical concerns and provide appropriate medications," she said. "One of the other students told us that they wanted to know when we would be back."
There was one patient Ms. Cazeau found particularly inspiring: A young pregnant woman who came to the clinic for her first prenatal visit.
"She did not have an OB/GYN doctor and was not taking any prenatal vitamins," she said. "We took her to the physical examination room with a fetal heart rate monitor to listen to her baby's heart rate. When we found the baby's heart rate and told her to listen, she was very happy and excited. We suggested that she find an OB/GYN that she trusts and we provided her with prenatal vitamins for the next two months. It felt great to be able to be a part of her pregnancy journey, even if it was just one time."
Dr. Matos said that of the nine students on the trip, six were bilingual and three were English speakers but they were able to perfectly interpret and manage the Spanish-speaking patients. "Language was absolutely not a barrier on the communication and the effectiveness of the clinic and of the treatment so they were able to work in collaboration perfectly."
Ms. Cazeau echoed that thought.
"Some of us were not fluent in Spanish and we would pair up with the Spanish-speaking students in order to have a translator," she said. "I enjoyed teaching some of the students what I have been learning in my clinical rotations such as how to listen to the fetal heart rate and how to really take focused histories and physical examinations. We had many women and children come to the clinic. They appreciated having food after their visit and little goodie bags."
She agreed with Dr. Matos that medical missions help UMHS students in the various years of med school get patient experience in regions where people need assistance.
"I think it's a great opportunity for both basic science students and clinical students to participate on these missions," she said. "It allows for students to practice their focused history taking skills as well as physical examination skills. Seeing patients as a family was also a challenge but it was great practice on how to provide health care to each person in the family. This medical mission trip was a great way to learn how to provide health care to underserved populations with limited resources. Practicing medicine in the U.S. allows for you to have all the technology at your fingertips. However, when that is not available, you learn to tailor patient care from thorough history taking and physical examinations, which in turn, helps you become a better, well-rounded physician. Going on these missions is a great opportunity to have hands-on experience. Dr. Matos was also supportive as he allowed me to provide assessments and treatment plans. It was a taste of rural medicine and serving the underserved."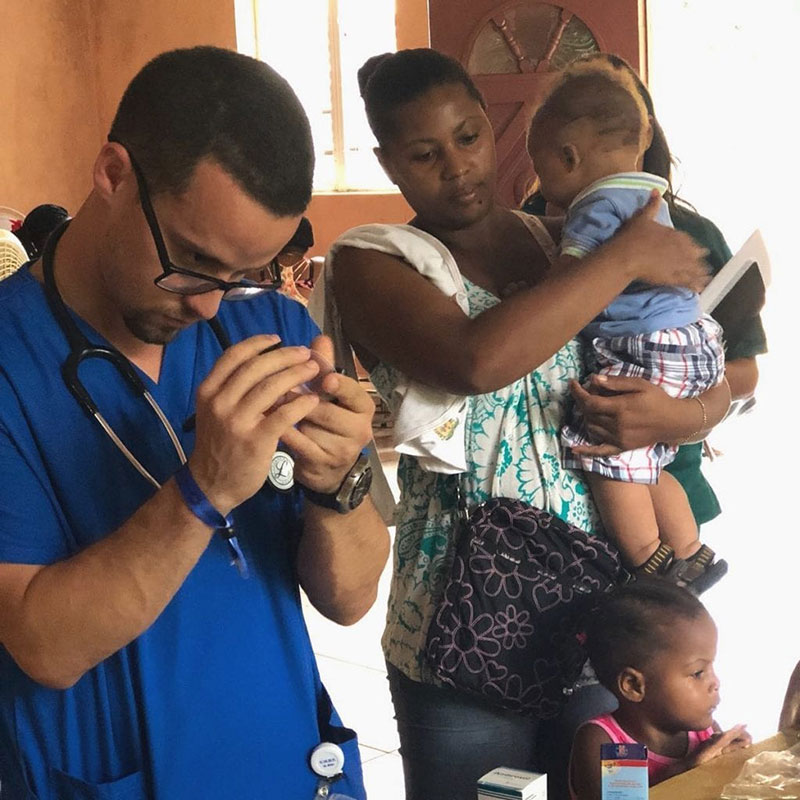 Luis Adorno, UMHS Med4You Chapter President, at work while patients wait at the La Caleta, Boca Chica clinic in the Dominican Republic. Mr. Adorno was the student leader & worked very hard in fundraising for the benefit of this community. Photo: UMHS Med4You
Future UMHS Global Health Outreach
Dr. Matos hopes to continue working with Med4You and UMHS basic science and clinical students to do more medical mission trips to underserved regions not just in the Caribbean but anywhere people are in need.
Because security and keeping students and faculty safe is always a number one concern for President Ross, on each trip a private security firm is hired to travel with UMHS students and Dr. Matos. An armed security guard accompanied everyone throughout the Dominican Republic.
"The guard was at the clinic entrance so we never had any kind of incident and the UMHS administration absolutely supports everything to make sure that we are safe while abroad or in St. Kitts," Dr. Matos said.
Dr. Matos said the UMHS administration and President Ross are exploring how future trips like this could offer UMHS students similar learning experiences "to understand the importance of global health and the ability to enhance their medical education. What they are receiving here will allow them to have more practice in different settings."
How can current UMHS students get involved in future medical missions?
"We want to encourage students to approach Med4You, approach me or students who have done these trips to get more information and get motivated to participate because this will be amazing for their curriculum, for their learning and it is very rewarding on a personal level," Dr. Matos said.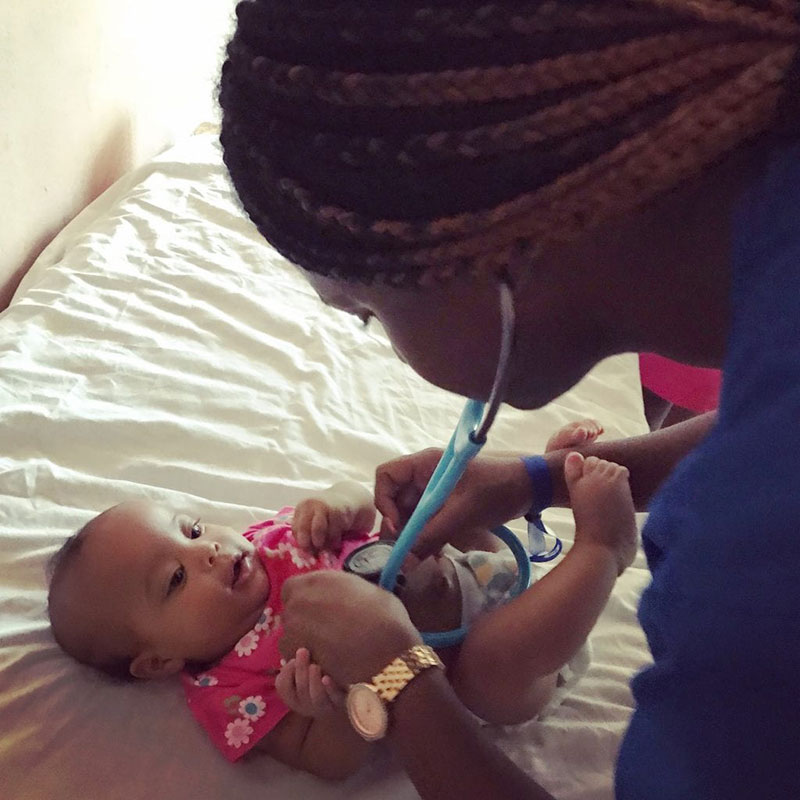 UMHS student Pryia Simmons examines a baby in La Caleta, Boca Chica, Dominican Republic. Photo: UMHS Med4You
---

About UMHS:
Built in the tradition of the best US universities, the University of Medicine and Health Sciences focuses on individual student attention, maintaining small class sizes and recruiting high-quality faculty. We call this unique approach, "personalized medical education," and it's what has led to our unprecedented 96% student retention rate, and outstanding residency placements across the US and Canada. UMHS is challenging everything you thought you knew about Caribbean medical schools.

Posted by
Scott Harrah
Scott is Director of Digital Content & Alumni Communications Liaison at UMHS and editor of the UMHS Endeavour blog. When he's not writing about UMHS students, faculty, events, public health, alumni and UMHS research, he writes and edits Broadway theater reviews for a website he publishes in New York City, StageZine.com.