The tragedy of Hurricane Maria is still affecting Puerto Rico nearly six months later. The island continues to struggle as power is restored and areas start rebuilding, but the physical and mental health of the people are among the most serious ongoing challenges, as UMHS student, proud Puerto Rican native and Med4You founder Ariana Hernandez explains to the UMHS Endeavour.
Ms. Hernadez and her nonprofit Med4You, comprised of UMHS students devoted to advocating health care as a human right, especially in disadvantaged communities, responded immediately as soon as Hurricane Maria hit Puerto Rico on September 20, 2017. First, by creating a Go Fund Me page (with the help of UMHS students, the Student Government Association, faculty, staff and President Warren Ross) to raise a total of $40,000 specifically for Puerto Rican medical services.
However, Ms. Hernandez and the UMHS students involved with Med4You did not simply help raise money for Puerto Rico. These future doctors showed how they truly understand the altruism required to assist people hurting financially, physically and emotionally. Med4You organized clinics over the recent holiday break in three separate Puerto Rican communities among the hardest hit by the catastrophe: La Mocha in Ponce; Arecibo; and in the town center of Ponce. "Doctors have closed their offices, others are fully booked or the families don't have the money to treat their diseases," Ms. Hernandez explains, pointing out why doing the clinics was so important.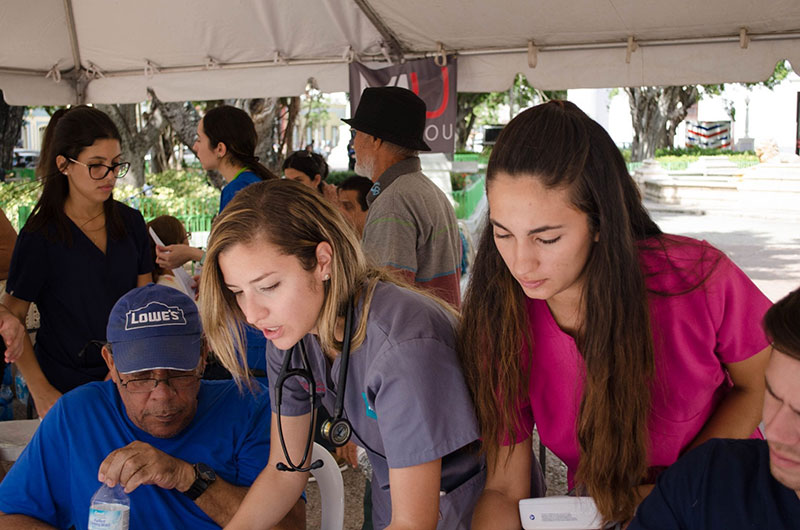 UMHS STUDENTS AT WORK IN PUERTO RICO: Med4You nonprofit members organized medical clinics in 3 Puerto Rican communities over the holiday break. Pictured: A clinic in Ponce town center. Photo: UMHS Med4You
The UMHS Endeavour caught up with Ms. Hernandez to discuss everything they encountered, from what type of medical services are needed to the many diseases affecting people to the emotional responses of the folks they met. Much of what she describes is heartbreaking, but the ongoing commitment of UMHS students to heal Puerto Ricans and offer hope is truly inspiring.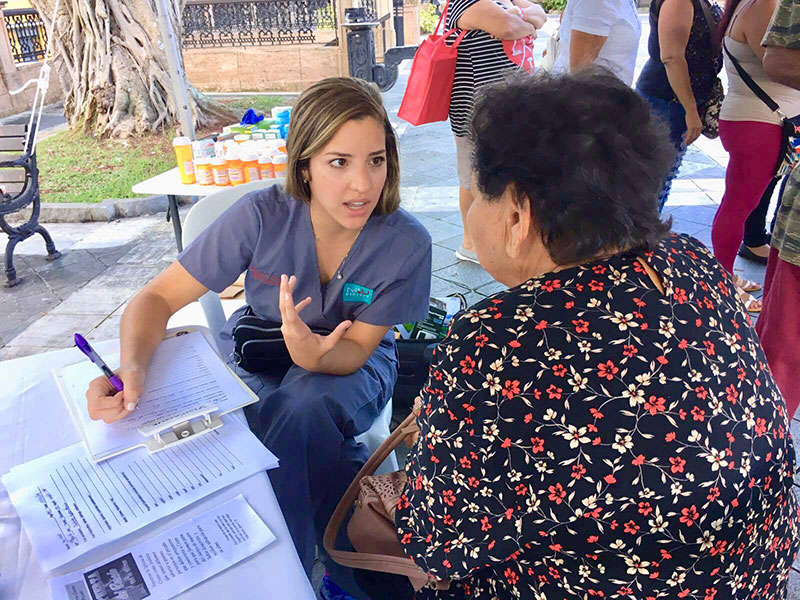 ARIANA HERNANDEZ WITH A PATIENT: Ms. Hernandez at work at one of the clinics. Photo: UMHS Med4You
UMHS Endeavour: Tell us a little about the three clinics you had in Puerto Rico over the break. Explain why it was important to do three clinics?
Ariana Hernandez: We did the first medical clinic in Puerto Rico on December 27th, 2017. During this day, we went to a community in a mountain area called "La Mocha" in Ponce, Puerto Rico. Joining efforts with Ponce Health Sciences Foundation, UMHS Students and PHSU students from Med4you Chapters assisted in every detail about the medical clinic. We provided medical services, psychological services, social worker services and nurses. By the end of this clinic, we also did visits to individual homes for the critically ill.
Our second clinic was on December 29th in the town of Arecibo. It was impacting hearing how many people walked for more than an hour just to arrive there. The third clinic was on January 4th in Ponce town center. This was our biggest one. We provided cardiologist, pediatric, general medicine, psychiatry, psychologist, social worker and nurses services.
In addition to the health services, in our clinics, we donated clothing, food, water and hygiene articles. We were able to help many people that lost everything after Hurricane Maria and the homeless too. Also, we achieved one of our goals joining together students from different medical schools (PHSU, UMHS, and UCC). We shared our knowledge and gave the patients our best.
In addition to the clinics, we visited the Pediatric University Hospital in Medical Center. We were here for Three Kings Day [the Christian holiday also known as the Feast of the Epiphany], playing with the pediatric oncology patients and giving them gifts. Many of the families lost their homes too, while at the same time their kids were suffering from cancer. However, their hope and strength were admirable.
People are in a desperate need of health services in disadvantaged communities. For this reason, we are committed to keep doing many more clinics and in the near future helping the healthcare system in Puerto Rico.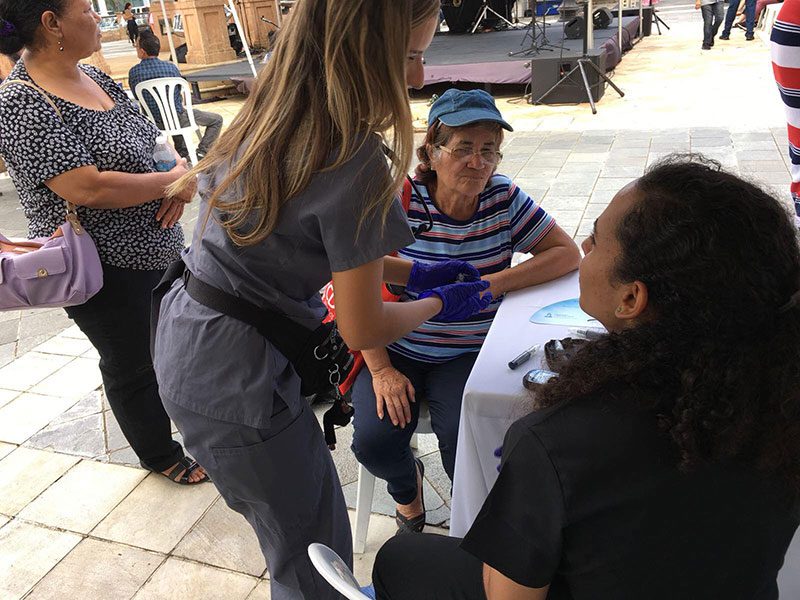 Ariana Hernandez & Eva Rivera (UMHS student/Med4You Board Member) taking patient history & vital signs. Photo: UMHS Med4You
What should med students and the public know about how the hurricane affected the public health system in Puerto Rico?
Talking about what I witnessed and by talking with the communities, the diseases have increased significantly among the most affected areas. The main concerns are that doctors have closed their offices, others are fully booked or the families don't have the money to treat their diseases. The access to healthcare and medicines have been affected, but what has been most affected is the population's mental health. While treating the patients, we discovered that what they most need is support and help for their depression. They showed a big respect towards us and for them, the time we took to hear their situation was more valuable than even the medical services.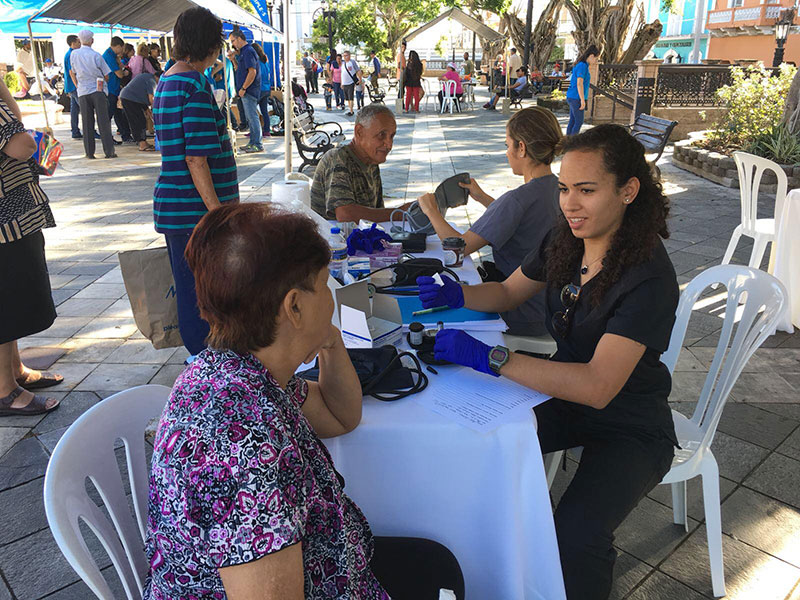 UMHS students Ariana Hernandez (top right) & Eva Rivera (lower right) helping people in need in Arecibo, Puerto Rico. Photo: UMHS Med4You
How has the local media in Puerto Rico been helpful in covering this emergency?
The local media have done a good job in the main capital city, San Juan. However, I think they should cover more about the situation of many affected areas that have been ignored. The media is a powerful tool for the organizations to target communities in need in order to help them.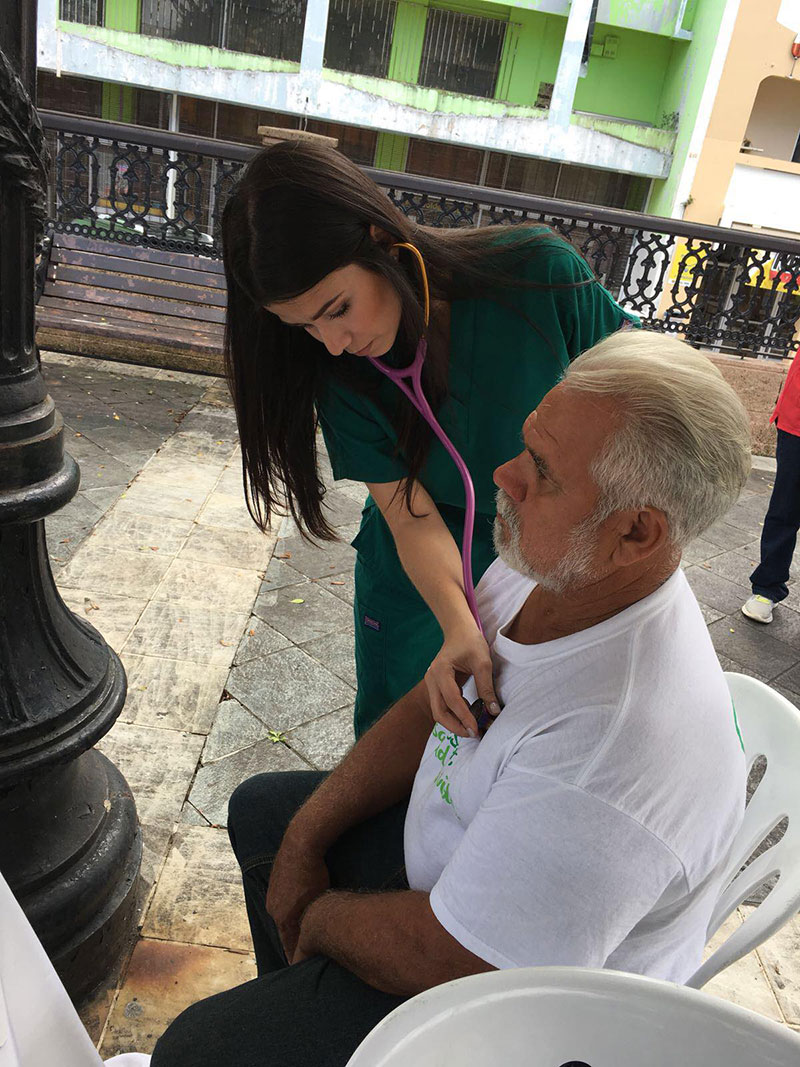 Fabiola Ramos (UMHS EBS5 student/Med4You member) helps a patient during the Arecibo, Puerto Rico free health clinic. Photo: UMHS Med4You
What are a few things that surprised you about working in Puerto Rico over the holidays?
The most surprising/impacting thing was to see my people suffering like that. I have to admit that sometimes it was difficult to hear their current situation, to keep being strong and giving them hope. Their situation affected us emotionally, too. Nevertheless, we brought happiness to every individual treated. Also, after finishing each clinic day our fulfillment about being able to help them meant too much to us. The other things were their mental health status and the fact that communities in need without electricity, water, and no medical services access are being ignored.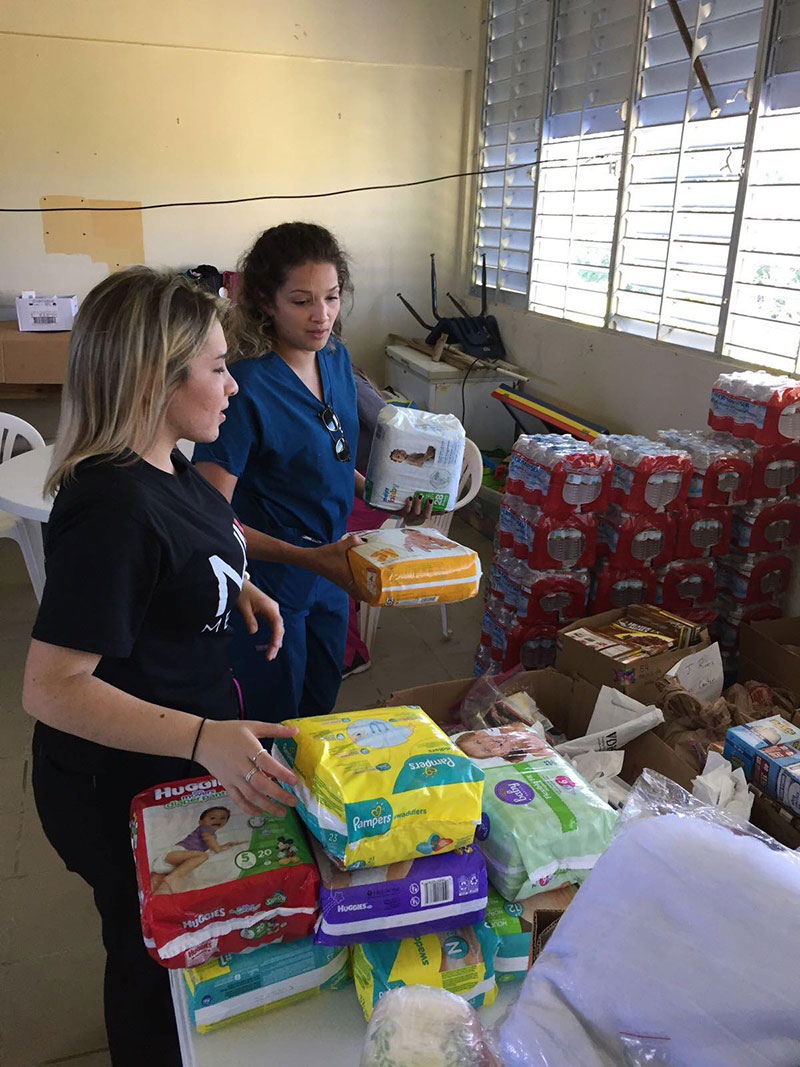 UMHS students/Med4You members organizing supplies donated to the community. Photo: UMHS Med4You
Can you tell us a little about how UMHS is offering support?
UMHS joined us in raising money for Puerto Rico. Thanks to the students, Med4you Board, the SGA, UMHS faculty, student clubs and President Ross, we were able to raise an amount of $40,000. All these funds went to medical services in disadvantaged communities affected by Hurricane Maria. After the hurricane, we had several meetings with President Ross, the Deans and the SGA with the purpose of sharing our ideas to help Puerto Rico and raise money. Med4You is more than grateful for all the big support that UMHS has given us through our journey to help people in need. Also, we are so excited that students from UMHS, students from different medical schools, health professionals and other entities are motivated to work with us toward our mission. This still the beginning of the communities we will help altogether.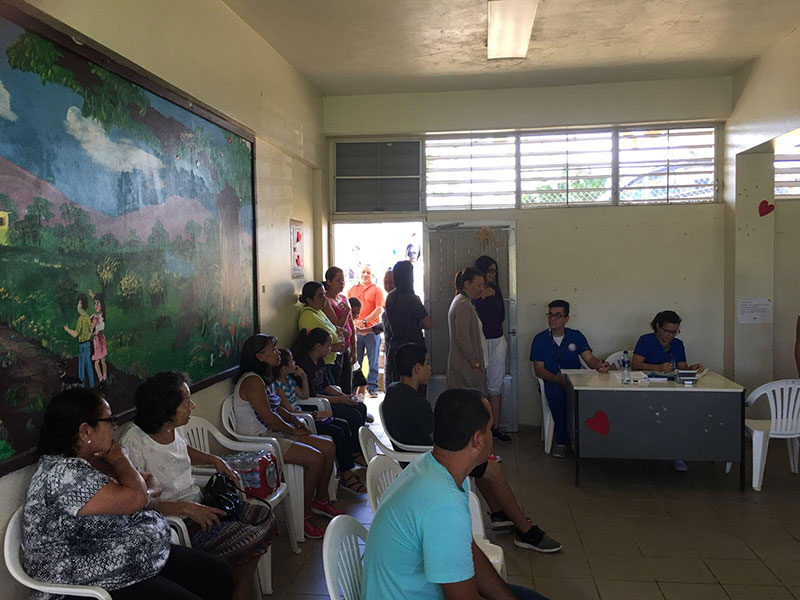 Families from the the community 'La Mocha' in Ponce, Puerto Rico. Photo: UMHS Med4You
What are some ways UMHS students and others can get involved?
UMHS students and others could get involved by participating in our different events, helping us raising funds to help communities in need, spreading the voice, participating from our clinics, letting us know about communities/individuals in need, and much more.

A volunteer helps a patient during a visit to an individual home in the community 'La Mocha' in Ponce, Puerto Rico. Photo: UMHS Med4You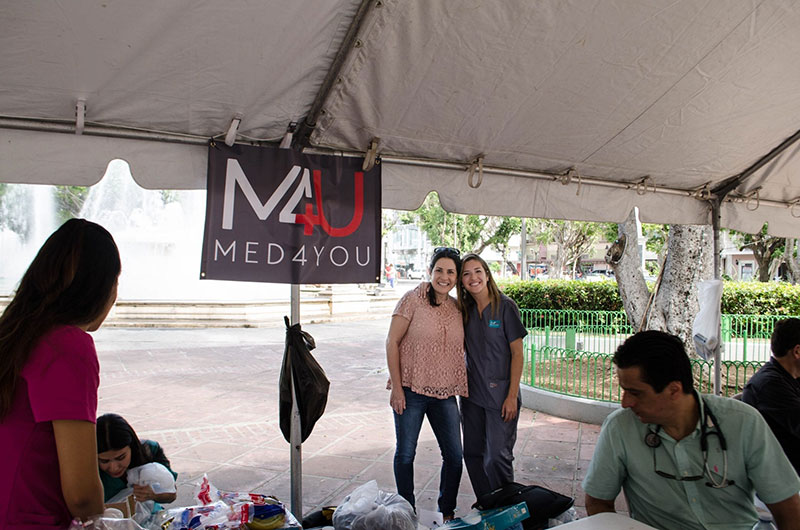 Dr. Lilian Rivera, Mentor of Med4you PHSU Chapter/Dean of Clinical Affairs PHSU & Ariana Hernandez, UMHS student & Med4you President. Photo: UMHS Med4You
Can people send donations to continue helping Puerto Rico? If so, where?
Yes, they could donate through our website, to our account number or to one of our Board Members. For donations, we prefer people to send an email to info.med4you@gmail.com in order for us to guide them through the process. This way, we could share with them how their donation will be used and the community in Puerto Rico impacted by them.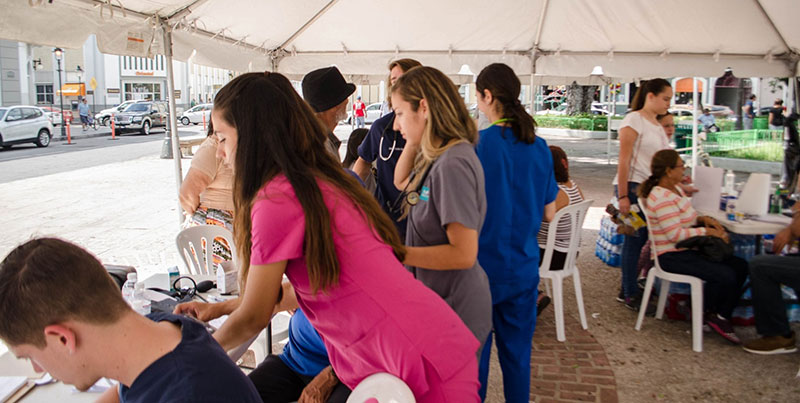 UMHS students at the clinic in Ponce town center. Photo: UMHS Med4You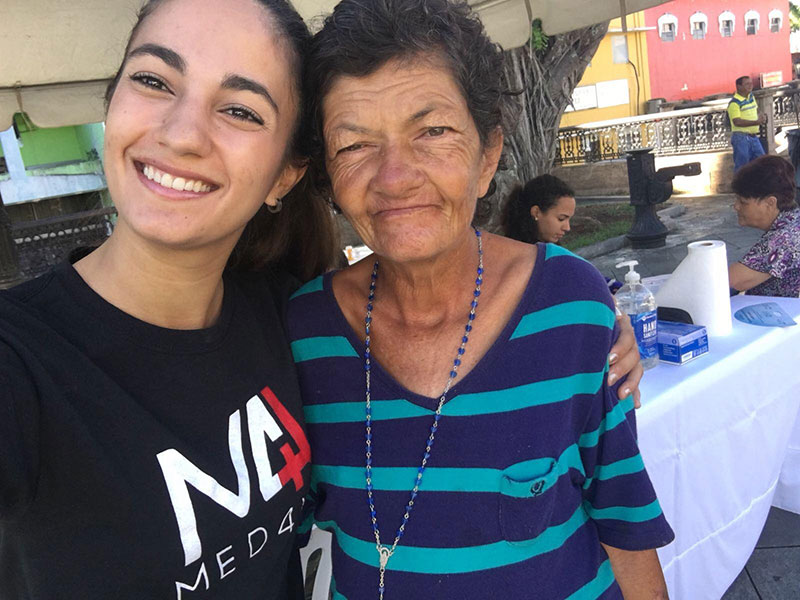 This patient (right) asked UMHS student & Med4You Vice President Paola Mora for a selfie because she wanted Paola to not forget how she helped her. Photo: UMHS Med4You

Dr. Ramos (left) & Fabiola Ramos treating a patient in the Arecibo Clinic. Photo: UMHS Med4You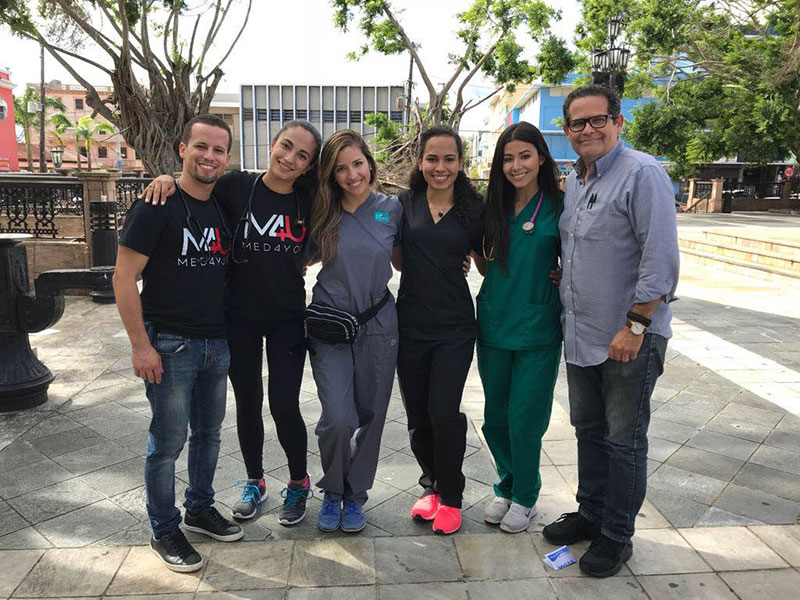 The Arecibo Free Health Clinic Team. Photo: UMHS Med4You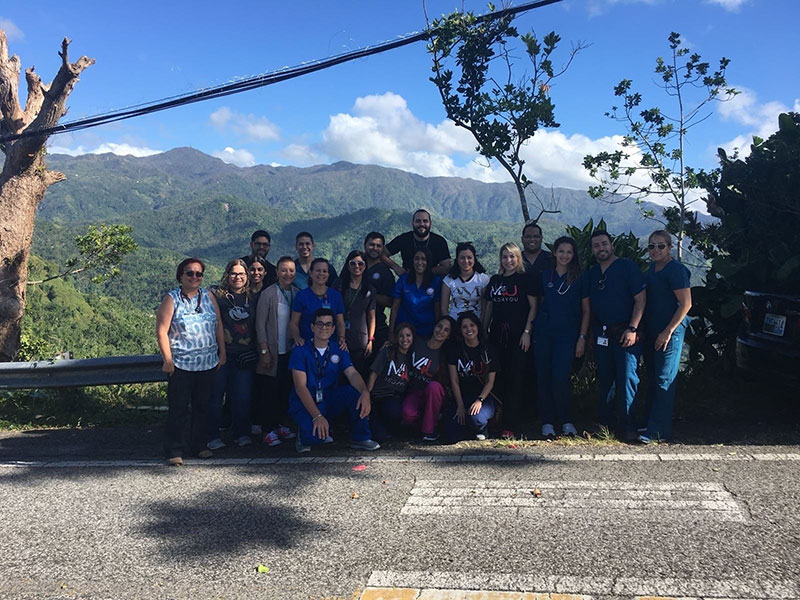 The community 'La Mocha' Free Health Clinic Team. Photo: UMHS Med4You
---

About UMHS:
Built in the tradition of the best US universities, the University of Medicine and Health Sciences focuses on individual student attention, maintaining small class sizes and recruiting high-quality faculty. We call this unique approach, "personalized medical education," and it's what has led to our unprecedented 96% student retention rate, and outstanding residency placements across the US and Canada. UMHS is challenging everything you thought you knew about Caribbean medical schools.

Posted by
Scott Harrah
Scott is Director of Digital Content & Alumni Communications Liaison at UMHS and editor of the UMHS Endeavour blog. When he's not writing about UMHS students, faculty, events, public health, alumni and UMHS research, he writes and edits Broadway theater reviews for a website he publishes in New York City, StageZine.com.