Dr. James Gordon Avery, a Senior Research Fellow at UMHS and Professor of Epidemiology and Biostatistics, stopped by the North American Administrative Office in New York with his wife of 42 years, Penny, recently to talk to the UMHS Pulse about his long, distinguished career in public health as a doctor; epidemiologist; author (his work has appeared in numerous medical journals); advocate for cancer screening; injury care for children; international disability rights; researcher; and expert on tropical diseases. Working everywhere from his native England to Wales, the Middle East, the Solomon Islands, and various parts of the Caribbean, including Montserrat, Grenada, Nevis, and St. Kitts. Dr. Avery was previously an Associate Professor of Epidemiology and Public Health at the Medical University of the Americas in Nevis and the Chief Medical Officer in Montserrat before coming to UMHS.
Dr. and Mrs. Avery were in New York to attend the 2013 Franklin Delano Roosevelt International Disability Rights Award ceremony at the United Nations and witness this year's award being presented to Her Majesty, Queen Sofia of Spain. News wire services reported that UN Secretary General Ban Ki-moon (who was unable to attend the event because of the Syrian chemical weapons crisis) praised the Spanish Government and royal family and the people of Spain for "the efforts of the European country towards inclusion and equality, such as last year's adoption of a comprehensive strategy on disability."
Dr. Avery was one of the judges for this year's award. Dr. and Mrs. Avery both hail from Warwick, United Kingdom, but have spent decades abroad working in public health. In fact, the Averys were married in Honiara in the Solomon Islands when Dr. Avery was working on Guadalcanal Island as the Government Malariologist.
Dr. Avery's Education & Early Career
He earned his Bachelor of Medicine, Bachelor of Surgery (MB, ChB) and his Doctor of Medicine with Distinction (MD.) from the University of Sheffield Medical School, United Kingdom. He later gained a Diploma in Tropical Medicine and Hygiene (DTM. & H.) from the Liverpool School of Tropical Medicine and became a Founder Member (MFPH), then elected Fellow (FFPH) of the Faculty of Public Health of the Royal College of Physicians in the United Kingdom.
Dr. Avery began his medical career after qualification as a Junior House Officer at the Sheffield Royal Infirmary and Children's Hospital. He then became a Senior House Officer, Obstetrics and Gynaecology, Cuckfield Hospital, Sussex. After some brief spells as a locum general practitioner in several parts of the UK, Dr Avery relocated to the Solomon Islands as a District Medical Officer; then Government Malariologist; then Chief Medical Officer Community Health in the South Pacific island nation from 1966 – 76.
In 1976, Dr. Avery returned to his native South Warwickshire, UK to become the District Medical Officer, then Director of Public Health with the South Warwickshire Health Authority. He took an early retirement from this post in 1991 in one of the many health service reorganizations that took place in the UK at that time.
As he was retired on a pension, Dr Avery was free to take on any job except directly within the NHS (National Health Service in Britain). He had a one-year contract as Chief of Preventive Medicine, King Faisal Military Hospital, Khamis Mushayt, Kingdom of Saudi Arabia. He then spent a year as a Senior Medical Officer in the Welsh Office in Cardiff, South Wales. At this time the government realized that they were losing too many experienced public health doctors and he was able to take on a senior post as Consultant in Public Health with the Iechyd Morgannwg Health in Swansea, South Wales. It was on official retirement from IMH in 1998 that Dr. Avery, still not really ready for retirement, took up the post of Chief Medical Officer Montserrat, the British colony with a very active volcano in the Leeward Islands of the West Indies.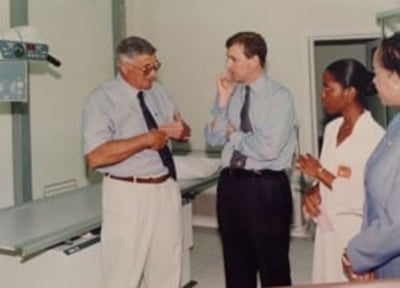 While still working full time as a practicing public health doctor in the Solomon Islands and the United Kingdom, including dealing with the many communicable disease problems, Dr. Avery took a strong interest preventive medicine and also into research into malaria and children's accidents. He became an Honorary (Visiting) Senior Lecturer in Epidemiology and Public Health in several UK universities, including Birmingham, Cambridge, Coventry, Glasgow, Warwick, and Wales at Swansea. In these schools, he took on the special subjects of injury prevention, communicable disease control, and travel medicine. He was also a visiting professor at St. Georges University, Grenada, and the University of the United Arab Emirates, Al Ain, UAE.
(Photo, inset right above) CHATTING WITH PRINCE ANDREW: Dr. Avery (left) speaks with Queen Elizabeth II's son, HRH, Prince Andrew, Duke of York, at a hospital in Montserrat in 2000. Dr. Avery explained to the Duke, a former Royal Navy pilot, how people were airlifted by helicopter to Guadeloupe & Antigua after the volcano erupted & at other times when necessary. Photo: Courtesy of Government of Montserrat, http://www.gov.ms/
From a professional perspective, Dr. Avery is a member of the British Medical Association and was Chair of the local South Warwickshire branch for several years. He was a founder member of the Child Accident Prevention Trust and a former member of the Parliamentary Advisory Council on Transport Safety. He is a Fellow of the Royal Geographical Society, London, and of the Royal Society of Tropical Medicine, London. In addition, he is a member of the International Panel of Judges on the Annual Franklin Delano Roosevelt International Disability Award, World Committee on Disability, Washington, DC.
Dr. Avery's Published Work & Personal Interests
Dr. Avery's publications include various papers and letters on malaria, injury prevention, smoking and health, disaster management, cancer care and other public health issues from 1968 to the present time in the British Medical Journal, Lancet, Practitioner, Injury Prevention, Risk Analysis, Journal of Occupational Health, Papua New Guinea Medical Journal, and West Indian Medical Journal. He has been a presenter of papers and/or posters and session chair and judge of presentations at numerous conferences in the UK and the Caribbean. He is the senior co-author (with RH Jackson) of Children and Their Accidents, 1993 and a contributor of the chapter on "Accidents and Injuries Experienced by Travellers" in Lockie C et al (editors), Travel Medicine and Migrant Health, 2000.
From now on, we are including some of the wide-ranging and spirited discussion the UMHS Pulse staff had with Dr Avery and his wife during their visit to our New York office. The UMHS Pulse met with Dr. and Mrs. Avery on a warm September morning, just a few hours before they flew back to St. Kitts. We discussed the highlights of Dr. Avery's career, specifically in the Caribbean, and his quest to establish a Health Research Foundation possibly at UMHS to address such ongoing problems in the region as cervical cancer screening and vaccination for HPV (Human Papilloma Virus, which causes cervical cancer) to dengue fever, the one mosquito-borne tropical disease found in St. Kitts and Nevis. We also enjoyed chatting with the down-to-earth, warmhearted Averys about lighter topics, such as the difference between American football and British origin rugby football; his desire to continue swimming, biking and running in the Nevis triathlons; theater; and celebrities that come from the various regions of the United Kingdom in which they have lived. After speaking with Dr. and Mrs. Avery for just a few minutes, it is obvious this husband-and-wife team both share an enthusiasm and altruistic passion for research and public health in developing and emerging parts of the globe that is truly inspiring.
Health Needs in the Caribbean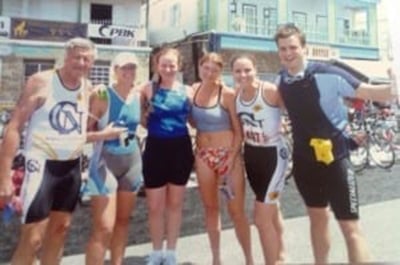 One of the main purposes of Dr. Avery and his wife including a visit to our NY office was because they want to set up a Leeward Islands Health Research Foundation, starting initially just in St. Kitts and Nevis. Later on, if all goes well, they have a vision to incorporating all of the islands in the region (Antigua, Dominica, Montserrat, Anguilla and the Virgin Islands) to help address such pressing issues as cancer, diabetes, hypertension, heart disease and stroke in the area. This they see this as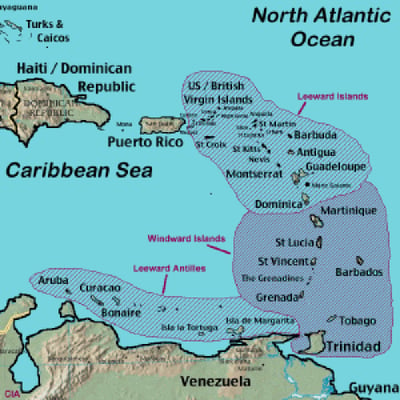 complementing the newly formed Caribbean Public Health Agency (CARPHA), which began operation in January 2013. Dr. Avery has also done research with Dr. Camille Ragin (formerly at Pittsburgh University now working at Temple University in Philadelphia) on the African-Caribbean Cancer Consortium (AC3), an organization that studies cancer epidemiology, addresses issues on disparities in health, helps screening programs and provides resources for people with several different forms of cancer especially in relation to patients of African origin.
(Photo, inset right, top) NEVIS TRIATHLON: Dr. Avery (left) & 3 female medical students & son Will Avery (far right). 'The combined ages of the 3 girls was less than my total years,' he says.
(Photo, inset right, bottom) LEEWARD ISLANDS: Map showing the Leewards (upper right), a Caribbean region that Dr. Avery says needs help with HPV prevention. Dr. Avery wants to focus first on St. Kitts & Nevis. Map: Geology.com
Although Dr. Avery has had extensive experience in studying and treating tropical diseases, he says St. Kitts and Nevis, like most Caribbean nations, does not have problems with such illnesses as malaria and schistosomiasis, a disease spread by parasitic worms in freshwater snails, currently a concern in many parts of Africa. "The one tropical disease that is still relevant is dengue fever. That's still there (with the ever- present Aedes aegypti mosquito) and occurs in epidemics on a regular basis." Several cases of dengue fever, a mosquito-borne illness, have been reported this summer and fall in Florida and other parts of the USA.
Dr. Avery's Health Advocacy in Britain
Dr. Avery was a longtime advocate in the United Kingdom about smoking and health. He wrote several lead letters in the British Medical Journal about the effects of smoking from a public health perspective. He also worked with the leading cancer epidemiologist from Oxford Sir Richard Doll on a Royal College of Physicians Committee on Prevention. He always remembers Sir Richard saying that he was a chain smoker until he realized from his studies the devastating adverse health effects of tobacco smoking.
Injury prevention was also an important cause for which Dr. Avery worked. He was a strong proponent of seatbelt legislation in the British Parliament. "We had a particular involvement in developing the seatbelt legislation with the Parliamentary Advisory Council on Transport Safety based in London," he says. "The Parliamentary Council is in direct contact with the politicians because we were actually working on framing the law."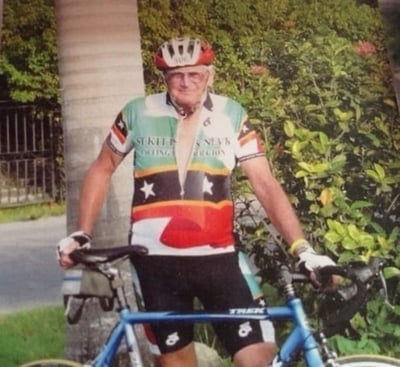 When asked how he made the transition from the United Kingdom to the Caribbean and doing further research, Dr. Avery discussed how became interested in cancer awareness, treatment and prevention while working in public health in Swansea, South Wales (hometown of Catherine Zeta-Jones; Richard Burton, nearby; poet Dylan Thomas; and humorist Harry Secombe). When he went to Swansea, and with the support of the South Wales Evening Post, an evening paper with a cancer charitable connection, Dr. Avery helped found the South West Wales Cancer Institute, for which he became the first director. "We still lived in Warwick when I first started there in 1995 and I traveled down to Wales for the week, returning home for weekends" he says. "It was during that time that I regularly walked the coastal footpaths of the Gower Peninsula. We published a series of walks in the weekend editions of the evening paper and eventually turned these into a guide book, Gower Coastal Walks. This is still available to intrepid walkers from most of the National Trust shops in South Wales.
(Photo, inset right) DR. AVERY IN ST. KITTS: 'All ready for a 30-mile round island bike ride. Nothing quite like the Tour de France but there are a couple of quite challenging hills even the quick boys struggle with,' he says. He was National Masters Age Group Cycling Champion in 2010 & 2013. Although he has been teaching at UMHS since 2009, the Averys have continued to live in Nevis since 2003. Photo: Courtesy of Dr. Avery.
Dr. Avery's Public Health Work in the Caribbean
While in South Wales and nearing the time of his official retirement, he was reminded by his wife of a possible job in Montserrat. "My wife looked in the British Medical Journal. In those days they had the adverts for the jobs. She flipped it open and there was an advert for Chief Medical Officer in Montserrat and she suggested I apply for it." The tiny Caribbean island of Montserrat, a British Overseas Territory, is best known for its active volcano. The volcano erupted in 1995, destroying the capital city of Plymouth and forcing two-thirds of the population to leave the island. "When I went there in 1998 they were really having a lot of recovery problems so I think I could claim some credit for helping in the restoration of health services there and particularly the mental health and emergency services," he said. While there and calling his wife, still back in England he said to her, "I have never seen so many problems in such a small place in such a short time."
Special note for volcano watchers: A liquid, hot-rock-strewn, gas-filled pyroclastic flow from a volcano travels at 60 mph downhill. Anyone within 1 mile of its track is dead. A lahar, which is a mixture of volcanic debris and water flowing down a river path, travels much slower at 5-10 mph. You have time to get out if you don't hang about. No wonder Dr Avery, long a keen walker, took up triathlon.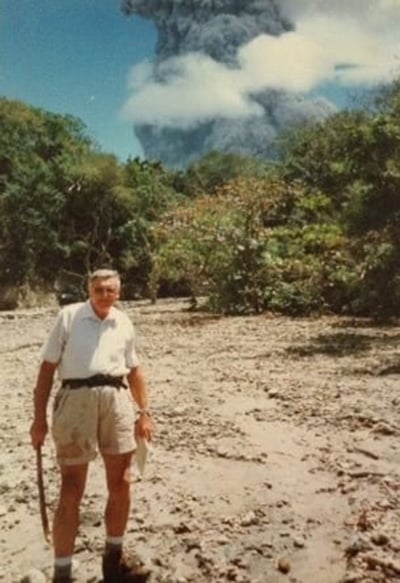 After working in Montserrat, Dr. Avery became more interested in helping people gain better health in the Caribbean. He found there were good facilities and good staff available, but often patients were reluctant to come forward for treatment and would have to travel abroad for complex treatment. There were areas where there was a need for specialist equipment and staff but often the population was not big enough to justify the outlay in these areas.
"Because we're all small islands, it's not very easy to provide some of the high technology medicine, including the imaging facilities and radio therapy,". he says. "It's just not possible to do that on every single island, so it has to be focused in one or two places. Trinidad, Barbados and Jamaica are the three big islands which provide these services and the Bahamas a little bit as well. So quite often people have to go abroad to get treatment, so that's one of the problems of treating disease which actually exists."
(Photo, inset right) ON MONTSERRAT: In the Belham River, one of the main lines of lahar flows from the Montserrat volcano. Dr. Avery & a visiting pediatrician from England wanted to get a closer look. On hearing a big bang, his companion said, 'What's that?' 'Nothing to worry about,' said Dr. Avery. 'It's just the Public Works Department on the road downstream.' 'Okay,' replied his now-very-scared companion. 'What's that then?' looking up at the smoke billowing out of the volcano. 'Oh, that IS the volcano. Let's get the hell outta here,' was the good doc's urgent reply. Photo: Courtesy of Dr. Avery
We spent some time on looking at reasons for Caribbean countries experiencing a marked rise in the Chronic Non Communicable Diseases (CNCDs). Genetics is a key factor but lifestyle is even more important. "This is where you've got to be very careful of getting into the agenda, because you're saying lifestyle, okay, you shouldn't be doing that," Dr. Avery says. "In lifestyle, we're talking about what we eat, what we drink, do we or don't we take exercise, and whether we are addicted to smoking and hard drugs. In other words, these are some of the most important influences on people's health."
Genetics have a role, too. "The family histories in some patients with heart disease, diabetes and cancers do become important," he says. "Once you've got quite a lot of the lifestyle issues out of the way, and once you've looked at the environmental issues and said they're not quite so important, you've got to go into the genetics to see if there is anything preventable there.
Cancer in the Caribbean
It soon became very clear in our discussions that Dr. and Mrs. Avery have a strong commitment to doing something about cancer in the Caribbean. They are particularly concerned about women's cancers because women are experiencing these at such a young age. The Averys became more involved with this by joining with the Essence of Hope and Pink Lily cancer charities in St. Kitts and Nevis, respectively. Before moving onto the women's cancers in more detail, Dr. Avery reminded us that "In fact, the biggest cancer problem is actually prostate. It kills more people than the women's cancers. It tends to happen to older men but, amongst the African origin population, it is not that unusual to find men as young as 40 getting prostate cancer."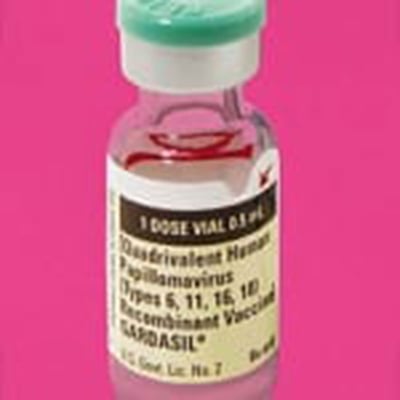 So back to the issues of women's cancers. While recognizing that breast and ovarian cancers are also very important, the Averys consider cervical cancer to be the one that requires the most immediate and serious attention. "The bottom line," insists Dr. Avery "is that this disease is totally preventable. By paying attention to safe sex practices, getting regular Pap smear screening to detect pre-cancerous stages and presenting early to the doctor on experiencing suspicious symptoms the incidence of cervical cancer can be markedly reduced". "But that is not the whole story either," suggested Mrs. Avery (who is a trained nurse even though she has been out of practice for some years). "The really important issue is that there is now available the Human Papilloma Virus (HPV) vaccine which, if administered in three doses to girls as young as 11-13, will almost totally prevent the transmission of the HPV virus.There are problems of acceptance by parents at such a young age and also costs in countries like St Kitts and Nevis. These countries are not poor but they are not rich either, and have many other costs to consider."
(Photo, inset right above) CERVICAL CANCER VACCINE: Gardasil is one of the vaccines used to fight HPV. Photo: Courtesy of Merck
Further discussion revealed that studies in the USA, Europe and Australia have shown that even just one shot of the vaccine has some effect in reducing transmission of the HPV virus.
In recognizing that lifestyle issues are important in the prevention of CNCDs, Dr. Avery expressed some caveats: "We've got to acknowledge that lifestyle especially sexual activity is a sensitive issue and the Caribbean is not unique. This is where the community leaders and health staff must bring these issues out into the open."
Working with UMHS Students
As Chair of the Research Committee at UMHS, Dr Avery has encouraged a small group of faculty to engage in new research or carry on work they have done elsewhere. He and his colleagues have also helped UMHS students get involved in research. One UMHS student, Joel Amidon, worked with him on a presentation last year (2012) called, "How Well is St. Kitts and Nevis Handling Epidemiologic Transition?" This was presented at a Royal Society of Tropical Medicine Research Symposium at the University of Warwick (the Averys' hometown). This year (May 2013), Joel joined Dr. Avery in presenting a poster on "The case for the early introduction of HPV vaccine in St. Kitts and Nevis" at the CARPHA Annual Scientific Meeting in Barbados. " Joel not only wrote some of the text and prepared slides," Dr. Avery said. "He stood by to answer some very searching questions."
There are several other students involved in research and they will become better recognized once their researches come to fruition. Two who are already actively involved and are now in Maine are Dhanya Baskaran and Hamed Mouseghy. They are working with Dr. Avery on analyzing all the cancer data on St. Kitts and Nevis to show that cancer is, indeed, on the increase, and does require greater attention. They hope to present this at the Annual CARPHA Scientific Meeting in Aruba in April 2014.
Getting Research Into Practice (GRIP) in the Caribbean is no easy task and requires "a lot of application and determination," says Dr. Avery. "As far as faculty is concerned, the thing which discourages them is the demands of the teaching and the administrative work for exams, curriculum development, student counseling and writing references and so on" he says. "It is important to have good teachers but it is also useful to have teachers with good clinical and research experience."
"The 'Big Issue' for us now is to set up the Health Research Foundation, but the thing before that is to have a decent research function in UMHS. The school has gone through its early development stage. Now we should be looking for some consolidation and maturity including meeting some of the local research needs," says Dr. Avery.
International Disability Issues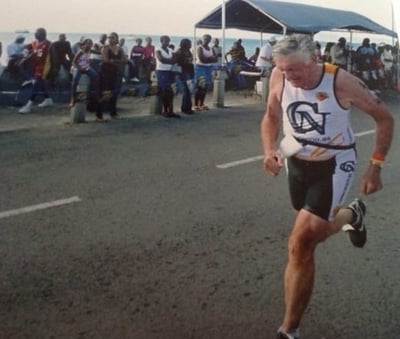 Before leaving the UMHS New York office, Dr. and Mrs. Avery gave us some closing thoughts on the awards ceremony they attended at the United Nations, the Franklin Delano Roosevelt International Disability Rights Award. Dr. Avery felt privileged to be invited as a judge. "It really goes back to my interest in the injury prevention and a colleague who put my name forward as a judge when they started about 10 years ago. We're talking about looking after people who have serious injuries and other physical disability problems," he says. "Back home in the UK, we have had several people with serious spinal injuries that are in wheelchairs. So I got involved."
(Photo, inset right above) PERSONAL BEST: A sprint finish at the Annual St. Kitts & Nevis International Triathlon when Dr. Avery missed breaking 2 hours for the Sprint event by just 4 seconds. Photo: Courtesy of Dr. Avery.
The award is a trophy of a bust of FDR and a $50,000 prize. It is open to any country worldwide. Countries send in bids to the organizations that give the awards, a joint program of the Lantos Foundation for Human Rights and Justice and the Roosevelt Foundation, based in Washington, DC. The award looks at many aspects, including what a country has done for accessibility and integration.
When asked why Spain won, considering the nation's much-publicized financials issues, Dr. Avery explained the award was based on several criteria. "Spain's financial troubles did not come into the equation because they did the job. There were two countries which are much more impoverished who I thought were doing a splendid job given their limitations. I gave them quite a good ranking but they didn't have the infrastructure and didn't have all the practical things." he says. "Spain has actually done very well for disabled people."
(Top photo) CANCER WALK IN 2011: An early morning start to one of the regular cancer walks on St. Kitts in which the Averys participate. Mrs. Avery takes it easy chatting with everyone. Dr. Avery is usually not only the oldest person on the walk; he is sometimes the first male walker home. Anyone in front of him knows he must have been running. Photo: Dr. Girish Kotwal
---
About UMHS:
Built in the tradition of the best US universities, the University of Medicine and Health Sciences focuses on individual student attention, maintaining small class sizes and recruiting high-quality faculty. We call this unique approach, "personalized medical education," and it's what has led to our unprecedented 96% student retention rate, and outstanding residency placements across the US and Canada. UMHS is challenging everything you thought you knew about Caribbean medical schools.

Posted by
Scott Harrah
Scott is Director of Digital Content at UMHS and editor of the UMHS Endeavour blog. When he's not writing about UMHS students, faculty, events, public health, alumni and UMHS research, he writes and edits Broadway theater reviews for a website he publishes in New York City, StageZine.com.