Born in India, Dr. Divya Krishnan spent the first six years of her life in Dubai and eventually moved with her family to Vancouver, British Columbia, Canada where she remained until heading to St. Kitts to attend UMHS. She didn't originally plan to become to doctor but always knew she loved the sciences.
The UMHS Endeavour spoke to Dr. Krishnan right before she started a Family Medicine residency at AdventHealth in Winter Park, Florida earlier this month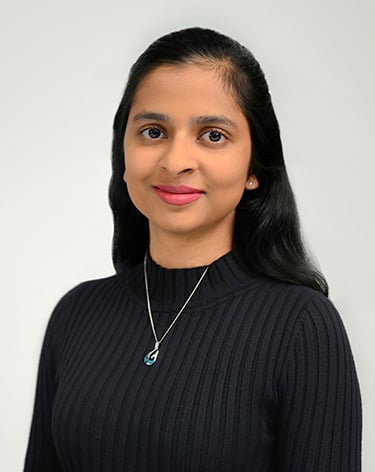 Dr. Divya Krishnan. Photo courtesy of Dr. Krishnan.
Love of science led to med school
When she was growing up, Dr. Krishnan was not sure what she wanted to do as a career. She said that all she knew for sure in high school was that she loved the sciences.
"During my undergraduate studies, I explored the sciences further by working on a combined major in chemistry, biology and mathematics as well as exploring different avenues of applied science through my extracurricular activities which included volunteering at a senior care home as well as a research lab," she said. "Through these experiences I recognized my love for critical thinking and interacting with people which led me to choose a career in medicine. My decision to become a doctor was led by my exploration and understanding of my innate interests, and my passion for medicine developed during medical school."
Why she chose UMHS
While still an undergraduate, a UMHS representative visited her university and Dr. Krishnan attended an information session. The rep convinced her that UMHS had the core values she was looking for in education.
"There are two main reasons why I chose UMHS. After a great experience at a small college with ample opportunity for discussions with the professors, I was eager to attend a medical school in which the professors would be available for my learning and dedicated to teaching. The second reason is that I wanted to be at a school with small class sizes. The intimate environment at UMHS naturally encourages more camaraderie between students, leading to a strong student community as well as offering comfortable opportunities to participate in class discussion."
Living in St. Kitts, as well as doing clinical rotations in various regions of North America, helped expose her to different cultures and learn to have empathy for patients.
"Being exposed to different people/backgrounds both due to interactions with the local Kittitians as well as our diverse multicultural UMHS community fostered a very open-minded mentality to different cultures, styles of thinking, and motivations," she said. "This has helped me learn the importance of understanding various viewpoints so that I am able to put myself in the shoes of a range of people to better understand and care for them when the time arises."
The clinical rotations at UMHS gave her an appreciation for different types of medicine in a variety of US states and Canadian provinces.
"I have learned the importance of adaptability and compassion in this profession due to my very broad range of experiences in various clinical settings while living in St. Kitts, Maine, Maryland, Michigan, Georgia, Ontario, Newfoundland, and New Brunswick, during my clinical journey. Furthermore, my time spent in St. Kitts was why I became interested in rural medicine and working for underserved populations as well as global medicine."
She also did a rural rotation in Australia in Family Medicine "through the eyes of refugee health and sexual health. "
"It was a very illuminating experience working frequently with interpreters to understand the cultures that influenced the healthcare decisions of refugees from Nepalese refugee camps (i.e., Bhutanese) and those from Congo," she said.
She also worked with rape victims who wanted to get a medical or surgical termination of pregnancy as well as several patients from the LGBTQ+ community.
---
Discover if a career in Family Medicine is right for you.
Learn why 70% of doctors would choose the same specialty again.
---
Family Medicine residency in Florida
Dr. Krishnan was pleased to learn on Match Day that she would be starting a Family Medicine residency at AdventHealth in Florida this summer.
"I'm really excited to get started with residency in my dream specialty of Family Medicine," she said. "They have a well-established program at AdventHealth Winter Park which I am excited to explore, especially the rural health and global health opportunities which are provided at this program."
Family Medicine was her specialty of choice for many reasons, but she especially wants to help enrich health equity for underserved populations and offer preventative care.
"I genuinely enjoyed all of my clinical rotations and was fortunate to gain a wide variety of experiences. Family Medicine appeals to me as it touches on most fields of medicine. Furthermore, I feel that this specialty is ideal for my interests as it provides an all-rounded approach to medicine that includes discussions on social determinants of healthcare, preventative health, holistic medicine and health maintenance. I am especially interested in serving underserved populations particularly while navigating preventative health and health maintenance with the added hurdles of health literacy, cultural influences and healthcare access."
She has many things she wants to accomplish during her residency.
"My number one goal is to evolve into the best physician I can be, without forgetting where I came from and remaining grounded because of it. I want to become a provider who takes time to understand the needs of the local population and tailors my availability, care, resources and knowledge towards those targeted needs. I also want to become a part of the communities I serve by learning from them and spending time with them."
UMHS faculty & staff helped her reach goals
Dr. Krishnan said UMHS staff and faculty helped her along the way. One staff member in St. Kitts and two in the New York office were especially noteworthy.
"In administration [on St. Kitts], [Executive Assistant to the Dean of Students] Lorraine Brown showed consistent dedication to the students during basic sciences which has inspired me to be receptive/available to my fellow colleagues when they need a listening ear," Dr. Krishnan said. "This has allowed me to form great connections and communities among my colleagues during my medical journey."
Two New York staff members were always upfront and honest with Dr. Krishnan, and this was refreshing, especially during the pandemic.
"[Assistant Director of Clinical Placement] Brandy Admendares exemplified professionalism by diving into her role with patience and perseverance. When she first took on her role as clinical coordinator, she admitted to us when she didn't know something but then immediately took the time to learn it to best help us, especially during challenging times such as this pandemic. This has inspired me to be unafraid of saying 'I don't know' but to follow that with 'I will find out'."
Dr. Krishnan said she owes a lot to the Associate Dean of Academic Affairs Patrick McCormick for helping keep her updated on everything regarding the Match.
"Patrick McCormick has been a very detail-oriented mentor without whom our students/graduates would not be able to go through the Match process as well-prepared as we are. He constantly fact-checks everything he sends us and utilizes his immense experience for our benefit. And he doesn't stop there – he continues to seek feedback from the students/graduates every year in order to help us better. This is an incredible asset to have since nobody can become better without being aware of their scope for improvement."
Back in St. Kitts, several professors made a huge difference for Dr. Krishnan while she was in basic sciences.
"On the island, Dr. Prakash Mungli [Dean of Student Affairs, Chairman of Molecular Sciences Course, Director and Professor of Biochemistry] encouraged me to strive to be the best I could be at everything," she said. "Dr. Michael Doherty [Professor of Neuroscience] inspired me to never get lost in the demands of the present/future but recognize that the strong foundation I have built up until now was founded on my hard work as well as the dedication of so many others intentionally assisting me on my journey. Dr. Anoop Kumar Jalan [Professor of Pathology] showed me how to enjoy the process and to make learning enjoyable for myself."
On the Portland, Maine campus, one professor really helped prepare Dr. Krishnan to work with patients in a clinical setting.
"Dr. Patrice Thibodeau [Director of Introduction to Clinical Medicine II] set a fantastic example of how to really empathize with people (patients, students, colleagues, professors) but also how to learn from every single person, and further to pass along all the learning through mentorship and teaching. She is a constant reminder that as doctors, we are not superior to anyone else and that we can always learn from our patients and students just as much as our teachers and mentors, but only if we are willing to."
Humility is one of the most important characteristics a physician should have, Dr. Krishnan said. It is a trait she learned to perfect from many UMHS faculty and staff members.
"In order to have humility, I think it is important to be self-aware and be constantly reflecting on how you feel internally after any encounter and what are ways to do things better. I feel that certain people, including Dr. Thibodeau and Dr. Doherty, have really encouraged that. This has also been exemplified by those UMHS faculty/staff and preceptors who have taken the time to reach out for feedback, have a conversation, and implement changes promptly and appropriately, and in doing so have been great examples for me to do the same during my clinical rotations to ensure maximal learning."
Leadership lessons from UMHS SGA
Dr. Krishnan was involved with many extracurricular activities on the UMHS St. Kitts campus. She said this helped her become a better doctor.
"I feel that leadership is incredibly important to patient care," she said. "UMHS provided me several opportunities to explore leadership in the conventional sense, such as being Student Government Association (SGA) president. Fortunately, I was also able to apply leadership in other less stereotypical but no less important avenues, such as writing and sharing case reports as well as taking the extra time to explain to and educate patients about their health."
Preparing for the Match
UMHS helped Dr. Krishnan prepare for the residency Match in many ways.
"UMHS provided me the opportunity to diversify electives, which encouraged me to step out of my comfort zone and gain a wide range of experiences to call from at any time," she said.
Mental, physical and emotional health is key to preparing for the Match process to minimize stress.
"Take the time for yourself. First, build a strong, supportive network of friends/family to help you get through this intensive learning experience and schedule in weekly breaks with these important people. Second, get into a good routine of taking care of your physical health with good nutrition and exercise. Medicine is a constantly changing whirlpool of emotions, sickness, new information and challenging work situations. You need to ensure you take the time for yourself in order to remain balanced without getting sucked into the whirlpool. As my friend Karinnet Montero-Diaz (also a UMHS graduate) says, 'The same advice you're going to give to your patients should first be applied to yourself.' Also, reach out and get connected to our student community. Our student community is simply excellent and the culture of everyone helping everyone has consistently remained through my experiences as well as those following me."
It is also important to follow the guidance of the UMHS Academic & Student Affairs Department.
"During the Match process, pay close attention to Patrick McCormick's emails and try to complete the various components of the application as early as possible. You will not be doing justice to all the hard work you have put in by rushing these applications. For any student/graduate, I feel it is very important to keep a clear record of all the deadlines for ERAS applications, interviews, NRMP ranking, as well as post-Match requirements such as applying for the Statement of Need early (for non-US applicants) and onboarding requirements for beginning residency."
Preventative medicine during the COVID-19 pandemic
The COVID-19 pandemic is far from over as an alarming number of cases rise in nearly every US state. This makes things challenging indeed for people working in the medical world, but there are opportunities to enlighten the public.
"In a time like this, healthcare professionals (therapists, nurses, EMTs, etc.) have an increased burden to help those in need. It has also unmasked misconceptions and false beliefs about healthcare and healthcare professionals and allowed us to become more relatable and accessible to the general public."
The pandemic has provided opportunities for doctors to highlight the importance of preventative medicine and vaccines for COVID-19 and other preventable diseases.
"The role of primary prevention and the importance of implementing public health strategies has also been highlighted, particularly during research about the virus and development of the vaccine," Dr. Krishnan said. "Getting vaccinated has been a crucial part of this pandemic, reminding the general public of the importance of preventative vaccinations (e.g., measles/mumps/rubella, influenza, etc.) for the health of the collective population."
Modern technology and social media have brought many great things to society, but unfortunately myths and conspiracy theories about medicine have damaged the truth and the public's perception of science.
"In the 21st century, we have the fortune and misfortune of having access to and ability to spread any information at our fingertips. This has allowed students, patients and the public to be easily misinformed about the pandemic and at times causing a loss of trust in the healthcare system. In the last year and a half, the importance of critical thinking has been emphasised and students are now more aware of the types of difficulties they may face when informing their patients about health concerns."
Medical students and young doctors now have a responsibility to help patients understand the facts vs. the myths regarding COVID-19 and other diseases.
"The pandemic has brought to light several different social factors that patients face that directly affects the quality of care that we can provide. Students are now more aware that the social responsibility of future providers encompasses more than just treating the medical condition; it also includes clarifying misinformation, being a liaison to help patients gain access to the clinic/medications/resources, etc."
Making it in med school & beyond
Studying to become a doctor requires dedication and perseverance. Keeping your goals in mind, learning to study effectively and also to not be too hard on yourself are all part of the process.
"Medical school is challenging regardless of where you go," Dr. Krishnan said. "It is important to stay grounded and rooted by reminding yourself of why you chose this path. As with any job, you will encounter discouraging and negative aspects about the profession/system. It is important to think critically about these issues, develop ways to study/understand the cause for these issues and intentionally work toward solutions.
"You may find yourself comparing your progress with that of your peers. However, our medical career is a very personal journey for each one of us, and there is no 'correct' pace or timeline to aim for. It is easy to get overwhelmed and get caught up in racing towards the finish line rather than focusing on enjoying the journey and seeking the experience necessary to become a good doctor."
(Top photo): Dr. Divya Krishnan is in a Family Medicine residency at AdventHealth in Florida. Photo courtesy of Dr. Krishnan.

Posted by
Scott Harrah
Scott is Director of Digital Content at UMHS and editor of the UMHS Endeavour blog. When he's not writing about UMHS students, faculty, events, public health, alumni and UMHS research, he writes and edits Broadway theater reviews for a website he publishes in New York City, StageZine.com.