UMHS Class of 2021 grad Dr. Alisha Qaiser just started a Neurology residency at Mercy Health St. Mary's in Michigan. The Toronto, Canada native was inspired by her aunt, a family physician in Australia.
The UMHS Endeavour spoke to Dr. Qaiser about her journey through medical school, how a UMHS professor helped her foster an interest in becoming a Neurologist, why she is fascinated by her specialty, how she coped during the pandemic, and more.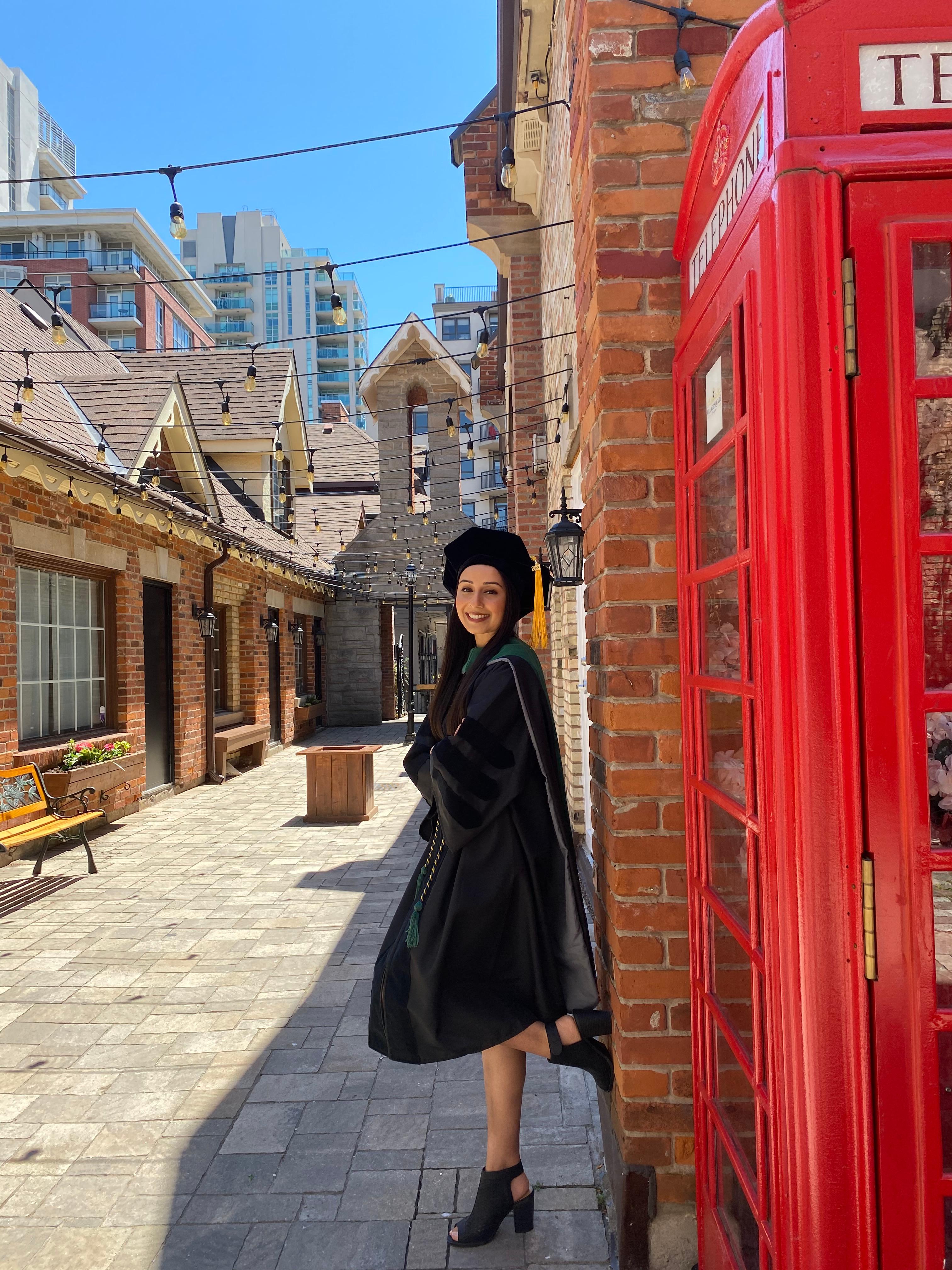 Dr. Alisha Qaiser celebrates graduating from UMHS. Photo courtesy of Dr. Qaiser.
Inspired by aunt in Australia
Dr. Qaiser dreamed of becoming a doctor at a young age. A family member who is a physician let young Alisha get a taste of the day-to-day life of a doctor.
"One of my biggest inspirations was my aunt who is a family physician in Australia," she said. "When I was 16 years old, I was able to shadow her and get to see what the day in the life of a physician is like. I liked how the field of medicine incorporates teamwork, problem-solving, leadership, and constant learning."
She attended the University of Ontario Institute of Technology (now known as OntarioTech University) and graduated in 2016 with a degree in Biological Sciences (Honors).
Throughout her journey to become a doctor, she struggled with self-doubt.
"There were times where I would think to myself, 'Is it possible for me to understand the functionality and complexity of the human body and pursue medicine as my future career?' It wasn't until my fourth year of pre-med that I firmly decided that medicine is the only thing I wanted to do and where my heart is at."
---
Discover if a career in Neurology is right for you.
Learn why 86% of doctors would choose the same specialty again.
---
Why she chose UMHS
When she was ready to apply to medical schools, she had many choices, but she decided on UMHS for specific reasons.
"I chose to go to UMHS because of their transparency. It is a family-oriented school and each faculty member truly wants every student to succeed. The school's emphasis on providing high quality education, the small class sizes, the variety of hospital affiliations in both the US and Canada, and the affordable tuition rate really stood out to me."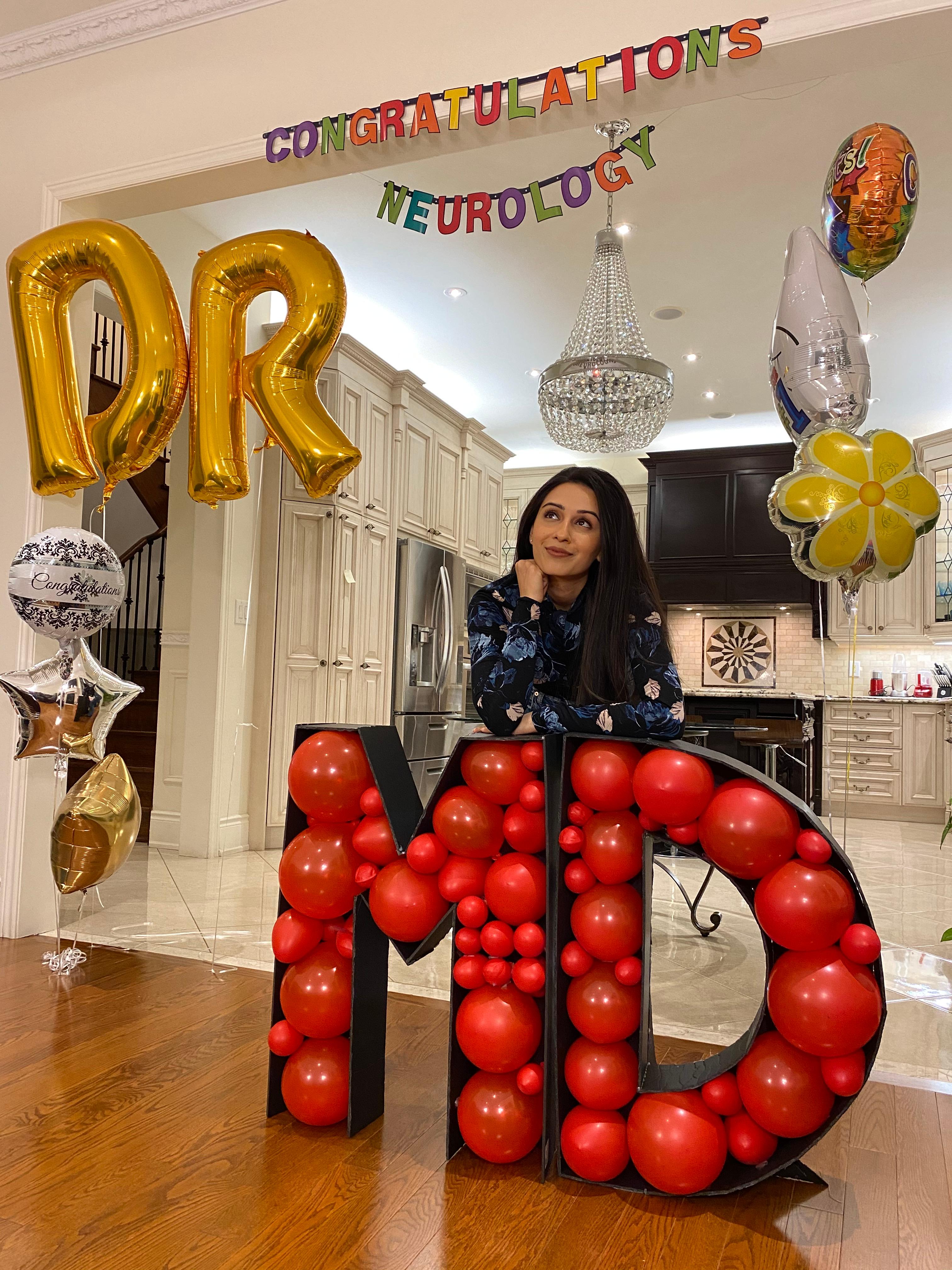 At home in Canada, Alisha Qaiser celebrates on Match Day 2021 back in March. Photo courtesy of Dr. Qaiser.
Neurology residency in Michigan
Dr. Qaiser just started a Neurology residency at Mercy Health St. Mary's in Grand Rapids, Michigan.
"What drew me to Mercy Health for residency was the small class size to receive dedicated one-on-one time with the faculty, the wide spectrum of elective opportunities, and the program's emphasis on resident education."
A UMHS professor helped spark her interest in Neurology.
"One of my favorite professors, Dr. Michael Doherty, was a huge inspiration as to why I fell in love with Neurology. My interest in Neurology had stemmed in his class where we learned about the complexity of the brain and the intricate details of the nervous system. His teaching style had made such a complicated subject so simple and easy to understand. This further led me to become a TA for neuroscience/neuroanatomy which I thoroughly enjoyed doing."
UMHS clinical rotations also helped her develop an appreciation for the specialty.
"During my clinical rotations, being a part of care for patients presenting with any sort of neurological component in their diagnoses always sparked my interest in learning more about their condition. I enjoyed the detailed history and physical examination component in Neurology and the fact that there's a lot of problem-solving and detective work makes it fun."
Dr. Qaiser is currently interested in Headache Medicine, Stroke and Neurocritical Care. She plans on doing a fellowship and being a part of academic medicine in the future.
The St. Kitts experience
Dr. Qaiser is especially thankful to the professors she had during her time in St. Kitts at UMHS.
"They all worked very hard and went out of their way to teach concepts of medicine that students would be able to comprehend and remember long term. Dr. Prakash Mungli made a very complicated subject like Biochemistry fun to learn. Our Physiology professor Dr. Jagadeesh Nagappa loved interacting with his students in class and would constantly quiz us during lecture to make sure we've understood the lecture thoroughly. Dr. Anoop Kumar Jalan taught Pathology in such an enthusiastic way. All of their unique teaching styles made my dedicated Step 1 preparation very easy."
Dr. Qaiser said attending a Caribbean medical school gave her a unique experience.
"Having lived in St. Kitts for 1.5 years and being able to overcome all the obstacles of living away from home, family and friends just to achieve one goal of becoming a doctor demonstrates my perseverance and sets me apart from the crowd," she said. "I feel that this experience has made me very flexible and has taught me how to quickly adapt in a new setting."
There were many benefits working as a Teaching Assistant (TA).
"I served as a teaching assistant for Gross Anatomy, Biochemistry, Neuroscience/Neuroanatomy, and Introduction to Clinical Medicine. This experience strengthened my leadership and communication skills which I carried forward with me during my clinical rotations where a lot of my patient encounters involved a lot of teaching. I was able to confidently deliver medical information efficiently and educate my patients."
The various nonprofit work available in St. Kitts also helped her learn how to interact with patients and people in general.
"UMHS gave me many opportunities to be a part of wonderful groups on campus. I was able to volunteer at health fairs organized by [UMHS Assistant Professor of Ethics] Dr. Agnes Beachman, where I had the opportunity to educate the local Kittitian community about lifestyle medicine. I was a part of the Christian Community Outreach Program where we organized various community and charitable events to St. Christopher Children's Home, a local orphanage in St. Kitts."
In addition, she served as a mentor for the Mentor/Mentee Program at UMHS, allowing her to help incoming students by shaping their experience by providing tips to navigate their new journey.
Outstanding clinical rotations
The first-rate clinical rotations at US and Canadian hospitals gave Dr. Qaiser the broad range of experience necessary to be a successful physician, not only in large cities but in smaller towns and rural areas that really need doctors.
"Having done my rotations in different states and in Canada allowed me be exposed to a broad patient population range. I had the opportunity to experience how healthcare is delivered in a rural setting, in underserved communities and those that had adequate access to healthcare. I felt that this experience made me a very diverse medical student. In the future, I want to be able to incorporate all of the unique things that I had learned throughout my journey. It has also has made me aware of how I want to practice medicine and interact with my future patients to get the best outcome."
Caribbean medical students often find obtaining a residency challenging, and Dr. Qaiser notes that being a Canadian citizen requiring a visa "adds on an extra layer of competitiveness," but she overcame the obstacles.
"I think all of the unique experiences that I had gained throughout the past eight years in pre-med and medical school had all contributed in helping me stand out and match into a residency program."
In addition, she had the rare chance to get published.
"One unique opportunity that I feel not many medical students get offered was being able to write and publish a case report with my preceptor Dr. Eric Mizuno in my Internal Medicine core rotation at Weiss Memorial Hospital. We had a very rare patient case – CMV Colitis Diagnosed in an Immunocompetent Patient and I was very excited when approached to write about this case".
Becoming a doctor in the COVID-19 age
Although the world has been through a lot the past year and a half, Dr. Qaiser said there have been some positive outcomes for the medical community and society in general.
"I feel the pandemic will motivate a lot of individuals to pursue the field of medicine and gain an interest in the scientific community. The general public has been able to see the importance of healthcare workers and how much of an impact they have in their community by educating and advocating for their patients. The pandemic has put a spotlight on the healthcare industry and how essential it is for our society.
Numerous articles are suggesting that there will be a shortage of physicians in the upcoming years so it is a crucial time to be a doctor and help save lives."
Being a medical student was tough during the pandemic.
"The past year has been quite challenging for many medical students. Having had their board exam canceled/rescheduled multiple times along with audition rotations, electives, and conferences being canceled, has added a lot of stress and for some, it may have impacted their residency application."
However, she managed to cope through it all and appreciates the way everyone—including UMHS—adapted.
"During the pandemic as a medical student, the biggest thing I learned is that life is truly unpredictable and no matter how much we prepare in advance, things may not go as planned. That being said, the pandemic has also opened a new virtual platform for all of us to connect. We've learned that there are opportunities open for us to volunteer and attend conferences virtually. My electives got canceled during the peak of the pandemic in March and I was worried if my graduation date was going to be delayed but I was quite impressed with UMHS having established virtual elective opportunities and was very happy to be able to graduate on time."
The residency Match interview process was also different during the pandemic because, for the first time ever, interviews were all done virtually.
"Although it would have been nice to go in person to the interviews, I was surprisingly still able to get a sense of what the culture at the hospital would be like and how the residents/faculty members interacted with one another."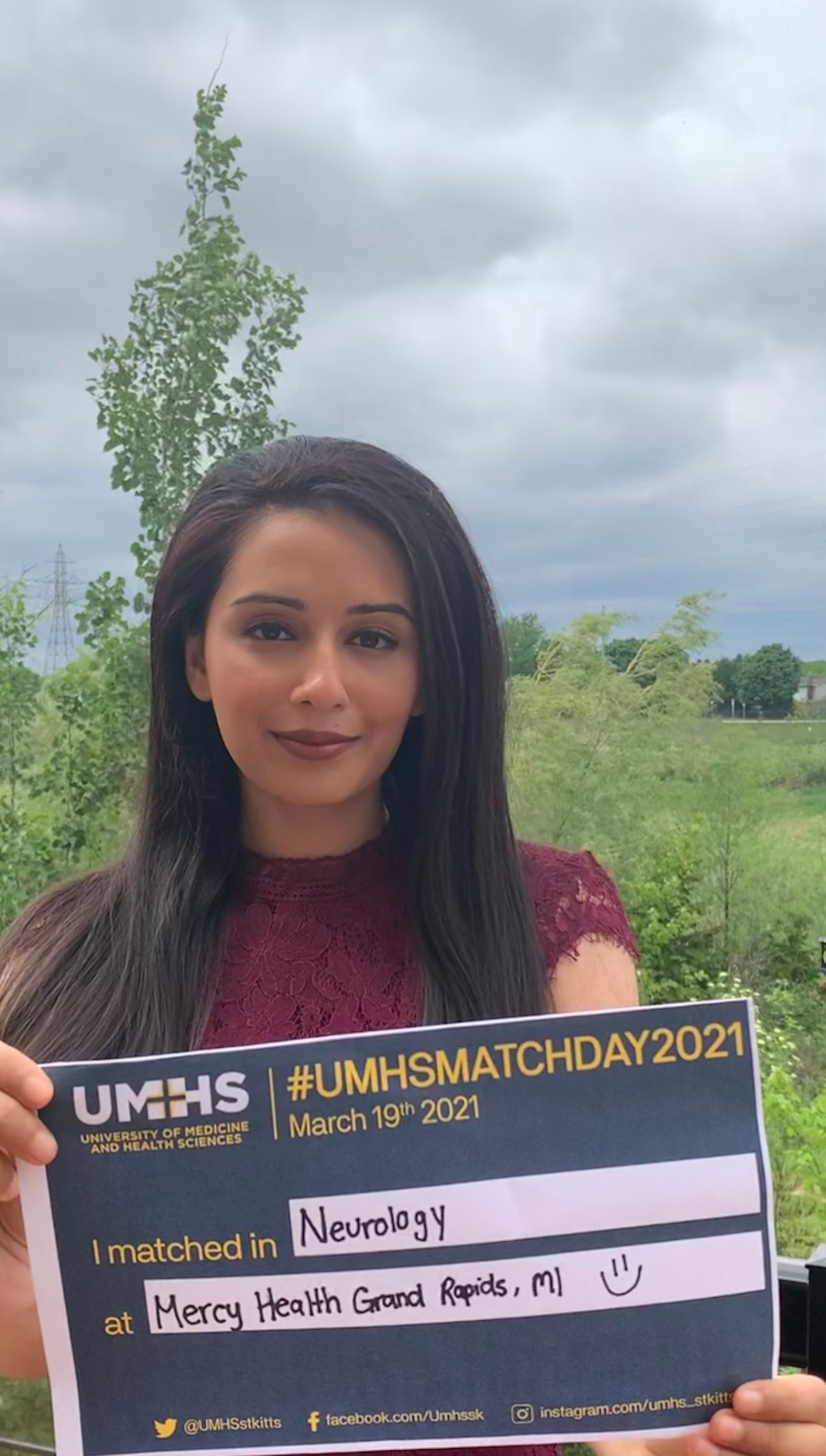 Alisha Qaiser on Match Day, March 19, 2021. Photo courtesy of Dr. Qaiser.
Advice for current & prospective students
Her advice for current and incoming prospective students?
"Get ready for the next four years. Medical school is a marathon and it is going to be challenging. Nonetheless, try to keep yourself as organized as you possibly can. The environment at UMHS is very supportive so ask for help when you need it. Remember to give yourself some time to decompress and relax after a long study day. The sacrifices that you will be making throughout this journey will all be worth it in the end."
She offers encouragement for students now applying for the upcoming 2022 Match.
"Congratulations—you're almost at the finish line," she said. "I strongly suggest you start researching residency programs now and start self-reflecting as to what you are looking for in a program. Don't forget that you are also going to be interviewing programs so be sure to ask mindful questions that are important to you. The next three to five years are going to shape the kind of physician you are going to become so it is very important to do your research wisely."
(Top photo): Dr. Alisha Qaiser. Photo courtesy of Dr. Qaiser.

Posted by
Scott Harrah
Scott is Director of Digital Content & Alumni Communications Liaison at UMHS and editor of the UMHS Endeavour blog. When he's not writing about UMHS students, faculty, events, public health, alumni and UMHS research, he writes and edits Broadway theater reviews for a website he publishes in New York City, StageZine.com.