UMHS 2020 grad Dr. Simin Emadzadeh never thought about becoming a doctor when she was accepted to the University of Toronto as a life science major. She had just immigrated to Canada from her native Iran at age 17 and still had trouble understanding English when she started her first year of university, but with persistence and her father's continuous support, she overcame the obstacles and found herself absorbed in science with a deep passion for helping others. She decided to study to become a physician after completing her undergraduate degree and enrolled in another medical school.
The UMHS Endeavour spoke to this bright, dedicated young woman as she prepared to start her residency in Family Medicine at St. Joseph Mercy Livingston Hospital in Michigan.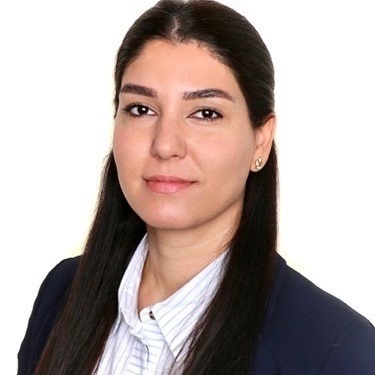 Dr. Simin Emadzadeh starts a Family Medicine residency at St. Joseph Mercy Livingston Hospital in Michigan this summer. Photo: Courtesy of Dr. Emadzadeh.
From Iran to Canada to the Caribbean
Immigrating from Iran to Toronto, Canada was difficult for Dr. Simin Emadzadeh when she was only 17 years old.
"I had to learn a new language and go through the struggles of immigration and adaptation to a new country," she said.
Since she had spoken Farsi all her life back in Iran, moving to a predominantly English-speaking city like Toronto in the mostly Anglophone Canadian province of Ontario at 17 was challenging because learning a foreign language as a teenager is much more difficult than doing so at a younger age.
"When I first started university, I could not understand English well and I had my dictionary open in every class to translate every word or I would record every lecture and translate them at home word by word," she said. "The first two and half years of university was a nightmare, but by the third year I finally started to get the hang of it."
Like many young students, she was not exactly sure what she wanted to do as a career when she applied to the University of Toronto. She knew she had a natural aptitude for learning science, but she had never even thought about becoming a doctor when she was accepted at the university as a double major in biology and psychology. It was her father, one of her biggest supporters, who persuaded her to pursue a career as a physician.
"My father told me that this [studying biology and psychology] is a great start to pursue a career in medicine," she said. "I was shocked and just stared at him. He said to me, 'You have the qualities; you are smart, confident, strong and always passionate towards people and like to help.' He then said, 'What better career is there in the world other than being a doctor who can heal the pain and serve a community no matter where you live?' I believed him and chose the pathway to medicine only because I felt so deeply that he was right."
Canadian medical schools are competitive and Dr. Simin Emadzadeh looked at many options and finally decided to apply to a Caribbean medical school as a Canadian studying medicine abroad. It was a decision she does not regret.
"I went to the Caribbean and started medicine and completely fell in love with it," she said, noting that she first started studying medicine at a different Caribbean medical school.

"It was mesmerizing how fast it (medicine) attracted me. I was getting better and better at it each day and my dad became more and more proud of me and the decision we made together. I can't imagine any other career to choose other than medicine."
Entering UMHS as a Transfer Student

Dr. Simin Emadzadeh faced another setback when the Caribbean medical school she was attending had some accreditation issues and she and other students were not able to enter clinical rotations. She had already taken USMLE Step 1 and passed it and considered transferring to another Caribbean medical school.
"During this time, I was desperate and completely hopeless about my future since my former medical school was losing accreditation and keeping us on hold with no rotation schedules," she said. "I decided that enough is enough and I deserved to be at a proper school, one that cares about their students."
Since she had already taken Step 1, she knew the process of transferring to another med school would be easier.

"A friend of mine told me about UMHS and said they have good clinical placements, especially in Michigan and that's where I wanted to end up for my residency since it is close to my home and family in Toronto," she said. "I contacted UMHS and I was impressed by how kind and caring they were. Michelle Peres [UMHS VP of Enrollment Management] interviewed me and she was so supportive. I gathered all my paperwork and documents and was transferred out of my former school to UMHS in the weeks and started in Maine for 5th semester immediately. It all happened like a miracle. I still think about how everything fell in to place it to this day."
Clinical Experience in Maine

Dr. Simin Emadzadeh knew immediately she had made the right decision to transfer to UMHS when she arrived for the 5th semester at the Portland, Maine campus. She was instantly impressed with the staff and preceptors.

"I learned an amazing amount of skills in Maine with the standardized patients and virtual clinics which basically made my CS exam three times easier for me so I took my CS exam during my last rotation and completed it successfully," she said.

Certain faculty and staff members helped her a lot along the way.

"Dr. Patrice M. Thibodeau [Director of Portland, Maine Campus and Director of Introduction to Clinical Medicine II] was the most caring teacher, doctor and professor. She worked really hard around the clock for us to get the most out of the experience there."

In addition, she had the opportunity to work with a beloved Maine staff member, one who unfortunately passed away in 2019.

"I also give credit to Mrs. Carol Place who is unfortunately no longer with us. She was a great help to me and she made my transition smooth and easy. God bless her!"
Advantages of Caribbean Medical Schools

Dr. Simin Emadzadeh said there are many advantages of attending Caribbean medical schools. At UMHS she had the chance to do clinical rotations at hospitals all over the USA.

"I think being an international medical graduate makes you very resilient and adaptable. I had multiple preceptors who told me you adapted to this place as if you had worked here for years and that's only because we move a lot and go to so many hospitals, clinics and places with different programs, cultures and even ethnicities. It teaches you how to be open-minded and culturally sensitive and at the same time incredibly resilient to change and new environments. I even talked about this during my interviews and everyone seemed to be impressed by it. I think it's a very valuable thing and all the IMGs should be proud of it."
UMHS Options for Canadian Students

Dr. Simin Emadzadeh said having the chance to do rotations in both the U.S. and Canada gave her numerous advantages.

"The placements in different states allow you to discover more in medicine and the regulations in each state. I also did three away rotations in Ontario which also let me explore more about Family Medicine in Canada. Again, virtual clinics in Maine allowed me to express myself as a physician before entering the real world of medicine and Dr. Thibodeau gave me great feedback. The one thing she told me that I will never forget was when she said I was born to be a doctor. That really stuck with me and motivated me through all the ups and downs that I faced in this journey."
Match Advice

Dr. Simin Emadzadeh discussed many things that helped her match, primarily her determination to improve and ability to remain focused despite having a Step 1 score she felt could have been better.

"During my interviews I was told that the timeline of my exams and transfer shows that I am very persistent and determined," she said. "My Step 1 score was not the strongest which made me very nervous but I did not let that discourage me. I worked even harder for Step 2 CK and my Step 2 score was very high and I think that made a great impact on my interviews. So, I'd like to say to other students that if your Step 1 is not a solid strong score, just show your improvement in your step 2 CK and do not give up."

What advice does she have for current or incoming students about the Match process?

"Through a couple of years of tutoring Step 1 and 2, I have recently started helping students with applications and the Match process. It's a very stressful and hectic process and we all feel very lonely in it as an IMG but it's completely doable and you just have to go through it with patience and strong planning ahead of time."

"My first advice is to be focused," she said. "One must always plan ahead. There are a lot of deadlines and applications that need to be met on time, which is just an added stress on top of studying for hard exams. My other advice for students in clinicals is to study during every rotation. Do UWorld questions and take those shelf exams very seriously and do not just [settle for] a passing test [grade] to complete your rotations. That was the major reason I did well on my Step 2 CK. I studied very hard during rotations every day."
Advice for Canadians Studying Medicine Abroad

Dr. Emadzadeh has numerous suggestions for Canadians studying medicine abroad, particularly those considering Caribbean medical schools.

What would she say to fellow Canadians who opt for the Caribbean track for med school?
"You made the right decision to choose the Caribbean and start your medical education instead of waiting many years to get into medical school in Canada. I was very nervous about the decision I made but my father told me once, 'If others have done it, so will you.' And that's what I like to tell Canadian students as well."

She encourages Canadians to do extensive research when applying for the residency Match.

"On a more technical note, apply smart and don't just waste your money [applying] to all over the states' programs. Go to the conferences and make connections and only invest in those who have taken Canadian residents. It's not just based on the fact that they sponsor a visa alone; you must see they have Canadian residents in their programs when you apply. I only kept connections and communications with those who accepted Canadians."

Family Medicine Residency at St. Joseph Mercy Livingston Hospital in Michigan

Dr. Emadzadeh is pleased to be starting a Family Medicine residency at St. Joseph Mercy Hospital in Livingston, MI this summer.

"St. Joseph is an amazing program with a great staff and administration," said. "They are all like one big family. The majority of their residents are Canadian, which made me so hopeful and confident. I had the best connections with their residents during the interview dinner and even during the conference. I look forward to meeting my new teammates and colleagues, all of whom are going to be my new family for the next three years."

What made Dr. Emadzadeh interested in pursuing Family Medicine?

"To be honest, I was very confused between Internal Medicine and Family Medicine," she said. "I knew I wanted Family Medicine because that's the path to come back to Canada and to serve my community but I also always loved Cardiology and wanted to pursue that path to fellowship. Believe me when I say it's a very hard decision when it comes down to it. I only applied to one Internal Medicine program and the rest was just Family Medicine and I only applied to [programs in] Michigan and Chicago, so my chances were very, very slim to begin with. I knew that, at heart, I wanted Family Medicine and a life with balanced work hours and the relationship that a family doctor makes with his/her patients are of a different type. So, I chose Family Medicine and Family Medicine chose me."

Family Medicine appealed to Dr. Emadzadeh because she believes this area of medicine best fits her beliefs and goals as a physician.

"It's the perfect lifestyle, but at the same time it's a very committed career to your patients' health. It takes a certain type of personality to be a good family doctor, one whom everyone can feel connected to and trust. It's more than just sharing your medical knowledge and diagnosis with patients. Family doctors play so many different roles in a community; they are psychotherapists, pharmacists, physiotherapists and so much more for their patients. You become a whole new world for your patients. It's just fascinating."

She has many objectives outlined for her residency. What areas will she focus on?
"[I will] continue to work hard and never take anything for granted. I earned this, and I am very grateful for it which will make me work even harder than before. My focus is to learn as much as possible to be a trained family physician in three years to have my own practice and make a difference in individuals lives."
Becoming a Doctor in the COVID-19 Pandemic

Graduating from medical school and starting residency in the summer of 2020, while the world still grapples with the COVID-19 pandemic, is no easy task, but Dr. Emadzadeh said she "absolutely" believes this is one of the most important times in history to enter medicine.

"Now more than ever, the world needs more doctors, nurses and healthcare staff and finally people recognize the value of these crucial roles and how the world can be impacted by the shortage of doctors during these times," she said. "For many, [in the past] medicine was portrayed as a 'wealthy' career for rich people but now the world sees that this job is not really about money. It requires the highest degree of sacrifice and dedication. Aside from the challenging educational path of studying and taking difficult board exams you also miss out on so many significant events in life, such as weddings, birthdays of your loved ones, spending Christmas and New Year's with family, having kids and spending time with them and so many others. This job is all about sacrifices and putting other's health and safety before yours, and now finally the world sees this."

Coming from Iran to Canada and continuing on the Caribbean for med school and eventually obtaining a U.S. residency in an area of medicine she loves has been quite an odyssey for Dr. Simin Emadzadeh. Everything was a gamble in the beginning, and she encountered some setbacks, but through hard work, dedication and perseverance, she is grateful to everyone who has supported her along the way.

"I want to say thank you to UMHS one more time for helping me chase my dreams," she said. "Transferring to UMHS is, by far, the best decision I have made. Those close to me know this because they saw my struggle and the [positive] change UMHS brought to my education and path to residency but I always want to share this with students who think Caribbean medical schools are not as strong as [schools in] the U.S. or Canada. It also takes a lot of self-discipline and hard work. Life is what you make of it and nothing comes easy."
(Top photo): Dr. Simin Emadzadeh. Photo: Courtesy of Dr. Emadzadeh.
---

About UMHS:
Built in the tradition of the best U.S. universities, the University of Medicine and Health Sciences focuses on individual student attention, maintaining small class sizes and recruiting high-quality faculty. We call this unique approach, "personalized medical education," and it's what has led to our unprecedented 96% student retention rate, and outstanding residency placements across the USA and Canada. UMHS is challenging everything you thought you knew about Caribbean medical schools.


Posted by
Scott Harrah
Scott is Director of Digital Content at UMHS and editor of the UMHS Endeavour blog. When he's not writing about UMHS students, faculty, events, public health, alumni and UMHS research, he writes and edits Broadway theater reviews for a website he publishes in New York City, StageZine.com.